Do you know just like the WordPress marketplace where you get numerous free themes, Google also has its marketplace? Google Workspace Marketplace is the platform where you get unlimited add-ons that are free to install for all Google products. All the add-ons are targeted for various purposes and are compatible with different Google tools. However, in this article, I am going to explicitly discuss with you the best Google Forms Add-ons that will be useful for multiple cases while creating Google Forms.
Google Forms is a free software for creating surveys, polls, & quizzes, with customized responses and more. However, the flexibility doesn't end here, you can extend it with the third-party software, aka 'add-ons.' With the help of the add ons users can expand Google Forms functionality and streamline their workflow.
The list of google forms add-ons is free to install and use hassle-free! They all vary for different purposes some are for productivity and business, and others are for education & utility cases. Now let's start with the best-curated Google form add-ons.
Best Google Forms Add ons
But, before that, let me just tell you how you can install add-ons in Google Forms.
1. Open one of your Google Forms, you will see three dots '፧' in the upper right corner, click on it.
2. Go to 'Add-ons', search, and click on the add-on you want.
3. Then, click on the install button, to install the tool.
4. Once installed, refresh your page and you will see the new add-on symbol (like a puzzle shape) on the navigation bar.
5. Configure as it is and start your process.
1. ExtendedForms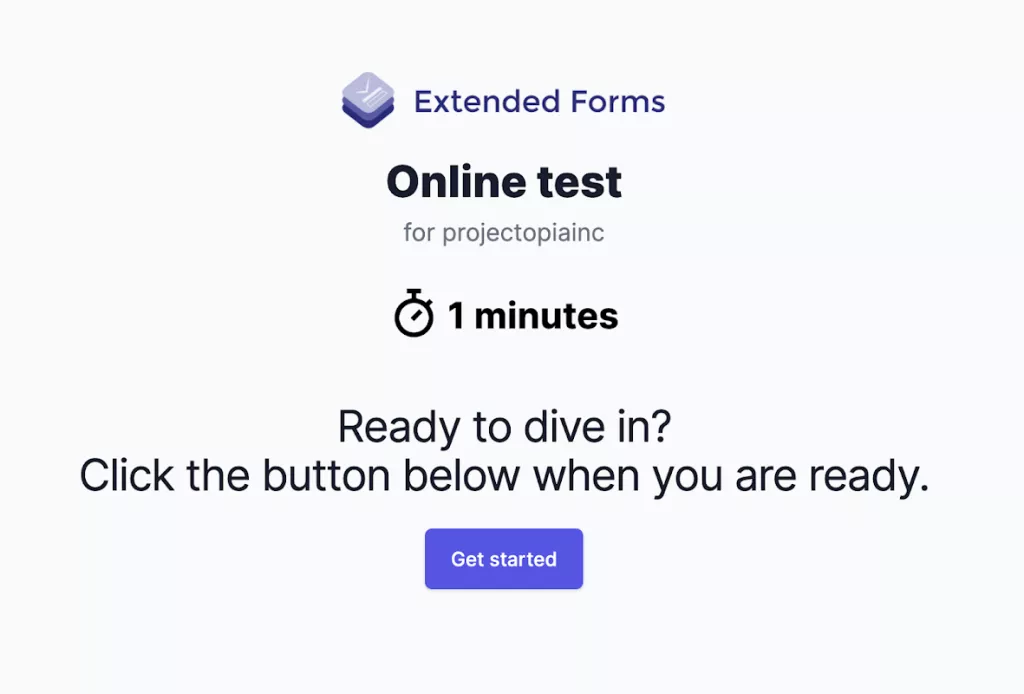 ExtendedForms addon is one of the most used and best Timers for Google Forms. It turns your Google forms into quizzes and tests by integrating a one-click countdown timer. You just have to, install the add-on, configure basic settings, and voila! Your countdown timer form is ready to be shared.
Moreover, ExtendedForms comes with more advantages than meets the eye, including automated proctoring. It is the next competitive feature of the app that allows examiners to create a real-time exam experience for students. You can detect cheating, see the trust score, and all the attempts attempted by the respondents.
Further key features of this add-on are:
It comes with custom branding, where you can easily customize the logo, icon, URL, and brand colors based on your brand.
You can integrate forms with the Google Classroom tool that will allow you to add the classwork directly from the ExtendedForms dashboard, auto score imports from google forms to classwork, and auto submission.
Furthermore, you can create teams and invite team members and add all Google forms to that specific team. Also, it allows users to customize invitation messages and welcome screens.
If you are an organization/university representative, HR, or educators then this add-on is a great tool to try out. It has free plan and if you want upgrade you can go for pro plans that are inexpensive as well.
2. Form Publisher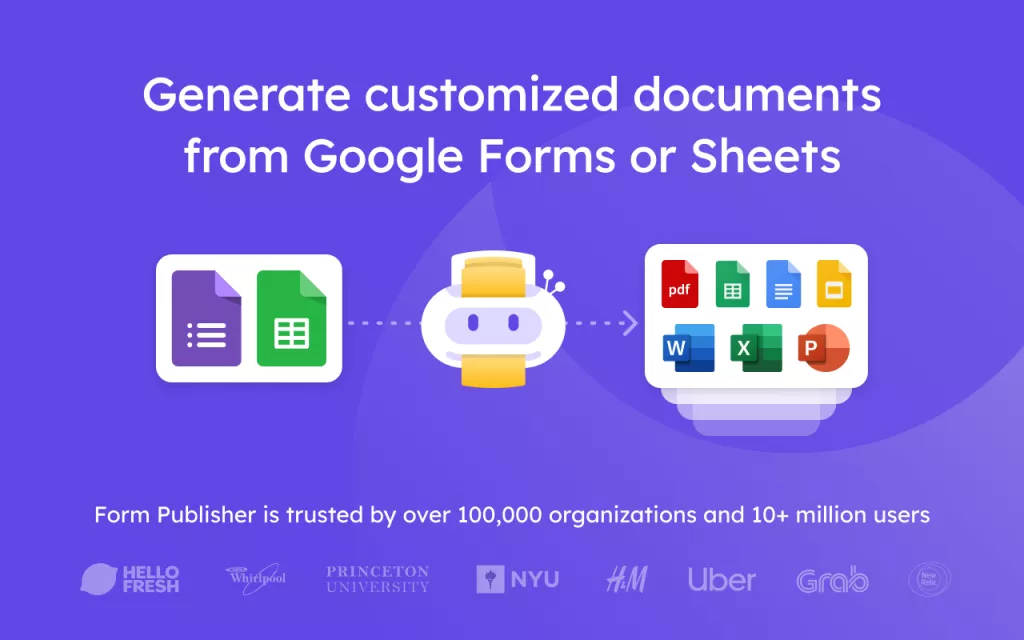 Form Publisher is a document merge solution (aka, document generator) add-on that generates PDF, Docs, Sheets, Powerpoint, or Slides. It lets you generate customized documents either from Google Sheets or Forms. In Google Forms, customized documents are generated on each form submission by automatically importing and merging them with the document template selected from Google Drive.
With Form Publisher, you can present your raw data or spreadsheet in a suitable way – PDF, Google, or Office documents. Further, you can send personalized email notifications to notify form respondents or addresses upon forms creation or submission.
Form Publisher streamlines tedious business processes through automated document generation workflows. This advanced google form offers you more benefits like:
You can create custom templates and store files and final PDFs in Google Drive.
You can generate documents from multiple templates at once
Automatically generates files as Google or Office documents. Besides, you can auto share with list of users and approvers.
This free google form add-on can be used for creating attendance/enrollment certificates.
Besides, it gives the benefit of legally compliant e-signatures that you can collect securely. This is not it, you get a lot of more from Form Publisher google form add on.
It is a perfect google forms add-on for businesses to streamline workflow through Google Forms or Sheets.
3. Form Approvals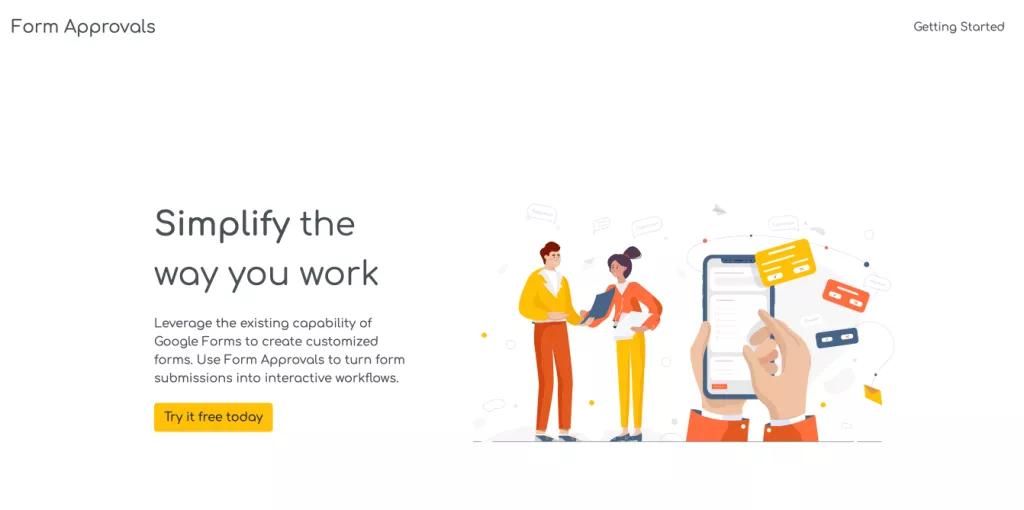 Form Approvals is the productivity tool that simplifies the way you work, it turns your Google Form submissions into an interactive workflow. It is powerful and easy-to-use, designed for use within organizations (of all types and sizes) to automate processes of approval, control departmental spending, and provide transparency to senior management. This google form add-on provides you with a highly configurable workflow framework. Moreover, the Form Approvals add-on has more key features that include:
Create multi-level workflow, set sequential approvals to ensure that executives approves once endorsed by others.
Role-based workflows
Includes routing conditions, i.e, approvers receives request only when it meets the condition or is relevant.
Automatically email approvers with form submission details, including one-click approval.
Personalized notifications, and more.
Form Approvals makes the business more productive and smart work rather than long hours of work.
4. Snip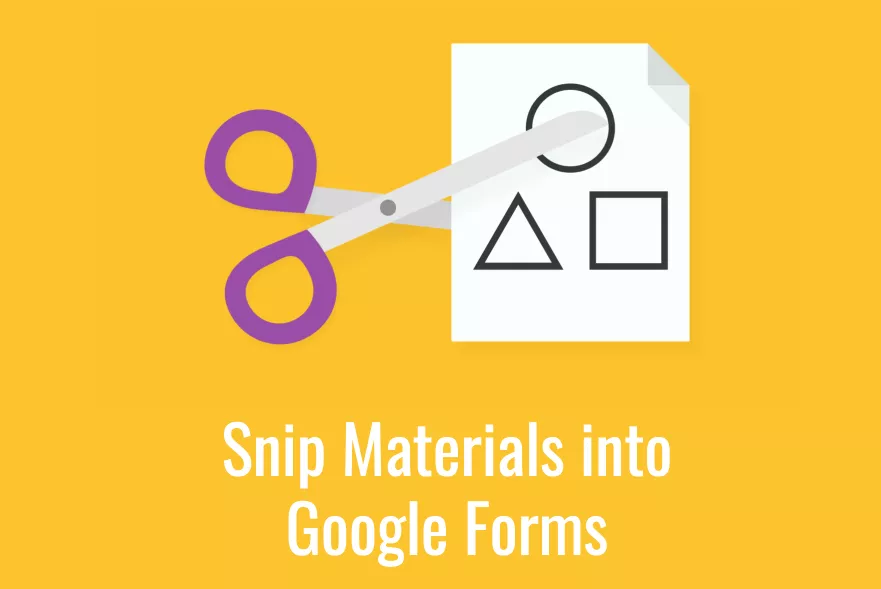 Snip is the perfect Google form add-on for teachers. Why? Because it provides a convenient way to crop scanned worksheets and save the images to Google Drive in an organized way. In simple words, this free Google form add-on turns printed worksheets into digital forms.
Install the tool, select the image or section from your digital format assignment or if you have paper worksheets then click pictures from the hardcopy. Select that image, crop, and save sections (like questions, instructions, feedback, etc) to your Google Drive. You can then directly add the image to your Google Forms instead of typing and drawing graphics.
Snip is an effective add-on for teachers who needs and likes to create graphic quizzes or assignments. It makes the work faster and more productive. Now no more copying and writing questions, instructions, or answers, directly add the image from your source. Snip is an awesome tool and a great way for digitizing previously paper-based assignments and quizzes.
5. Advanced Summary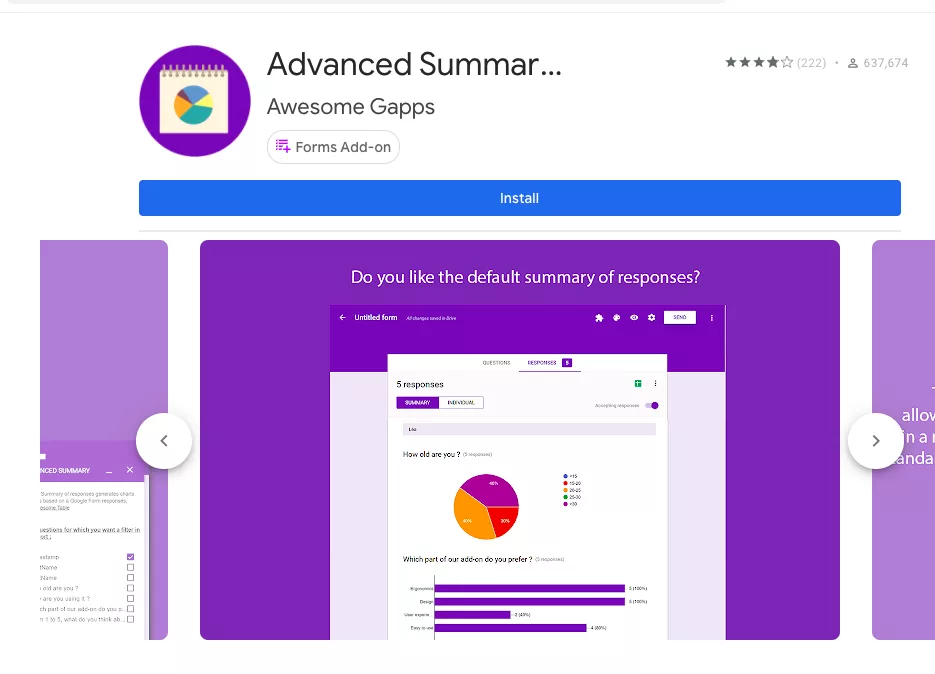 Advanced Summary is a powerful tool for all marketing professionals, survey doing researchers, and basically, anyone with the need of google form answers summary. It allows you to dig deeper into your Google Form responses, it saves time analyzing the form's data. Advanced Summary is built on Awesome Table (a Google Sheet add-on) to quickly create summaries of your form responses. Using the in-built filters, you can isolate variables and segments and make the most of your charts and data. The add-on comes with various benefits and features to look upon:
Advanced Summary automatically finds appropriate chart for each Google Forms section
It comes with Filters and Search, that lets users to easily find information
The Advanced Summary can be embedded on any site including, WordPress, Google Sites, Microsoft Teams, and more
The add-on is much more customizable than the Google Forms.
Advanced Summary is a must-have google form add-on if you conduct a deeper analysis of your research (academic research), analyze user survey data, surveys on community building, teaching feedback, and such.
6. Certify'em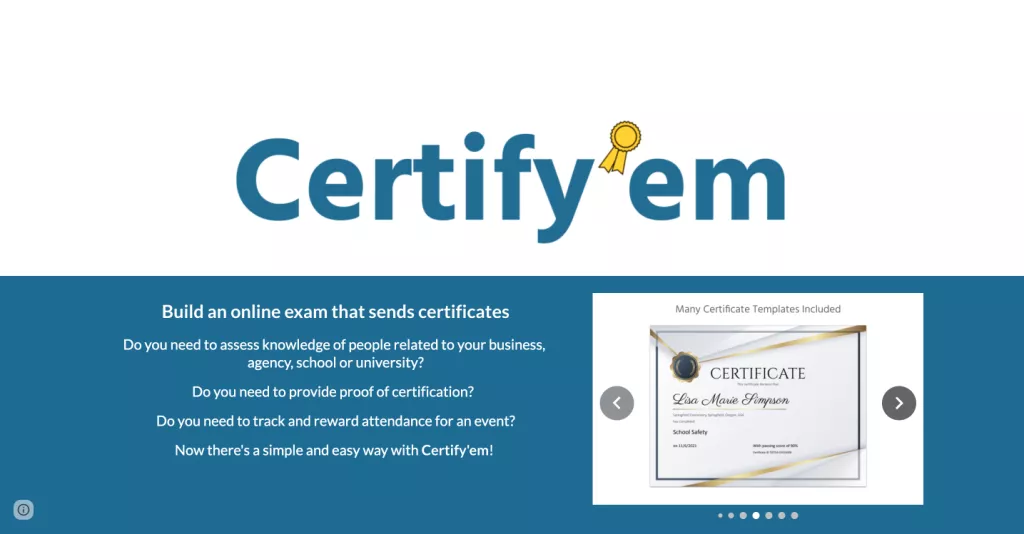 Do you need to test and track proficiency with your employees, students, or customers? Or do you need to provide proof of certification to the school, store, or office? Then, having this add-on will be beneficial for you! Certify'em lets you create online certifications and automatically email custom certificates to participants. It is free, quick, and easy to set up. Certify'em lets you harness the power of turning simple Google Forms into certified online exams. You can now send customizable PDF certificates with easy-to-use configuration and minimal setup to everyone.
It comes with several pre-built certificate templates that you can use or can create your custom-made (in Google Slides). Everyone who passes the exams or quiz will receive their own personalized certificate with a unique serial number. You can keep track of passing and failed students, using the in-built spreadsheet by Certify'em. It is a perfect education purposes tool to make any google form competitive exams.
7. Booking Calendar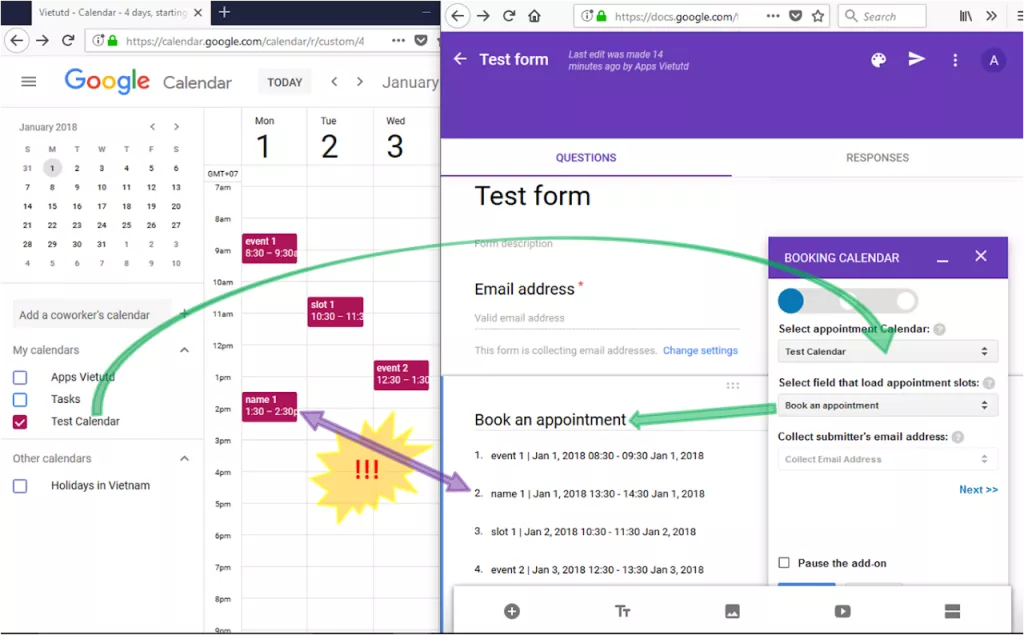 The Booking Calendar add-on will make your life productive and so much easier. It permits the respondents to book appointments from the form's admin calendar. Basically, it links the forms with the admin's calendar and users can access it to book appointments.
In the add-on, you will see that it automatically schedules the events in your form calendar, once the admin has set the rules. Further, it also adds the respondents as the attendees based on the time slots they have booked. Overall, Booking Calendar is easy to configure, you can share your form with clients, edit, and access it from any device, and rest leave it to the add-on.
Conclusion
This is the end of our article "best Google Forms Add-ons." Thank you for reading this article. I hope this was helpful to you in some way. These add-ons are so helpful and easy to use, they expand the usability, flexibility of Google Forms in its maximum form.
Besides, they are installed and used by thousands of users. All the mentioned google form add-ons are suitable for different purposes (like business, education, or generally for productivity). Depending upon your requirement, go for the specific google forms add-ons.
There are many other good add-ons for Google Forms and other Google products that you can check in Google Workspace Marketplace.