In this blog post, we are going to cover the best Google Forms add-ons that can help you to increase productivity. The Google Workspace is truly extensive, it covers all kinds of business needs, from communication, and file storage, to productivity & utility.
This wide array of options doesn't mean that Google Workspace is a finished product. There's a large community dedicated to creating different extensions or add-ons to get more out of these powerful Google tools.
That's where Google Workspace Marketplace is embraced, it consists of a wide array of apps – Add-ons suitable for every G-Suite tool and its versatile use cases. And here, we have picked out a few of the useful Google Forms add-ons for productivity. Ready to enhance your work productivity with these tools? Let's jump right in!
Table of Contents
Top Google Forms Add-Ons For Productivity
If you are familiar with G Suite, chances are you have at least once tried Google Forms, whether for your personal or professional purposes. And we know, Google Forms has features bundled & can be used for so many use cases from tests, and quizzes, to market surveys, job interviews, contact forms on websites, etc.
However, Google Forms is way more advanced and flexible with 'Add-Ons'. So, let's delve into some google forms add-ons for productivity that can specifically target some of the limitations.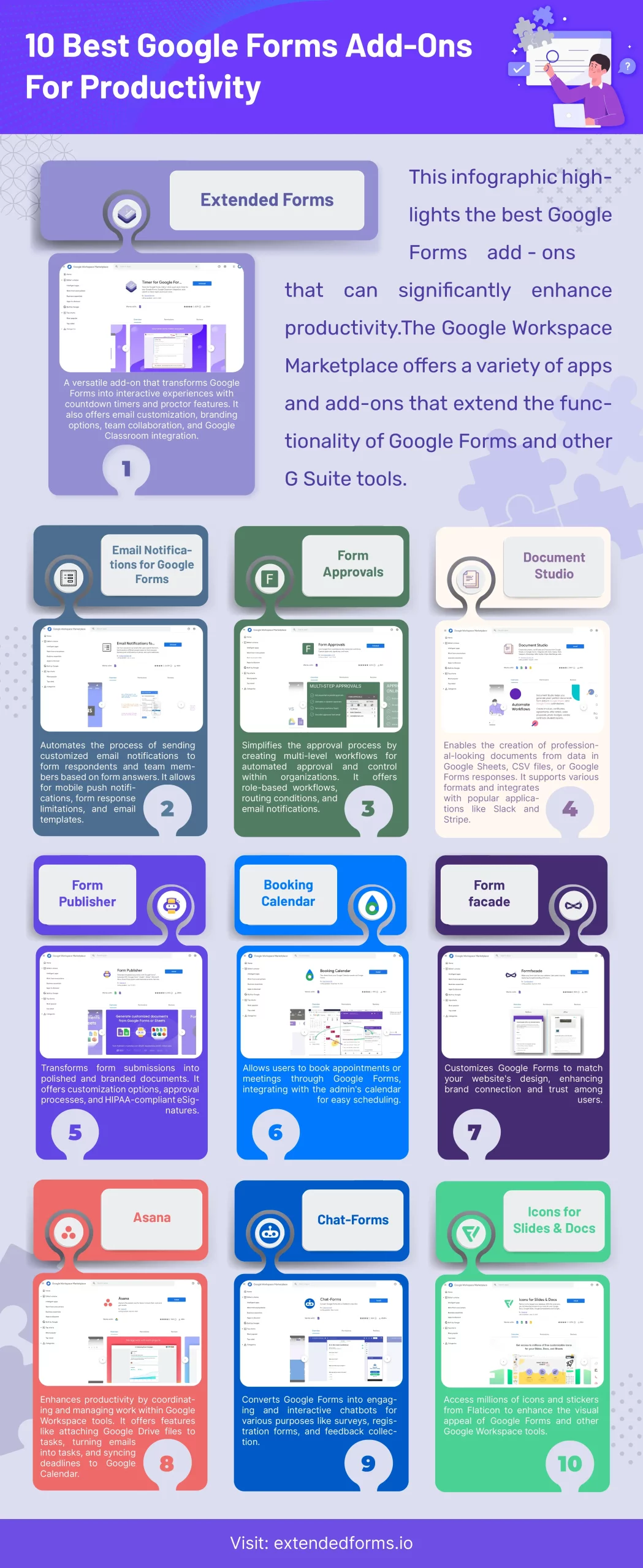 1. ExtendedForms
ExtendedForms is an incredible Google Forms tool that serves as both a countdown timer and proctor. With this versatile add-on, you can transform your Google Forms into a variety of interactive experiences, such as interview questionnaires, timed quizzes, and online exams. The best part? It's all made possible through a user-friendly one-click countdown timer and a convenient proctor feature.
Getting started is a breeze. Simply install the addon, configure a few basic settings, and voila! Your Google Forms timed quiz is ready to go. ExtendedForms offers hassle-free customization options, allowing you to effortlessly fine-tune various features, including proctor settings, from the intuitive dashboard.
But wait, there's more! This fantastic addon offers additional impressive features. For instance, the Classroom Integration feature lets you create classwork assignments directly from the ExtendedForms dashboard. You can also enable/disable right-click and copy-paste functions, preventing respondents from copying and pasting content from external sources into the Forms.
Plus, with the "progress restore feature," you won't lose your progress even if your form gets refreshed unexpectedly. If you work in a team, ExtendedForms has you covered with its 'teams' feature, allowing you to easily add and collaborate with team members.
You can even send forms with customized invitations and welcome screens, complete with personalized messages that can be translated into different languages. Additionally, the custom branding feature lets you effortlessly add your brand's logo, URL, and brand colors.
Whether you're an HR professional, a school representative, or a university administrator, ExtendedForms is the perfect productivity addon for Google Forms. Simplify your life and enhance your efficiency with this remarkable tool.
2. Email Notifications for Google Forms
Another google forms addon for productivity is Email Notifications for Google Forms. You can automatically send emails every time a respondent submits your Google Form. Along with sending customized email notifications to your users, you can also notify form respondents, and team members or create notification rules and send emails to different people based on the form answers.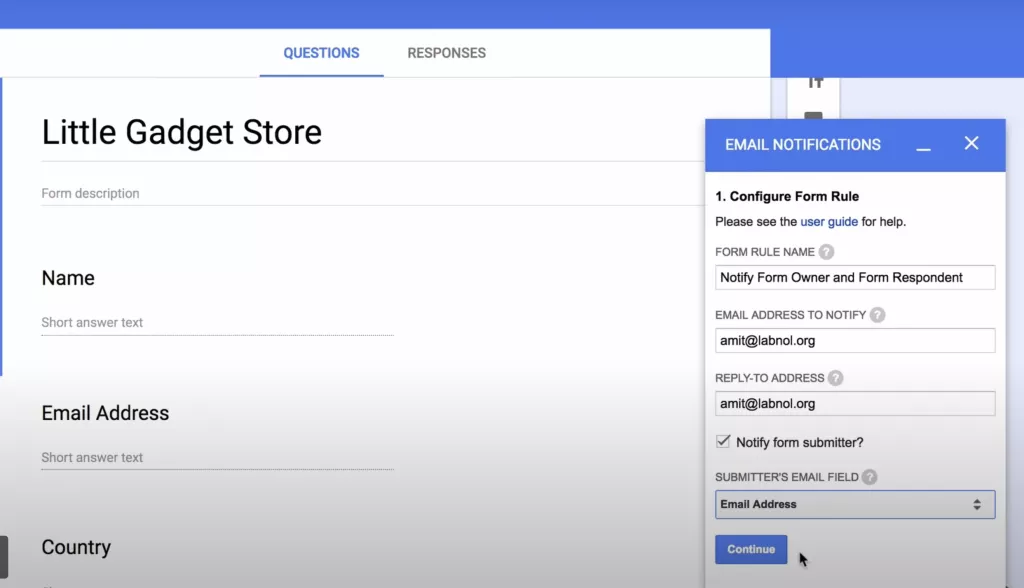 The add-on Google form has various features that make sending notifications or creating emails simpler and more efficient. It comes with an 'email template designer' to create emails or write emails in HTML and add variable form fields with markers. Other than these, you get more features like:
Conditional Notifications: Where you can send emails to different people based on their answers in Google Forms.
You can send instant 'mobile push notifications' by connecting Google Forms with IFTTT and get notifications on your iPad, iPhone, or Android.
Limit Form Responses, specify a schedule and your Google Form would be closed automatically once reached the schedule or specified number of entries.
Custom Settings: send emails from different email aliases, add BCC & CC, send emails on behalf of any other email address, and more.
Email Notifications for Google Forms easily embed dynamic QR codes and barcodes in email messages generated from form answers. Lastly, it also has Webhook Integration – you can send push notifications to any webhook URL as you receive a new entry in Google Forms.
3. Form Approvals
Form Approvals is a perfect Google Forms add-on for productivity for use within organizations of all sizes to automate any process needing approval. It is designed to simplify the way you work and turns your Google Form submissions into an interactive workflow.
It is powerful and easy to use, designed to automate processes of approval and control departmental spending and provide transparency to senior management. This Google form add-on provides you with a highly configurable workflow framework. Moreover, the Form Approvals add-on has more key features that include: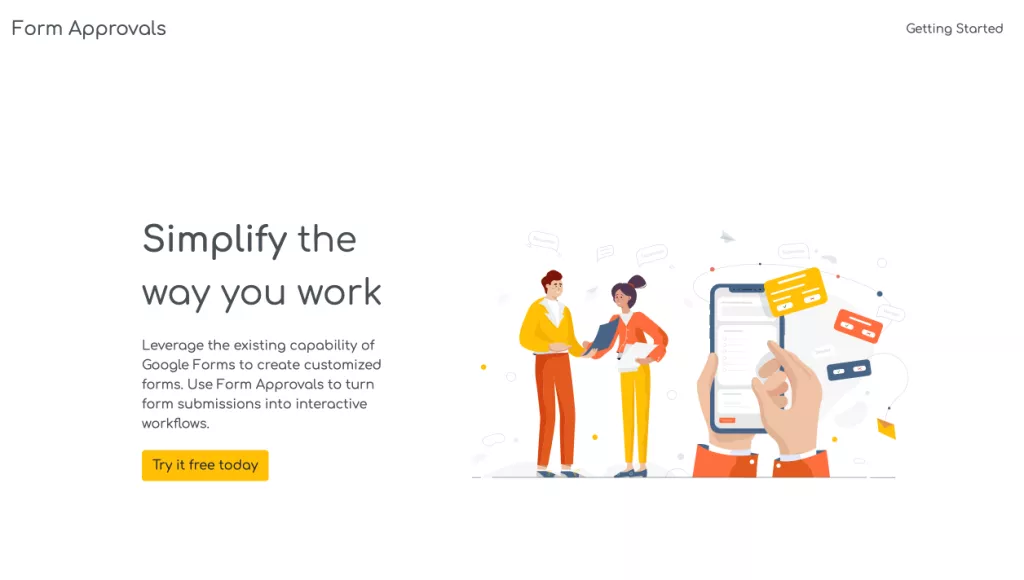 Create multi-level workflow, and set sequential approvals to ensure that executives are approved once endorsed by others.
Role-based workflows, you can choose a role for your workflows like a signature, acknowledge, approve, or receive a copy.
Includes routing conditions, i.e., you can set logic with your approvals to ensure approvers receive requests only when it is relevant.
Automatically email approvers with form submission details, including one-click approval.
Personalized notifications, responsive design, recipient & admin tracking pages, and more.
Apart from them, it lets you add a group of recipients and have one member of the group respond. You can set up the app quickly without any IT required, just add approvers in your Google form and when form submissions are made, approvers will be emailed. Form Approvals make the business more productive and smart work rather than long hours of work.
4. Document Studio
Create documents from data in Google Sheets, CSV files, or Google Forms responses. Use Document Studio to create professional-looking and suave documents including personalized business letters, customer invoices, exam results, event tickets, vendor contracts, sales pitches, or any other type of business document that you need on a repetitive basis. You'll never have to copy-paste data again.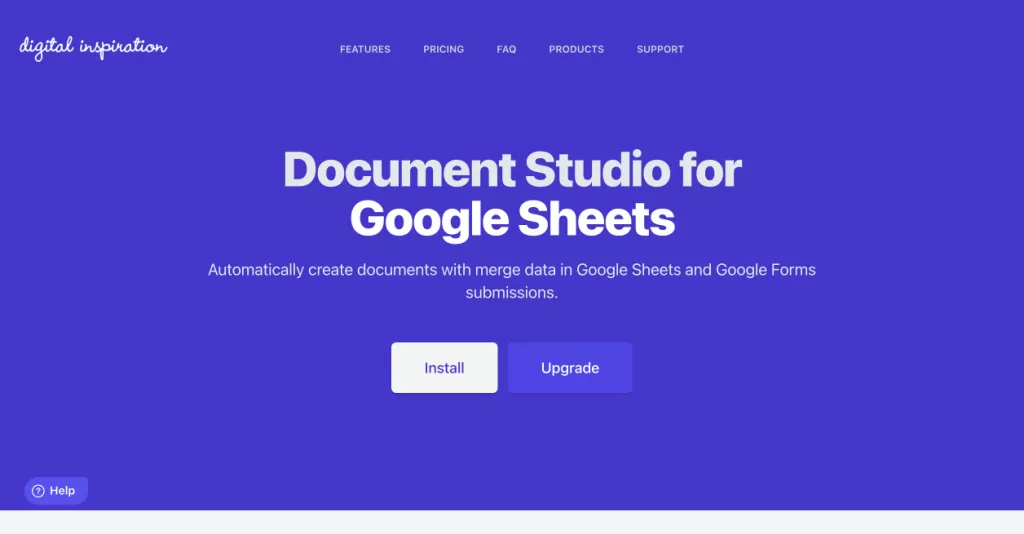 Use the built-in Mail Merge tool to email documents, generated documents can be automatically shared with your clients, students, or employees using built-in support for native G-drive sharing. Further, if you generate PDF documents from Google Forms, any image files uploaded in it can be embedded inline in the generated document and will link to the uploaded file in Google Drive.
Document Studio seamlessly integrates with well-known applications including Slack, Trello, Telegram, Stripe, and numerous others. This integration empowers users to streamline their tasks and effortlessly generate visually appealing documents within a matter of minutes.
Apart from the PDF format, you can generate files in Microsoft Office, HTML webpages, ePUB ebooks, or plain text. Document Studio comes with quite amazing features that will enhance your productivity. Perfect add-on for educators and other businesses.
5. Form Publisher
Form Publisher, an add-on for Google Forms, revolutionizes the way you transform data into polished and reader-friendly documents. Seamlessly integrated with Google Forms and Sheets, it serves as a powerful document generator and merge solution.
When using Google Forms, Form Publisher enables the automatic creation of documents for each form submission. Whereas, in Google Sheets, you have the convenience of bulk document generation, saving you time and effort. By automating document generation workflows, it streamlines tedious business processes, freeing you up to focus on more critical tasks.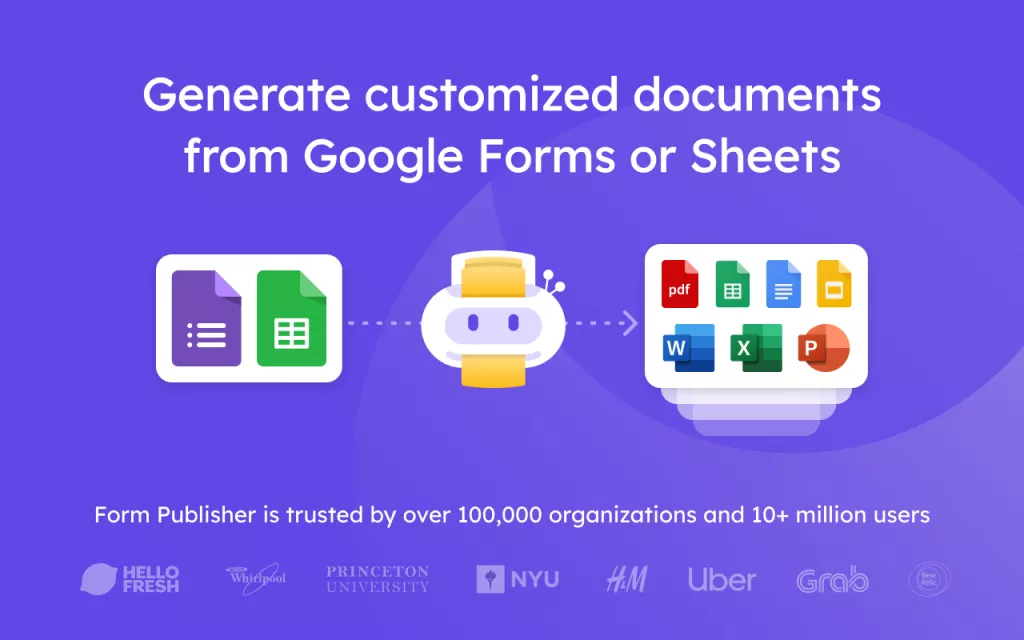 Whether it's invoices, quotes, certificates, audit/evaluation forms, or other use cases, you can easily generate and send them through simple form submissions. The flexibility doesn't stop there. You can export or merge documents into various formats, such as PDF or Microsoft Office tools.
Customization is a breeze too, as you can create personalized document templates and incorporate custom fields based on form questions. This productivity app for Google Forms is packed with features and benefits to enhance your workflow. Form Publisher automatically transforms responses into documents, storing them securely in Google Drive while sending personalized emails to recipients for approval or signature.
You can include inline images or photos using the file upload feature in Google Forms, ensuring your generated documents are visually appealing and comprehensive. You can set up straightforward approval processes, allowing reviewers or authorities to approve or reject documents with comments.
Concerned about security? Form Publisher has you covered with HIPAA Compliant eSignatures. You can securely collect digital signatures within Google Forms, ensuring compliance and peace of mind. Say goodbye to manual tasks and embrace a more efficient and engaging workflow with this outstanding Google Forms add-on.
6. Booking Calendar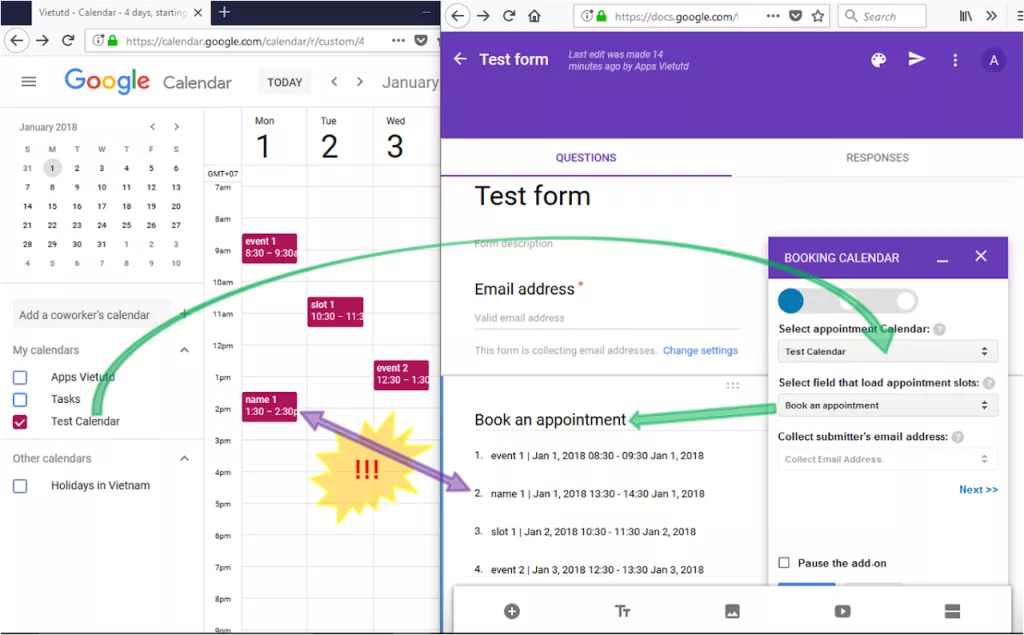 If you are using Google Forms to book meetings or appointments, then we have a perfect add-on for it. The booking Calendar add-on will make your life productive and so much easier. You can easily add events from your calendar and so when respondents fill out the form they can see the available time slots.
It permits the respondents to book appointments from the form's admin calendar. Essentially, it links the forms with the admin's calendar and users can access it to book appointments. The add-on allows you to automatically schedule the events in your form calendar, once the admin has set the rules.
Further, it also adds the respondents as the attendees based on the time slots they have booked. Booking Calendar is easy to configure, you can share your form with clients, edit, and access it from any device, and rest leave it to the add-on.
7. Formfacade
While Google Forms is a useful tool for data collection, it falls short when it comes to incorporating branding elements and catering to the specific needs of your brand. For startup founders and project owners, establishing a strong brand connection with users is of utmost importance. Even established brands owe their popularity to consistent branding efforts.
This is where Formfacade comes into play! This add-on transforms Google Forms, giving it the appearance of your own branded website. You can customize Google Forms to seamlessly blend with your website's design and embed them directly on your site.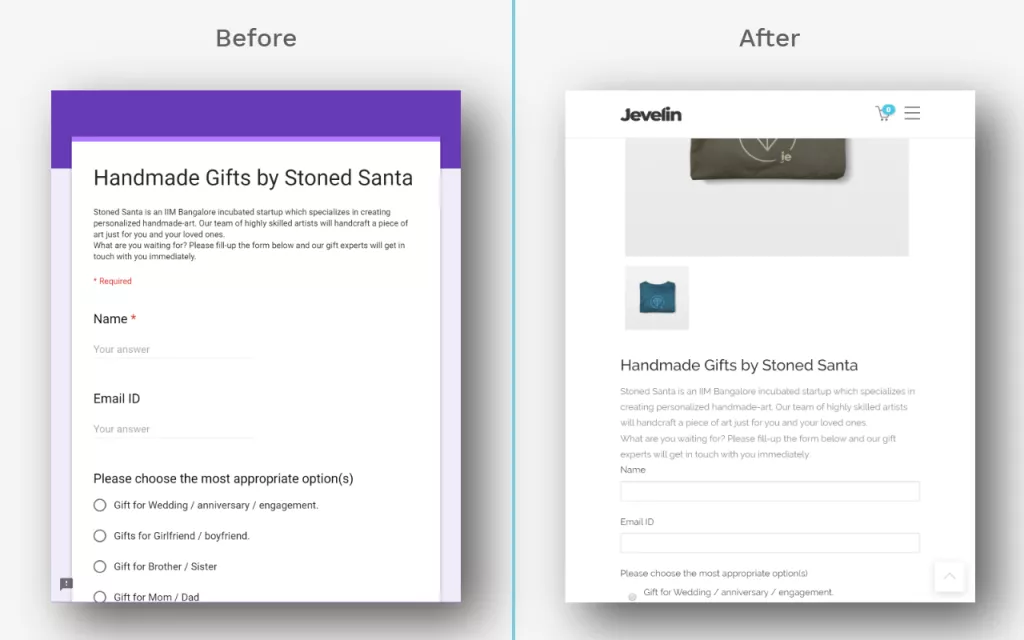 Once a user submits a form, you can efficiently manage the data using Google Forms and Sheets. Additionally, Formfacade is compatible with popular content management systems like WordPress, Bootstrap, and Squarespace, enabling smooth integration.
f you don't have a website or lack administrative access to one, worry not! The add-on offers a solution by allowing you to create a microsite specifically designed for your forms. You can easily share this microsite with your users via email or social media.
The add-on also provides customization options, allowing you to calculate scores, collaborate with your users or team members, and much more. By replacing Google's branding with your own, you can instill trust and credibility among your users, strengthening your brand image.
8. Asana
Asana is the best productivity tool for all your Google Workspace tools. From the small stuff to big projects, Asana organizes work so teams know what to do, why it matters, and how to get it done. Fast-moving teams rely on this add-on to coordinate and manage the work they do in Google Workspace. This google forms add-on works with all of your Google Workspace tools: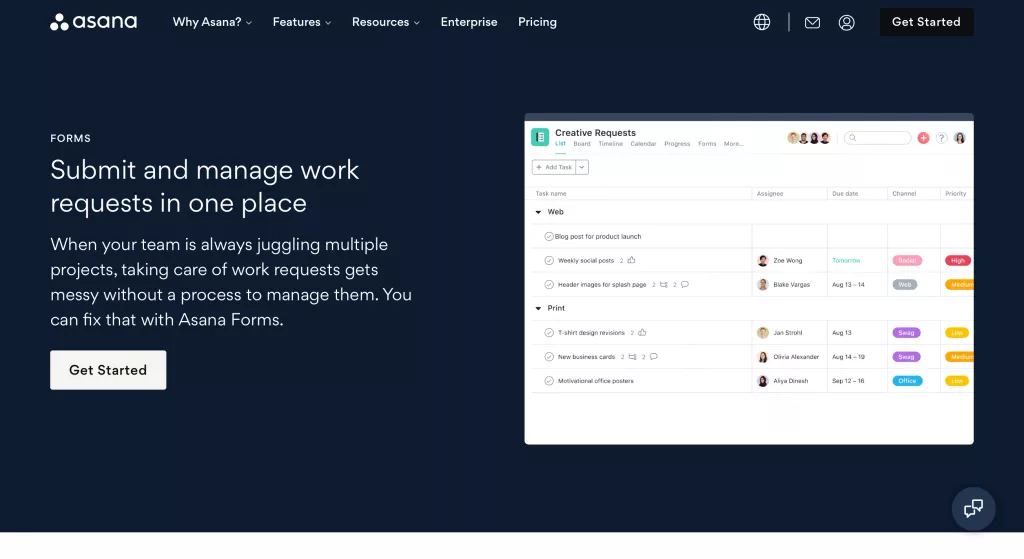 You can attach Google Drive files to your work in Asana so you have everything you need.
Turn emails into actionable, trackable tasks in Asana without leaving your Gmail inbox
Sync your task & project deadlines to Google Calendar, so you stay updated and on track
Create custom reports and visual analytics from your portfolio data in Google Sheets, so you can check work progress.
Submit and manage work requests with Google Forms, so you get the information required and move them forward in Asana.
When/If your team is juggling multiple projects, managing work requests gets messy and you can fix that with Asana Forms. Further, you can create a standard intake process with Forms to make it easy for other teams and manage incoming work.
Apart from that, with Asana you can customize forms and create custom workflows, and automate routine tasks. Asana is the easiest way for teams to track their work and get results.
9. Chat Forms
Chat Forms is an amazing Google Forms tool for your business and personal needs. The add-on is used to convert Google Forms into a chatbot with just a click. Basically, if you're unaware of a chatbot, then it is a software application that stimulates and processes human conversation with digital agents (devices/robots) as if communicating with a real person(via text or speech).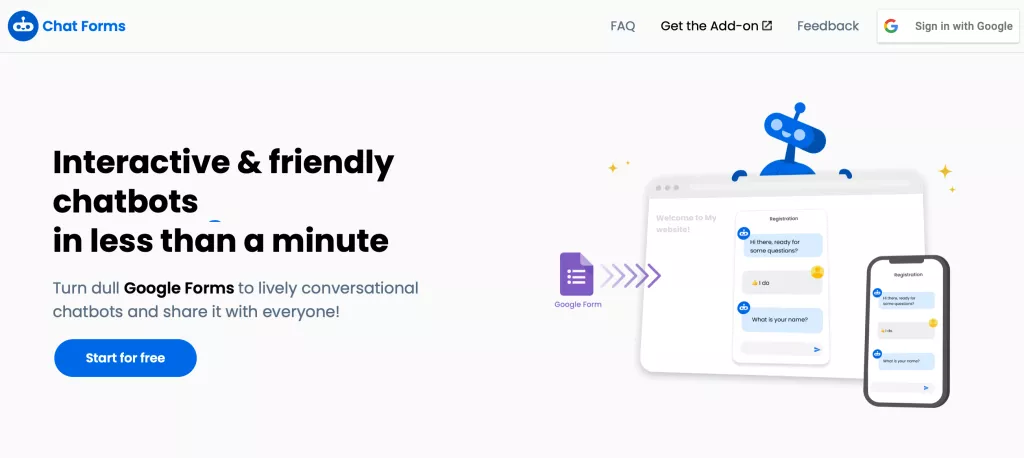 So, Chat Forms generate conversational chatbots that are engaging and intuitive. Along with being a business tool, it is also a productivity tool, in a way that it helps you to create more engaging and natural chatbots for data collection.
With this add-on, you can quickly convert your surveys, registration forms, job applications, and feedback into interactive and friendly chatbots respectively, and share them with everyone.
With just three quick steps, chatbots are ready with Chat Forms! The add-on is used and loved by thousands of users because it is easy to create, free, engaging, and will give you better results.
10. Icons for Slides & Docs
Flaticon is the largest icon database that is home to many talented icon designers. Each work in different styles and explores different concepts. Hence, here you can totally find the right icons and needed ones for your project. This add-on is a very useful tool that works and provides free access to icons for the major Google Workspace tools you will have including, Google Forms, Sheets, Docs, & Slides.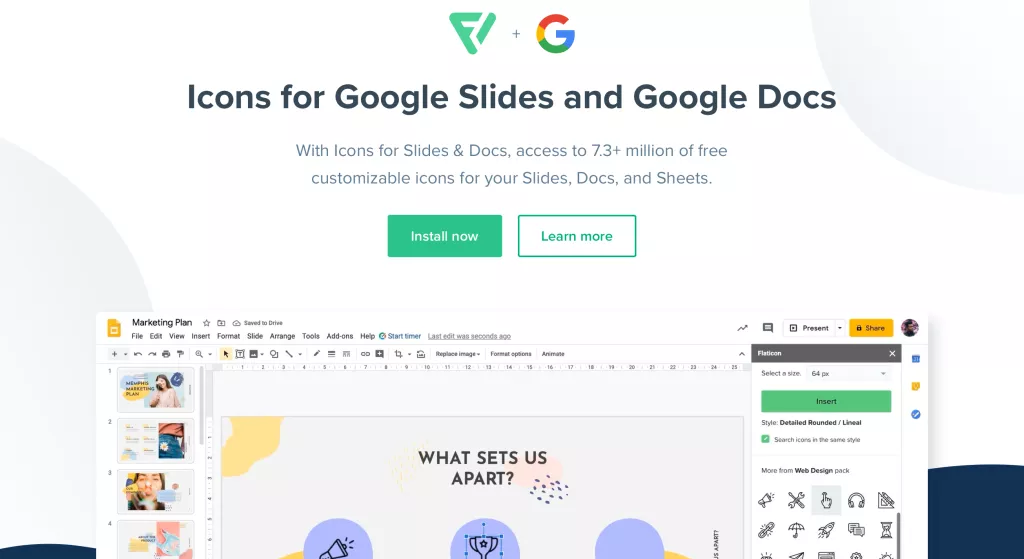 Now, for whatever purpose you use forms, if you want to add animated icons, vector images, interface icons, or stickers then you can do simply with this Flaticon add-on. No more simple and boring Google Forms for any users, it's time to spice up your forms with Flaticons.
Get millions of vector icons and stickers, and download them for your projects. They come in various formats to be downloaded. You can customize any icon like changing the size and colors directly in the document, further, it also has in-built features like icon font, patterns generator, and an online icon editor that you can check out.
Conclusion
So, this is our collection of the best Google Forms add-ons for productivity. This is not it! There are plenty of different Google Workspace add-ons available on the market. They have quite a wide range of use cases however, these are some of our top listed.
I hope these add-ons will be useful for you! Check out their details and choose the one that fits your needs and boosts productivity in your work/team/organization.
Don't forget to check out the ExtendedForms add-on for Google Forms, it is a great alternative to Quilgo and does not come with any complexity of configuring it. As mentioned before in the article, it is a productive way to turn your unscheduled forms or quizzes into a scheduled, countdown timer.
The app constantly upgrades itself with new features that are really useful to users using them. We would recommend trying the free plan that includes timer and proctor features. However, you can also go with the ExtendedForms Pro features they are inexpensive and all the features part of it is nothing than great.
Also Check out – 7 Best Google Forms Add-Ons