We all know that Google Forms doesn't have an in-built timer, which sometimes makes it difficult for anyone who wants to conduct tests, quizzes, or for any purpose that requires countdown timers. Lucky for you, we have got you covered in this blog post! Here, I have mentioned the 6 best Google timer apps that will expand your Google forms functionality.
Google Forms is a versatile tool for creating quizzes and surveys. Besides, over the years forms have embraced plenty of different features and add-ons. Google Forms comes with advanced tricks and tips and one of them has to be the feature to add google forms extensions – i.e, Add-ons. These tools from Google Marketplace not only upgrade the level of Google Forms but many add-ons are made for other Google applications. You can choose add-ons for boosting your productivity, enhancing communication, improving business workflow, and for different purposes.
Besides, we are here to provide you with specific functionality through add-ons and that is – A timer for quizzes or other forms of use cases.
Best Google Timer Apps
I am going to provide you with some of the best Google timer apps that are easy to install and configure. And you'll be ready in a bit to set deadlines or countdown timers for your quizzes, tests, and even interviews (or for other purposes that will require setting up deadlines). Let's get right into it.
1. ExtendedForms
ExtendedForms is one of the best google timer apps for Google form and also good alternative to timer addons like Quilgo. It has an easy-to-use interface and integrated 1-click, simple countdown timer for Google Forms. It's hassle-free, you have to just install the add-on, configure basic settings like – time limit, restrict attempts, auto-submit, and voilá you are done! ExtendedForms is the best one-stop solution for creating a timed test on google forms.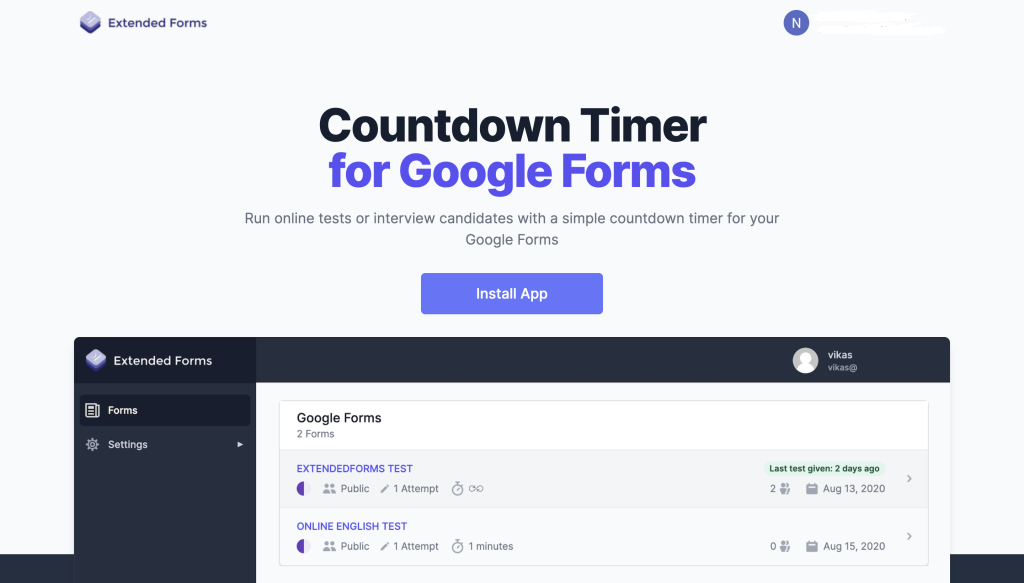 Whether you want to create Employee feedback, assessments, quizzes, surveys, polls, or any type of form. ExtendedForms is ready for all! Apart from this, the add-on comes with many compatible and unique features that add to the ExtendedForms value. It offers the benefit of Classroom Integration, teams feature, preview form, branding, customized invitation and welcome message screen, transfer ownership, & much more.
Besides, under 'Form settings' you can not only configure the time limit, but also restrict attempts, or how you'll share the form. But you can also add a specific response date/time, and hide email-id from the form while taking the quiz/tests. Furthermore, the add-on has an intuitive dashboard that provides a summarised view of forms, responses with their emails, time taken, score earned (if any). Now you can easily create timed google forms for a quiz or test with the ExtendedForms addon.
2. Form Presenter + Timer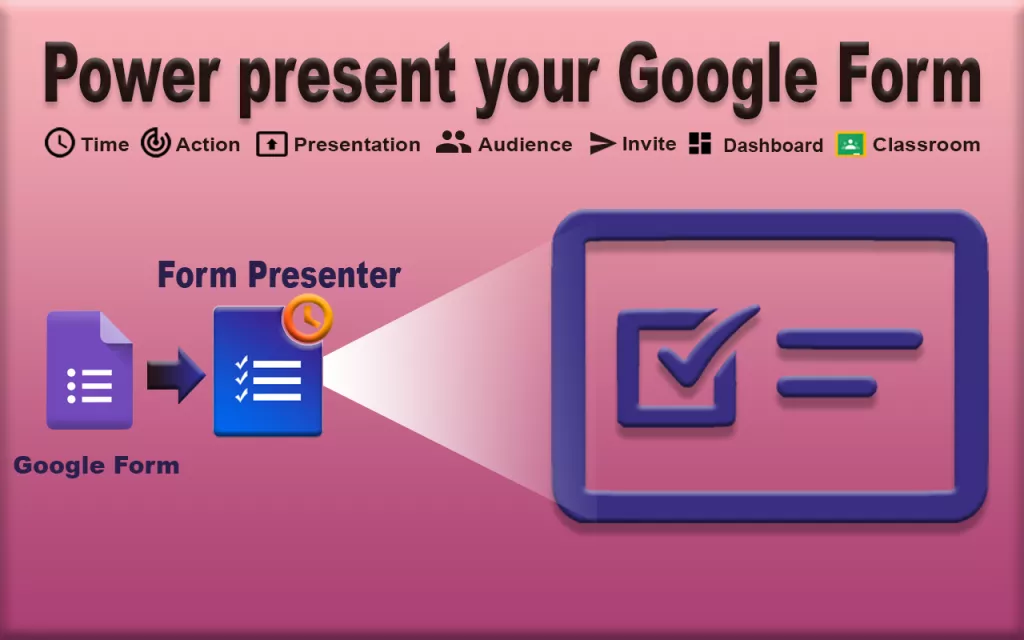 Form Presenter + Timer is one of the best Google Forms apps, the add-on application presents Google Forms with various configurations for conducting online tests simple and fast. This google forms timer app is built to conduct online tests, quizzes, and assessments with the help of time, audience, action, and presentation controls. It helps to timify, beautify, and action control Google Form for making the best out of it.
All the controls' features in the Google timer app have their own key features to look for like:
Presentation Controls: It consists of key features like a custom title, thumbnail, welcome message, and customize the theme.
Time Controls: You can control and setup form timers, track attempts, start, and submission times.
Audience Controls: In this feature, you can control who uses the form, restrict it with domains & emails, and enforce login.
Action Controls: Form Presenter allows you to capture live photos from the web camera. This feature basically tracks the activities of users while accessing forms.
Apart from these features, the Form Presenter add-on offers functionality like 'media controls' which allows users to record their audience's screen during an assessment and save it to their G-drive. Furthermore, it provides branding/Whitelabel controls, dashboards & analytics, and collaborators. All these features enhance the functionality of the Google timer app and therefore you can see why it is one of the best Google form apps.
3. Timer for Google Forms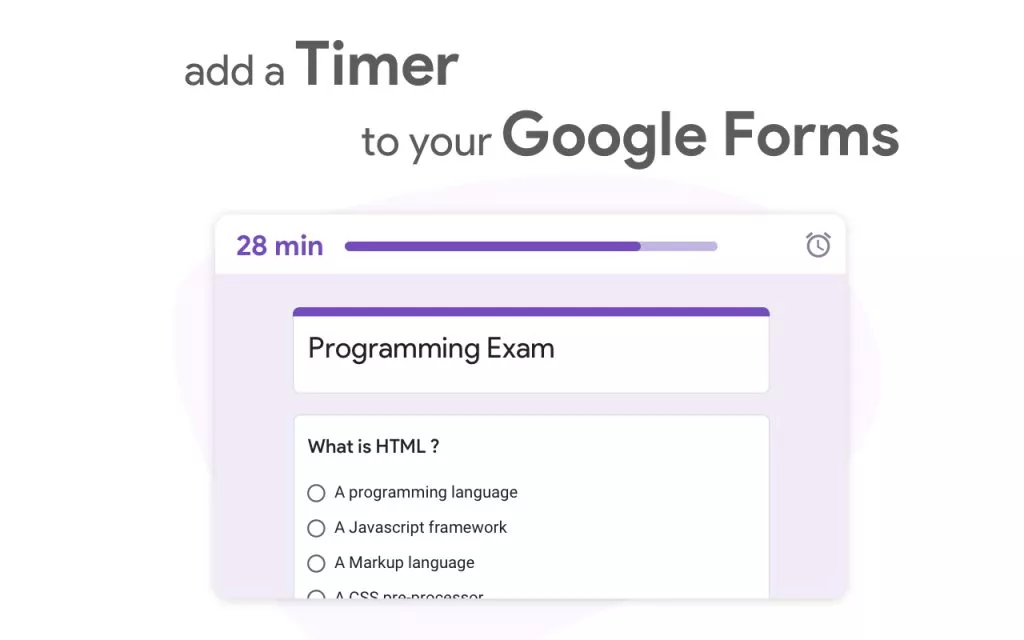 Another Google form add-on is the Timer for Google Forms, it is surely one of the best Google Timer apps. As it's obvious, it is designed to instantly turn your google forms into online google tests or simply to record the response time. The add-on doesn't require any external platform and account is not required as well. It is a very direct, quick, and simplest way to add timer to your Google Forms.
This add-on integrates seamlessly with the Google Forms editor and displays the submission time in the linked spreadsheet. In short, you can easily track submission time directly from Google Sheets. You can see the respondents status like whether they have finished if so then how much time did they took, or not submitted the form. Along with that, in the Sheets you can also see each respondents start time and end time.
Timer for Google Forms has all the basic, needed features that is a must have for timer apps. As already mentioned, it has features like custom time limit, track submission time, hide the timer, custom start/end dates, and cheating protection. The add-on can be used for exams, recruiting tests, marketing analytics or more.
4. Quilgo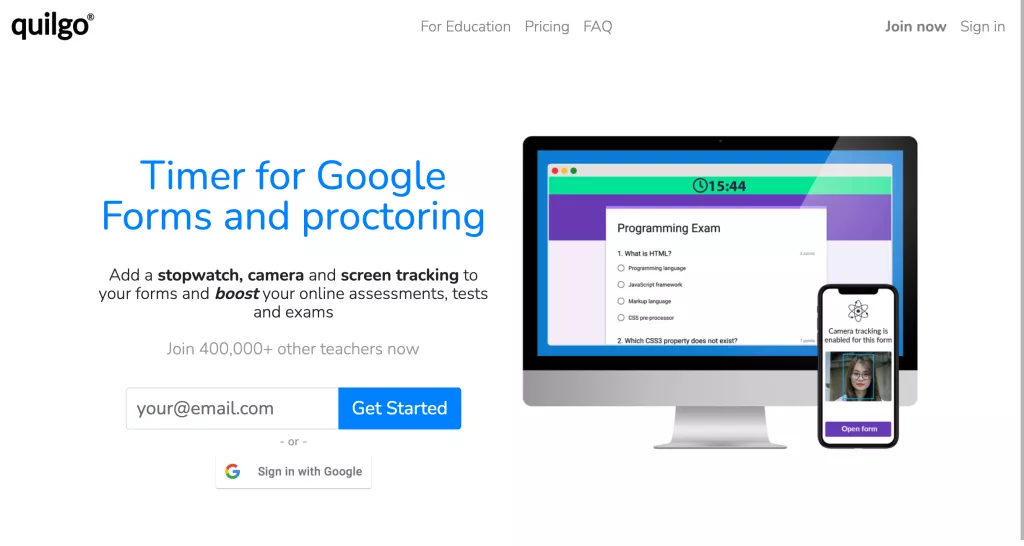 Quilgo – Timer for Google Forms and proctoring another Google timer app. It is a stopwatch limiter and automated proctoring for online tests, exams, and assessments. You can easily add a stopwatch, camera and screen tracking to your forms and boost your quizzes or exams. These are its features that enhances the functionality of the add-on
The timer stopwatch injects the timer into your Google Forms, a first step to transform basic quizzes into online assessments.
Camera and Screen tracking provides you the control to assess the process as if you were in the same room with your respondents
Then there's Exam mode, you can schedule a date and time for your test and turn it into an online exam.
Apart from these, Quilgo comes with the Google Classroom Integration. Further, it has secure full-featured dashboard to create and manage your online tests. The add-on also offers you branding feature – add your custom logo and colors to your test. Quilgo is the most popular add-on for Google Forms, it is world-wide used and is great experience for your students.
5. Timer + Proctor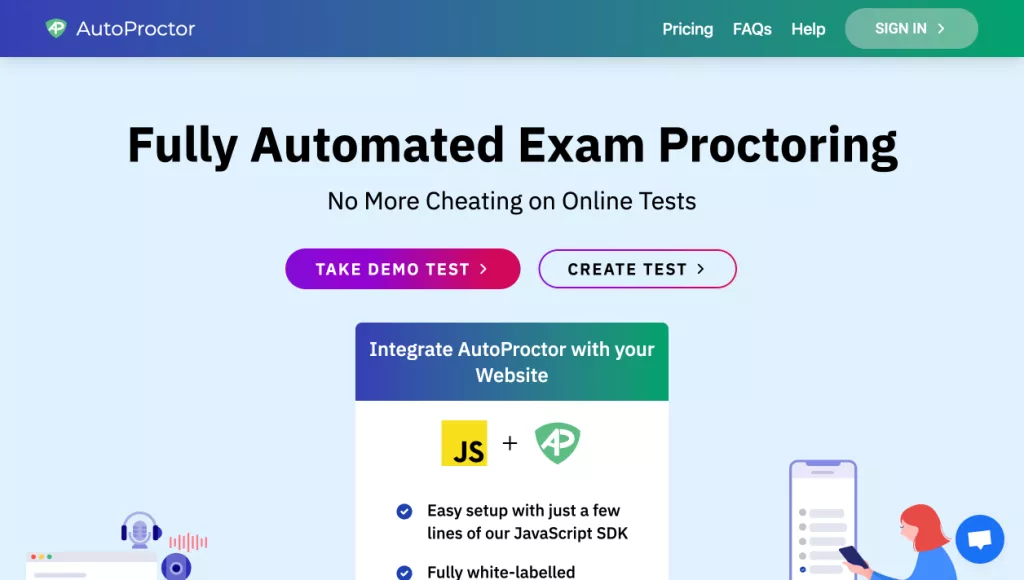 AutoProctor (aka Timer + Proctor) is a timer add-on for Google Forms Quiz, in addition, it also has the feature of automated proctoring. With AutoProctor, you can add countdown timers that respondents will see on opening the Google Forms. Apart from a test duration, you can also set a Start-End time for the test, which sets a deadline for users, before or after that no one can access the quiz/exam/form. It is created to remotely give users the environment of physical examination with constant monitoring by the add-on.
Furthermore, this google form add-on monitors the respondents environment and actions real-time for cheating. Like, detecting more than one face or accessing a different tab, the add-on notifies the users. It tracks each trigger and documents to be reviewed manually later, like taking a photo that you can review. Another feature, it assigns Trust Score based on multiple tracked factors, a higher trust score is proportional to higher chances of students not cheating in the test/quiz.
AutoProctor can handle cross platform, means that it can handle thousands of simultaneous users across multiple devices. You can either create a new test using its testing software or link to quizzes you may have created on Google Forms, Microsoft Forms, etc. This add-on increases the overall integrity of your Google Form Quiz/Test.
6. Form Timer

Whether you are an educator, a recruiter, or someone who is using Google form for assessments, then this app is really helpful. Form Timer is a Google Timer app that can help increase your productivity by adding a countdown timer or deadlines. The add-on is highly configurable and supports thousands of respondents at a time by embedding timere.
Form Timer just like all the other add-ons I have mentioned comes with its sets of features. Using this app, you can configure the assessment duration, control form start and end time (deadlines). Besides, it lets you share a single test link to multiple people via multiple platforms. You can share the form using Google Classroom, Whatsapp, and Email. Furthermore, the extension also lets you configure whether to continue or end the assessment once timer is over.
Apart from these, it is customisable you can use your own logo, background, colors, instructions and configure a welcome page. In addition, you can monitor candidate submission, get candidate quiz scores, and export data in various formats. Form Timer is used and liked by thousands of users/clients that want timers that are easy to setup and overall easy to use.
Conclusion
We all know, timing is the key to creating amazing quizzes, tests, or any type of assessment that requires a countdown timer. And these Google timer apps will help you create and manage quizzes better. Naturally, everything is not just perfect they come with their fair share of imperfections or here limitations. Besides, what works best for you might not be the same for others. So they are the best Google Form timer add-ons however, it's up to you and your testing to decide which works best for you.
If you have tried any of the above google forms add-ons then let us know in the comment section.
ExtendedForms add-on is for sure the best Google timer app that you can try if you are confused over what to choose. The app is as simple as a piece of cake, with quick installation and even easier configuration. You can try it on trial basis you get all the basic functions for free, however for more features you can go pro which is quite budget-friendly as well. I will recommend you to try the app on trial basis and see for yourself. For Pro features check out the website!