In this article, we will provide step-by-step instructions for setting up and using ExtendedForms with Google Classroom for maximising effectiveness & efficiency. Whether you are a seasoned Google Classroom user or new to this platform, you will find valuable information on how to incorporate extended forms into your teaching practice.
Google Classroom is a user-friendly platform and, educators can easily create a wide range of assignments, including traditional written assignments, online quizzes, and even multimedia projects.
If we are talking about Google Classroom, then we must first understand what it is and why is it so famous in the education field.
Google Classroom (overview of its features and benefits)
Google Classroom is an online learning platform that allows teachers to conduct classes, create curriculums, and share assignments with students electronically, all for free. Developed by Google, this platform offers a paperless solution for educators to manage their classrooms. The primary purpose of this tool is to streamline the process of teacher-student collaboration.
Google Classroom is a comprehensive platform that serves as a one-stop destination for teaching and learning. This user-friendly and secure tool helps educators streamline their work by allowing them to manage, assess, and enhance their students' learning experiences anytime, anywhere. It can be used with various G-Suite applications like Google Docs, Sheets, Google Meet, and so on.
Google Classroom is popular and used by thousands of users because it has all these features –
Customize Grading system – Educators can select a grading system and establish categories for grades. They can choose from – Total points grading, no overall mark, and weighted by point category.
Virtual discussions – teachers can invite students to participate in discussions centered around questions and encourage them to respond to their peers.
Assignments – Teachers can assign assignments using various materials and they can assign either to individual students or the whole class.
Live Classes – this is one of the best features of the tool, teachers can have a real-time class with students virtually through Google Meet.
Auto-connect with Google Calendar – this is another thing in Classroom, all the submission deadlines are automatically added to the calendar. So, it automatically in advance remind students about it. And Classroom sends notifications of the same as well.
Brief Overview of ExtendedForms (what & why?)
ExtendedForms is a countdown timer and proctor add-on for Google Forms. It is a tool that allows you to create timed google forms for a variety of purposes, including quizzes, assessments, surveys, and questionnaires. In addition to this, it also offers other useful features. With Extendedforms, you can easily transform a regular google form into a timed quiz.
When it comes to other useful features of extended forms, it has one of the major features – 'proctor' that allows educators to provide online proctoring in real-time in the exams/quizzes. Aside from that, you can create custom invitations to send form to respondents. Moreover, ExtendedForms comes with tons of usage that makes it a great free tool to use (though most of the features are part of paid version).
So how the add-on is useful with Google Classroom?
Google Classroom as we know is the tool for educators and students to streamline and create a virtual classroom. So, extended forms come into play here, as it makes the adding a classwork process simpler via google forms. In short, if you've created a google form and want to add it in the assignment, you can use extended forms and easily add the task.
ExtendedForms not only create a timer assignment or exams but you can add classwork from the dashboard the scores that you get will be imported to the Classroom from your linked Form, making it easy for teachers to assign grades. ExtendedForms basically act here as a bridge between Google Forms & Google Classroom.
Here's how to use ExtendedForms with Google Classroom
Let's look into the steps that you must follow to accomplish the task to add classwork from the extended forms add-on. To make it easier for our readers we've divided the process into 2 main steps – the first is to create a classroom in Google Classroom, and then the second step is to create and use extended forms with google classroom.
Note* If you are already familiar with the features of Google Classroom and have already created a class. Then skip this first process, simply go to the "add classwork from extended forms" section after you have created the assignment using Google Forms.
Create Classroom & Assign
Go to Google Classroom, sign in to the Classroom with your google account as a teacher. Then create a class, click on the '+' icon > Create class. [If you already have a class created then follow the further steps].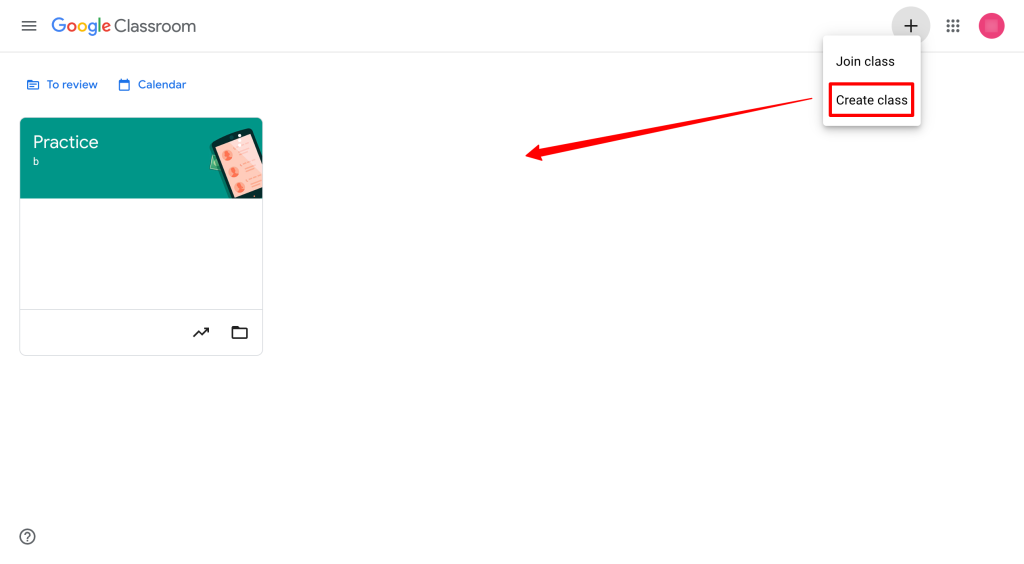 To create a class in Google Classroom, a pop-up dialogue box will appear. In this box, you will be prompted to enter the class name, section, subject, and room. Once you click "create," a new class will be added to your homepage. This new class will will allow you to assign different assignments based on the specific class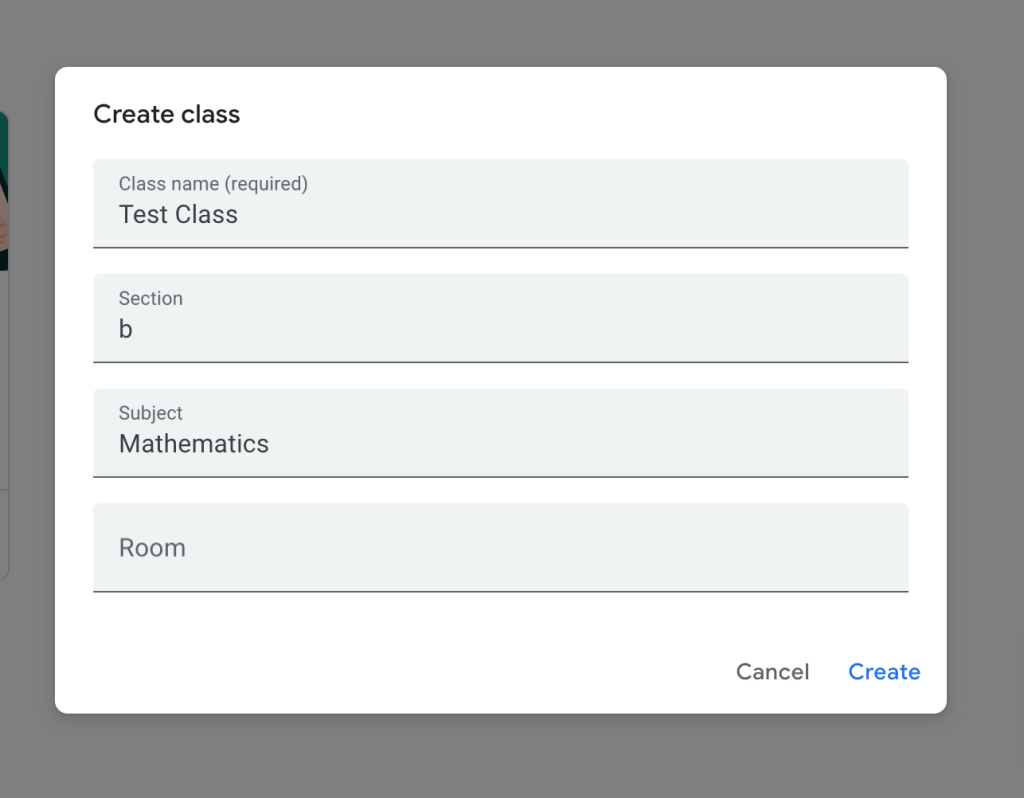 Now the classroom folder is created you can send invites to the students. Click on the '⋮' button and click 'copy on the invitation link' and send to the students.
Aside from that, click on the classroom folder, under 'stream' students will see all the announcements, assigned classworks, information, etc. In addition, Google Classroom also provides a Google Meet link for conducting the class and a class code that teachers can give to their students to join the class.
Click on the three dots where class code is shown, copy the invite link and to share with students.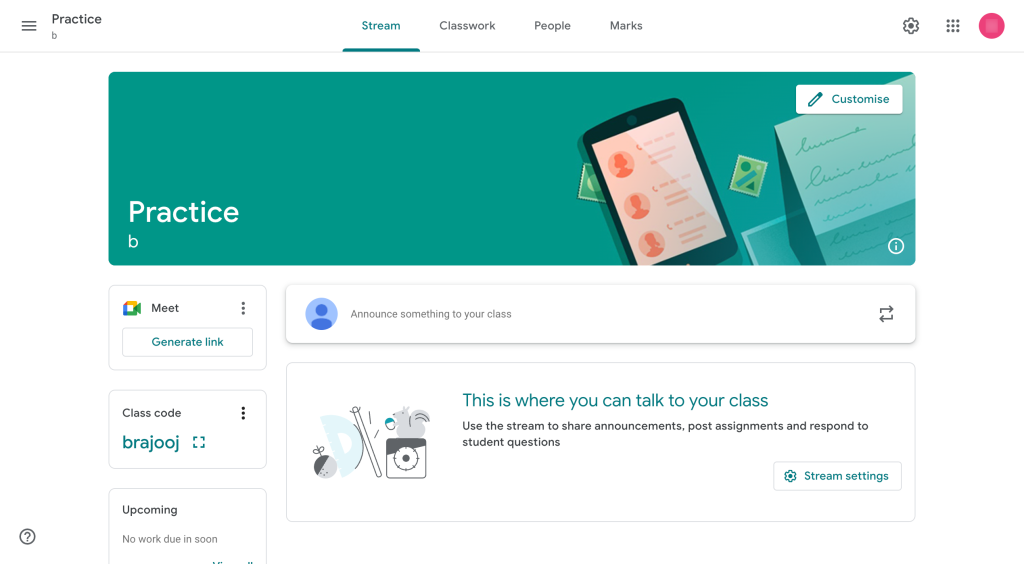 On the homepage, there is also a box that displays all upcoming work that is due soon.
Note, there is another way to invite students to the classroom. To do this, click on the 'People' tab at the top, then click on the 'invite students' icon and then invite students via email.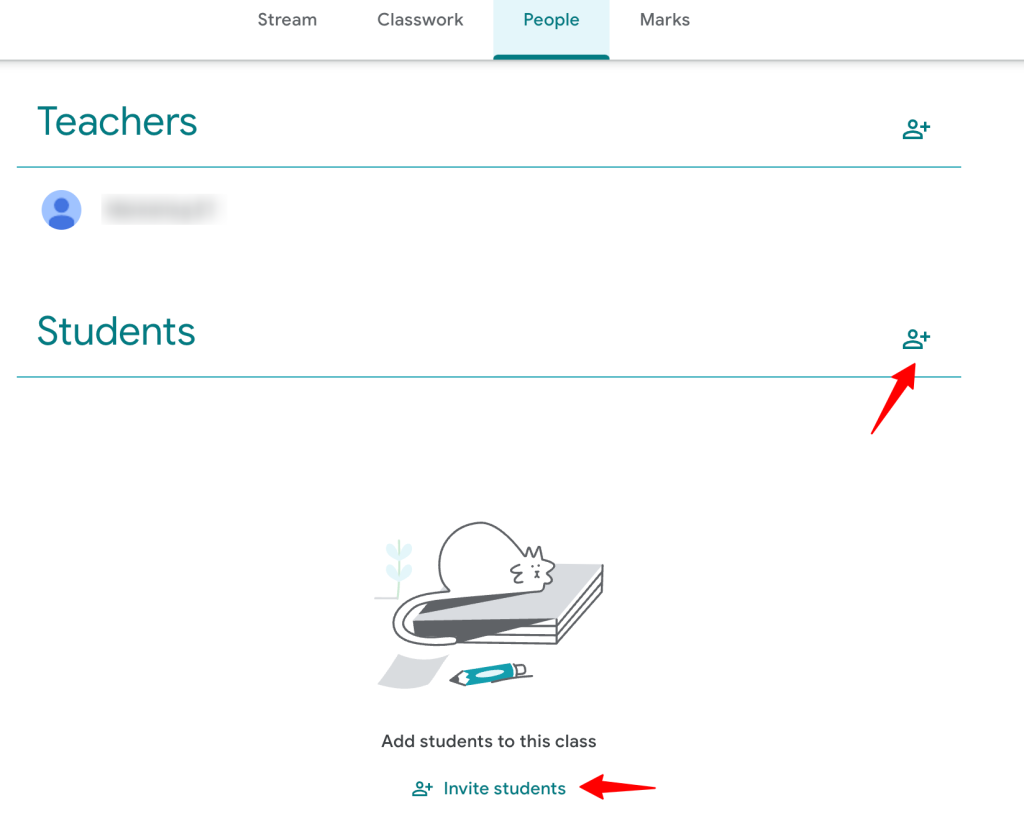 In the Classwork tab, students will be able to access all of the tasks that you have assigned to them. You can create classwork directly from this tab or through extended forms, which will be explained in the second part of this process.
Under the Marks tab, a table will be displayed showing the marks that each student has received for every task. (With ExtendedForms the marks received for the linked forms will be imported to the Classroom).
Add Classwork from Extended Forms
Now to see how one can use extendedforms with google classroom and that means, add classwork (i.e, google form assignment/test) to classroom, we have to go to the ExtendedForms dashboard.
Either directly go to the ExtendedForms dashboard from its website or via google forms – in the settings box click on the 'Responses' option.
Once in form's dashboard, click on the '⋮' icon > Google Classroom, a pop up 'add to classroom' box will appear.
Under that, select the classroom in which you want to add the task, then add the title of the assignment and description.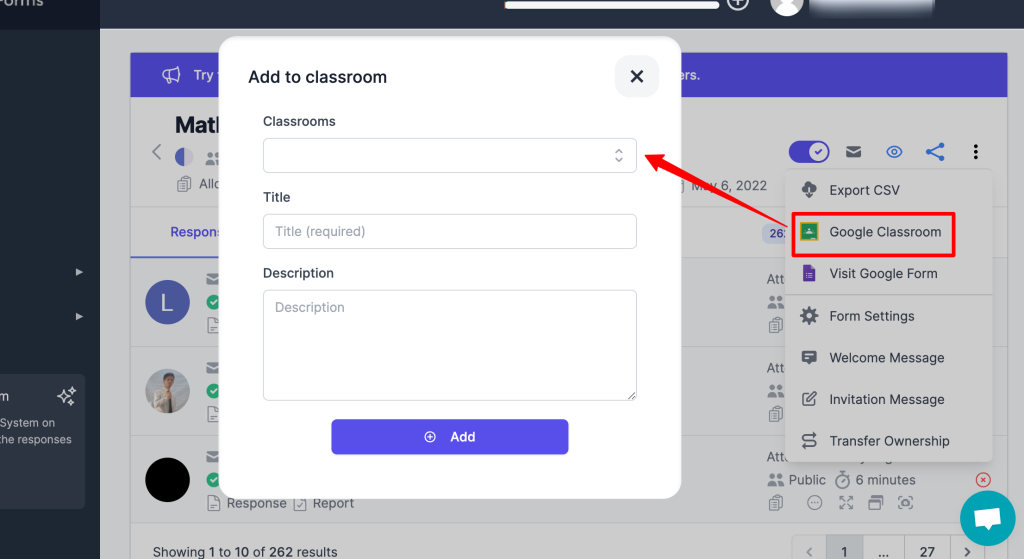 Click on the Add button and in the classwork section a task will be added. But it will be still in draft, so go to classroom, under Classwork you'll find the task.
To assign it, edit the task and you'll be able to see the title, description, and attach options (where you can add additional files if desired).
The Google Form that you have added is already attached. On the right side, you can assign points to the task, set a due date, and choose a topic. To ensure thorough evaluation, make sure to click the "check plagiarism" box.
Once everything is done, Assign the work by clicking on the option at the top right corner. Once you've assigned the assignment, it will be shown in the 'Stream' section.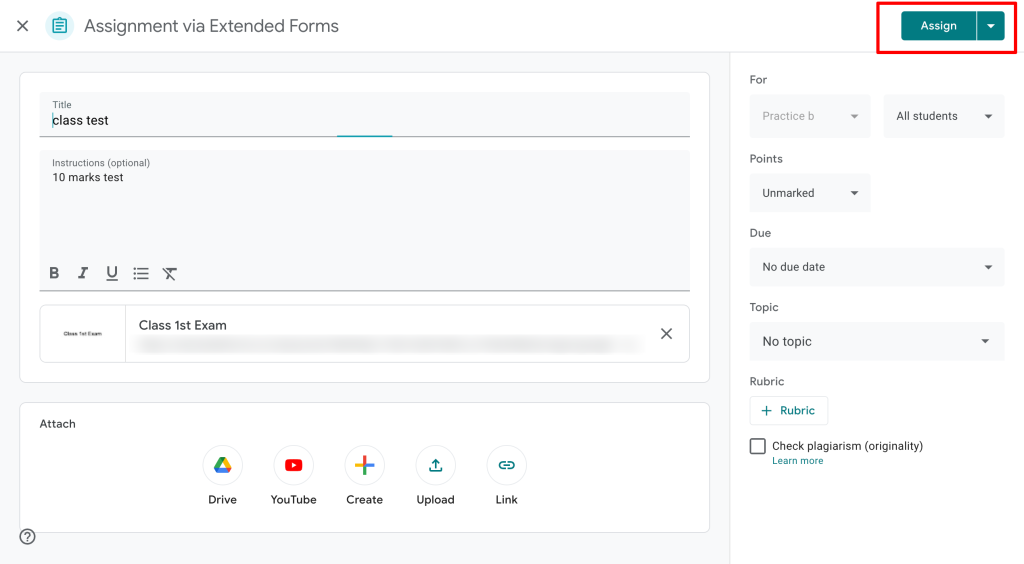 Wrap-Up
By following the steps and best practices outlined in this article, you can effectively use ExtendedForms with Google Classroom to create assignments/tests that align with your teaching goals and improve the efficiency of your grading process.
Whether you are new to Google Classroom or looking to expand your use of this platform, this article has provided the guidance you need to effectively use extendedforms with google classroom and create assignments for your students.
If you frequently use Google Forms, ExtendedForms is an app that you should definitely consider trying. In addition to the features mentioned in this article, it has many other benefits to offer. You can start with the free plan, which includes a timer and proctor feature.