If you're looking to add a timer to your Google Form quiz, you're in the right place! A timer can be a useful tool or way for ensuring that your quiz is completed within a certain time frame, and it can help create a sense of urgency for your quiz takers.
In this article, we'll show you how to set a timer for your Google Forms quiz using the Google forms timer add-on – ExtendedForms. With this add-on, you can set a time limit for the entire quiz and even add deadlines for quiz submission.
Whether you're an educator, a business owner or just someone who enjoys creating quizzes, adding a timer to your Google Forms quiz can be a useful and effective way to add an extra layer of challenge and engagement.
So, let's get into the article and see how to set a timer for google forms quizzes. However, before that let us give you an insight into the add-on that we are going use for the timer feature.
What is ExtendedForms?
ExtendedForms is a google form timer add-on that is one of the best and top-rated add-ons of Google tools. It is the perfect solution for creating timed google forms for any purpose – quizzes, assessments, surveys, questionnaires, and much more. Aside from turning your basic no-limit form into a timer quiz, Extendedforms also caters to a few other things with its various great features.
One of them is the proctor feature! You can not only add a countdown timer to your form but you can also enable online proctoring to prevent cheating from happening in online exams (to a certain extent). You easily get two important features from one add-on and that too for free.
Besides that, the app is full of useful features like branding, custom welcome message, customise & shorten URL, auto-submit feature, Google Classroom integration, and so much more. The add-on is a great free add-on to try, it has easy configuration that means no hassling, just install, configure, and start setting timers to your form.
Here's how to set a timer for the google forms quiz
Go to (or sign in) Google Forms, select the form that you want to set a timer for. Otherwise, select a blank quiz or choose from one of the templates.
Then, work on the google forms quiz setup – add Q&As, configure the settings of the form, and customize the quiz.
Once your google form quiz is set up, let's add the google forms timer function to it.
We've to install the google timer add-on – ExtendedForms; for the timer function. And there are two ways to install the extended forms add-on.
Go to ExtendedForms in Google Marketplace Workspace
Sign in to your Google Account
Click the "Install" button to install the add-on
Once the add-on is installed, you can access it from Google Forms.
Another way to install an add-on in Google Forms is to directly from inside of the form.
Click on the More icon in the top right and choose Add-ons.
Search for ExtendedForms, install the app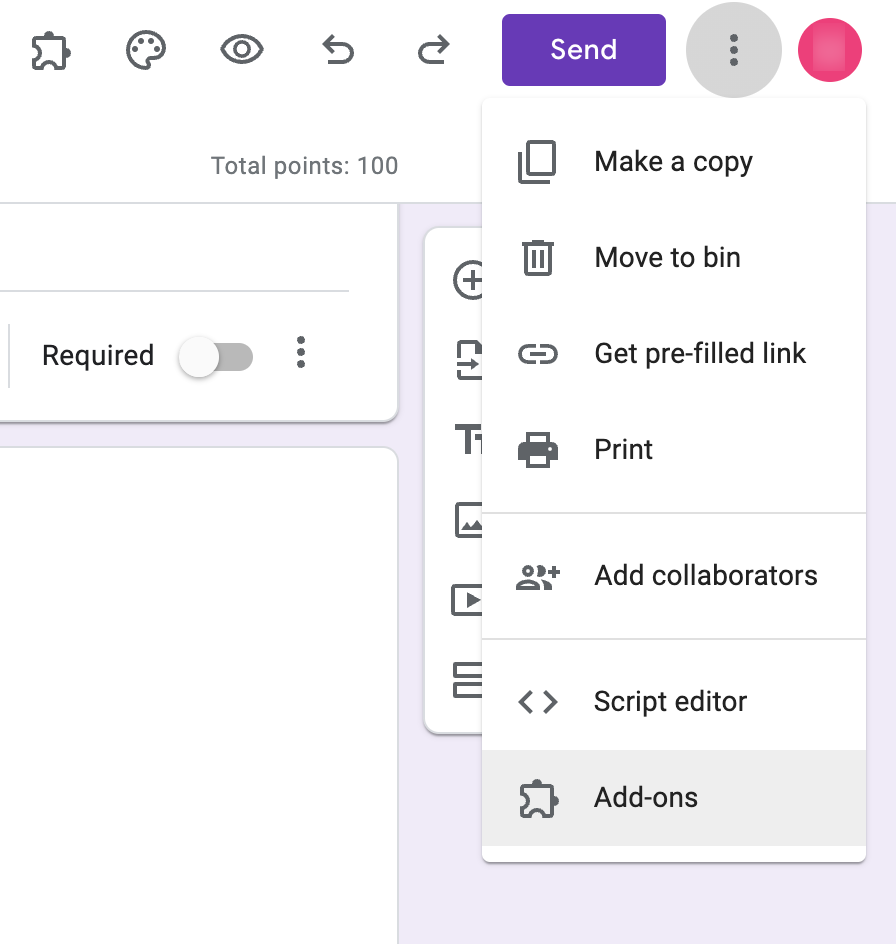 Click on the puzzle-shaped icon, you'll see it after you have installed the add-on.
Click on the ExtendedForms > Configure. The extended forms settings box appears at the bottom of the google form quiz.
Set up the timer for google forms, enable/disable restricted attempts, and even configure whether you want google form quiz to be auto-submitted once the timer ends automatically.
To access all the available settings for the Timer add-on, you can click on the gear icon or 'Responses'(to access all the responses & invitations of the form) in the configuration box after opening the Settings Box.
This will take you to the Extended Forms website where you can see all the available settings for the add-on. Alternatively, you can configure most of the basic settings within the newly opened Settings Box.
When you click on the gear icon, it will open up to "Forms Setting." You'll see all the settings that you saw earlier, along with some extras like to hide user email-id and add deadlines.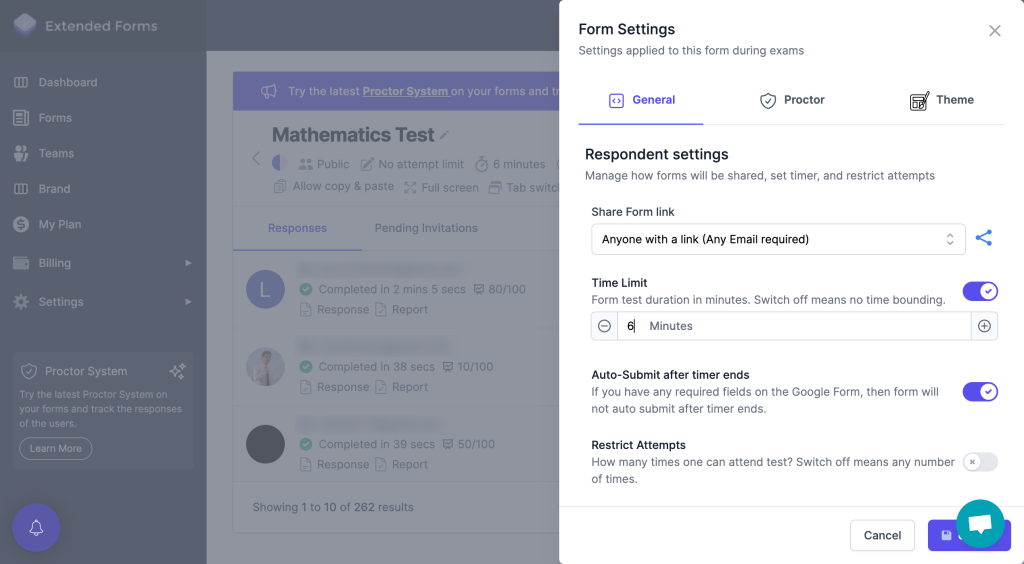 Moreover, you'll see proctor settings and brand theme settings. Close the dialogue box, and you'll see all the responses and pending invitations. Along with some more settings options. Like –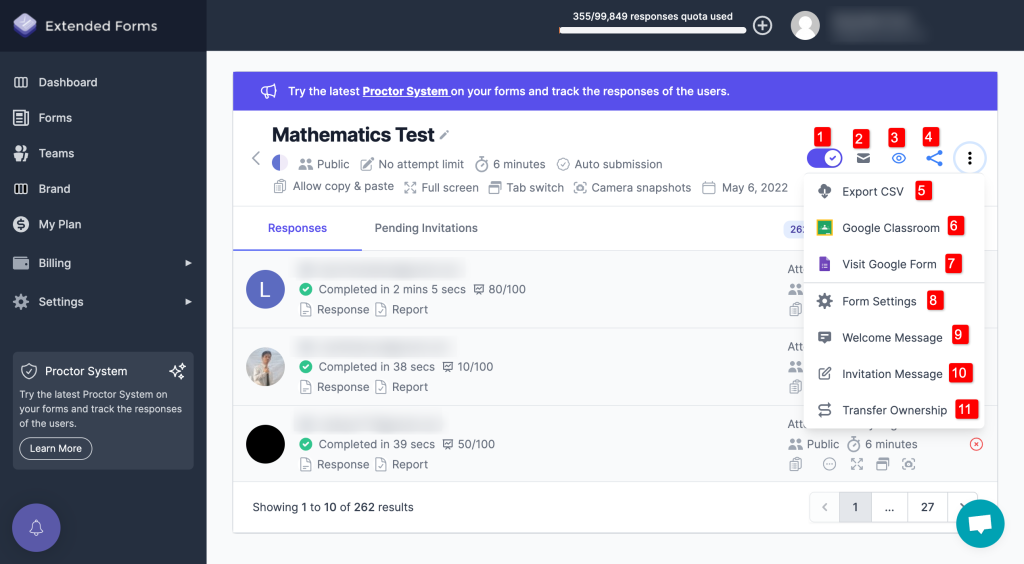 Toggle Accept Response – The toggle button is used to turn ON/OFF the ExtendedForms' ability to accept the responses.
Send Invitation – You can send custom invites to people wanting or having to take the test.
Preview option – if you want to preview your form
Share form – you can share the link from here. Also, shorten and customize the form and share it as well (though this comes under paid version).
Export CSV – it allows you to download/export forms' responses into .CSV format (it comes under paid option)
Google Classroom – The ExtendedForm has this feature that allows you to sync your work with Classroom. You can add classwork from the ExtendedForms dashboard itself (it is also pro feature).
Google Forms – you can go back to the potential form for which you've configured the ExtendedForm functions.
Form Settings – it will open up to the settings dialogue box that we discussed earlier.
Welcome Message – This paid feature allows you to add custom display message in different languages (you'll have to copy paste the statement in different language from external source).
Invitation Message – you can click here to directly open up invitation message box (this is also a pro feature).
Transfer Ownership – You can transfer the ownership of the Extended Forms to another person who has access to Extended Forms and has installed the add-on using this function.
You can find your Token in Extended Forms > Dashboard > Settings > Token.
Once you've set a time limit for your form, it will be visible to anyone who takes the form, and they will be able to see how much time they have left while they are taking the quiz.
Conclude
In conclusion, setting a time limit for a Google Form quiz is a simple and effective way to ensure that your quiz is completed within a certain time frame. Once you've set a time limit for your form, it will be visible to anyone who takes the quiz, and they will be able to see how much time they have left while they are taking the quiz.
This can help ensure that everyone takes the quiz at the same pace and that the quiz is completed in a timely manner. Overall, setting a time limit for a Google Form quiz is a useful way for educators, business owners, and anyone else who wants to create and administer quizzes online.
ExtendedForms is by far a great add-on to try timer google form quiz. It is a one-stop solution for both a countdown timer and proctoring for your quiz/exam. Many features are under pro-version, however, you get the timer & proctor feature for free. So go visit the website and install the app now!