Are you ready to learn how to create a survey in google forms? Not only that but also tips to create good surveys that your respondents will actually fill out to provide you with valuable feedback.
In this article, we are going to discuss everything you need to know about surveys from basic definitions to best practices and steps to create a survey in google forms.
Good surveys are seldom forgettable! The best experience you can aim for as a survey designer is for the respondents to finish and submit a survey and think that was manageable.
On the other hand, there is a fair share of bad surveys that probably you might have taken as well. The major difference between a survey submitted and a survey not submitted is the tolerance level of a respondent taking that survey.
Let's help you to create a good survey that is not poorly worded or tends to drag on forever.
Key Takeaways
Survey is a structured way to collect information and gain feedbacks. An online survey is exactly the same thing it just takes place via the internet.
It comes with its own sets of pros like they are convenient to create, fill, and analyse. Online surveys are flexible, available anytime and anywhere, and provides you real-time access to analyse.
Besides, survey has different types or more specifically it can be created for different purposes like customer feedback, market research, employee engagement, and academic research.
When creating a survey there are some tips to follow so that it could be a great survey. First and foremost, determine the objective of the survey, keep the survey short, the questions tone must be neutral, and so on.
It is very easy and quick to create a survey in google forms, first setup the google form, add title and description, write all the questions, configure the settings, and share the form.
What is an Online Survey?
Do you want to collect feedback or information, what's the best way to do it? A survey, of course. A survey is the easiest and most efficient way to gain insights that will push you to take action for your business.
To put it simply, a survey is a structured way to collect information. It is a primary research method that samples individuals of a population segment to collect data. An online survey is exactly what it sounds like – a research method for asking definite questions from a defined group of people via the internet.
Offering your survey, quiz, or questionnaire online has its advantages and also challenges. However, we will look at the advantages and other useful information about online surveys in general.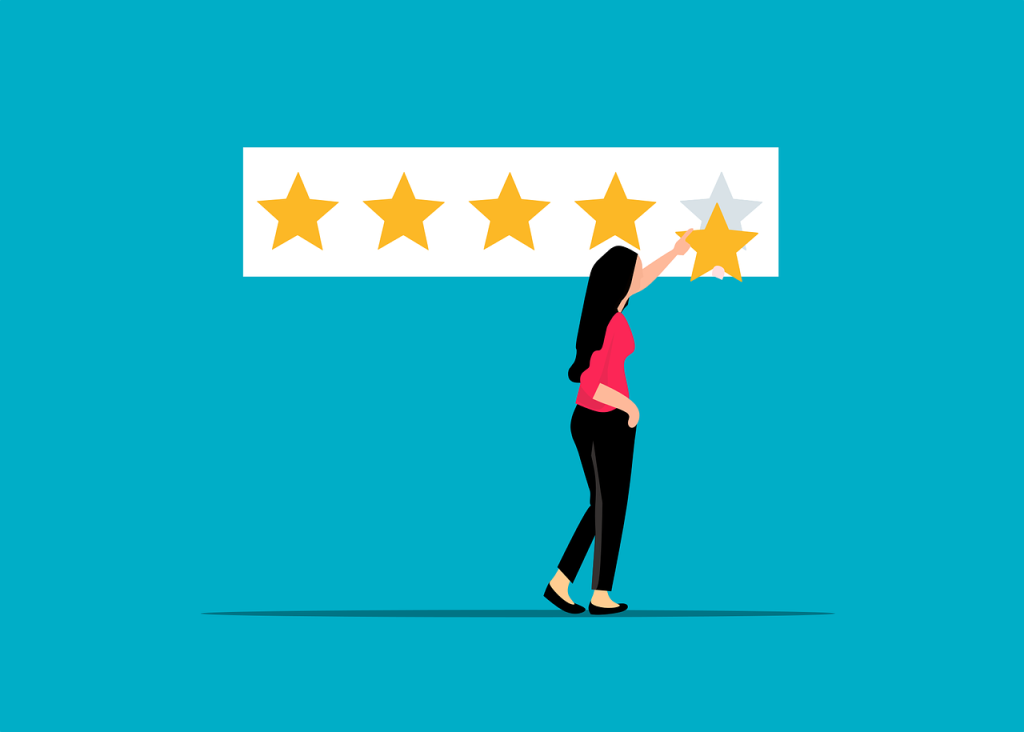 Advantages of Online Survey
Let's look at the benefits of online surveys –
Convenience – Online surveys are convenient to create, fill out, and analyze. There are many free survey makers like Google Forms that allow you to create great online surveys for market research or any other business purposes.
Flexible – Online surveys are more flexible than traditional surveys used to be. The order of questions can be changed, questions can be skipped altogether depending on the previous answers. An online survey can be tailored to each participant. Moreover, a survey can be designed the way you prefer, the google form survey allows you that option as well.
Real-time access to analysis – In online surveys, results are ready to be analyzed at any time. You can view results in real time so you can act quickly, export data for further analysis, and share results with anyone.
In Google Forms, you get the summary of the survey data results besides you can auto-save forms responses in google sheets by attaching both tools.
Anytime, Anywhere – This is another advantage of the online survey, unlike traditional surveys with online surveys, participants can take surveys at any time, anywhere. With a mobile responsive design and good connectivity, one can take a survey at a midnight on a subway.
Types and Tools of Survey
Surveys come in many forms and can be delivered in a multitude of ways. To give a broad sense of the different purposes you can take yours, we cover the major types of surveys below –
Types of Survey
Customer Satisfaction
Market research
Employee Engagement
Academic Research Survey
Tools of Survey
Online survey tools own the capability to automatically do all the manual tasks. Survey makers are great software solutions to create, run, and interpret surveys, you can send links, email, on social media, or embed them on your websites.
There are many free survey makers available online that you can use to create a great online survey. Here are 5 lists of online survey tools that can help in creating various purposes for surveys.
Google Forms
SurveyMonkey
Jotform
Typeform
Survey Sparrow
Best Practices for Creating an Online Survey
Anyone doesn't have to be an expert to create a survey in google forms or any survey maker. But by following a few best survey practices you can make sure to collect reliable data possible.
In this section of the article, we are going to look into a few points to remember before or while creating a survey.
1. Determine the objective/purpose of your survey
Before planning to create a survey in google forms or any other online platform, know what you're trying to accomplish. Know what you're trying to find out with the help of this survey, and keep that objective in mind while preparing your survey.
Like with any project, it's important to have a clear goal or purpose for your survey. If you can't answer this question with certainty you can't move forward and prepare a survey. Your purpose for the survey should be clear, attainable, and relevant.
2. Keep the survey short & simple
Although you may be deeply committed to your research and survey, chances are your respondents aren't. Know that, survey respondents don't care about what is interesting to you, they just want to quickly finish the survey.
As a survey designer, a big part of your job is to make sure they stay focused until the end. Besides, drop-offs are likely to happen more with longer surveys that bounce around haphazardly from topic to topic. Make sure your survey is short, covers all the relevant questions, and follows a logical order.
Although respondents do not need to know every nic detail behind the survey. However, they must know the basics about who you are and your survey purposes. Transparency is the Key.
3. Keep the tone of your questions neutral
Try to make your questions as objective as possible, even if you want a subjective response. Also, use unambiguous language to ensure the question's meaning is clear.
Although it may not intend them to certain answers or phrases, sometimes questions can point respondents in a particular direction. As a rule of thumb, when you conduct a survey it's best to provide as much wording as a respondent needs to give a suitable answer.
For example, instead of asking questions like product A is better than competitive products. In what ways do you think?
Ask questions like – In your opinion, in which ways does product A do you think helped you achieve XYZ's solution?
4. Speak your respondents' language
This tip or practice goes without saying to speak your respondents' language. It's about making language only as complex or detailed as it needs to put out your question correctly and understandable.
Create surveys that use language and terminology that is understood by your respondents. Ditch the jargon! Don't force your survey-takers to spend their time and brain doing your job for you. Speak like a human and not like an academic book.
5. Ask qualifying questions
You make a survey questionnaire to obtain important insights for your objective. Therefore, every question should play a role in hitting the target. Make sure the questions that you're asking add value and drive survey responses directly to your research goals.
For example, if demographic questions add value to your survey data then go ahead and ask. But if it is not necessary to know respondents' demographic information then skip it.
It's best to plan your survey by identifying the data you need to collect and writing questions accordingly. For that, you can incorporate MCQs to get a range of responses rather than a solid yes/no.
6. Choose the right online platform
Creating a proper survey starts with choosing the right platform that can make your job a lot easier. For instance, if you want to survey your Facebook followers, your survey should be live on Facebook. Meanwhile, if you want to email your customers a survey, you'll want to make one from Google Forms.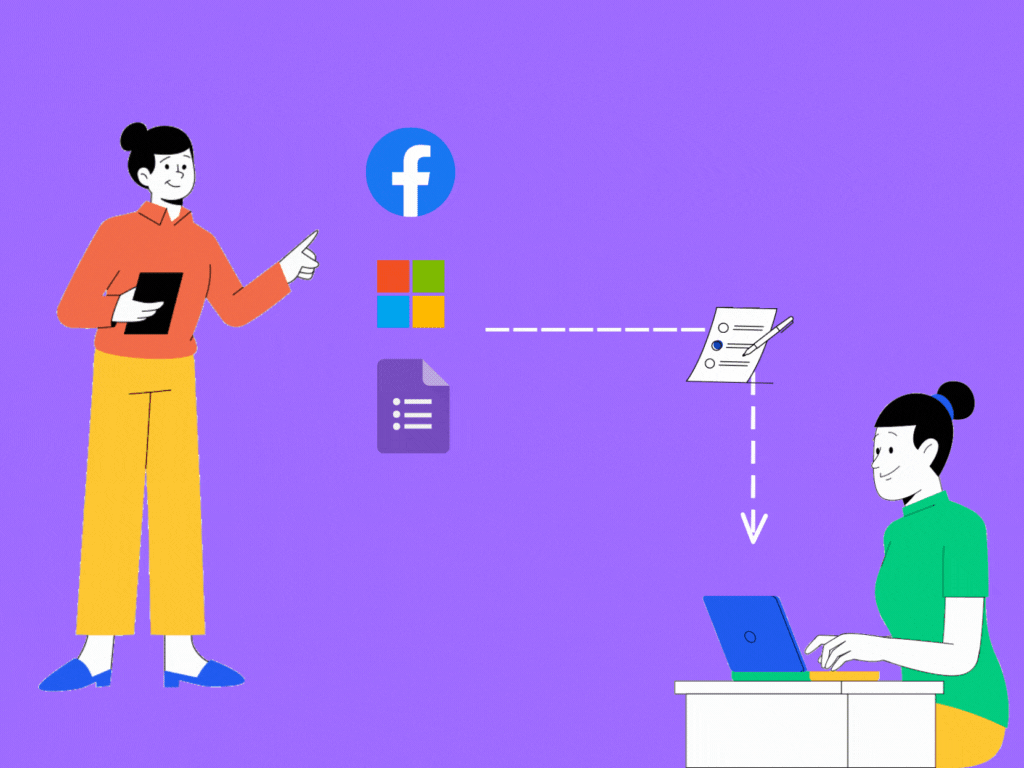 Besides, think about how you want to use the data. Like, if you're collecting large chunks of data that you want to analyze, you should create your survey using other platforms like Microsoft Forms.
7. Test the survey
However precise and error-free you think you've created a survey, it's always a good idea to pre-test your survey before you roll it out fully. So that you can catch any possible or neglected errors before they have a chance to your results. Share your survey with a few select samples from your potential target audience.
How to Create a Survey in Google Forms?
Google Forms is the first thought that comes to mind when we think of online surveys. You can create a survey in google forms and also share it, and analyze the data. Rather than including a link to the survey, you can simply include email addresses or embed it on your webpage. This will save you a few extra steps, making the whole process easy.
Furthermore, google forms is a free survey maker that has the ability to create a great online survey because of its features and you can advance it with help of add-ons as well. Let's look into the steps quickly!
Step 1 – Open Google Form, go to the Gmail account menu on the right side of the page and select 'Forms' or click here to visit the page.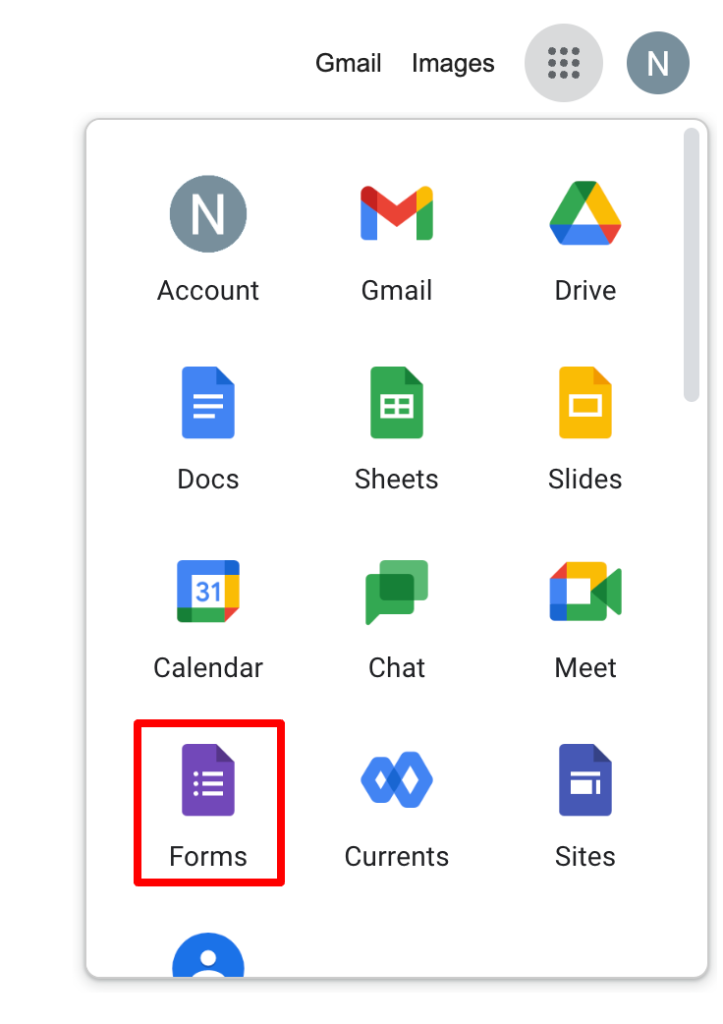 Step 2 – Select a blank form or choose from different template options. It included event feedback forms, customer feedback, and more.
Step 3 – Name your survey and add a description that gives transparency to your respondents and will receive honest feedback. It is a crucial step in your survey design.
Step 4 – Create the survey questions that you've prepared by selecting different question types. [Make sure to toggle the Required button for mandatory answers]. You can add multimedia, sections, or unique formatting options using the sidebar menu.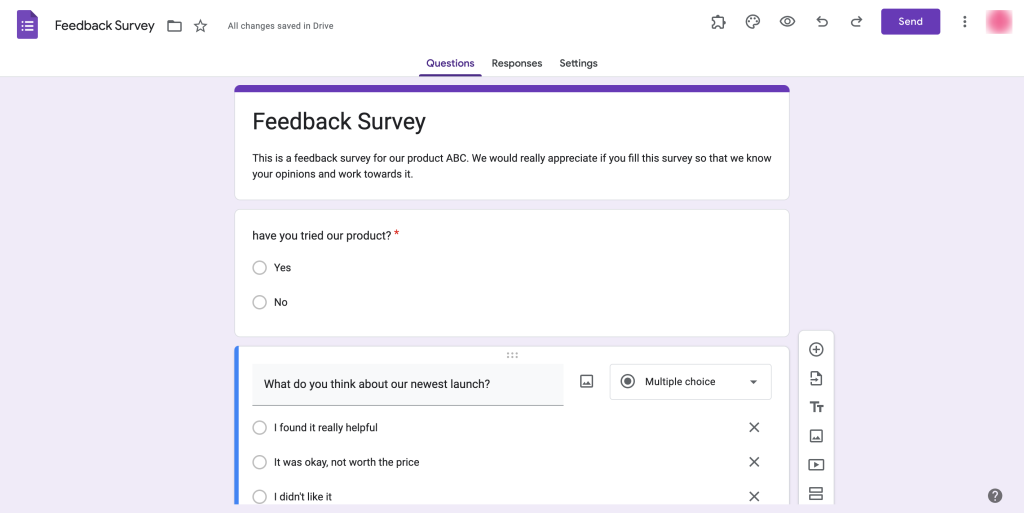 Step 5 – Besides, if you want to make the survey more personalized for each respondent you can also add logic branching [sections must be added in the form to activate this feature].
Step 6 – Then, adjust the form settings, you can include options to make the form a quiz, show missed questions, correct answers, point value, and more.
Step 7 [optional] – Furthermore, if you want you can customize the form under the 'customize theme' option. If want to add deadlines or a timer, install the Extendedforms add-on.
Extra Steps to add ExtendedForms
To install in the Google Form, Go to More > Add-ons > ExtendedForms > Install.
Once installed, we can see the add-on in the puzzle shape icon. [If you don't see the icon, refresh your page]
Click on ExtendedForms > Configure, and a settings box will appear on the left bottom side of the screen.
In the settings box, you'll see a timer option, restrict attempts, and auto-submit options that you can configure. If you don't want the timer feature just disable it.
It also has a share form option that allows you to share forms anonymously, via email-required, or invites-only.
Click on the gear icon beside the share form option, it will open Form Settings in the dashboard. Under General settings only, go to the bottom and enable the 'accepting responses settings' option and add a deadline.
Update it, then copy the link or send an invitation via email and send it to your audience.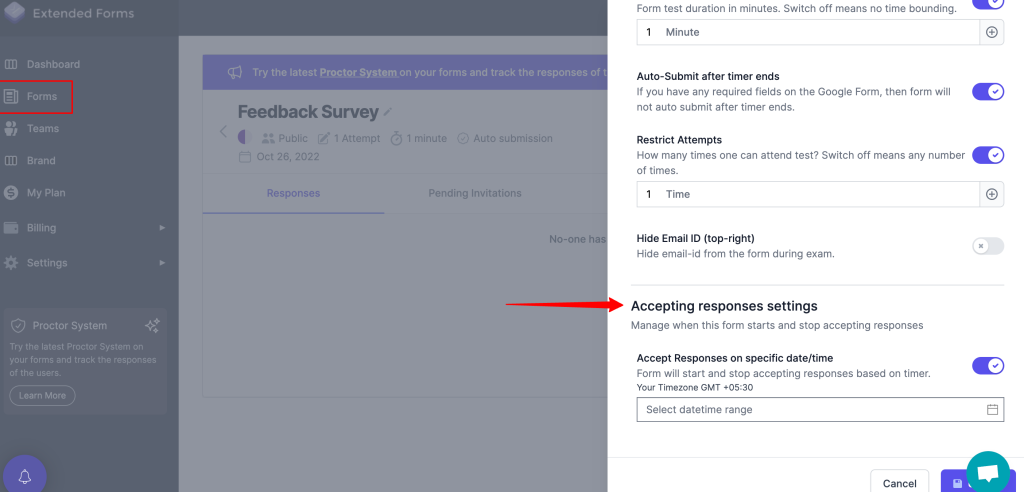 Step 8 – If you don't plan to go through Step 7 then directly jump to this last step. Through google forms, add collaborators to your survey by clicking the Send button in the upper right-hand corner or go to More > Add Collaborators.
Step 9 – Preview the form, and send it via email, link, or embed it on your webpage.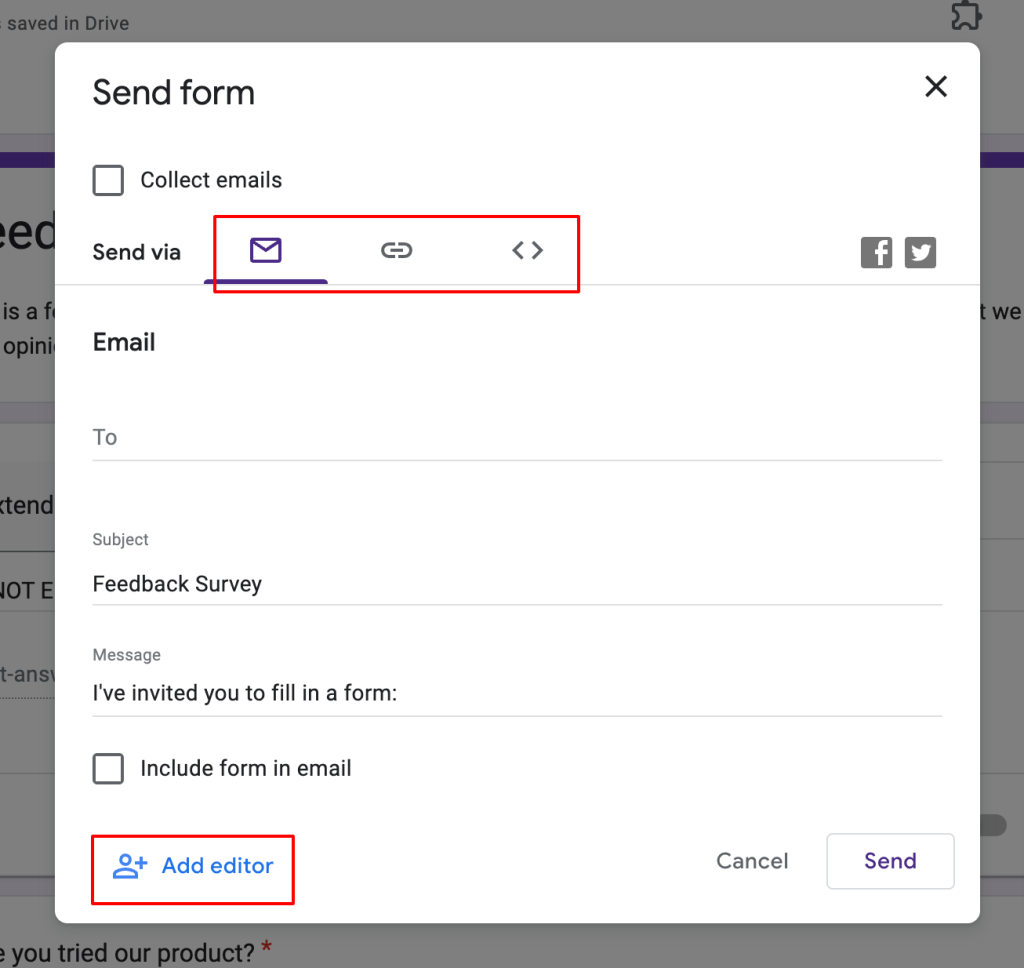 This is how in just 9 [+ few extra steps] easy steps can you create a survey in google forms.
Wrap Up
Know that if your respondents are skipping your survey or taking the time to complete it, give them one that is interesting, neutral, and respectful of their time. Now that you have the best practices for how to create a survey in google forms, try making one today and see the insights you get from your audience.
Besides, it is very easy to have google forms create a survey. And if you want to make it more advance you can try using the ExtendedForms add-on for keeping deadlines if not for the timer. Additionally, you can download CSV files and view survey data in an excel sheet.
ExtendedForms is a timer and proctor add-on for google forms but apart from these two features it has many other functionalities like brand customization, invitation, and welcome message customization, custom URL, and so much more. That will help create great google forms for any purpose.
So, try its free basic trial and visit the website to understand about the add-on.