Do you want to create an auto-submit quiz, so that responses are automatically submitted at the given time without putting in extra effort from your end? This blog post is going to focus on guiding you through that process.
Auto-submit functionality is useful for both timed & untimed assessments. It allows you to automatically submit google forms after the time limit is up. Plus, it is useful for untimed assessments/quizzes that are available for relatively long deadlines.
If you have created an auto-submit quiz, know that responses will not be automatically saved. However, the answers saved or attempted by respondents will be automatically submitted.
It is a very useful feature, especially in terms of online tests or quizzes where physically invigilators cannot collect sheets once the time is over. Hence, in this guide, I am going to explain to you the steps to create an auto-submit quiz/test in Google Forms.
Guide on how to create an Auto-submit Quiz
1. Create Quiz
Let's start with first creating the quiz, you must first visit the Google Forms site, or go through the G-Drive > Google Forms and select the 'Blank Quiz'.
Besides, if you choose a 'Blank Form' for that matter, you can easily convert it into a quiz form from the settings.
So to make your form into a quiz, go to 'Settings' and enable the 'make this a quiz' option. Then you can also configure 'release marks' and 'respondents settings.' You can collect email addresses, limit per response, show a progress bar, enable default questions, etc.
You'll also see various options to configure like 'Responses' Settings,' 'Presentation' tab, and Defaults settings.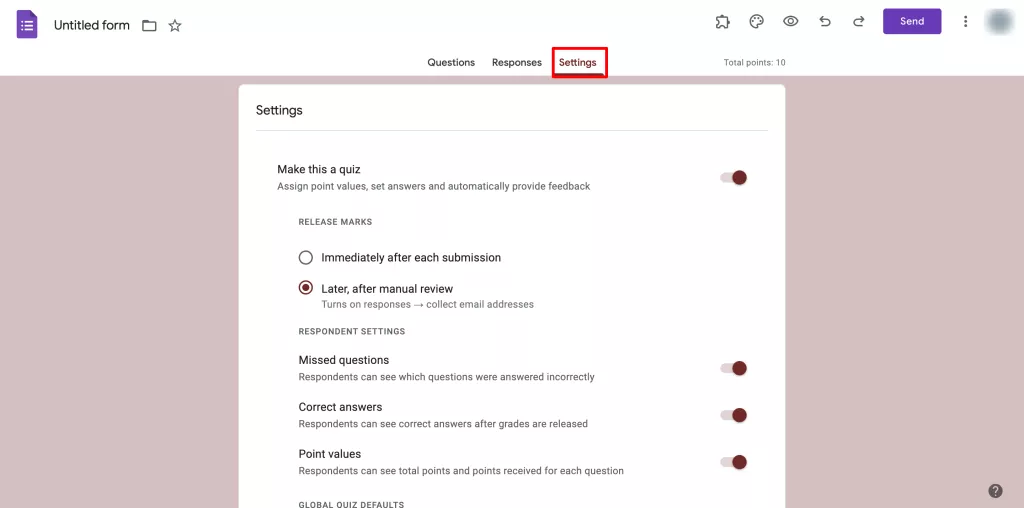 Then, create the quiz, google forms allow you to design questions with different question types.
Then smartly choose your Q&A type, whether yes/no, multiple choice, single choice, or you can add images, or videos. Moving further, write the questions ensuring it is properly framed.
Besides, if your question needs a short description, click on the icon '፧' in the bottom right corner of the question tab to Show > Description.
You can also give respondents the option to go directly to a particular section based on their answers. Go to this icon ፧ at the bottom of the question box and choose the 'go to section based on the answer.'
2. Customize Quiz
Once you have created the quiz, it's time to customize your quiz a bit. Configuring Settings is a part of customizing, it is more of a customizing google forms layout. So, as we have done that in the create quiz part, we will move to customize google forms themes.
To begin with, go to the 'Customise Theme' at the top. A theme dialogue box will appear on the right side, from their add header image, change text style, font size, and add theme color.
Further, you can add a collaborator that can also access your form. To do so, go to the More option at the top right corner and click on 'Add Collaborator.'
A pop-up box will appear and add people & groups that have a google account. Besides, you can copy the editor link and paste it on any platform.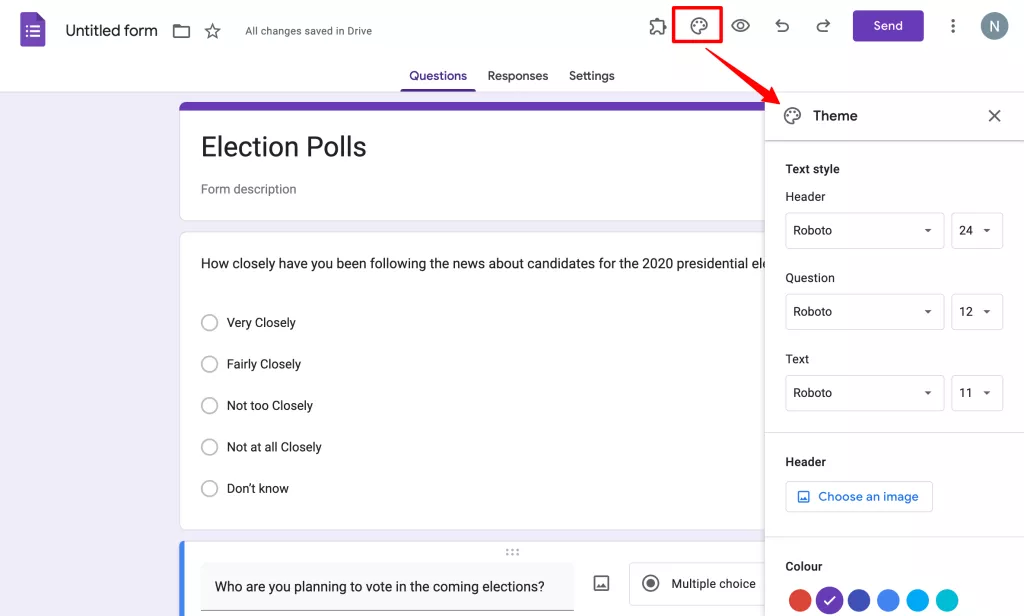 Apart from that, if you want to connect form data with Sheets then that can be done. Go to the 'Responses' tab, click on the excel sheet icon, and a spreadsheet will be created. Plus, you can select the response destination, click on three dots, and then the select response destination option. Further, you can select from a new sheet or existing spreadsheet.
If you want to get email notifications for every response then click on three dots and enable that option. Once the deadline is over, you can also stop accepting responses, in the Responses tab only you'll have the option, to disable it.
To further customize your form, you can add add-ons for different purposes whether it's for productivity, communication, or utility use cases. Go to the 'More' option, navigate to the 'Add-ons,' and add apps of your choice.
3. Add Google Form Timer
As we discussed above, adding an add-on can enhance your Google Forms. And here, we are going to add a google form timer that has the ability to kill two birds with one stone. It means, your form will have a countdown timer and it will be created into an auto-submit quiz.
So first, we have to install the add-on i.e, ExtendedForms.
Go to the 'Add-ons' option in the '፧' More option at the top right corner. Search ExtendedForms and install the app.
Once the app is installed, you'll see a puzzle shape icon at the top, go to ExtendedForms > Configure and a settings box will appear on the right side of the form.
[If you can't see the puzzle icon, refresh the page once. And the same goes for the 'configure' option, if you can't see it, refresh the page]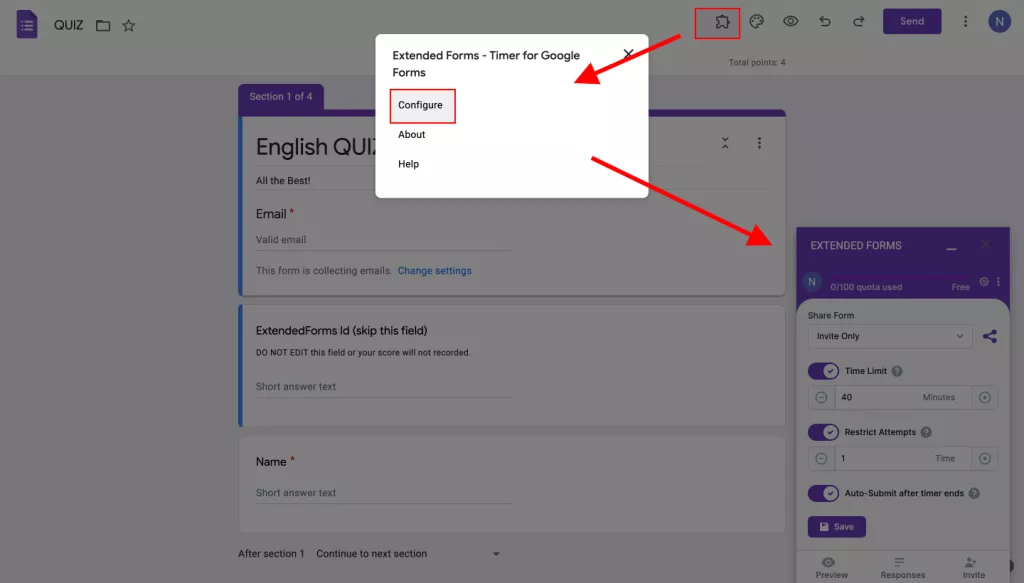 Create Auto-submit Quiz
Then we have to configure the basic settings, from there only we have to configure the timer & auto-submit option.
Set the time limit, restricted attempts (this option will not be available in 'anonymous share'),
Then 'enable the auto-submit after the timer ends' option. Though it will be enabled in default settings, so you don't have to do much.
Just 'Save' the settings and you're done.
If you want to add a deadline (start & end dates) and make it an auto-submit quiz, then follow these steps.
Click on the 'Responses' option at the bottom of the settings.
It will lead directly to the form page of ExtendedForms
From there, click on the '፧' icon and click on the 'Form Settings.'
You'll see that the auto-submit option is by default enabled.
Below that, there is an option of 'accept responses on specific date/time.' Enable that and choose the datetime range, save the settings, and done.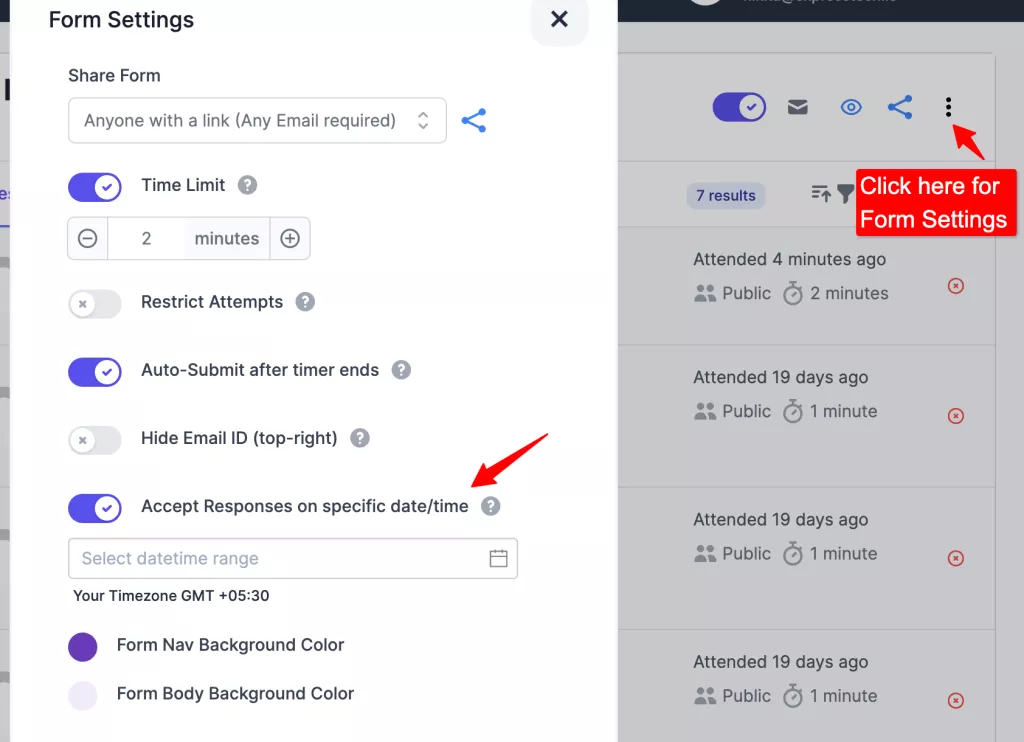 Just like that, an auto-submit quiz is ready to be submitted to your audience.
4. Share Form
Once all the above steps are done, it's time for you to preview your form to see how it's looking. And if satisfied, share the forms with your audience. To preview the form, just click on the 'eye' icon at the top bar.
Then to share the form, click on the 'Send' button. You can send forms three ways, either through invites, links, or embed HTML.
[Note* Above steps were the default way to share Google Forms, however, we are using ExtendedForms so we will focus on the below steps.]
In the settings box, you'll see the preview option at the bottom, click on it to see your auto-submit quiz preview.
Then to share the form, you'll see the option first and foremost, select how you want to share. They have four ways to share – anonymous, email required, org. email required, and invite only.
Click on the share icon beside the option and the link will be copied, you can paste it anywhere. However, if you select the 'invite' only option then you'll have to click on the 'Invite' button at the bottom.
It will direct you to the ExtendedForms dashboard area, where you'll see an Invitation pop-up dialogue box opened. Add email-ids and write an invitation message and send the invites.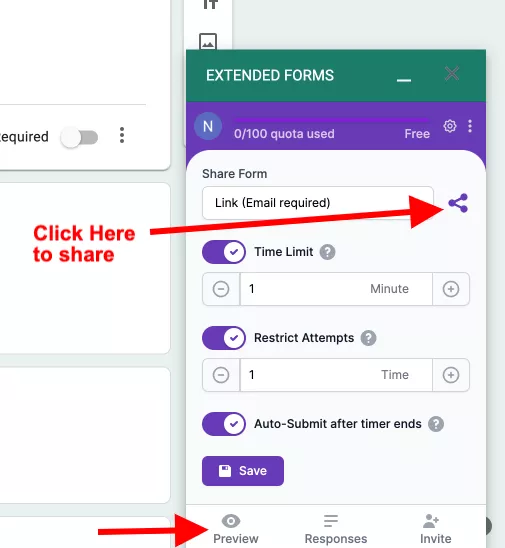 ExtendedForms
ExtendedForms is one of the top timer apps of Google Forms in Google Workspace Marketplace. It lets you add a countdown timer within seconds, as it has no pesky configurations. You've to install the app, configure the settings (like share form, time limit, & attempts), preview it if want, and you are ready to send your form.
Other than hassle-free settings, you get other features to set like – sending invites with a customized invitation message, adding a welcome message (show before users start attempting forms), and even setting a specific date/time for forms deadline.
Apart from these basic features, it includes 'classroom integration, team management (add teams and manager team role feature), email & brand customization. Furthermore, you can transfer ownership of your account to anyone with the account, image cropping for your profile, and brand images. Plus, it provides you to enable shortened URLs, and customize URLs.
Frequently Asked Questions
Is it possible to auto-submit Google Form?
Google Forms doesn't have the option to auto-submit forms, it can only auto-save responses. However, it does come with add-ons or you can add extensions that will help you to create an auto-submit quiz/test. One of the add-ons is ExtendedForms, with the help of that app you can not only enable the auto-submit feature but also add a timer to your form.
How do I automatically submit a Google Forms after the time limit?
So, you can automatically submit a Google Forms once the time limit is over, you just have to enable that option. We can do that with the help of the ExtendedForms app, install it in your form, and configure the settings. You'll get the auto-submit option that will be default enabled. You can check out our article on how to create an auto-submit quiz for a step-by-step guide.
Is Google Form auto-submitted after timeout?
If there are any required fields left to be answered, then the form will not auto-submit after the timer ends. So, it's essential to fill out all the required questions, however, if you've not answered the unrequired ones then it can auto-submit after the timer ends.
Wrap Up
Through the article, we learned the way to create an auto-submit quiz using Google Forms. ExtendedForms app has made the process to create an auto-submit quiz/test easier because of its unique functionality, besides adding a countdown timer to your form.
You can check out the ExtendedForms, try out its trial version, and if you'll be up for it subscribe to their paid plans, which let me tell you are quite inexpensive for you to upgrade. They also come with top-up quotas that you can anytime upgrade to without changing your existing subscription plan. The free plan has only a 100 quota to be used, so you can upgrade that if you want.