Can we customize Google Forms? The answer is an absolute Yes! That's what we are going to discuss in this guide blog post.
Google Forms have a customizing feature that you can use to customize your forms. Besides, you can also customize the basic 'settings' of your form to make it more specific to your form.
No doubt google forms tend to be one of the most versatile form maker tools when it comes to collecting, analyzing, customizing, and storing information. Here is a complete step-by-step guide to the secret of making customized Google Forms. We are also going to mention a google forms add-on that can also help you customize your brand.
Steps to Customize Google Forms
We are going to look into all the steps to customize Google forms. I have divided the steps into two parts first is to set up google forms and the second part is to customize google forms.
1. SET UP GOOGLE FORMS
STEP 1: To start with, first 'Create your Google Forms,' go to Google Forms directly through the web browser – you can click here or choose to visit via G-Drive.
To customize it more to your needs, you can select a form from the 'template gallery' based on what you're using the form for.
STEP 2: Then Set up your Google forms. To do so, add title & description, questions & answers – you can import Q&As, add images or videos to make them more engaging, or even use the 'file upload question' to let people upload specific file types in the form.
STEP 3: You can start with configuring the 'Settings' before moving forward to customize google forms themes. Like configure, 'Respondent Settings' (if you make the form a quiz) – you can choose how to release marks whether immediately once the form is submitted or manually afterward. Other than that, you can add default point values.
Apart from that, configure the 'Responses Settings,' 'Presentation' tab, and Defaults settings.' Like, you can collect email addresses, limit responses, show a progress bar, enable default questions, customize confirmation messages, etc.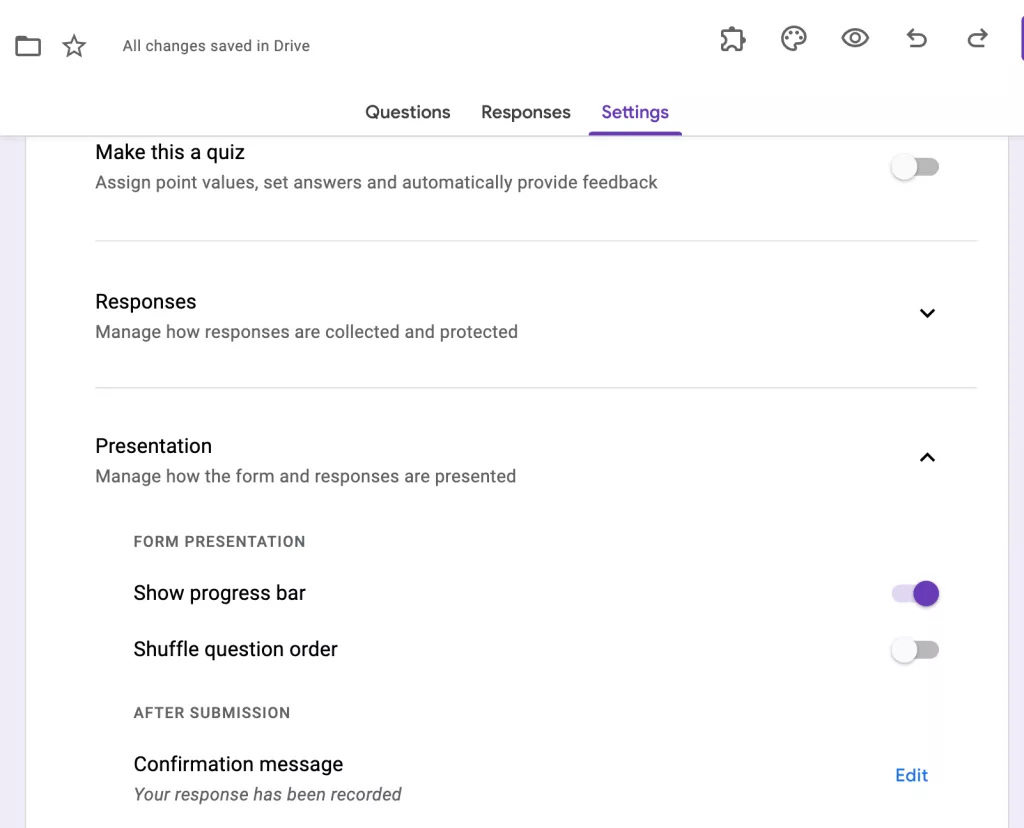 2. CUSTOMIZE GOOGLE FORMS
Once you have set up your Google Forms, we come to the main part of this section i.e, google forms customization. Configuring Settings is a part of customizing, it is more of a customizing google forms layout. So, as you have done in the 'set up google forms' part, we will move to customize google forms themes.
STEP 4: Click on the palette icon – 'Customise Theme' at the top right of the page to bring up the 'Theme' options box.
STEP 5: Customise Text Style – You get the first option of text style to customize. In that, you get three different text styles option –
Header text font – You can change the font and font size of the main title and section titles of your form. In the drop-down box, you get different fonts to choose from, however, they are limited.
Question text font – From here you can change the font style and size of your questions. It might change a bit appearance of your form and might make it more attractive. [However, keep in mind to use fonts that are readable and clear.]
Text font – This is to change the font and size of your answers section and description.
STEP 6: Now, the next step is to customize your google form header image. It is a great way to visually describe what your form is all about. Click on the 'choose an image' button, you get various available header images in different categories under the 'themes' option. Like, work & school, illustration, travel, etc.
You can also upload the image from your device or choose from the Google Photos library.
STEP 7: Moving towards the last option to customize google forms is google form 'background & theme color.' From the 'Color' option, you can select one of the default theme colors or add your own by clicking on this icon '+' and choosing a color with the RGB color picker.
This automatically sets a color scheme for your entire form, including accent colors (they are supplementary colors that typically complement the primary colors used in the form; background color).
In the background color option, you can select one of the four color options for your form. They include neutral grey and light, medium, and dark color of your theme color. It means except grey, the other three colors are in the tones and shades of the color you've used as the theme color.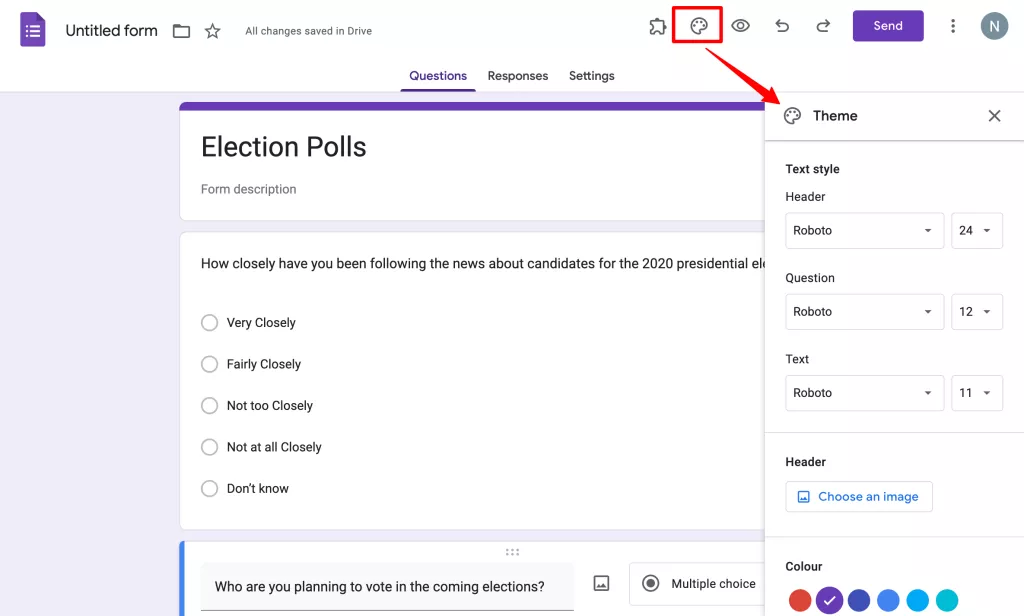 So, these are the steps to customize Google forms with themes, images, and fonts.
Apart from this, if you have a collaborator (ex: editors, teachers) with whom you want to share the online test then you can do so by navigating to "፧". Click on 'Add Collaborators' and add another person's email-id or copy the link and make it visible to all.
Pro Tip: Use ExtendedForms for Timer & Brand Customization
As I mentioned earlier, we are also going to talk about a google forms timer add-on. We all need a timer feature, especially when google forms doesn't have its own such feature. However, the ExtendedForms add-on is not just a countdown google timer app, it also has features of the brand and email customization. Along with that, it also features customizing Welcome and Invitation Messages.
In brand customization, you get the option to add a brand logo, brand URL, and brand theme. So, to customize your brand –
Install the ExtendedForms, go to the 'Add-ons' option in the '፧' More option at the top right corner. Search ExtendedForms and install the app.
Once the app is installed, you'll see a puzzle shape icon at the top, go to ExtendedForms > Configure and a settings box will appear on the right side of the form.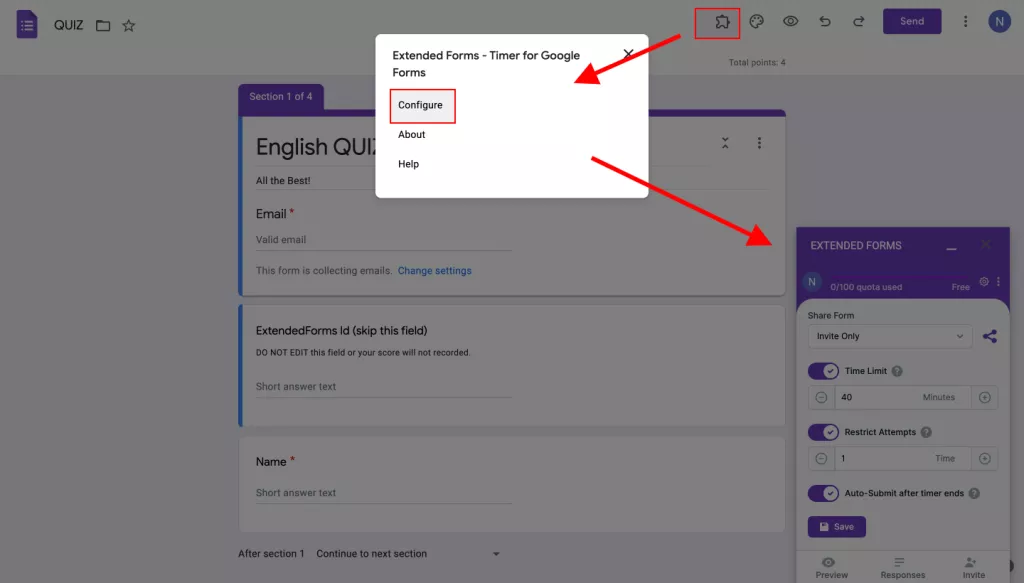 [If you can't see the puzzle icon, refresh the page once. And the same goes for the 'configure' option, if you can't see it, refresh the page]
Configure the timer, restricted attempts, and share form option. Then, 'Save' the settings. Once that is done, you can go through the 'Responses' to the main page of ExtendedForms.
In that, navigate to the 'Brand' tab and there you'll find all the options to update.
Now, if you want to add an invitation message to send to your respondents via email. Also, if you want to add a welcome message that's shown before you start the timer form on the welcome page. Then follow these steps,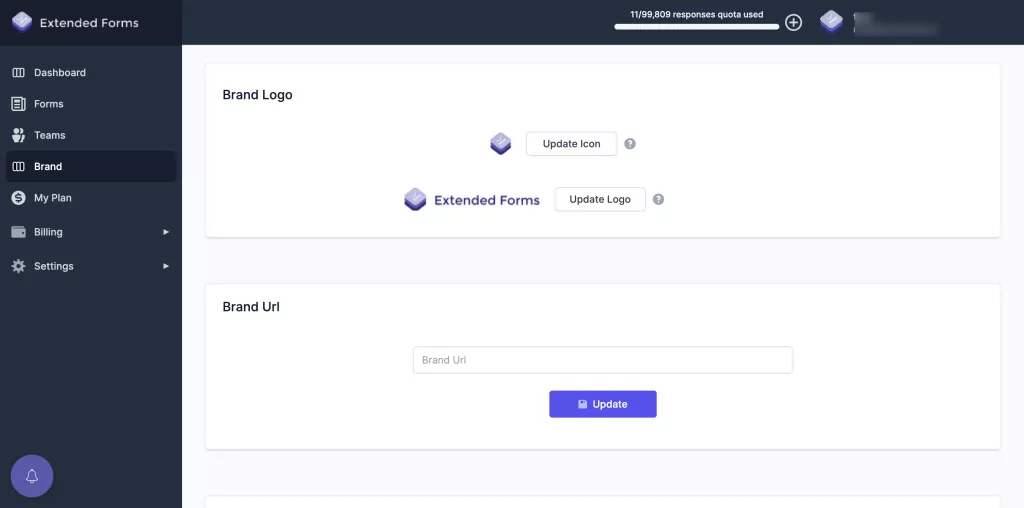 There are two ways to go to the Invitation Message option.
Either you can go directly through the Google Form, for that;
From the ExtendedForms setting box in Google Forms, click on the 'Invite' option at the bottom.
It will directly lead you to the main page of ExtendedForms where a send invitation pop box will appear.
Click on the 'Invitation Message' button, it will open up an invitation message box. Write the message and click on the 'Update Message' button. Then go back to the send invitation box, add email addresses, and send the invites.
Another way to navigate to the invitation message is if you are on the ExtendedForms main page;
Go to the 'Forms' section, and select the form you want to send.
Click on this icon '፧' and go to the 'Invitation Message' option.
A box will appear and further process is the same as above.
To add a Welcome Message, the steps remain the same as above.
Just go to the 'Welcome Message' option that is above 'invitation message.'
Write the Message and update it.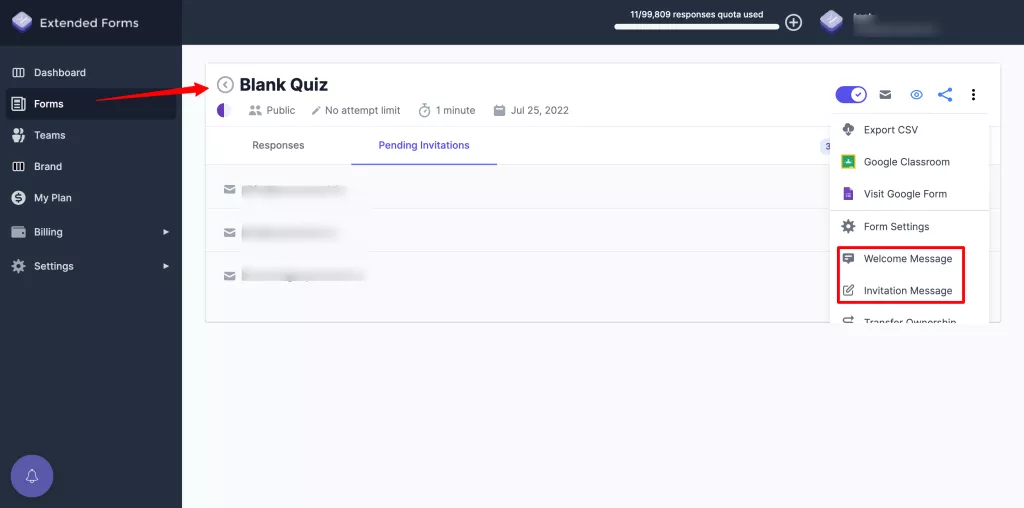 Frequently Asked Questions
1. Is there a way to customize Google Forms?
Yes! Google Forms offer limited customization that you can use to make your form custom. Go to the 'Customize theme' option to change the background color, text fonts, font sizes, and header image. There are also limited pre-built templates for different use-cases that you can use to make your form custom.
Further, you can add a timer to your form and do brand customization with the help of the ExtendedForms add-on (as mentioned above).
You can also check out this article – 5 Ways of Obtaining Honest Responses in Google Forms
2. How do you make a Google Form unique and creative?
You can make your Google Forms look attractive or unique. So, a few of the ways to create a unique form is to choose a template – for example, if you are using Google forms for professional use then you can select from 'Work' pre-built templates. Apart from that, in the form, you can add a progress bar under the 'Settings' option, further, you can add a custom confirmation message that respondents will see once the form is submitted.
Furthermore, Google forms have the 'customize theme' option that includes a header image, theme color, and fonts to make your Google Form unique. Then you can add images & videos to your question tab to make your survey or test appealing to fill.
3. Can I customize Google Form link?
No, Google Forms doesn't have any specific feature to customize google forms links. However, you can shorten the URL or send it via email or even embed HTML in your website as a contact us form. Apparently, we have an add-on known as ExtendedForms, in which you have the feature to shorten and customize Google Forms URLs. For that, install the add-on go to the dashboard > Forms, then click on the form you want to share, and click on the share icon. From there, you can shorten & customize the URL.
Wrap Up
We are towards the end of our article – How to Customize Google Forms. In this article, we have discussed steps to google forms customization and how using the ExtendedForms add-on you can not only have the timer function for your quizzes or tests. But can also use the add-on for its amazing features like brand customization, custom invitation, and welcome message.
It is a quick guide for you to read and follow the steps, however, if you face any queries then do let us know in the comment section.
Note* You can install the ExtendedForms app and try its free version for a countdown timer. However, if you want the benefit of brand customization, you can go for its subscriptions, they are affordable and worth your money & time.