Google Forms is an amazing way to create forms, but it's customisation options leave a lot to be desired. Your brand color may or may not resemble with the Google Forms' brand color, but you can make it unique with the custom header image. However, it is essential to use brand image, keeping in mind google forms header image size.
In this article, we will discuss, how to add a custom header image for google forms. Moreover, how you can resize google forms header image size, keeping in mind the aspect ratio of the google forms.
Let's get started with first what is the recommended google forms header image size!
What is recommended Google Forms header image size?
All Google Forms have a space above the title for a custom header image. If you use a template you'll see a pre-added image that depicts the purpose of that particular template you can use for. However, by default, this area will be filled with a color of the form's 'theme.'
You can choose an image from the pre-added themes or upload it from the device or account in JPG or PNG format. The recommended google forms image size is 1600×400 pixels at an aspect ratio of 4:1. So, to create a google form header image, we must keep the size in mind. But before that let's see how to add a header image
How to add a Google Forms Header Image?
To add a google forms header image, click on the paint palette icon in the top-right corner of the form.
A sidebar will appear at the right side – Theme, from here, you can change the header image, theme, and background colors.
Select Choose Image in the header option. Once you click through it a menu will appear with a library of google form header templates to choose from or upload from the device or import from your Google Photos account.
If you are cool with generic artwork or stock images, then your work is done here. The preset themes are in the recommended google forms header image size i.e, 4:1, so they can fit snuggly in the header.
However, if you want your branding that is, you want to add your header image, you'll need to do some editing to fit the recommended google forms image size.
How to design (or resize) a custom google forms header?
As discussed above, the recommended google forms header size is 1600×400 at an aspect ratio of 4:1. This means, for the image to be displayed properly, it should be four times wider than tall – 1600 pixels width and 400 pixels height. Otherwise, you'll have to crop an image to adjust it to google forms header image size.
In doing so, a large portion of your image will be cut off and it's even worse if you add your company logo. There are online tools that let you create great header images and crop or resize them to the google forms header image size. Tools like Canva, Figma, or fotor are some great online tools to use if you don't know or want to use Adobe Photoshop & Illustrator.
For instance, if you're using Canva, just make a new canvas with 1600 pixels width and 400 pixels height, and add your logo or if you want to add text or other elements, you can do that as well. If you're feeling fancy you can add a background or keep it transparent or plain white.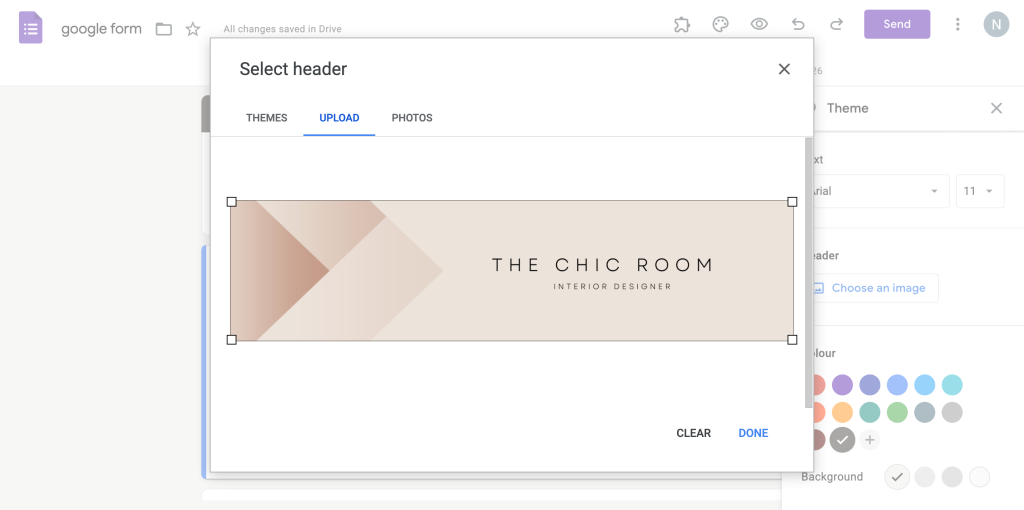 Usually, Google Forms update the color scheme based on the header image you upload. But, if you've added a white background image and you're left with unflattering white theme because it. Then you can always change the theme and background color of the form, despite whatever color your header image consist.
Adjust the look and feel of the form, by going back to the Theme menu and adding theme and background colors. Further, you can also change the fonts of your google form.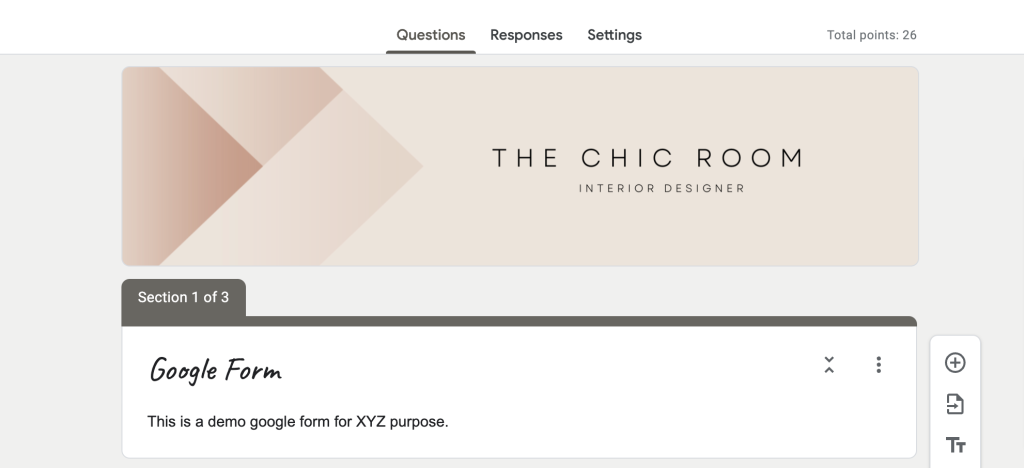 This is how you resize google forms header image size and add header images in your google forms.
ExtendedForms – Advance Google Forms Branding
ExtendedForms is a great timer and proctor add-on for Google Forms. However, it also comes with other great features, one of them is customization. It offers you branding solution, custom invitation message, and welcome message. Like, under branding you can add brand logo, brand URL, and brand theme as well.
For invitation message, if you send form via email you can add custom invitation message to give your email a more personal touch. Besides, for the welcome message – it is the message your respondents will see when they start their test, quiz, survey, or anything. You can let your audience see the message in different languages.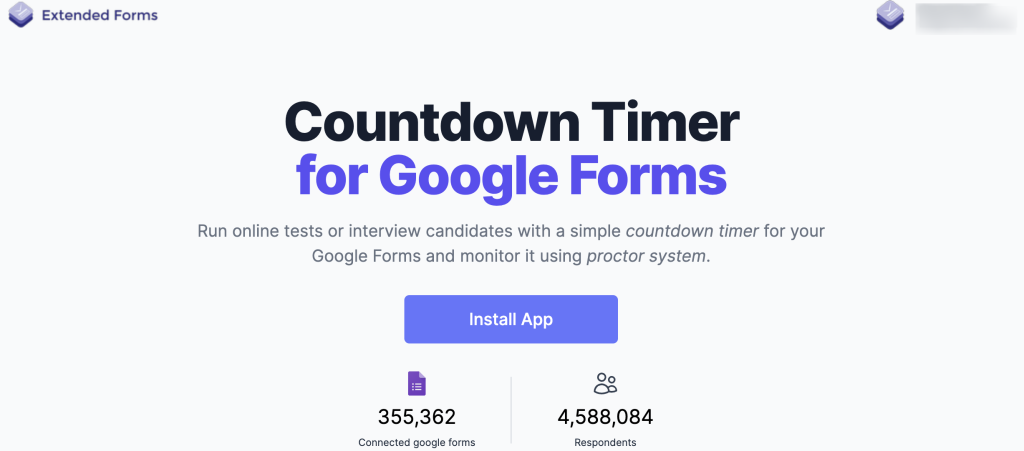 Install the add-on from Google Workspace Marketplace, from the Google Forms go to the More > Add-ons > install ExtendedForms. Once add-on is installed, you'll see a puzzle shape icon at the top-right side, configure the add-on.
To send custom invites, hit the "Invite" option, it will lead you to the Invitation dialogue box in the Extendedforms dashboard.
For branding and welcome message, go to the extendedforms dashboard. Click on the 'Responses' option from the extended forms settings opened in Google Forms, it will lead you to the form's dashboard. Go to the Brand section for the form branding. And to add welcome message, click on this icon '፧' in the form, then go to 'Welcome Message' > Add Language.
*Note that, if you're adding message in other language than English, you'll have to copy the message in the specific language from external source and paste it here.
Also, all these features are part of the pro-version of the ad-on, you can subscribe to the plan and use it.
Wrap Up
A bit of customization can take your form a long way in terms of responses. Just like using modern, engaging fonts can lend much-needed appeal to your documents, using an animated google form header can make your dull forms brighten up. But, a good header imagshowsws up perfectly and has the desired effect that you need.
That can happen only when the image is created and used based on the correct size. Google forms header image size is sort of bizarre but it is what it is, and it's important to use images with that ratio aspect in mind. Otherwise, Google itself will crop the image to accommodate its desired ratio, which might lead to an improper header image.
Apart from that, if you want to do brand customization in your forms, ExtendedForms is a great add-on for Google Forms. As discussed above, you can do brand customization, create custom email invitations, add a timer to your form, and even add proctoring. To check more on ExtendedForms, visit its website.