Creating an online quiz is no big deal today, however, creating it correctly and worth your users' time is important. If you are planning to make a google forms quiz then this article is for you. Here, I will guide you on how you can in a few easy steps through google forms create quiz.
You might know how to create google quizzes and tests but you may or may not create google forms quizzes with a time limit. Besides, making a google forms quiz or test without a count-down timer is just like baking a cake with no certain temperature and time limit. And we know what happens to such cakes! Besides, we don't want to do that, after all, what's the fun in creating quizzes or tests if the users don't have a certain time limit and marks to gain. Right?!
Therefore, in this article, I am going to guide you on how to make a google form quiz with the help of a timer for google forms addon in simple few steps like a pro.
Let's start!
Steps to create a Google Forms quiz
1. Setting up Your Form
To start with, we have to first create a new google form, which you can do by opening up a Google Form. Select the blank quiz template if you want to create a quiz or there are other specified templates you can go through based on your requirement.
(Tip: The quickest way to create a quiz is to go to g.co/createaquiz.)
Once you have opened up the form, click on the 'Settings' option. There you'll see all the default options which you can disable or customize as per your need.
(Tip: if you have not directly selected a blank quiz template or you have opened up 'blank form', then don't worry you can change it from 'form' to 'quiz.' Just Navigate to 'Settings", turn on the 'Make this a quiz" option and it becomes google form quiz page.) Settings options like:
You can under 'Release Grades' choose to give grades immediately after each submission. Or you can choose to give it later, after manual review.
Further, you can choose 'respondents' settings' as per your need. If you want to keep transparency with your users you can keep it as default or change it.
You can put the 'default question point value' for every new question. So that you don't have to do it manually while creating questions. Or if you want to put different question point values, then you can manually do it in every question. Just select the question and you get 'answer key' text, click on it and add points.
Plus, you can manage how responses are collected and other options to customize.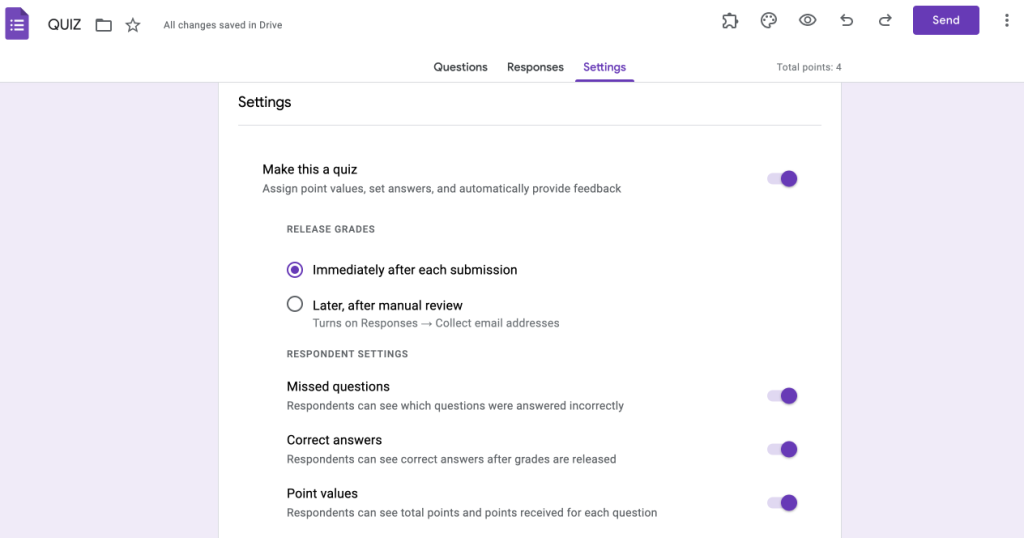 2. Install the Timer for Google Forms – ExtendedForms Addon
If you are planning to create a quiz or test then a timer is an essential step. By default, Google Forms doesn't have and do not provide a count-down timer facility. So, we have here an addon for adding Timer on Google Forms i.e. ExtendedForms.
First, you will have to install the addon, go to Google Workspace Marketplace and install the ExtendedForms addon. To make it easier, you can also install it directly through google forms. Go to "፧" this symbol and navigate to 'Add-ons' from their install ExtendedForms. Refresh the page and you will see a puzzle-shaped symbol on the Addons menu.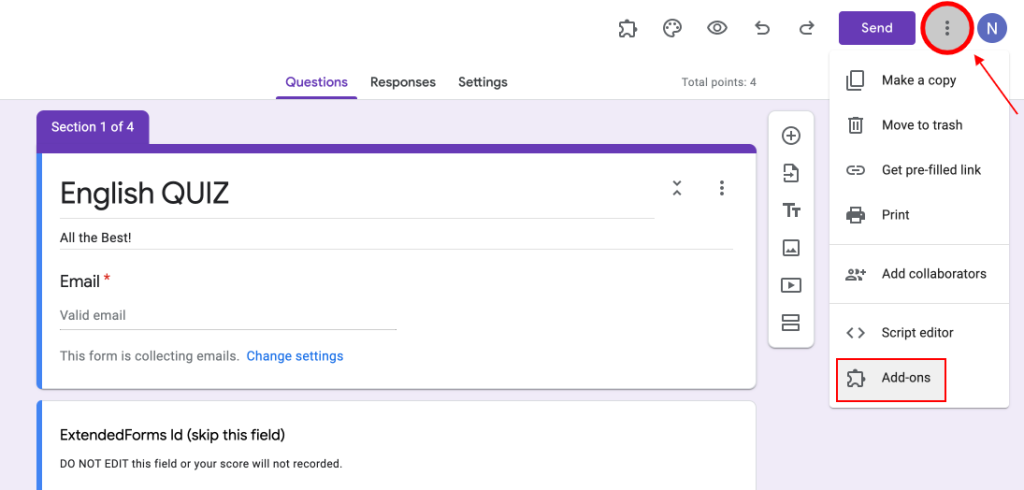 ExtendedForms addon is one of the most used and best Timers for Google Forms. It turns your google forms into any quizzes or tests/exams by integrating a one-click countdown timer.
Now that you have the ExtendedForms addon installed, it's time to make a google forms quiz.
3. Create Questions
Once you are done with setting up your quiz, it's time to start working on the body of the article. I mean, it's time to create questions for your quiz.
First, add the title and description in the Untitled Form or Blank Quiz area. If you have enabled 'collect email addresses,' you will see the Email option which your users will have to fill compulsorily while attending the quiz.
Then, you can create users profile questions, if you want to know more about your respondents. The basic user profile questions include demographic data like age, gender, geographic location, occupation, etc.
Once we are done with the profile section, it's time to make the actual quiz questions. You can add new sections for different sets of questions. For that, click on the last option from the right-side form box.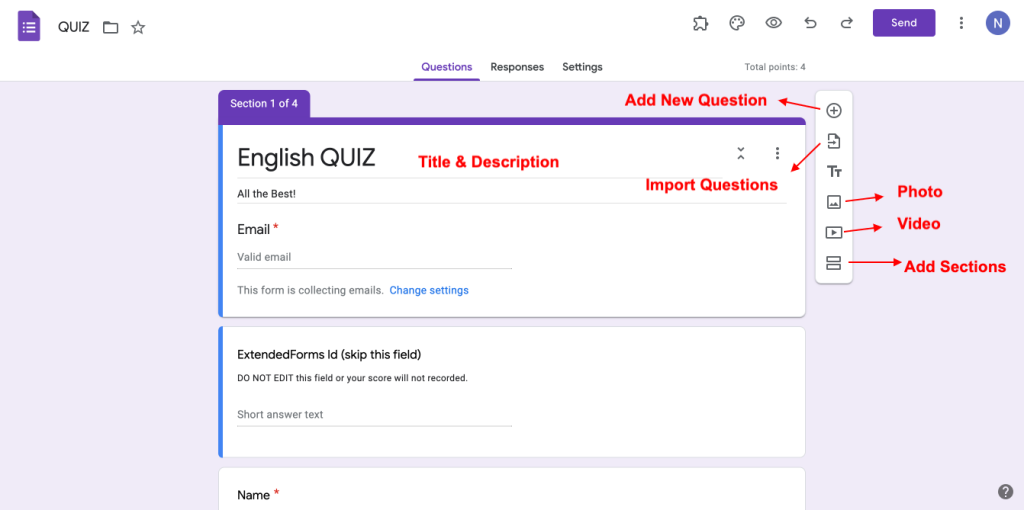 You can add MCQs, short answers, long answers, multiple choices answers, and Likert scale type questions. You can in every question add answer feedback like incorrect answers and what is the correct answers to the questions. Click on 'Add answer feedback' in every question's bottom line.
Further, if you have already created a quiz file in google docs then you don't have to copy-paste it on google forms quiz. Just select the import questions option from the right-side form box.
4. Customize extra settings
Once you have created all the questions, it's time to move forward and configure the google forms quiz time limit and all. However, before that, if you want to customize your quiz a little extra then follow this step first. To start with themes, if you want to custom-made the quiz then click 'Customize Theme' on the top navigation bar and you will see a dialog box of 'Theme options' being opened. You can change background color, font style, add header image, and theme color.
Now moving further, if you have a collaborator with whom you want to share the quiz then you can do so by navigating to "፧". Click on 'Add Collaborators' and add another person's email-id or copy the link and make it visible to all. Further, in the same settings, you can also get a copy of this quiz or get a prefilled link.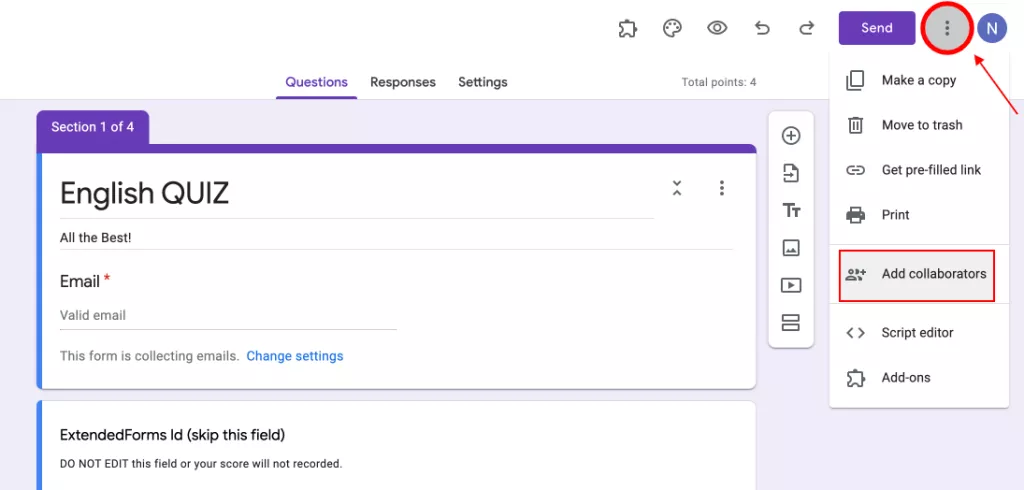 5. Configure ExtendedForms settings
Now, moving on to the last important step in this guide is to add a count-down limit to your quiz. So, for that click on ExtendedForms Add-on symbol > Configure you'll see the Extended Forms settings box on the right side of the Google Form.
[ Tip: Make sure there are no warnings, if you see any warnings then click on "Fix Settings"].
Then to 'Share Form' you get 2-3 options from which you can select. Like 'send link with email required', 'anonymous link', or 'invite-only.' Further, configure the "Time Limit" for the online tests and "Restrict Attempts" for users based on the requirement. Also if you want the form to be auto-submitted after time ends, then enable the "Auto-Submit" option.
Don't forget to hit the "Save" button to save the settings. Click on the 'Preview' button to see your timer google forms quiz. Once satisfied with the outcome, send it to your users!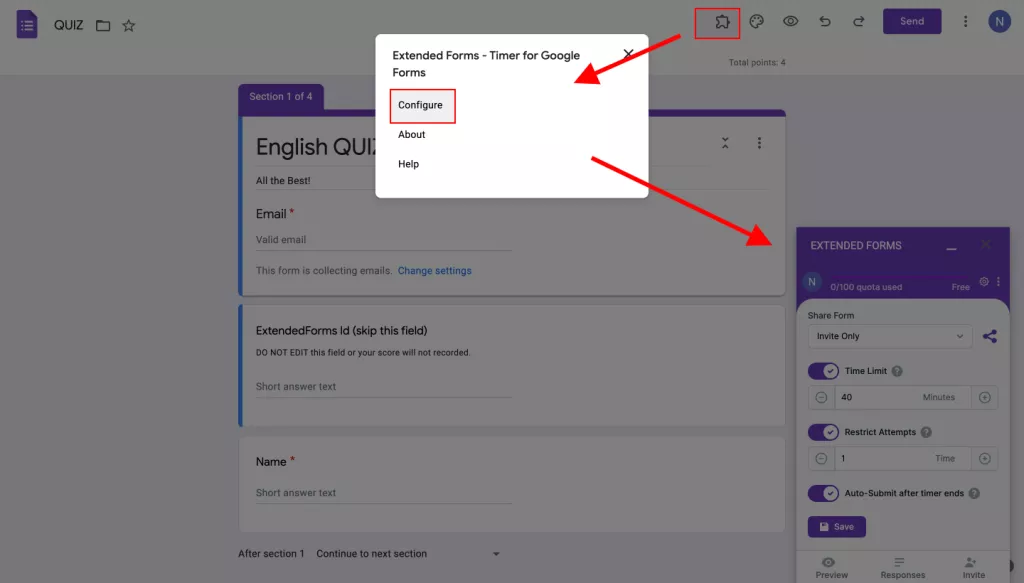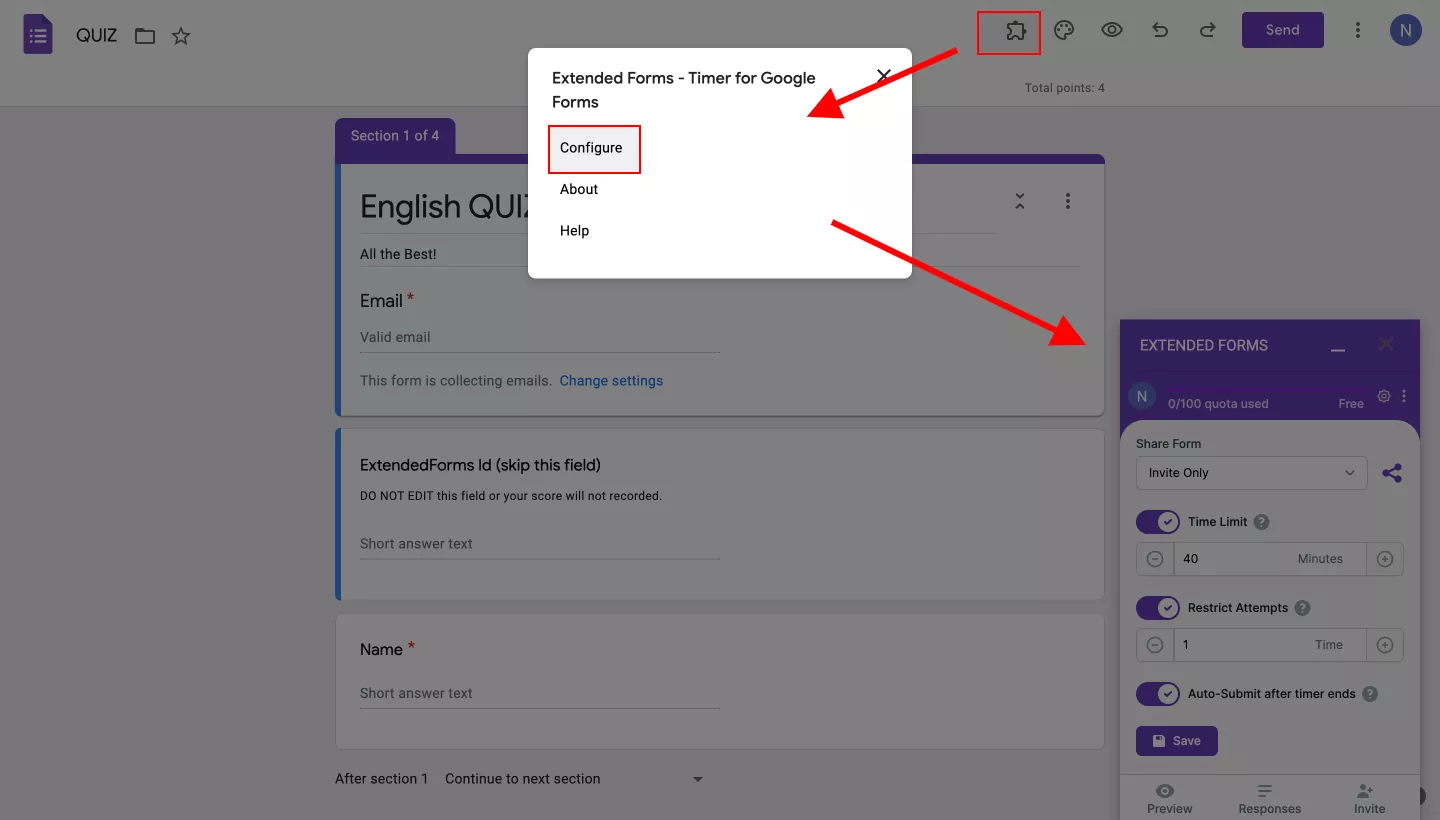 In ExtendedForms, you get 100 free responses quota but above that subscription is needed. You can subscribe to extended forms pro from the main page of ExtendedForms which you can visit by clicking on 'View Responses'.
Conclusion
So, this is the end to our easy and simple guide on how to make a google forms quiz. Thank you for reading this article, I hope this guide will help you in creating amazing google quizzes and tests.
ExtendedForms is very simple and easy to install and use google add-on. As I mentioned before, it is one of the most used and good-rated add-ons when it comes to Google Forms Add-ons. It not only lets you create quizzes and tests with Google Forms by integrating a one-click countdown timer but further, comes with more advantages than meets the eye.
Like with ExtendedForms add-on you can:
Track responses along with submission time.
Customize based on your brand
Google Classroom integration
Auto Score Import in dashboard and classroom
Invite team members, customize invitation messages and welcome screen, and lot more. You will get more features in future!