Most of us are familiar with the basics of Google Forms: how to create a form and everything related to it. But did you know that you can use Google add-ons to extend the functionality of your forms? There are lots to choose from, but this article will focus on some of the most useful Google Forms Quiz Add-ons. 
I have curated the list based on their popularity and ranking in Google Marketplace. All of the Google Forms add-ons mentioned in this blog post are useful for different purposes.
Whether you want to use Google Forms for quizzes, use it to create workflows or productivity. These are some of the most trending Google Forms Quiz Add-ons used by thousands of users.
Table of Contents
Top Google Forms Quiz Add-ons
As we already know, Google Forms is a free app that allows you to freely create quizzes, tests, or surveys. The app has a simple and easy-to-navigate interface, which can be an advantage for beginners. It has a drag-and-drop interface that you can use to add images, videos, links, and attachments directly from your device storage.
You can also edit questions on the go by using swipe gestures and moving them around if you want them displayed in different parts of your quiz.
Google Forms functionality and purposes increase with the help of add-ons, in this article, we'll see some of the useful Google Forms Add-ons in the Google Marketplace. Let's Start!
1. ExtendedForms
ExtendedForms is one of the best-timer & proctor Google form quiz add-ons. Whether you want to run online tests, quizzes, or interviews, you can do it with the integrated 1-click, simple countdown timer.
It comes with hassle-free configuration, within minutes it can be installed, and configured with basic settings like – time limit, restrict attempts, auto-submit, preview, & send!
Apart from this, the add-on comes with an automated proctoring feature that allows users to add a proctor that detects any mishappenings or cheating being done.
Furthermore, you'll find many more great features that add to the ExtendedForms value. It offers the benefit of Classroom Integration, a teams feature (providing the benefit of assigning designations), and a customized invitation and welcome message screen. 
The Google Forms add-on has the feature to allow admins to transfer ownership to anyone with an account. Furthermore, you can also add response deadlines, hide email-id from the respondents, customize the form's theme, & more.
Now you can easily create Google Forms for a quiz or test with the ExtendedForms add-on. 
2. Form Builder
Form Builder add-on helps you to build Google Forms in a simple and quick manner by importing fields/quizzes/questions from existing Google Sheets, Forms, PDFs, and Slides. By adding this Google Forms add-on you'll never have to worry about creating forms, quizzes, or surveys from the start.
If you want to build quizzes, do so by importing from Google applications like Google Forms and Google Sheets. This add-on lists all fields/questions from another source document and makes fields available for you to import into your Google Forms.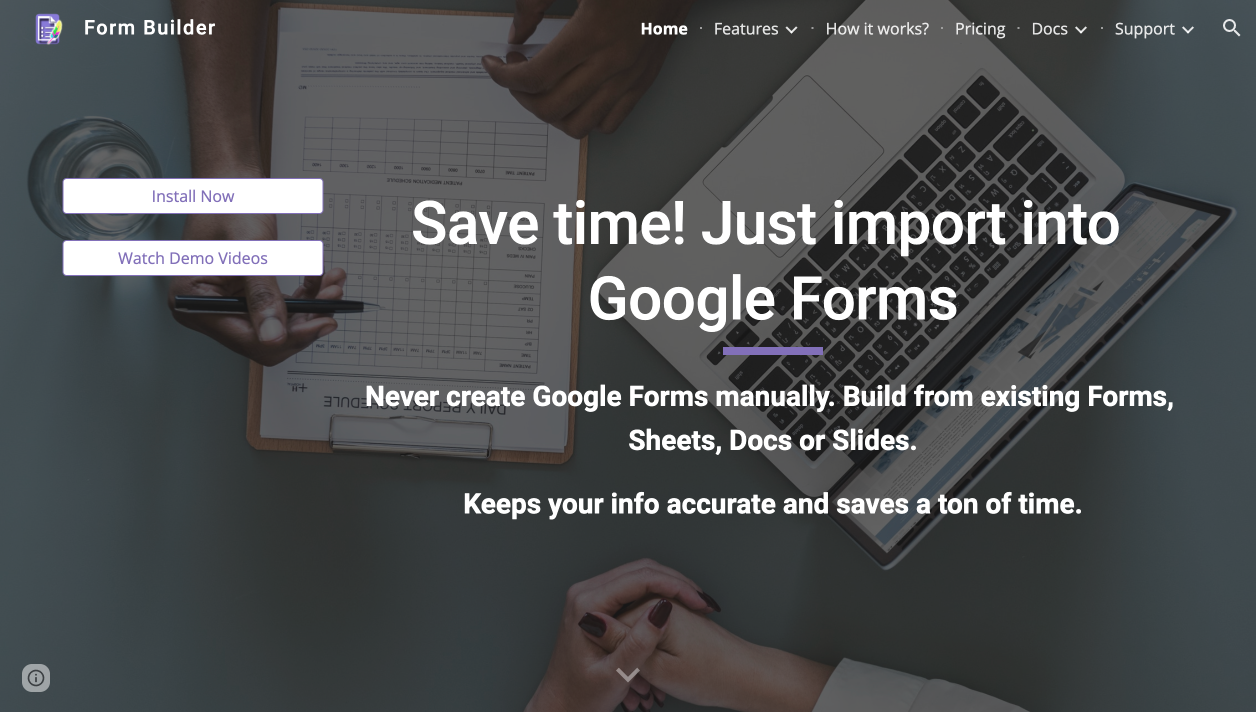 Hence, you can easily select and import all or a few necessary fields/questions into Google Forms. Besides, Form Builder provides advanced customization of the configurations to control the imports.
Apart from this, it has an automatic mapping feature, that identifies the data with a built-in intelligence engine from input automatically, and maps with appropriate fields.
Form Builder comes with other features like – exporting form fields (questions) into Google apps, and advanced features like 'overwrite content and make options as.' It is a perfect Google form add-on to automate the process quickly.
3. Form Approvals
Form Approvals is designed for use within organizations of all sizes to automate any process needing approval. The Google Form add-on simplifies the way you work and turns your Google Form submissions into an interactive workflow.
You can create a multi-level workflow and set sequential approvals to ensure that executives are approving once endorsed by others. Further, the add-on includes routing conditions, i.e., you can set logic with your approvals to ensure approvers receive requests only when conditions are met.
It also has the ability to set reminders and attach documents to the notifications. Apart from that, it lets you manage forms, track requests, and view form submission data from one convenient portal. You can set up the app by just adding approvers in your Google form and when form submissions are made, approvers will be emailed.
4. Portant Data Merge
With Portant Data Merge it's time to transform the complexity and monotony of repetitive documents into a well-planned workflow so that you can work on other important things. It is developed to connect Google Forms & Sheets with Docs and Slides to create custom solutions for your specific needs.
Portant Data Merge automatically creates new documents when Google Form responses are submitted or Google Sheets are updated. This Google form add-on can be used for different scenarios from project teams, and HR teams, to education, and much more.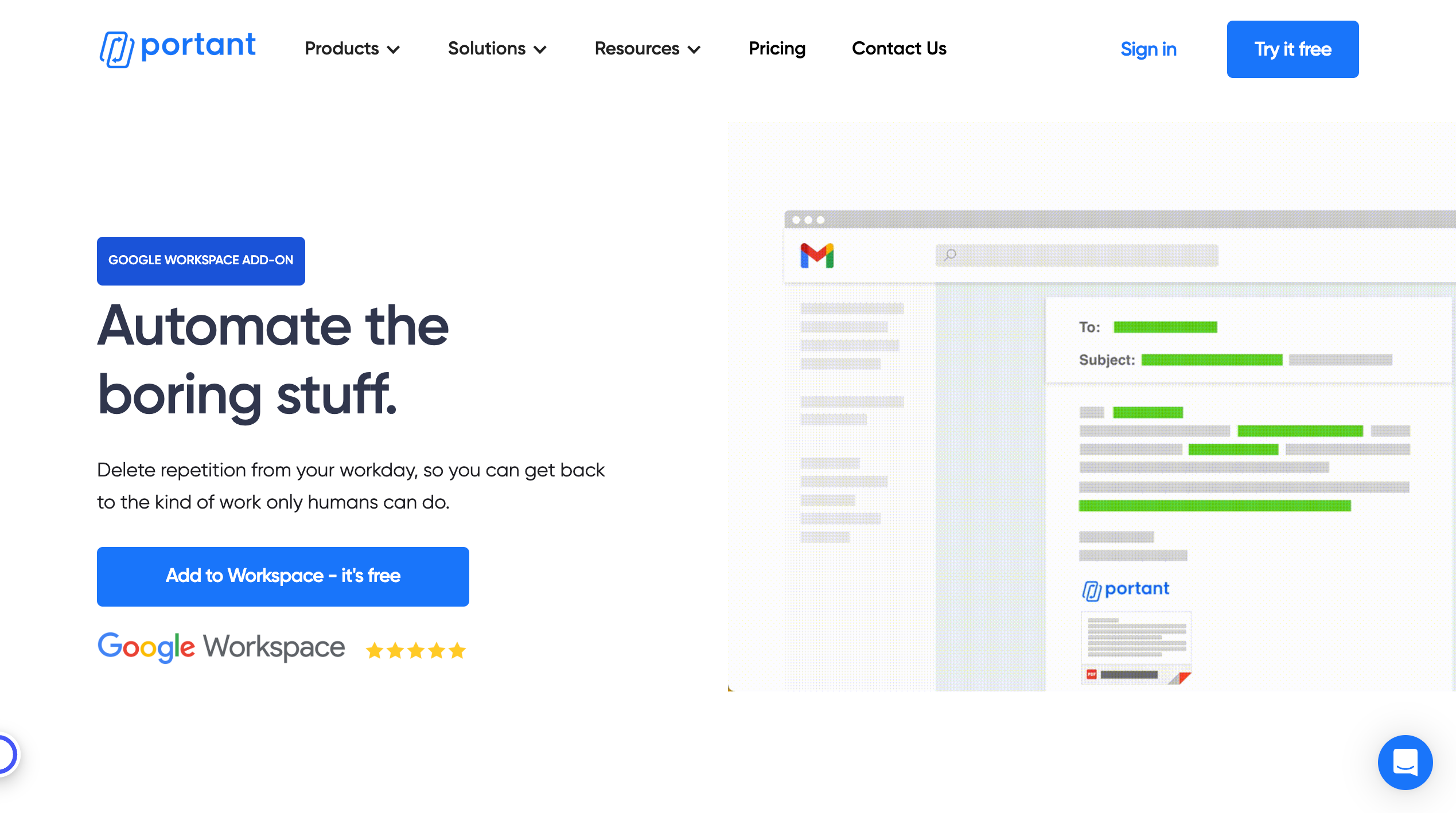 It helps you to further create custom email messages (Mail Merge), email notifications & document sharing through your email. Plus, you can create approval workflows using the 'Form Edit response' links and email conditional logic.
Portant is a document merge and workflow add-on, the perfect alternative to add-ons like Document Studio, Form Publisher, or Autocrat. Automate the boring stuff and create powerful document solutions within Google Workspace using Portant.
5. Timer + Proctor
AutoProctor (aka Timer + Proctor) is another one of the most useful Google Forms Quiz add-ons. It is a timer and proctor add-on to a Google Forms Quiz. It also provides the function to set a Start-End duration for the test.
It is created to remotely give users the environment of physical examination while constantly monitored by the add-on. Moreover, it checks the user's environment and actions for cheating, such as detecting more than one face or accessing different tabs.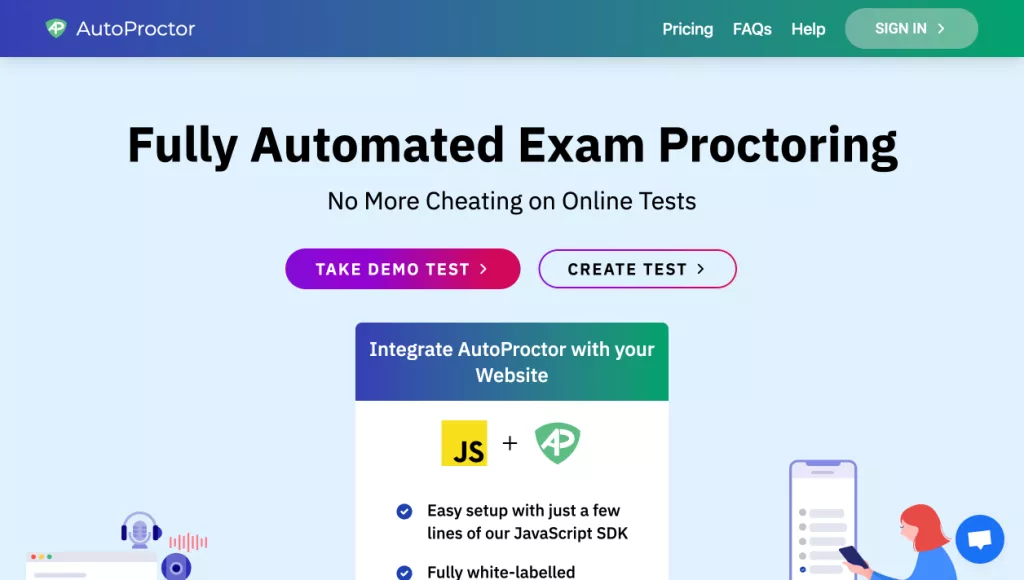 It tracks each trigger and documents to be reviewed manually later. Another feature is that it generates Trust Scores based on multiple tracked factors, a higher trust score is proportionate to a higher chance of a student not cheated on the test/quiz.
You can either create new tests using its own testing software or link to quizzes you may have created on Google Forms, Microsoft Forms, etc. This add-on increases the overall integrity of your Google Form Quiz/Test.
6. Free Icons, Photos & Illustrations (Icons8)
Do you want to make your Google Forms anything but less than interesting and engaging? Then, this Google Forms add-on is what you might need. Icons8 provides free high-quality graphics, inserts icons, illustrations, and photos in your Forms, Docs, Slides, or Sheets, and enriches your document with meaningful visuals right on the go.
The add-on has features that include pixel-perfect 40+ style icons, made by the best icons designers. Other than that, you get illustrations in 3D or flat, created by top dribble artists. Along with that, it also has various categories of vector images (background-free elements).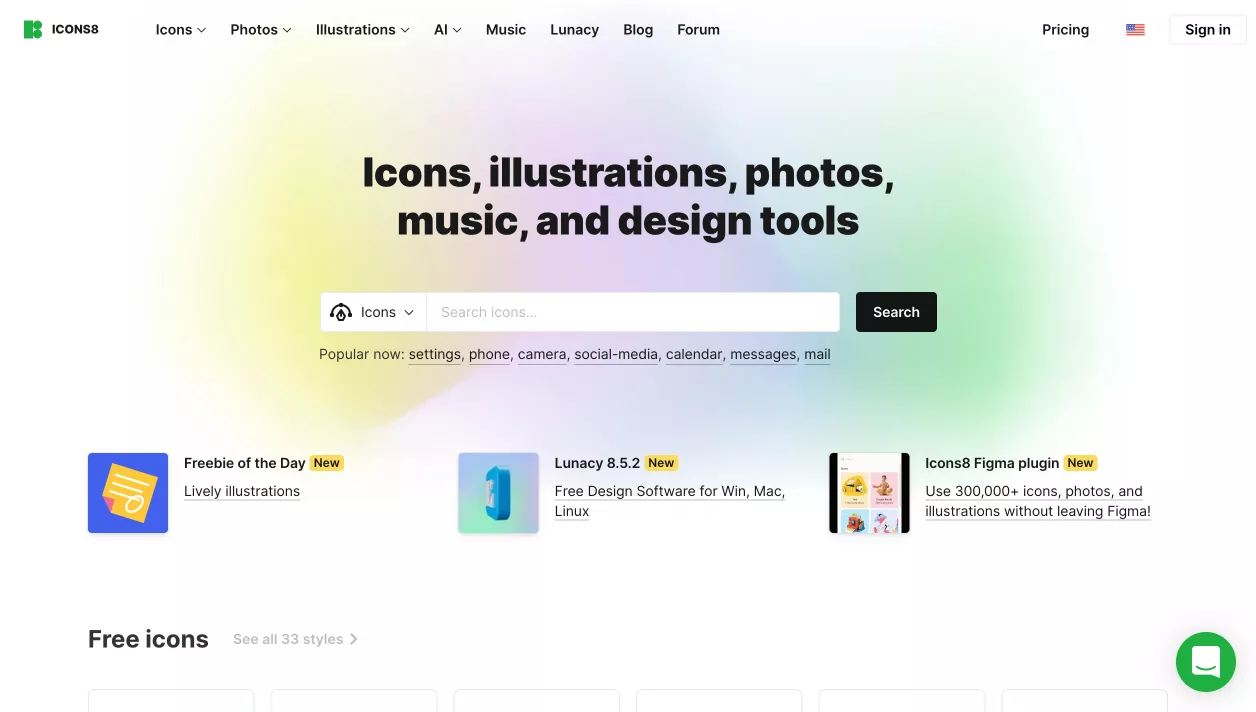 You can adjust icons & illustrations' sizes and colors as per your reference. The add-on is perfect for teachers, marketing & sales teams, analysts, or data scientists, who need to create beautiful, insightful forms.
Icons8 also provides free design tools for desktops – Lunacy (graphic design software with built-in assets) and Pichon (a free desktop app with all their icons). If you visit its website, you'll find more interesting features like a face generator with AI, generated photos, etc.
7. Form Director
Form Director as the name suggests helps you to turn your Google Form submissions into Google Docs, Slides, Calendar, Tasks, Slack messages, Asana tasks, and much more. It works as an advanced Form Publisher with document publishing and more advanced director integrations with G-Suite apps, productivity & marketing apps, and more.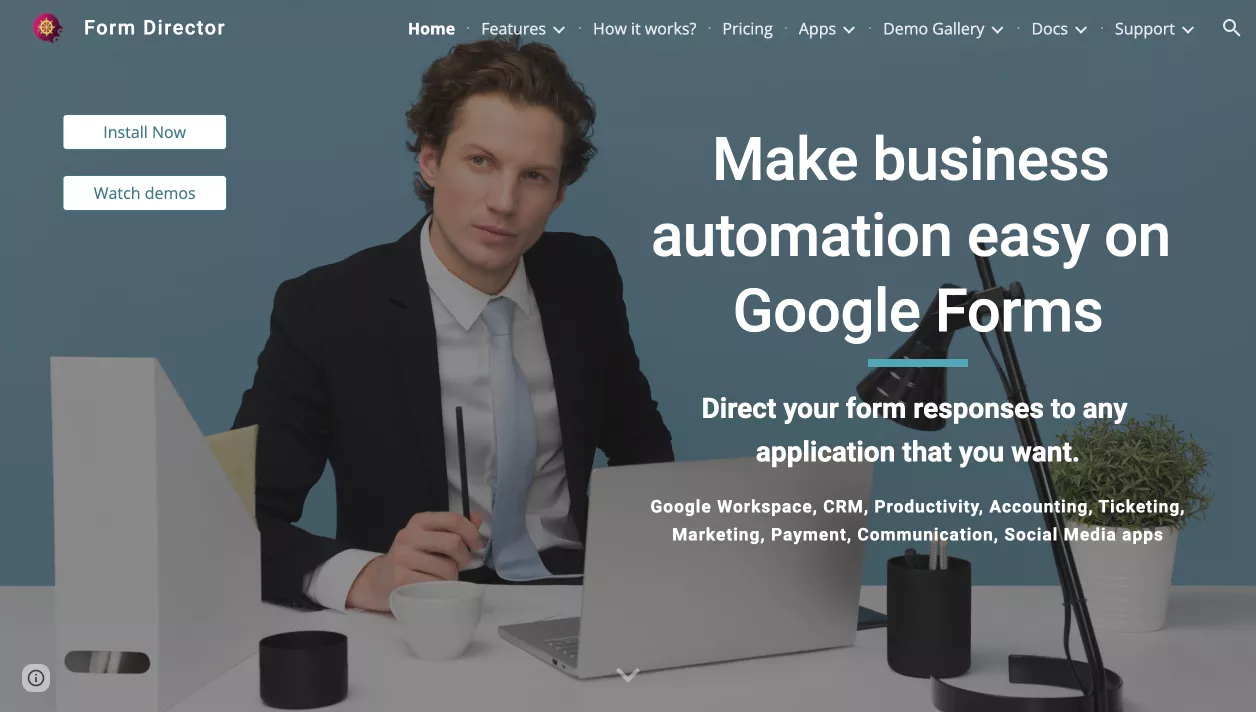 Form Director is stacked with various key features – it has multiple service management feature that manage multiple services, switch on/off the required service, and execute whenever needed.
Further, the add-on supports several formats that you can generate, store, and email Google Docs, Sheets, & Slides into. Other than that, it has a comprehensive mapping infrastructure to map your form questions to the application fields.
Form Director is built to be a powerful tool to make Google Forms work in your own way. Whether you want to make a business proposal, generate an invoice, book an appointment, or create records for each submission, Form Director can be used for multi-purposes.
8. Signature
Just like the feature in PDF, we have here an add-on that will make your Google Forms authentic for businesses. You might be thinking how? With the Signature app, make your Google Forms work for you with real hand-drawing signatures on any device.
It is a more modern, mobile-friendly signing approach, which is sort of unlike PDFs, as PDFs can be awkward to navigate on mobile, hence most of the time people sign without reading the document.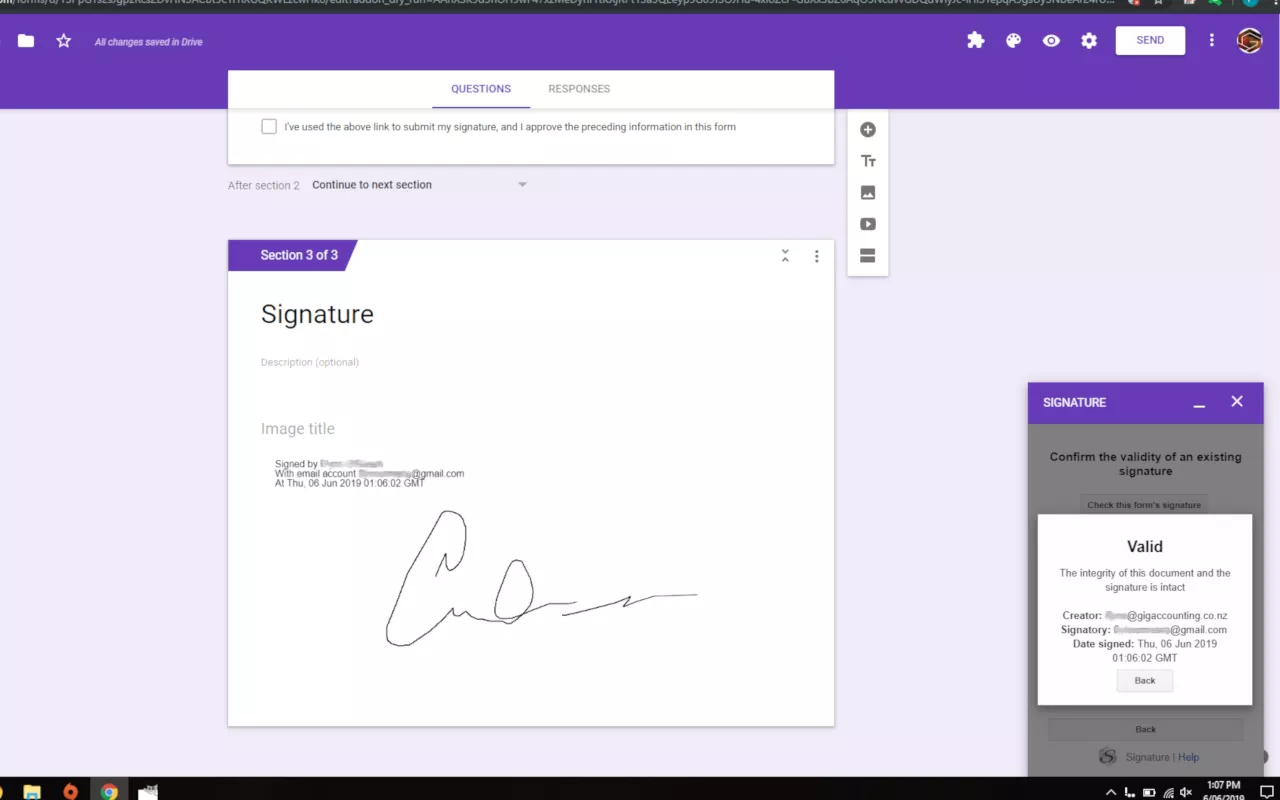 With Signature, they have prioritized greater interaction with the document and with less user effort. Besides, with this Google Forms add-on, you can make your forms for any purpose more authenticated than before.
Apart from this, it also has a feature HTML signature for Gmail (android) as Gmail doesn't have that for the Android edition. With this add-on, you get 3 signatures for free when you install it and then each month they top it up with 3 more, however, you can always go with the paid plan.
9. Form Ranger
Form Ranger is a convenient tool that enables you to automatically fill in options for multiple-choice, checkbox, or grid questions in your Google Forms. It does this by extracting data from columns in a Google Sheet or a Doctopus roster.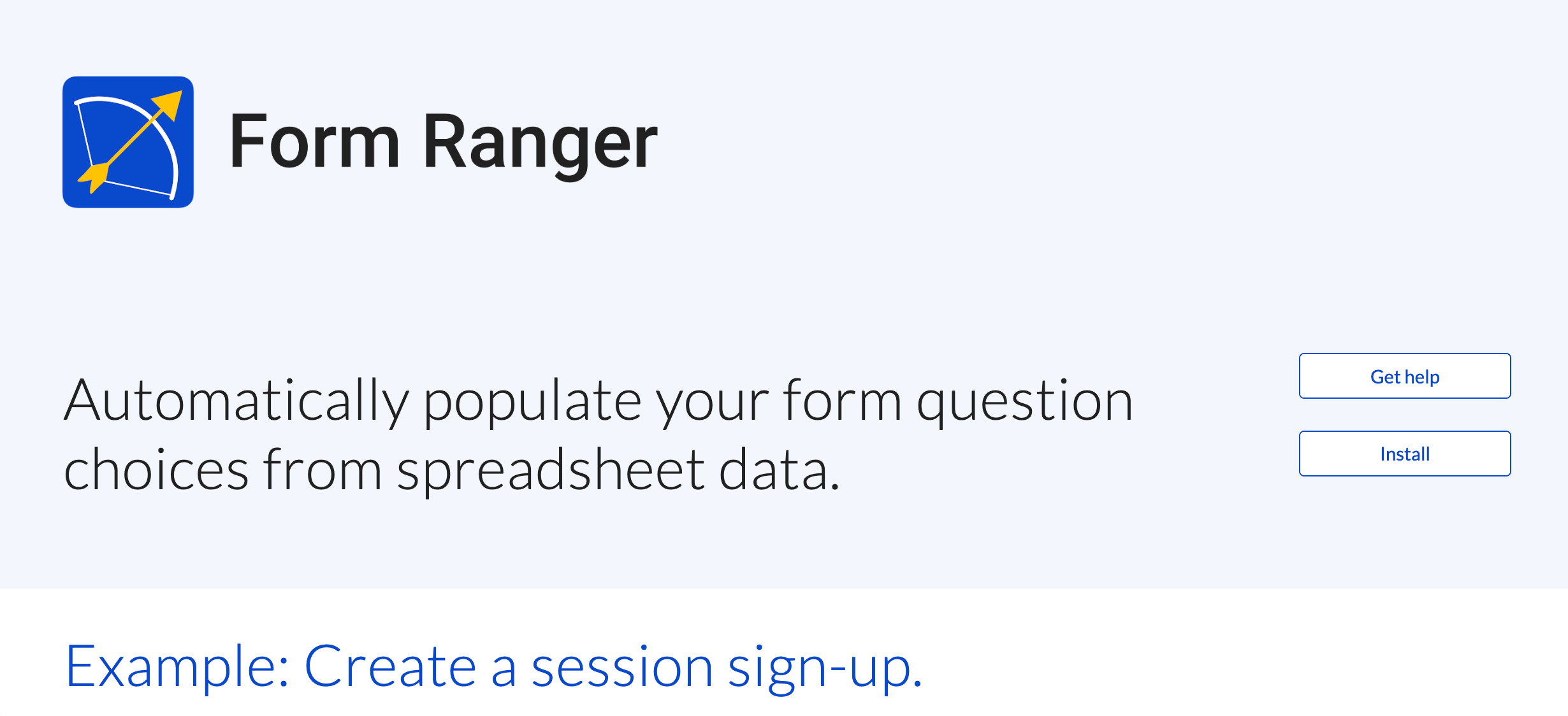 This feature is particularly valuable when you want to ensure that the choices provided in your form align with the values in an existing database of records. This functionality becomes useful when you need to apply formulas like COUNTIF, VLOOKUP, MATCH, or other similar functions
Form Ranger offers the flexibility to regenerate options automatically when a form is submitted. This opens up possibilities for creating dynamic form options provided you are willing to explore spreadsheet formulas.
For instance, you can leverage spreadsheet formulas like IF and COUNTIF within the form spreadsheet to generate a list of options that "shrinks" based on availability. Similarly, you can create a "growing" list of checkbox options by using the UNIQUE formula on a list of open-ended submissions.
10. Doc Appender
Doc Appender is a great app for educators using Google Forms. It appends Google Forms responses to the selected Google Docs. You can pre-populate docs with forms' question responses and compile all the data of a specific respondent in the document.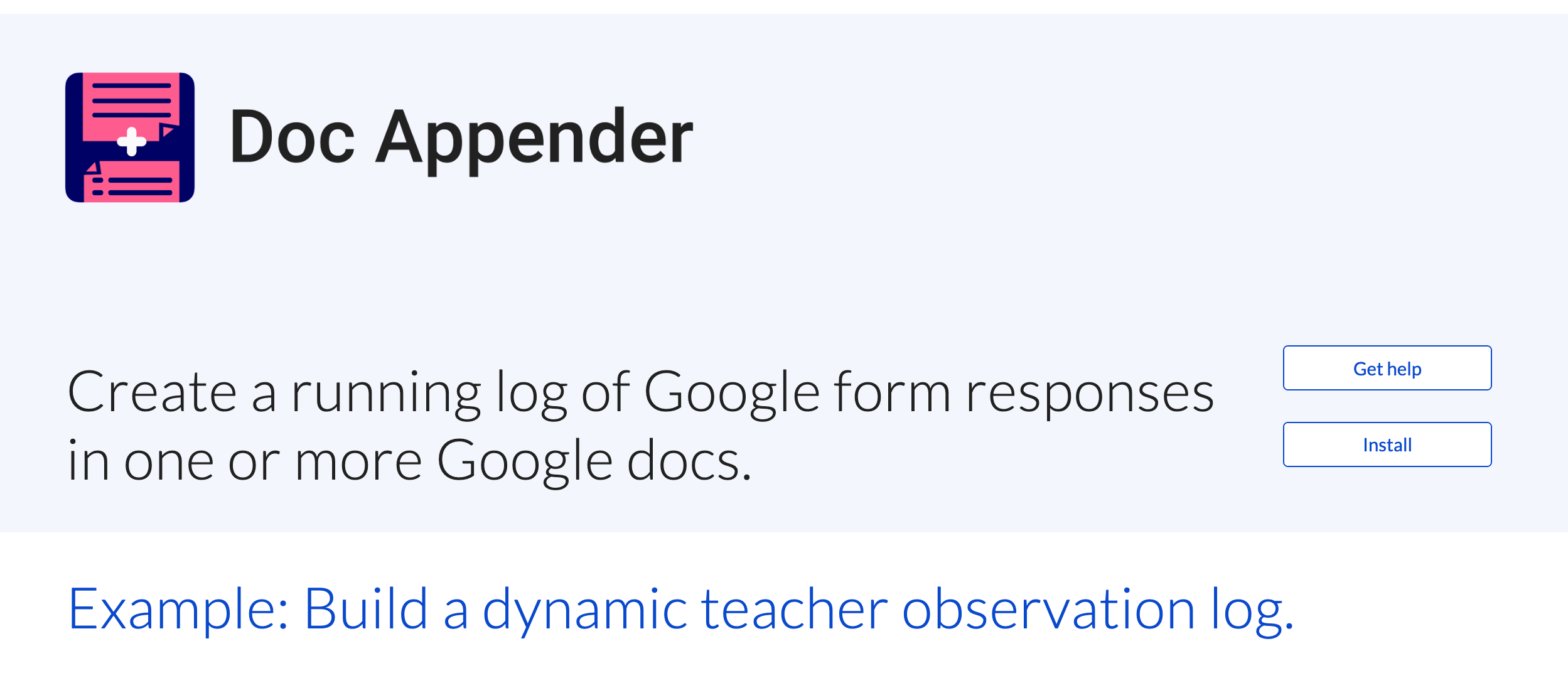 It is ideal for educators for various usages such as – keeping records of each student in Google Docs for observations around skills, and growth, or useful for documenting teach inter-visitations.
As useful as Doc Appender is, it is also simple to work around. You just have to choose the form that you want to append and choose the questions to be added to the doc. Further, it will be good if timestamp and username as fields will be included.
In conclusion,
Just like I mentioned earlier, there are a lot of useful Google Forms add-ons you can find in Google Workspace Marketplace, and with them, you can add extra functionality to your forms.
These Google Forms quiz add-ons are for different purposes from using it to run an interactive quiz in Google Forms, to sending email reminders when your form is submitted, merging data, and much more. 
Hope you like our blog for the best Google Forms add-ons. If you have used any of these or know about any other trending Google Forms add-ons. Let us know in the comment section and stay tuned for more such articles.
You can check out similar articles – 6 Best Google Timer Apps (Google Forms Add-ons)
10 Best Google Forms Add-Ons For Productivity