In this guided post, you are going to learn not only how to create google forms but will focus on how to collect data with google forms and other ways.
A Google Form gives you a great way to collect data from people. From a one-question form to a long multi-section quiz, it eliminates the need to interpret and tally responses on a sheet of paper.
Google Forms can compile all the standard survey fields like MCQs, short & long paragraphs, dropdowns, and linear scale to serve all sorts of data collection needs. It also comes with images, videos, and file features that you can include in your forms to make it more engaging.
All in all, Google Forms data collection can vary for different use cases like obtaining feedback, gathering inventory data, tests knowledge with quizzes, or for customer intake forms.
Steps to collect data with Google Forms
We are going to look into two different approaches to customizing Google forms. The first one is the default way which is through google forms you can collect data. Another way that we are going to mention in this article will be with the help of a google forms add-on.
1. Use Google Forms for data collection
Create Form
To start with, we will first have to set up the Google Form. For that, sign in or sign up to your Google account and to create a form/quiz go through G-drive. Or you can directly go to Google Form, and select 'Blank Form or 'Blank Quiz.'
Whether you are creating a survey, test, feedback form, or job application form. Google Forms questions allow you to design questions with different question types.
Write down the title and description to introduce yourself and the purpose of the form.
Then smartly choose your Q&A type, whether yes/no, multiple choice, single choice, or you can add images, or videos. Moving further, write the questions ensuring it is properly framed.
Besides, if your question needs a little description then, click on the icon '፧' in the bottom right corner of the question tab to Show > Description.
Further, you can customize your Google Forms. Firstly, configure basic 'Settings' you'll see various options to customize like – 'Responses' Settings,' 'Presentation' tab, and Defaults settings.
Besides, if you make the form a quiz (enable the quiz option), then you can also configure 'release marks' and 'respondents settings.' You can collect email addresses, limit per response, show a progress bar, enable default questions, etc.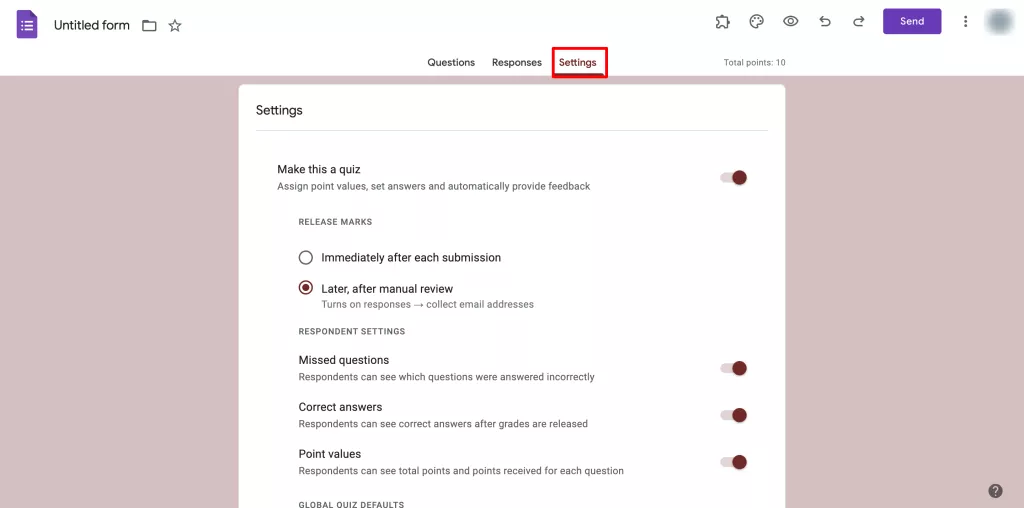 Send Form
Once you have created your quiz, configured settings, & customized your form. It is time to send your form to collect data with Google forms. But before that, preview your form to see how it will appear to respondents. Click on the eye icon to preview.
When you are ready to send it to your audience, click on the 'Send' button. You can send it via email, a link, or embed the form as an iframe in your webpage.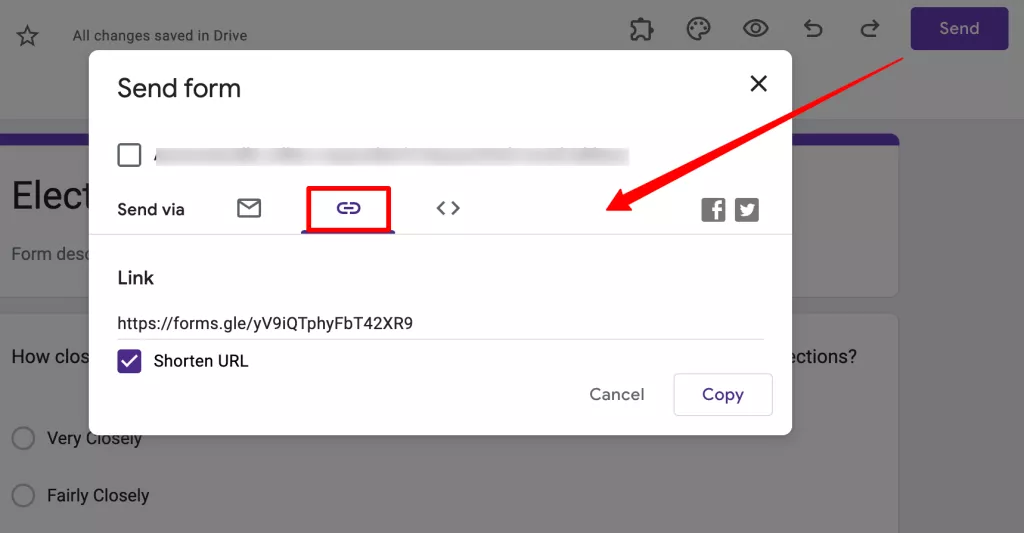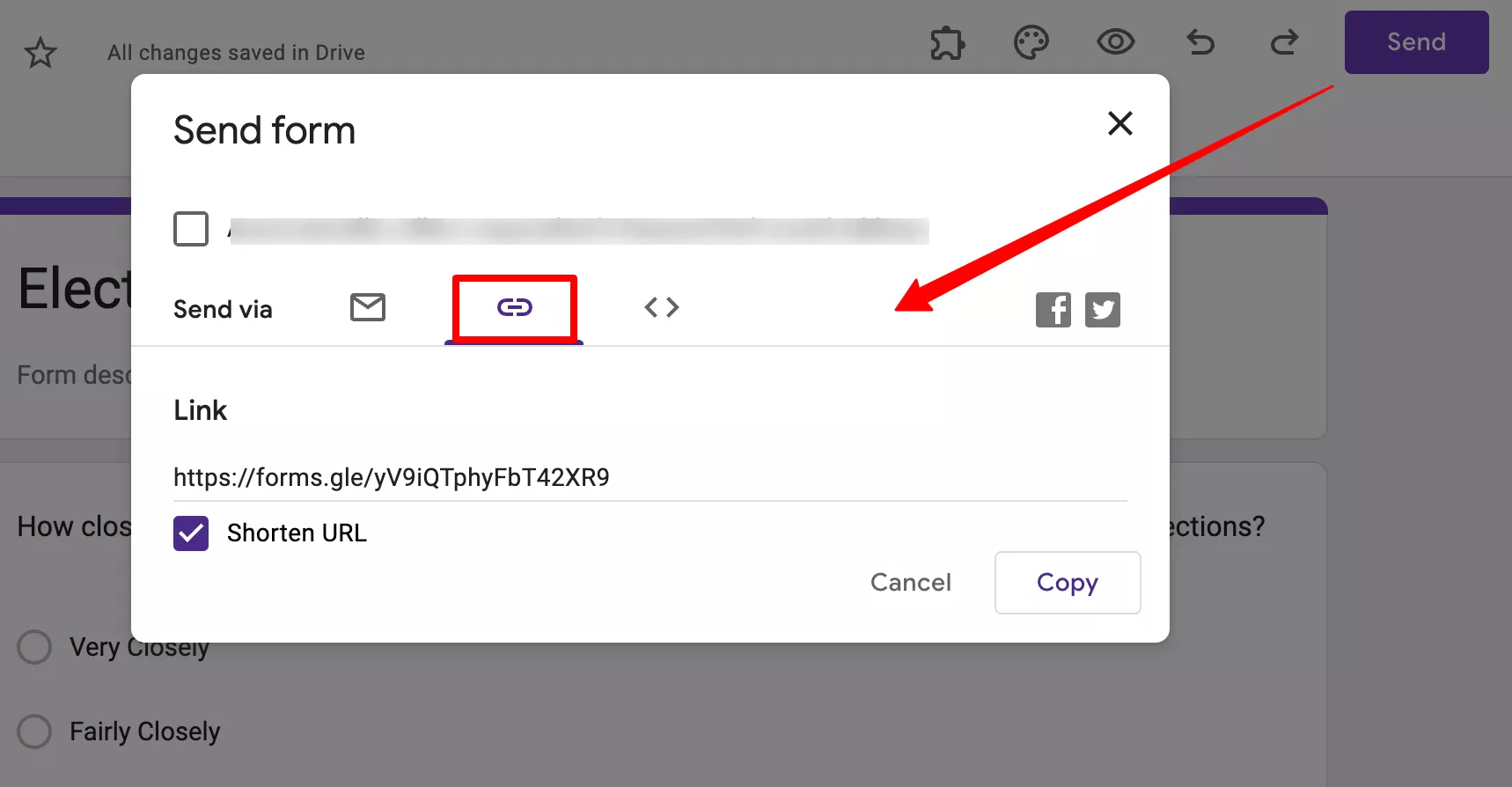 Collect & Review Responses
You can review responses under the 'Responses' tab, the google forms data collection can be viewed either as a summary of responses or individual responses for every question.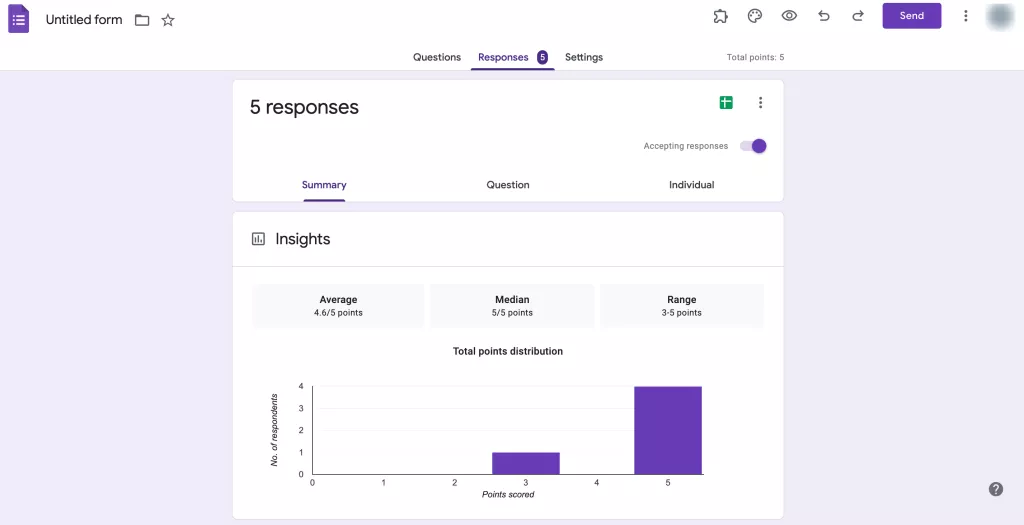 Apart from that, you can also collect data in your Google Sheet (this step can be done while creating the form or after you receive responses). For that, you have to link your form with Google Sheets, click on the Google Sheet icon in the 'Responses' section. You can create a new sheet or link to the existing one. All your data will be stored in Sheets, review, filter it, or create a graph/chart of it.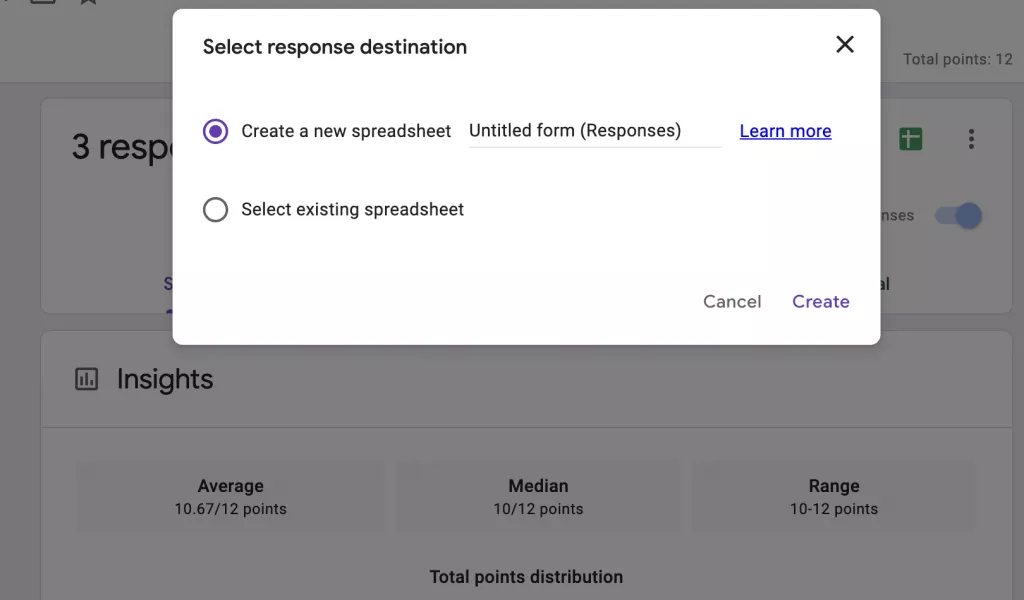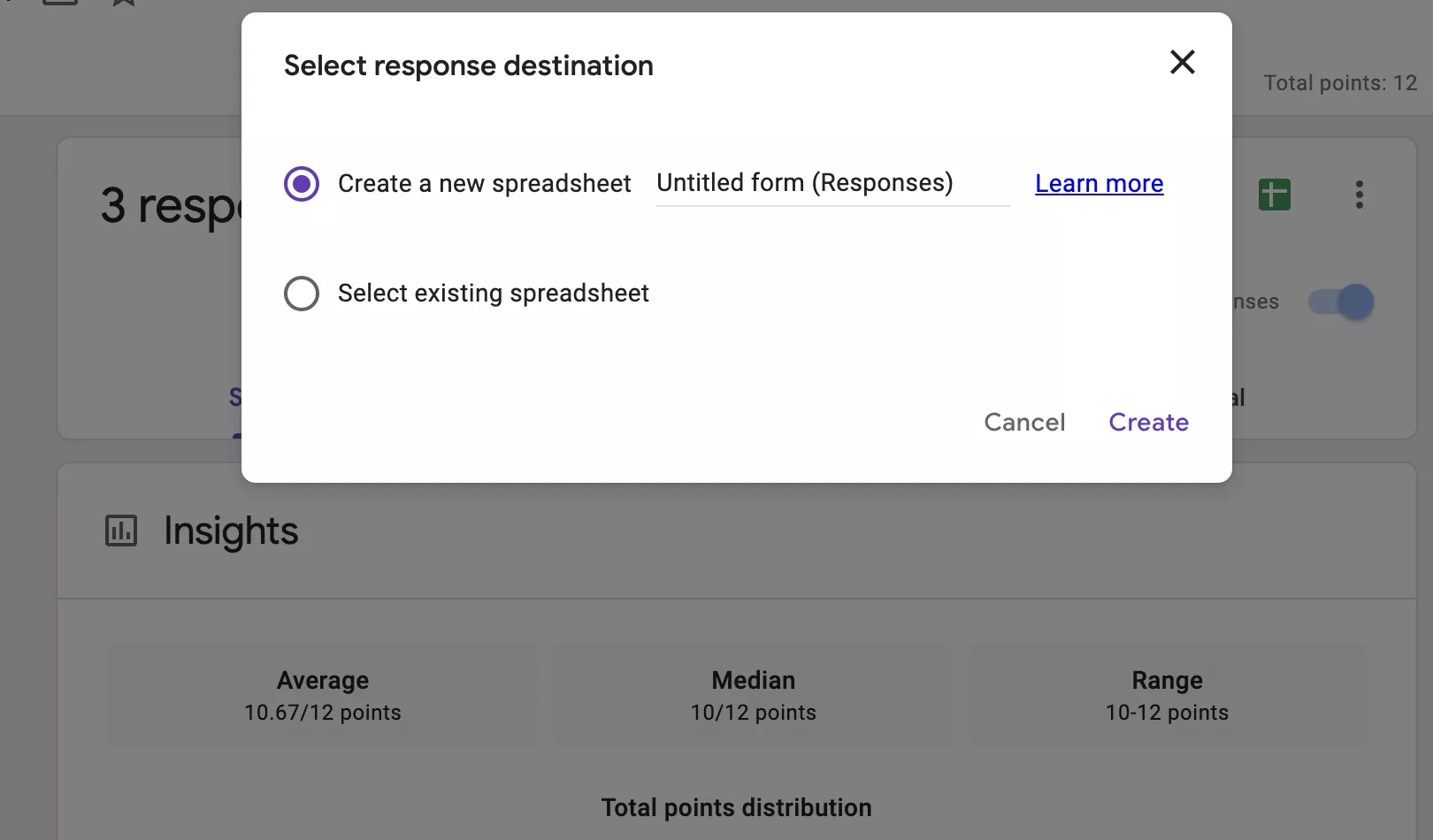 If you want, you can download the responses CSV file. Further, you may choose to receive an email whenever you receive a response. In the 'Responses' tab click on the three dots icon and select 'Get email notifications for responses.'
These are the steps to how you use google forms for data collection.
2. Collect data with ExtendedForms add-on
Another way we have through which you can collect data is with the help of the google forms add-on. ExtendedForms add-on is a timer app that you can use to make your Google forms into a timer quiz and test. Apart from that, you can use the app to send forms through a link or email with customized invitation messages.
Further, you can see Google forms data in the ExtendedForms dashboard. It shows you the summary of responses. So to collect data with ExtendedForms –
Firstly, install the ExtendedForms and go to the 'Add-ons' option in the '፧' More option at the top right corner. Search ExtendedForms and install the app.
Once the app is installed, you'll see a puzzle shape icon at the top, go to ExtendedForms > Configure and a settings box will appear on the right side of the form.
[If you can't see the puzzle icon, refresh the page once. And the same goes for the 'configure' option, if you can't see it, refresh the page]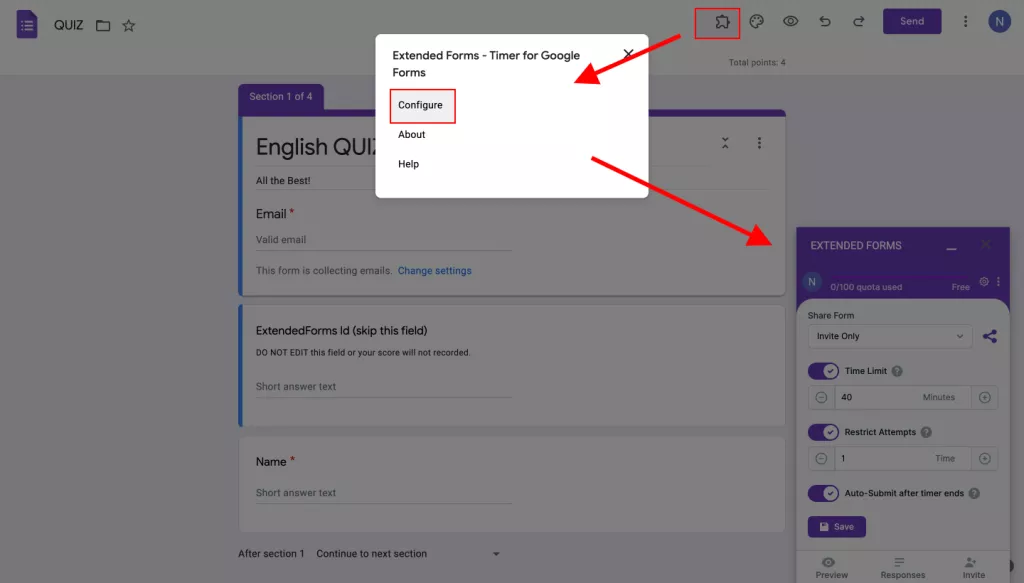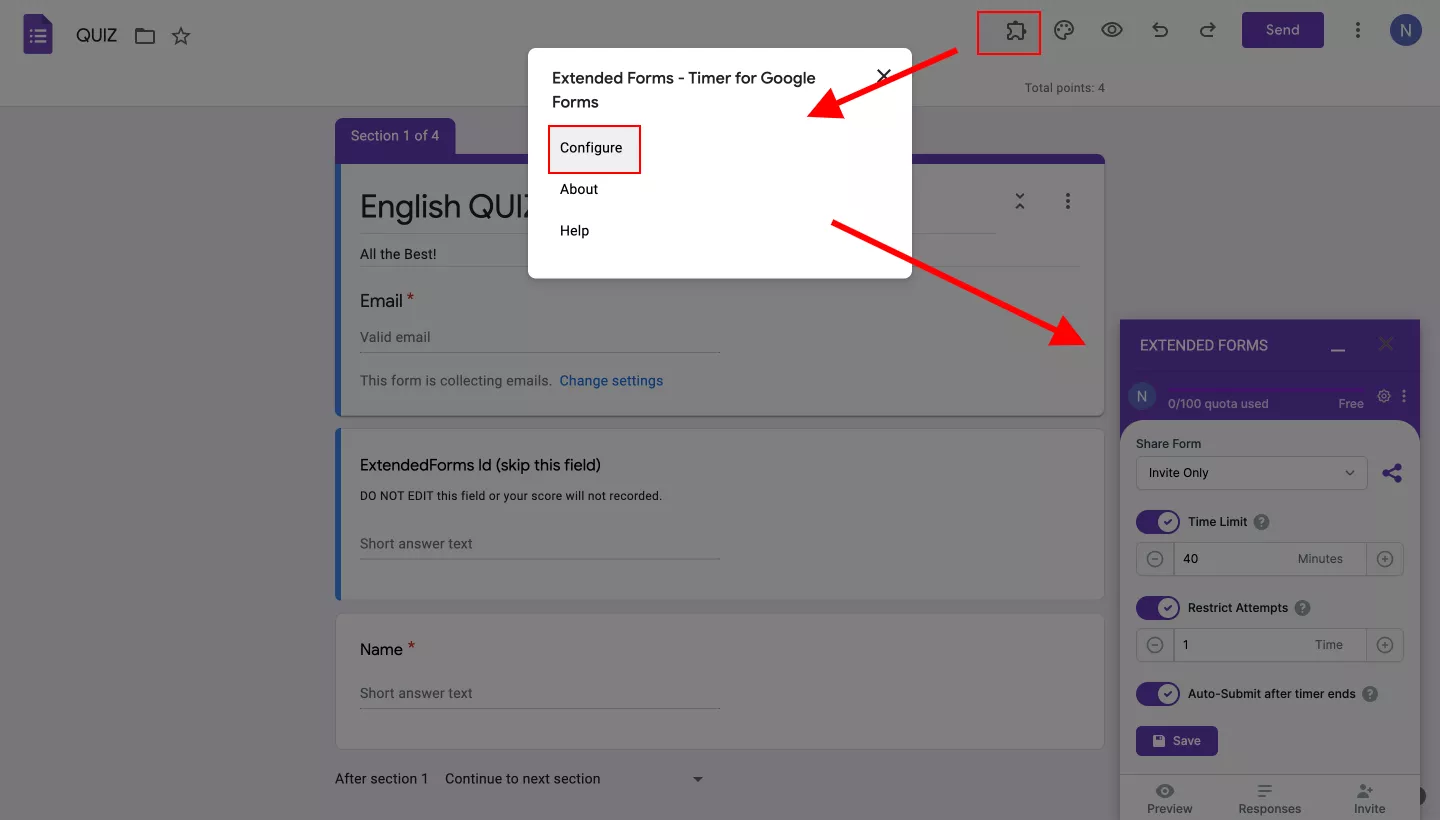 Configure the timer, restricted attempts, and share form option. Then, 'Save' the settings. Once that is done, you can go through the 'Responses' to the main page of ExtendedForms.
It will directly take you to the ExtendedForms page of that form. There you'll see all the responses collected and pending invitations of the form after you send the form.
Now, to send the form for data collection, click on the 'Share' icon and copy the link. You can shorten and customize the link as well.
If you want to share the form through email, then you get two options;
Either, through the ExtendedForms setting box in Google Forms,
Click on the 'Invite' option at the bottom. It will directly lead you to the ExtendedForms main page where a send invitation pop box will appear.
Click on the 'Invitation Message' button and an invitation message box will be presented. Write the message and click on the 'Update Message' button. Then go back to the send invitation box, add email addresses, and send the invites.
Another way to navigate to the invitation message is if you are on the ExtendedForms main page;
Go to the 'Forms' section, and select the form you want to send.
Click on the 'Send Invitation' icon and then follow the above 2nd step. Or you can go to this icon '፧' > 'Invitation Message' option. A box will appear and further process is the same as above.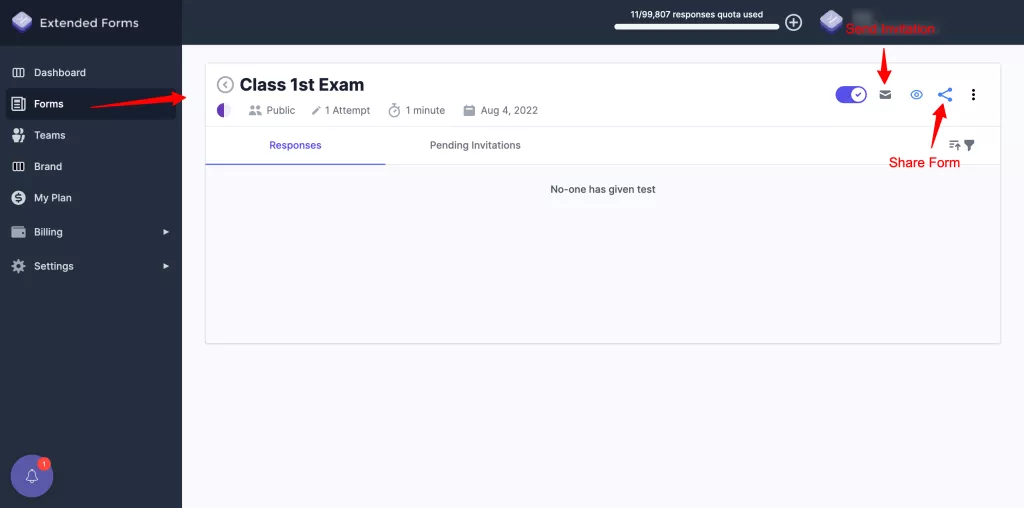 Now, once you send your form and you start getting responses. The collected data can be seen in the dashboard of the ExtendedForms app. Besides, In the Forms section, under the form you've sent, you'll see all the responses you've got and respondents who have yet to accept your invite and fill out the form.
In the dashboard, you will see collected data shown in the graph form, the total number of responses, connected forms, and average response time. Apart from these, in the dashboard, you will also see the list of the last 10 respondents' status, time taken, and score.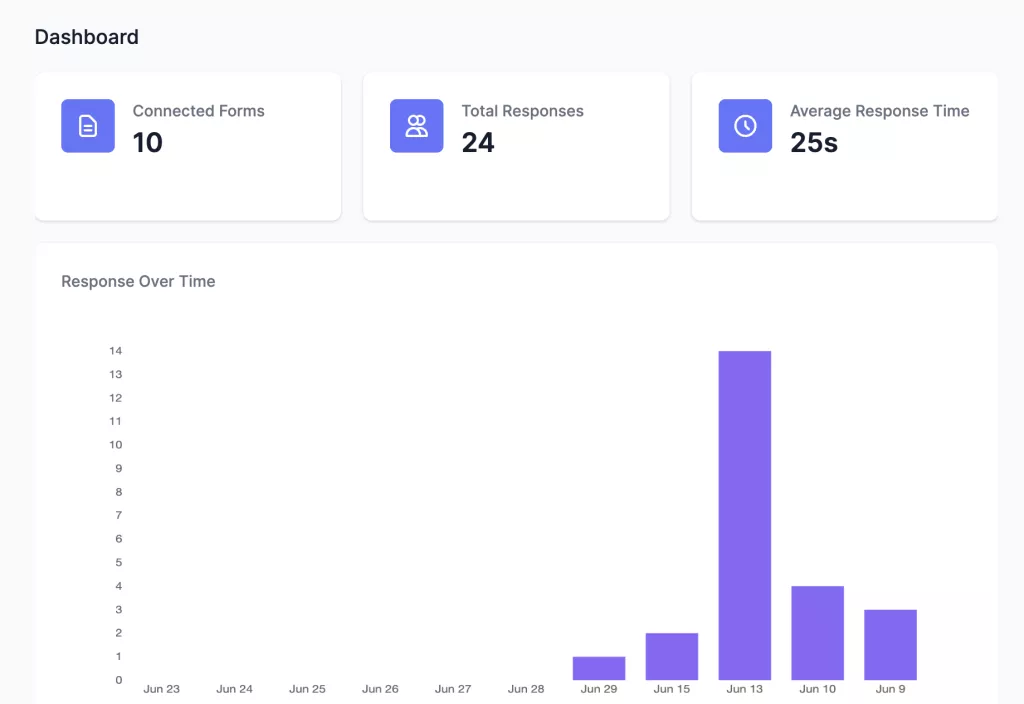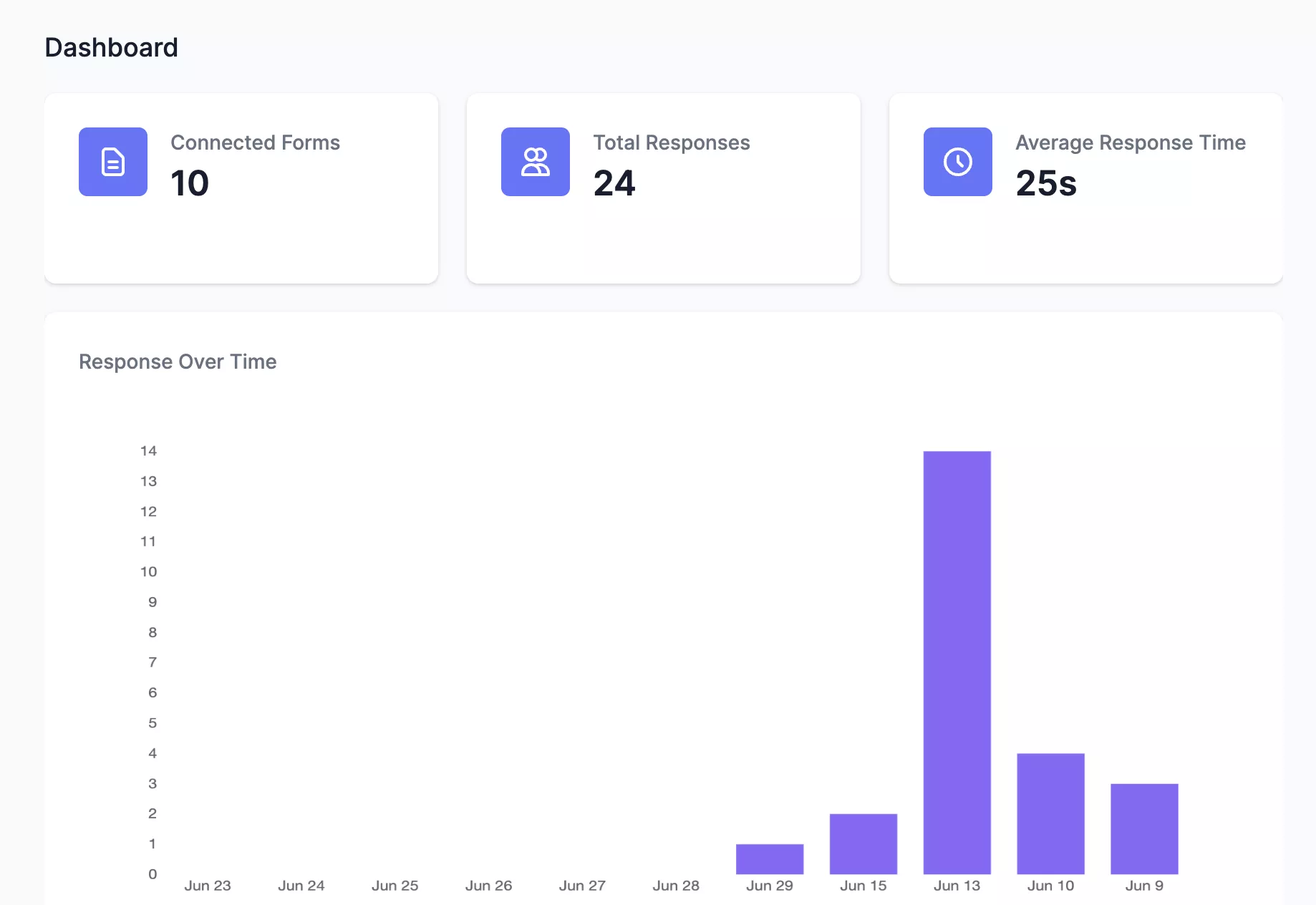 This is how with the help of the ExtendedForms add-on you not only add a timer feature but send and collect data with google forms.
Conclusion
Now that you have learned how to collect data with google forms in both ways. It's time for you to use Google Forms for data collection. Besides, with the help of the ExtendedForms add-on, your form will have the timer feature that can be useful if you create quizzes, assessments, or timer tests of any sort.
It is a quick guide to read and follow, however, if you face any queries then do let us know in the comment section.
ExtendedForms is one of the best timer add-ons in the Google Workspace Marketplace. It is also one of the best alternatives to Quilgo, it comes with a hassle-free configuration and so many cool features (and more to come). You can install the ExtendedForms app and try its free version for a countdown timer. However, if you want the benefit of brand customization, you can go for its subscriptions, they are affordable and worth your money & time.