This article will focus on two ways to share Google forms, if you are using it for the first time then it will be a useful guide for you. However, if you will use the timer add-on (that I have mentioned in this article), then the second way will be way useful for you Google forms users.
Google Forms is one of the most versatile tools among other Google tools. You can literally create tests, quizzes, surveys, polls, or anything that requires online forms. With its many in-built features and more from add-ons, the power of building forms is in Google and your hands.
However, we have a lot talked about how you can use forms for different use cases (check all articles in the ExtendedForms blog section), here we will just focus on how you can share Google Forms in two ways.
Steps to share Google Forms
Let's quickly get started with the main part of this blog.
1. Default Google Forms Share
If you are not using the timer add-on, then this way will be your go-to step.
To start with, once you have created a Google Form by directly visiting the form or navigating through G-drive.
Then, you've to set up the form with the needed configurations, add the content – Q&A for the form, and customize your form.
When all the above steps are completed, you can preview your form once before moving on to the main part of this section i.e, 'Share Google Forms.'
Now, to share your google forms, go to the 'Send' option at the top navigation bar. Here, you'll see three options that I am going to brief you on below:
Send via Email – When you click on the Send button, the pop-up dialogue box will appear, and send via email will be the first option you'll see in front of you.
Add all the email addresses of the people you want to send the form to. Further, the 'subject' will be mentioned (you can change it if you want), 'message' section will be there that you can customize the way you want. Both subject and message will be seen by receivers in their emails. Then, tick the 'include form in email' box text at the bottom of the box so that your form will be sent in the email.
Besides, at the top of the box, you'll see the message to 'collect emails,' tick the box if you want to collect the emails. Then click on the 'Send' option. Sending forms via email is suitable only when you are sending forms to a small group of people.
(*Note* – If you are using your business Google account, then in the email share setting you get the option of 'automatically collecting the respondents' email addresses of your organizations' instead of just 'collecting emails' message.)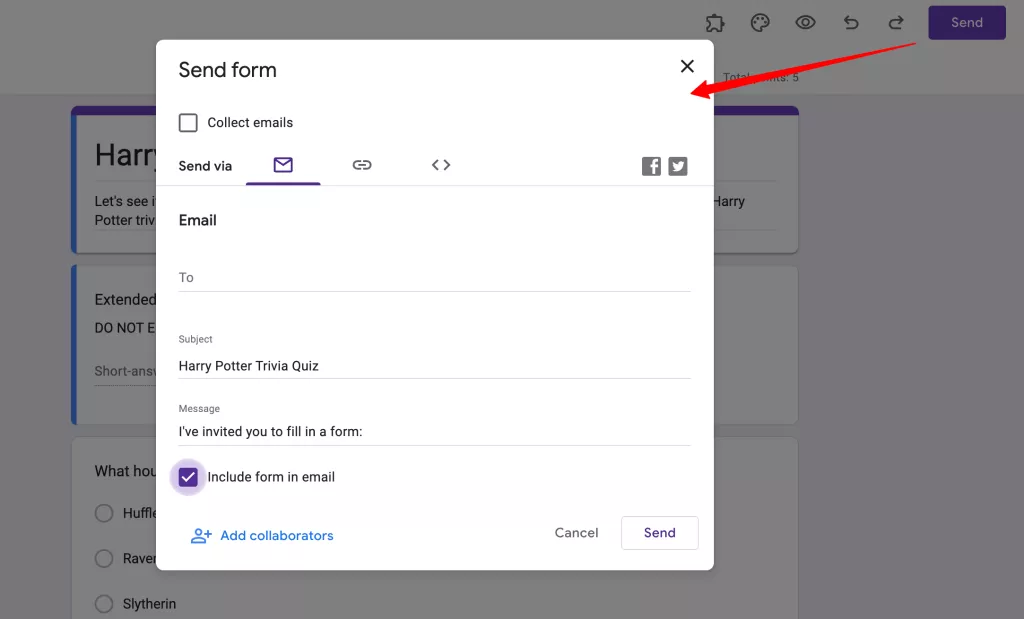 Apart from this, you can share google forms with collaborators. At the bottom, you'll see the option of 'Add Collaborators,' click on it and a new pop-up box will appear replacing the previous one. In it, you can either give 'general access' or add people and groups individually. This feature lets you invite others to be co-editors of your form or simply, Google form allows you to collaborate with form building.
Send via Link – The most applicable option if you want to send your forms to a mass audience is to send the link or copy-paste it to any of your platforms. Here, you will see the long URL, to shorten it tick the 'Shorten URL' box and copy the link.
As we can see Facebook and Twitter logos, implements that you can also send forms via both social media apps.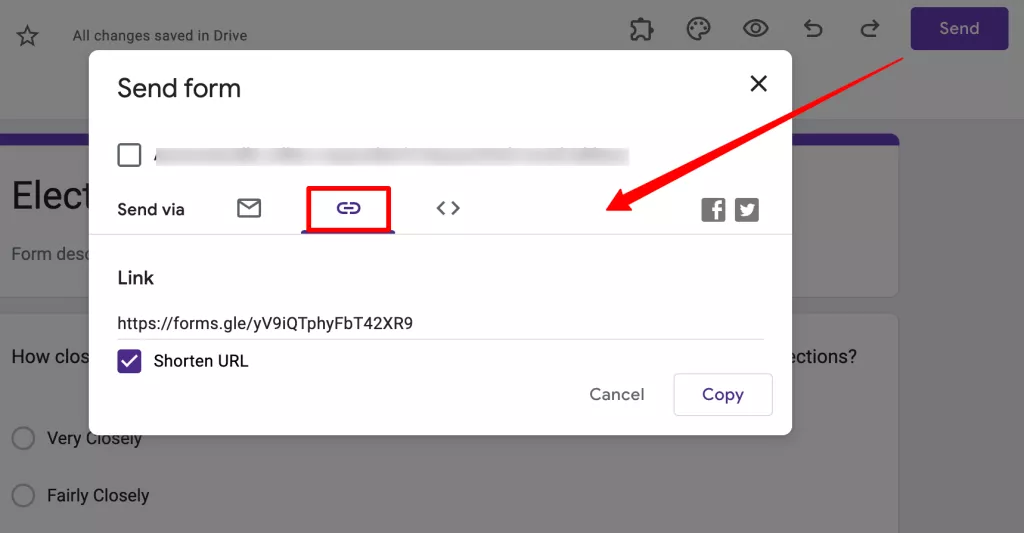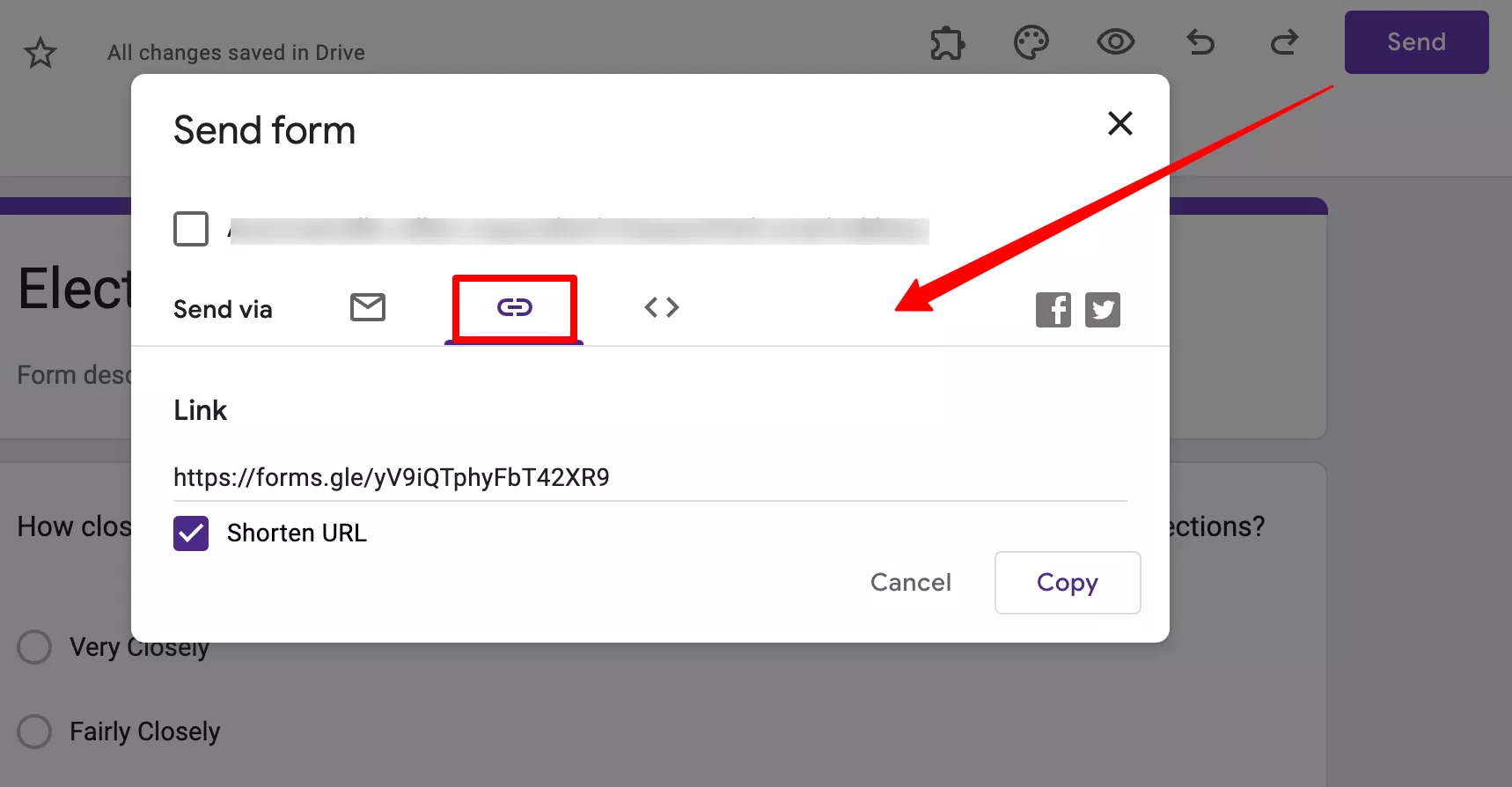 Embed HTML – If you have noticed that there are many websites with a contact us form on the contact webpage and want something like that. Then, it can be easily done through Google Form embed iFrame feature. If you want to use Google Forms to create a contact form for your website or another purpose where it's useful to embed an iFrame of your form then this embeds HTML option is the option to use.
Just adjust the height and width of the frame, if you like, and click on 'Copy'. You can paste the code, wherever you need it.
2. Share Forms with the help of the Google timer addon
Now, it might sound confusing to you as to how through a Google timer app you can share forms. Don't worry my friends, here I am going to tell you in steps how you can do that.
Through the ExtendedForms timer add-on, we are going to proceed to google form share:
A. Install Add-on
To start with, we have to first install the add-on and it is a very quick process. Click on '፧' icon > Add-ons > search for ExtendedForms.
Click on the Install button and your app will be installed within seconds.
Once that's done, you'll see a puzzle-shaped icon on the top bar. (If you don't see one, refresh the page) Click on it > ExtendedForms > Configure.
(Note* if you don't see Configure option, then refresh the page)
The settings dialogue box will appear, and you will see all the basic settings configurations to do and that also includes to share form.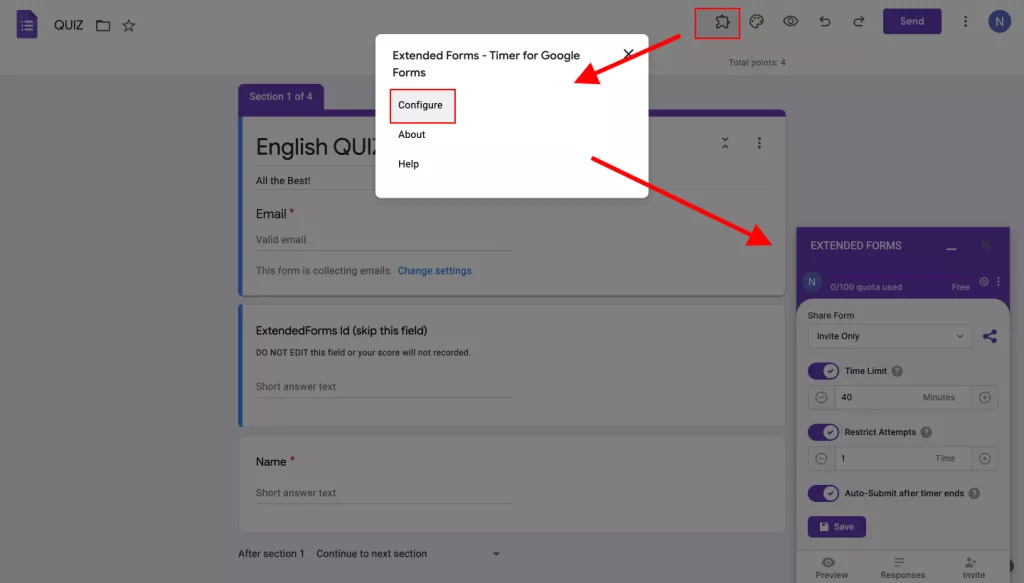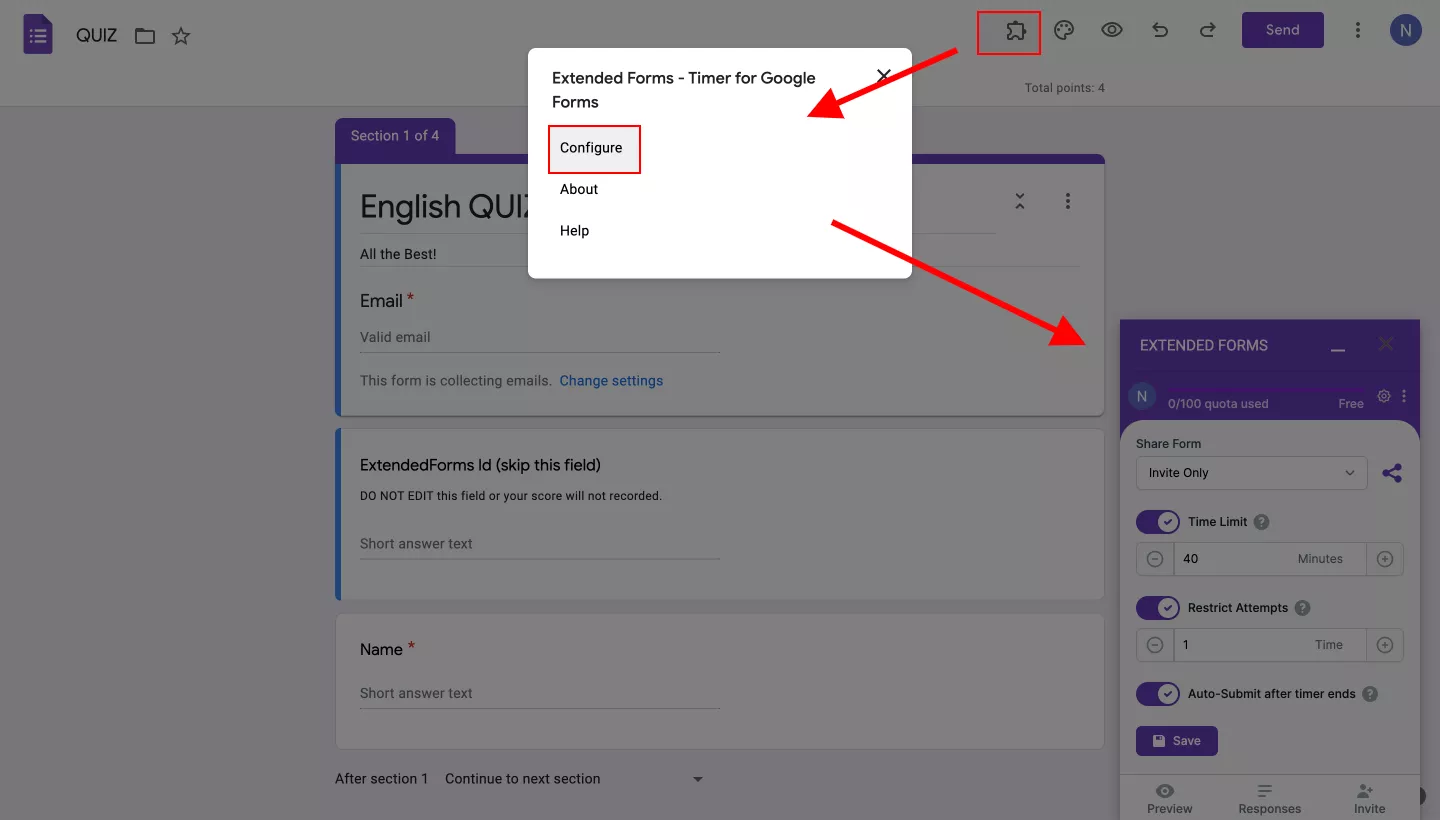 B. Share Form
Moving towards the settings, the first and foremost settings configuration is how you want to share form.
When you click on the dropdown box, you get different options.
Link (Email required) – You can choose this option if you want your respondents' email id as well.
Link (Anonymous) – If you want to share forms anonymously and want to keep responses anonymous then you can share the form anonymously.
Link (org email required) – Same as the 'email required' one just instead of people, it needs the email of organization.
Invite Only: If you are sending forms to specific people then you can do so through invite only. Besides, click on 'Invite' at the bottom of the settings to direct to the main page of ExtendedForms and you'll see a text box, send invites through it.
Further, you get the time limit option where you can add the time limit and then 'restrict attempts' which will get disabled automatically if you select share form anonymous.
Besides, you can in the ExtendedForms page also share google forms. Just go navigate through 'Responses,' and it will open up to the Forms page. Click on the 'Share' icon and you can copy the link, you can also shorten the URL by ticking the box of Shorten URL (this feature is part of pro plans).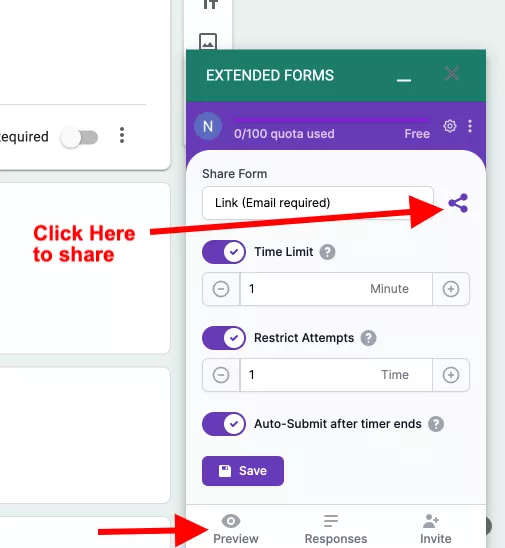 ExtendedForms Add-on
ExtendedForms is one of the top timer apps of Google Forms in Google Workspace Marketplace. It lets you add a countdown timer within seconds, as it has no pesky configurations. You've to install the app, configure the settings (like share form, time limit, & attempts), preview it if want, and you are ready to send your form.
Other than hassle-free settings, you get other features to set like – sending invites with a customized invitation message, adding a welcome message (show before users start attempting forms), and even setting a specific date/time for forms deadline.
Apart from these basic features, it includes 'classroom integration, team management (add teams and manager team role feature), email & brand customization. Furthermore, you can transfer ownership of your account to anyone with the account, image cropping for your profile, and brand images. Plus, it provides you to enable shortened URLs, and customize URLs.
The extended form has a free trial version and other pro versions. However, it has a feature now that allows you to top up your quota anytime, no matter which existing subscription plan you are or the free plan. Just pay the amount of the particular quota you need and you are good to go.
Conclusion
That's it! Here we conclude our article – on how to share google forms with users. I hope this quick-read article was easy to grasp and understand. ExtendedForms is one of the top-rated and used add-ons of Google Forms and is a better alternative to Quilgo.
So, if you are using the app already go with the second way to share Google Forms. However, if you have not tried the app yet, I would recommend you to give it a try. The app has really cool features and more are yet to come.
(Please note that this topic is solely based on how you can share your whole google forms with users/respondents. Not about how you can share google form responses.)