Creating Google Forms is an effortless process and the same is the case of sending it to potential users. You can easily share the forms with small or large groups via email, link, or embedding HTML code. Apparently, you can also embed Google Forms in an email to send to users.
If you are unaware of this small yet so important feature of Google Forms, then don't worry! It's never too late to learn something new and apply it to your own cases. Embedding Google Forms provide a simple and effective way for recipients to your survey without having to leave their email.
In this guide, we will provide step-by-step instructions on how to embed a Google Form in an email, as well as discuss the advantages and limitations of this feature.
Advantages of embedding Google Forms in an email
Every feature or functionality in any software has a set of advantages attached to it. In this scenario, as well we have a few advantages that can push you to take benefit of this functionality in Google Forms and use it to its fullest extent.
Here are a few advantages of adding Google Forms in an email;
Improved response rates – embedding google forms in an email can significantly increase response rates as it eliminates the need to navigate to a separate webpage. With the form embedded in the email, recipients are more likely to respond quickly.
Better engagement – By incorporating a visually appealing and interactive form, you can capture the attention of your recipients and encourage them to provide more thoughtful and detailed responses in real time.
Time-saving – If you embed Google Forms in an email, it will save both you and your recipients time. They can directly fill out the form quickly from their email, and recipients can respond without having to waste their time navigating through another page.
Processes to Embed Google Forms in an Email
Here, we will discuss how to embed google forms in an email in two different ways.
Add Google Form in Email (through Google Forms)
Create your google forms – To get started, you'll need to first create a Google Forms. Sign in to your Google account, and create a new form.
Then, add a title and description to the form, create questions, and customize the settings and theme of the form.
Once the form is created, you can Preview it to see how it looks.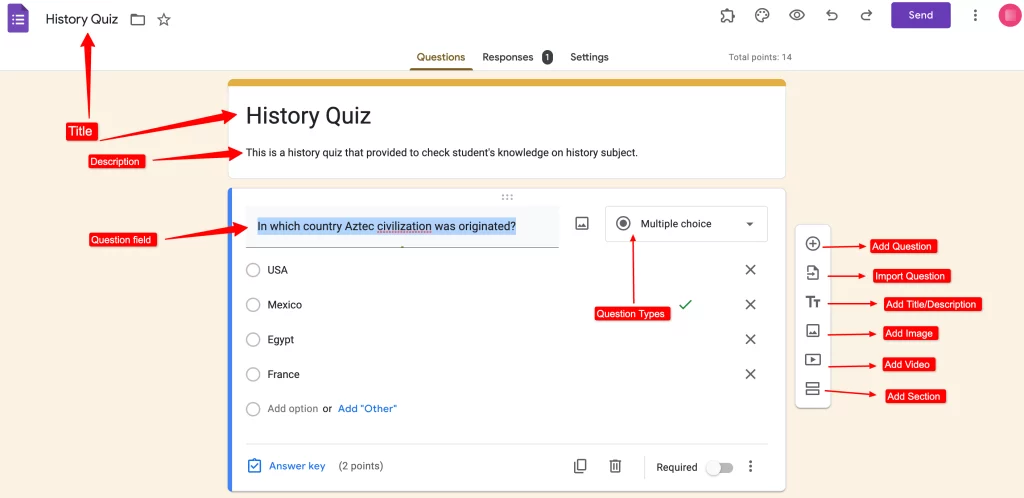 Send the form – Once you're happy with the form, then click on the 'Send' button.
This will open up a Send menu for sharing the form. There are different ways to send forms, mainly via, email, link, HTML code, and social media.
You can simply paste the link to your email and this link could also be used to create a QR code.
However, that's a long process, if you want a straightforward way then embedding google forms in an email is a great way (and here we are discussing that)
Share via Email – To embed Google Forms in an email, click the 'email' icon and enter the email address of the people you want to share it with.
Under the 'Message' you can add a brief message to go along with your form.
To embed Google Forms in an email body, don't forget to check the "Include form in email" box.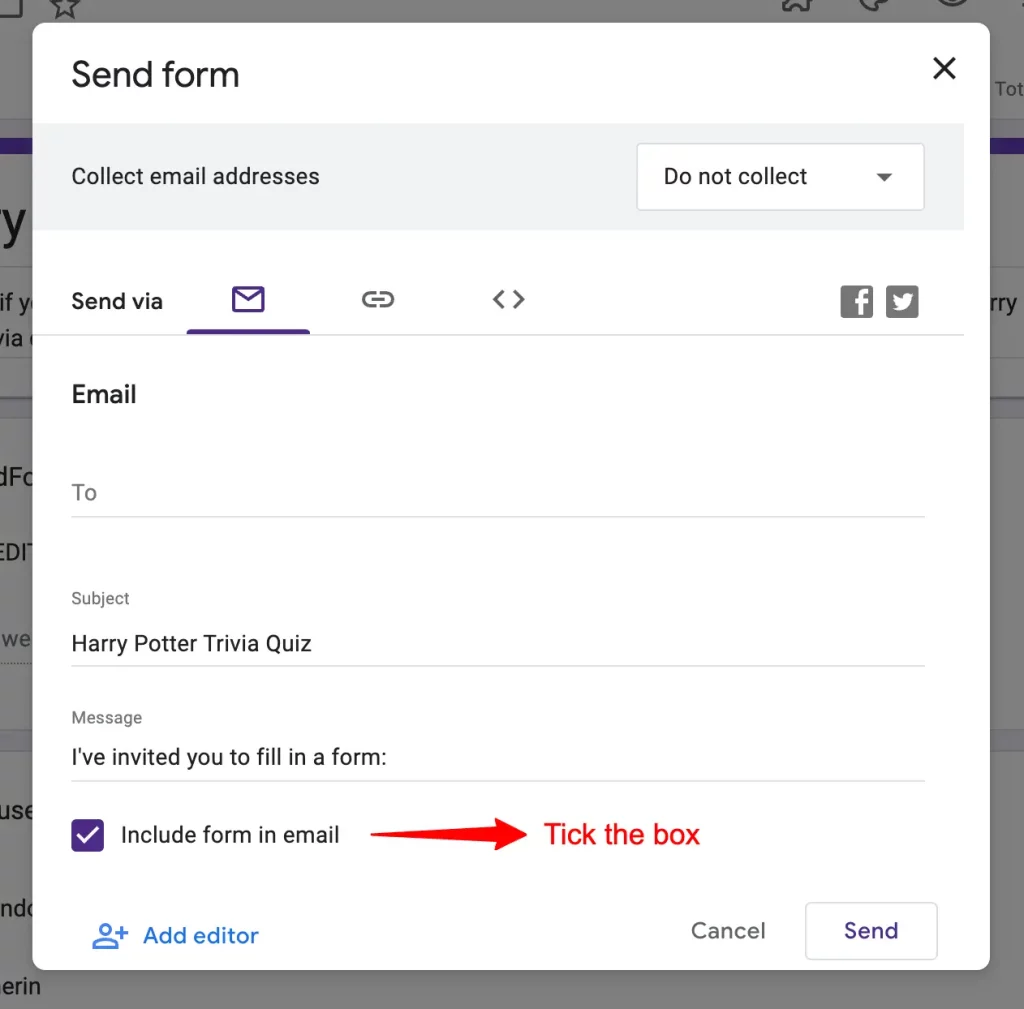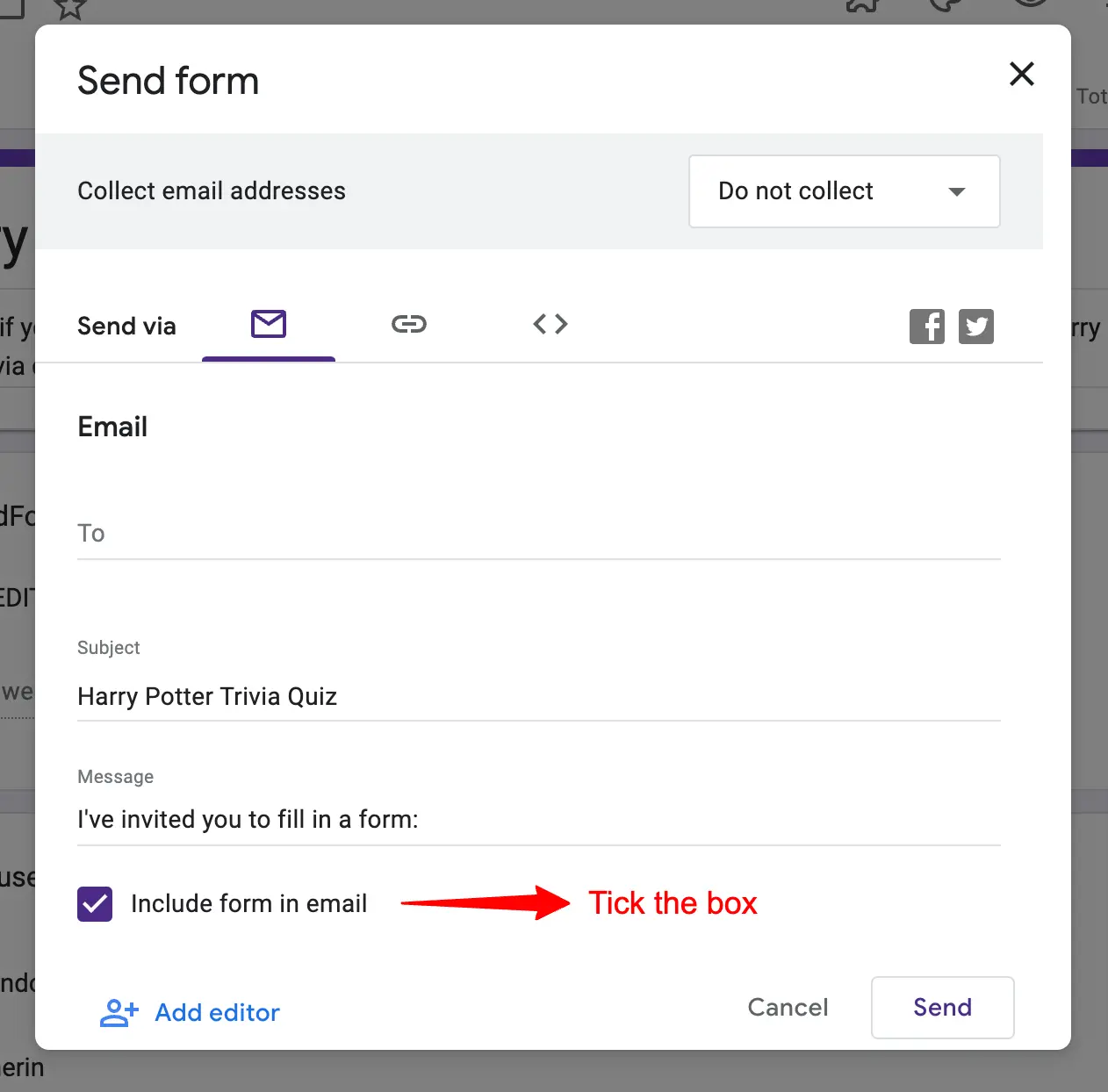 Share your email and track responses – Click the 'Send' button and voíla your recipients will receive the form in your inbox.
If you want to track responses you can do so by navigating to 'Responses,' check the responses you've received. To have a datasheet, connect the form to sheets by clicking on the 'Link to Sheets' icon.


Also, to get notified for each new response, enable the "Get email notifications for new response" from the More menu in the Responses tab.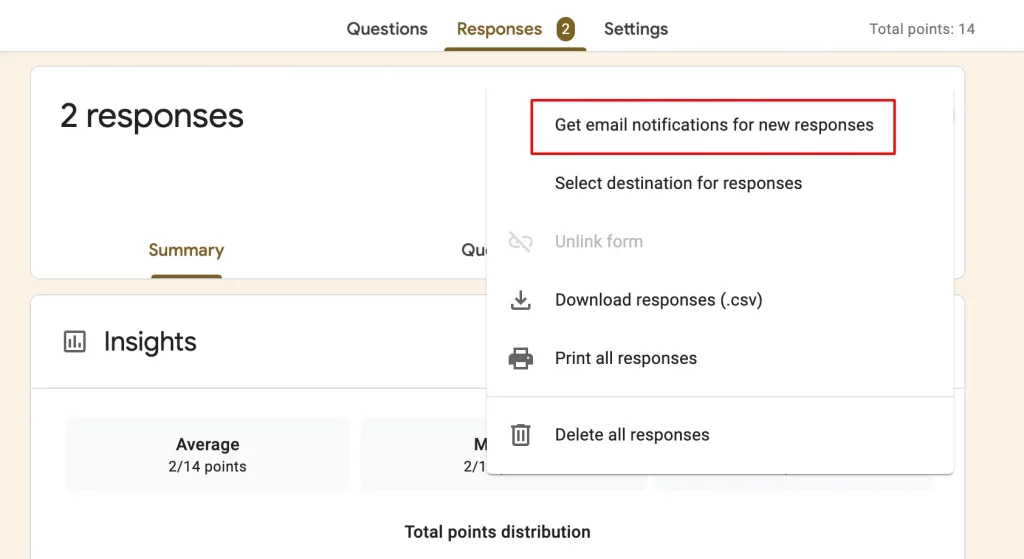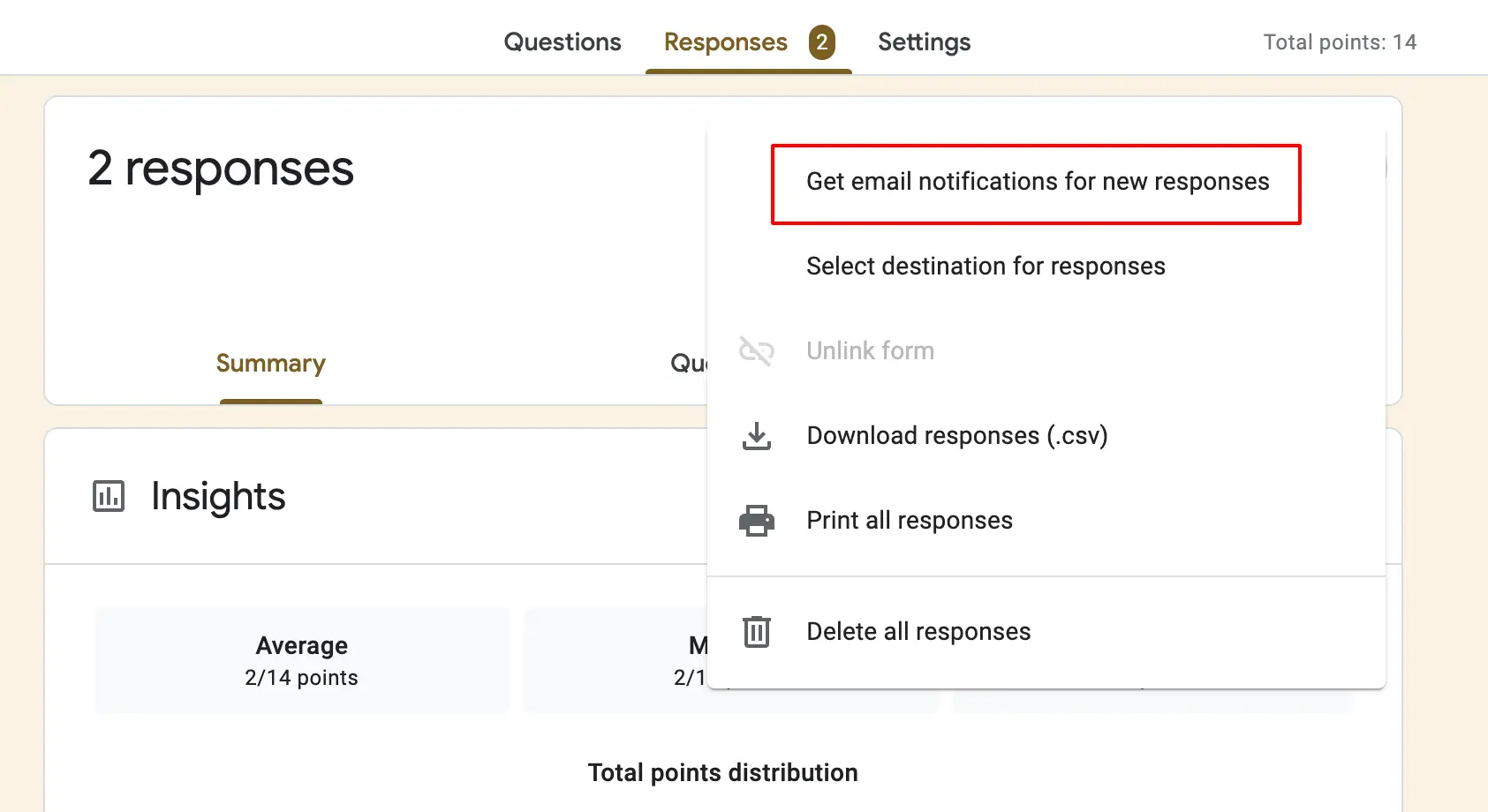 Alternative – Send Google Form in Email (through add-on)
If you are a Google Forms user then you may need some support from external factors, in this case – add-ons. They are Google tools external apps that can be installed and used in any or every Google app.
In Google Forms there are various add-ons that increase the flexibility and efficiency of the Google Forms. One major gap of Google Forms is there is no countdown timer for quizzes or assessments.
But that is also eliminated with the help of the ExtendedForms add-on, one of the top countdown timer and proctor apps of Google Forms. Though aside from that, the add-on also has the feature to send custom form invitation messages via email.
So, the add-on is a multipurpose app that not only allows users to send custom invites but also provides proctoring, team management, a countdown timer, and more. Let's see here how you can send email invites to recipients.
After you have created the Google Forms, (or before that whatever works for you, it doesn't has a hard & fast rule) click on More (⋮) at the top right corner.
Go to "Get add-ons" and search for the ExtendedForms add-on
Install the app, refresh the page and you will see a puzzle-shape icon
Click on it, choose ExtendedForms > Configure
A settings box will appear at the bottom, from there you can configure the timer, restrict attempts, and auto-submit option.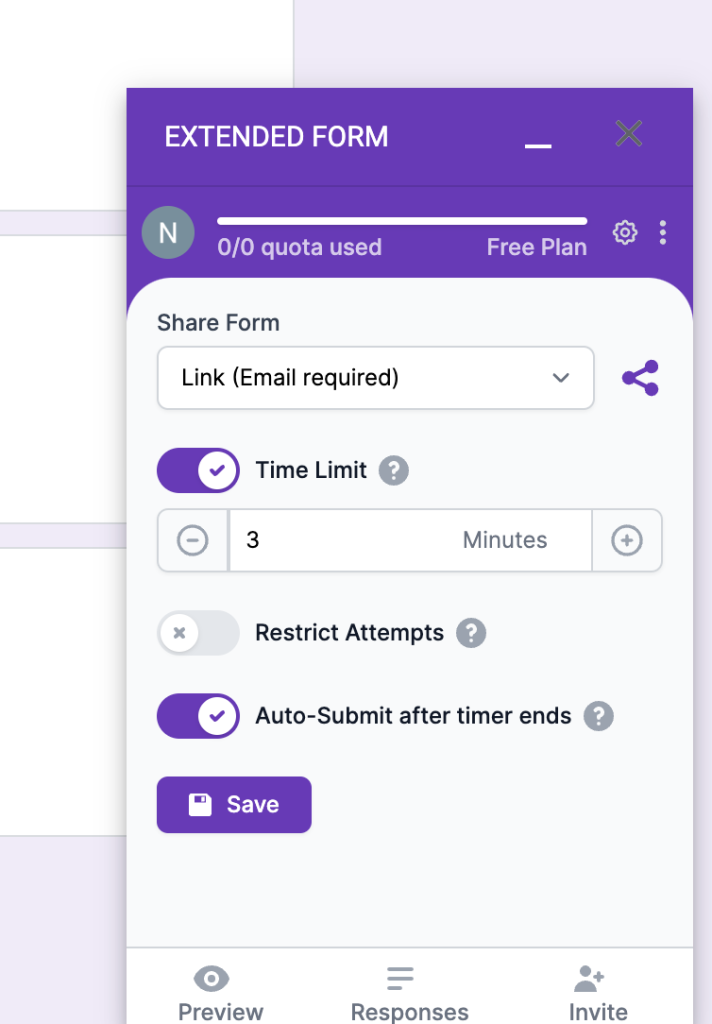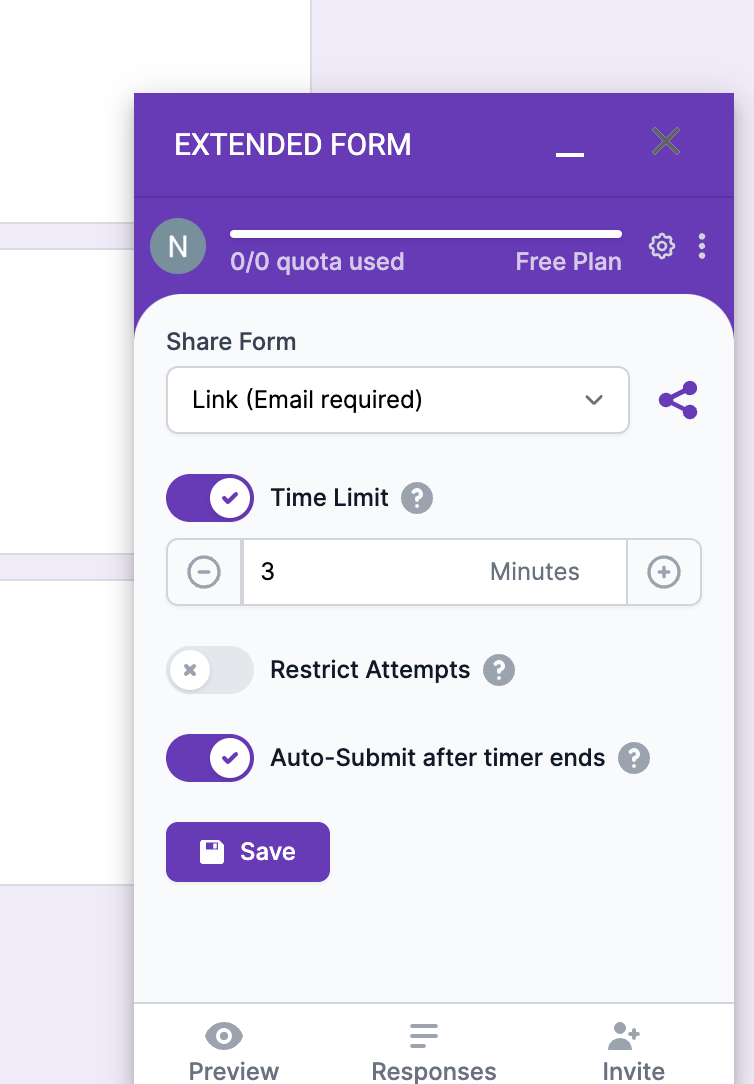 Then, click on "Invite" and it will lead to the extended forms dashboard where a dialogue box will be opened.
Add the recipients' email addresses and then add a custom invitation message by clicking on "Invitation Message."
Once done, Update the message and send the form.
In the email recipients will see the invitation message if added and a Quiz or Form CTA button that respondents will have to click to start the form. It is not directly embedded in the email body but the process is as the same.
So if you are using the add-on for other features you must use it to send invites. Besides, you can also use the URL of the form to share it with the people. You can customize and shorten the URL.
When to Utilize and Avoid the Use of This Feature
There are always certain limitations to a feature or use cases in which you can utilize the functionality and cases where you should avoid the feature. When you want to embed Google Forms in an email you must understand that there are also certain scenarios to it.
If you want to embed google forms in an email, then you should definitely go for it as it is a straightforward way. But only if you are sending it to a small group of people. It is not ideal for anyone to send an embed form in email for mass mailings since there's no way to input a large number of email addresses.
Aside from it, we would not trust this method for any email aside from Google. While theoretically, it can work for recipients with other email clients, but practically it's an unreliable and tedious process.
For long surveys, quizzes, or important polls, we would recommend forgoing embedding google forms and directly sending the link or using the alternative method.
FAQs
How do I embed a Google survey in Gmail?
To embed Google Forms in an email (Gmail), go to Send > Email > add Gmail addresses of the recipients and check the 'Include the form" box.
Can you get an embed code for a Google Form?
Yes, Google Forms has the option of sharing forms via HTML code that allows users to embed them in a website or anywhere they want. You've to click on Send > HTML code > copy the code and paste it into a webpage.
How to embed Google Forms in an Outlook email?
You can embed Forms in an Outlook email but it is a tedious process. Similar to how you embed google forms in Gmail, add the Outlook email and send it. Further, forward the email from Outlook with all the formatting.
Conclusion
In conclusion, embedding Google Forms in an email is an efficient way to improve response rates, engagement, and save time. By providing a more convenient and efficient way for recipients to respond, you can increase the likelihood of receiving more responses and higher-quality feedback.
With the benefits of improved response rates, better engagement, and time-saving, to embed Google Forms in an email can be an essential component of any successful survey or questionnaire campaign.
Also, Check out – How to calculate the percentage score in Google Forms?
How to use Google Forms for Project Management?