Online quizzes and assessments have become increasingly popular in recent years, especially with the growth of online learning and remote work. While there are several quiz apps available in the market, including Quizlet and Kahoot, the focus of this blog post is to compare and contrast ExtendedForms, a quiz app available in the Google Workspace Marketplace, with other similar quiz and exam apps. 
With the widespread use of technology in learning environment, educators are looking for effective and efficient tools to create and administer assessments online. In this post, we will compare and know how the ExtendedForms app is better than other timer quiz apps.
Whether you are an educator, trainer, or instructional designer, this post will help you make an informed decision on which quiz add-on to use for your next online assessment.
Overview
ExtendedForms
ExtendedForms is a countdown timer & proctor add-on for Google Forms. It is here to provide Google Forms users with advanced features that are not available in the forms as default. The app turns your google forms into an online test or quiz with just a countdown timer.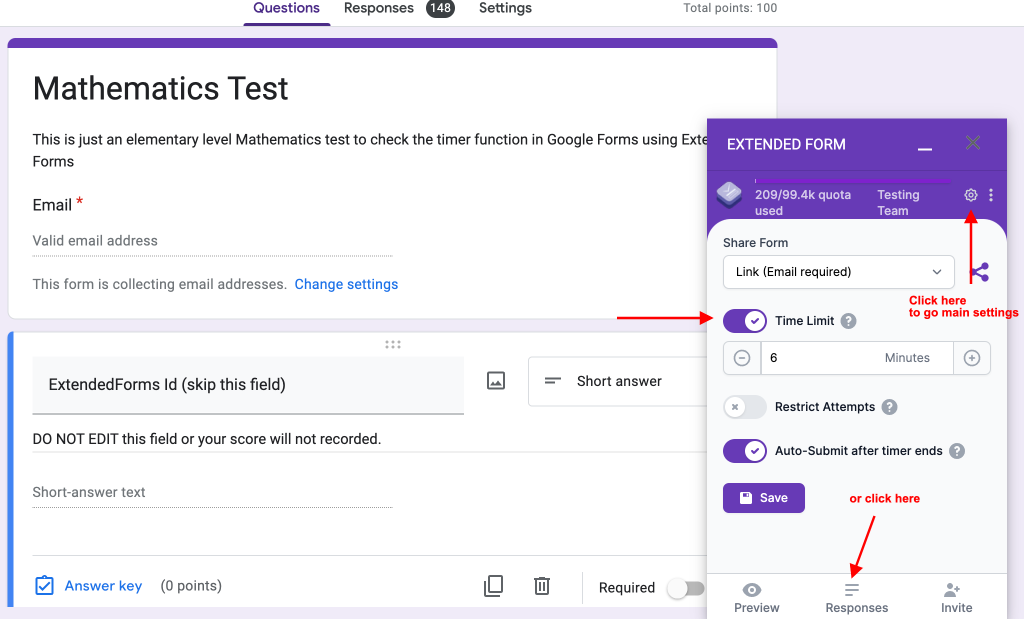 Apart from that, ExtendedForms has a proctor feature that allows users to invigilate in real time during virtual tests. It also provides with trust score once the quiz or exam is done. The quiz & exam app has made users' process of using Google Forms a bit more advanced and efficient.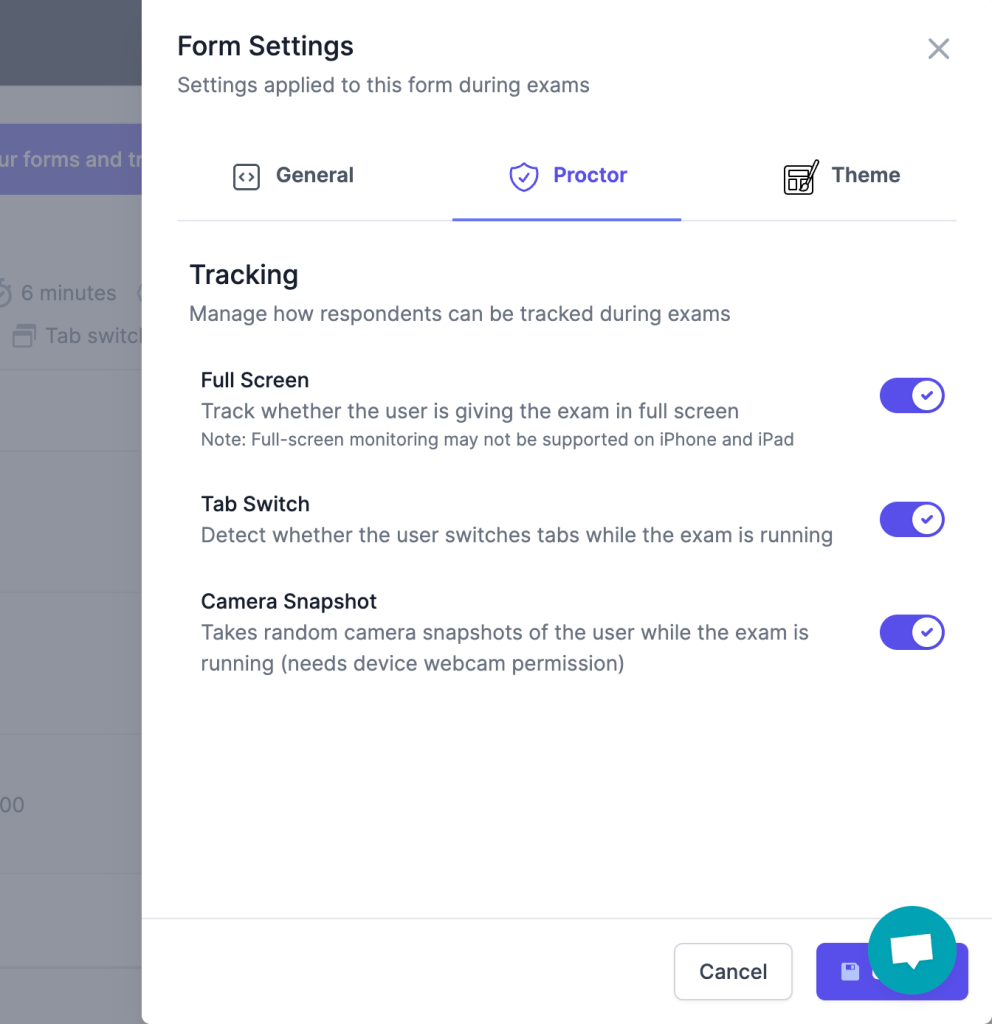 ExtendedForms is an add-on that keeps up with new features and functionalities by noticing the customers' feedback and gaps they are facing while using the app. The quiz app is not only limited to just these two features but also various other features that are really helpful for users using the add-on. 
Form Timer
G-Clocked Form Timer is an app available in the Google Workspace Marketplace that provides a timer function for Google Forms. This add-on is designed to help teachers and educators administer timed quizzes or assessments on Google Forms more easily and accurately.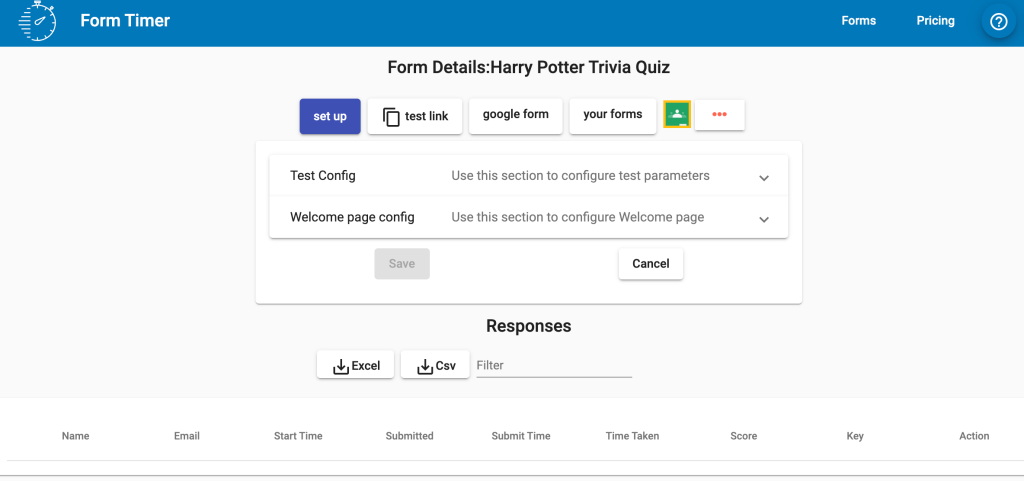 Form Timer works by embedding a timer in the Google Form, which starts automatically when the respondent begins the quiz. It is user-friendly and easy to use. The add-on can be installed directly from the Google Workspace Marketplace and integrated seamlessly into Google Forms. The timer function is easy to activate and set up and can be customized according to the specific needs of each quiz.
Its flexibility, ease of use, and customization options make it a valuable tool for educators who want to streamline the quiz administration process and provide a fair and accurate assessment for their students.
AutoProctor (Timer + Proctor)
Auto Proctor is an app available in the Google Workspace Marketplace that helps educators or instructors to administer and monitor online exams or tests securely. It is designed to work seamlessly with Google Forms to provide a reliable and convenient proctoring solution for teachers and educators.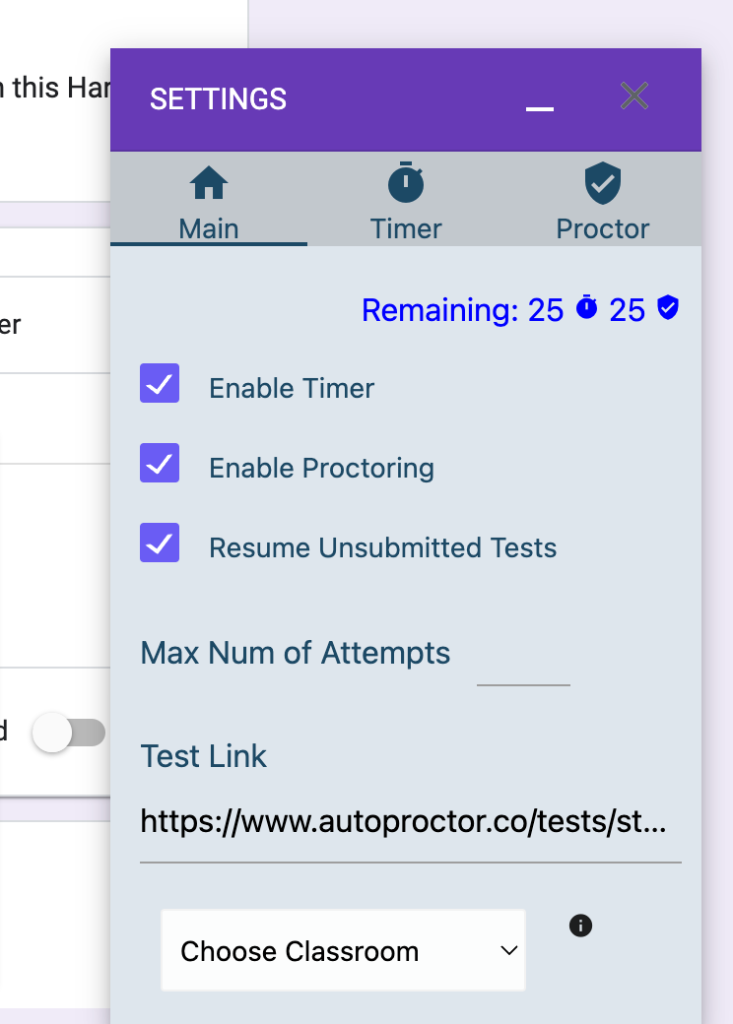 Auto Proctor allows teachers to set up various proctoring methods for their Google Form-based assessments, such as webcam monitoring, tab-switching, and noise recording, to ensure that students are taking the exam under proper conditions. It also provides users with a timer feature for quizzes or exams.
Overall, Auto Proctor is a useful tool for educators looking for an easy-to-use and efficient proctoring solution for their online assessments.
Comparison
Let's compare ExtendedForms with other timer quiz apps – Form Timer & AutoProctor add-ons based on the different categories. This comparison will help you understand which add-on stands out in which category. 
And towards the end, we will have an overall view of how ExtendedForms is a better add-on when compared to other quiz and exam apps. Or why if using google forms, extended forms is a recommended add-on.
We are going to compare the quiz and exam apps based on the following criteria –
Price
Features
Usability
Configurations
Support
1. ExtendedForms
Price – ExtendedForms like other add-ons from Google Workspace Marketplace are free to install and use. The add-on comes with a free version along with paid subscriptions. The best part about this quiz add-on is that users get the base features under the free plan.

Free plan– timer and proctor features are included in the free plan, along with a few basic features.
Under the free plan, users can connect up to 10 google forms and will get 100 response quota/month (a.k.a – 100 form responses), it resets automatically every month.

However, if you want to increase only the quota without upgrading the subscription plan, then you can do so with the 'top up quota,' users will have to only pay for quota upgradation. Top Up quota starts at – $20 for up to 500 additional quota.

Paid plans – The subscription plans of extended forms for individuals and organizations are quite minimal compared to other many other quiz and exam apps present out there. The individual plan starts from $5/month and for organizations, it starts from $20/month.
Features/Functionality – ExtendedForms is full-packed with great features & functionalities. The app has base features like a countdown timer and online proctor that includes tab-switching, camera monitoring, & full-screen.

They are the USPs of the add-on. However, it has various features that make it a better and more useful add-on for users using it. Features like- 
a custom welcome message (copy-paste in different languages for respondents to see before the start of the exam),
custom support email (can add email to individual forms as well as for forms under teams)
progress restore feature – (it automatically restores the answers you've opted in the forms if you lose your responses due to technical issues.)
Classroom integration (easily add classwork in the classroom from extended forms dashboard, automatically grade, etc)
Enable/disable copy-paste & right-click feature
Export to excel (CSV file)
Team management & branding, & so forth.
Usability & Configurations – ExtendedForms app is undoubtedly easy to use and understand. The add-on's user interface is very simple and easy to use, if you're someone trying the app for the first time then you'll not need much guidance or tutorial to understand the functionality of all the features works. You can easily through google forms go to the extended forms dashboard & also from its website.

The configurations of the Extended Forms add-on are hassle-free and self-explanatory. The advantage of the add-on is its simple and easy configuration. It's a very quick process to configure add-on settings, you just need to install the app in Google Forms and configure the settings as you like. 
Support – If you're a user of ExtendedForms or (going to be one after reading this post) then you must know that customer support is one of the pros of this quiz app. As it is available for you 24×7, you can chat with the experts through the EF dashboard.

Or users can connect with the potential person through email or you can contact them by writing them a message from the 'Contact' option on the website. ExtendedForms recently came up with a new feature that allows users to add a custom support email in individual forms or in a team through which respondents can connect with the potential user. 
2. AutoProctor
Price – AutoProctor similar to ExtendedForms is a free-to-install add-on & it has a free trial option that allows users to use the add-on for free for unlimited days. In the free plan, you get 25 Timer + Proctor test attempts and 25 Timer only test attempts.

Further, the quiz add-on has standard (ideal for individuals) and premium (ideal for teams) paid plans that start from, ₹820/month & ₹1640/month respectively. It has quarterly plans as well that start at, ₹1900 (paid after every 3 months) & ₹3800 respectively.
Features – The AutoProctor add-on has the main functionalities of a timer and automated proctoring. You can use Google/Microsoft Forms or AutoProctor's assessment platform for remote proctoring. It has features like –
Audio/Video tracking
Camera capturing
Tab-switch detector
Trust Score
Link Multiple Tests
Session Recordings, and Plagiarism checks
The add-on functionalities are related to remote proctoring & the timer.
Usability & Configuration – The add-on's user interface is simple and easy to get through. However, you'll have to go to their website to visit the AutoProctor dashboard, unlike ExtendedForms. But all-in-all the usability of the add-on is ease-of-use for users, you can easily use & configure the settings of the app, the process is smooth.

This quiz add-on configuration is similar to the ExtendedForms to a certain extent. It means you can easily configure the features' settings without any complexity. However, if you want to get auto proctor directly onto your website then it requires setup through the app's JavaScript SDK.
Support – For customer support, they have a 'contact us' option on the website. You can basically chat with the team or through the 'helpdesk' section you can check their frequently read articles.
3. Form Timer
Price – The quiz add-on comes with a free plan – all features included & 50 tests/month. The paid plans start from – $5/month (plus plan), $40/year (premium plan) to custom bulk purchase.
Features – Unlike ExtendedForms & AutoProctor, the Form Timer only have a timer feature that allows users to add a countdown timer and start-end time date. Apart from that, it has features like –
Welcome page configuration – you can add a logo & instruction message (unlike ExtendedForms, the message can be shown only in English)
Share form to google classroom
Download .csv & excel files.
Usability & Configurations – The add-on is very easy-to-use, simple, and quick to get the hang of it. However, to configure the timer feature you'll first have to enable it in the google forms – form timer settings and then you'll have to redirect yourself to another webpage (login through your google account) and then you'll go through with the timer settings configuration.

So, compared to the ExtendedForms, I found it a little bit time-consuming especially if looking into how easily one can configure a basic timer, restrict attempts & even share forms in the ExtendedForms.
Support – The quiz & exam app has a very basic process of customer support. You'll have to fill out google forms to send feedback or ask for any support from the team.
At a Glance
Category
ExtendedForms
Form Timer
Auto Proctor
Price
Free plan available – users get upto 10 google forms, 100 response quota/month
Top-up quota – $20 for upto 500 additional quota
Subscription plan – for individual starts from $5/month, for organisation – $20/month
Free plan available – users get 50 tests/month

Paid plans starts from – $5/month (plus), $40/year (premium), to custom bulk purchase
Free trial option – 25 Timer + Proctor test attempts and 25 Timer only test attempts.
Paid plans – standard (for individuals) starts from ₹820/month,
premium (for teams) starts ₹1640/month
Usability & Configuration
User interface easy to use & simple.

Hassle-free configurations
All user-level friendly app
User interface is easy to use, quickly get the hang of it.

Configuration of the feature requires a process, simple but not as quick as extended forms.
User interface is quite simple, the app is easy to use and effortless configurations.

But, users have to through website visit dashboard and they can not directly through gforms.
Unique Features
Countdown timer, set deadlines,
Proctor, Custom welcome message
Team branding, etc
Countdown Timer,
start-end time date

Timer, Proctor (audio-video tracking, camera capturing, tab-switch detector), session recordings, etc.

Support
24×7 customer support available
connect via chat, contact us page, or
email.
Basic customer support
Fill out google forms for any support from the team
Chat with the team or go through 'help-desk' section (it consists of frequently read articles). Or use 'contact us' from the website.
Final Recommendation – Which quiz app is best suited for different use cases?
In conclusion, ExtendedForms and the other two Quiz and Exam Apps are popular options for creating online quizzes and assessments. All three apps have their own unique features and capabilities that can benefit educators, trainers, HR professionals, and e-learning providers. 
However, after comparing and analyzing the features, capabilities, & other use cases, it is clear that ExtendedForms stands out as the more versatile and customizable option. ExtendedForms offers a range of advanced question types, grading and feedback systems, and data analysis tools that can help educators create more detailed and complex assessments.
It is also user-friendly, customizable, and provides top-notch security and privacy features. While Form Timer & AutoProctor may be good options for some specific use cases, it falls short in comparison to the capabilities of ExtendedForms.
It is important to note that all three quiz apps have their pricing & support resources available. So, users must consider their budget & support needs before making a decision. In conclusion, if you are looking for a robust and flexible tool to create online quizzes and assessments, we highly recommend ExtendedForms.