In today's digital age, cheating has become a significant concern in online learning and assessments. To combat this issue, we are excited to announce a new feature of ExtendedForms that will allow you to enable/disable right-click, copy-paste (keyboard shortcuts) functionality to prevent cheating from other websites.
This innovative solution will allow educators and administrators to create secure, tamper-proof online assessments and learning materials while also providing a better user experience for students.
Apart from preventing cheating, if the option is enabled by the user then this feature also makes it easier to right-click or use keyboard shortcut to copy [ctrl+c] -paste [ctrl+v] any information from different websites to the form.
This new feature of the enable/disable right-click or copy-paste is ought to provide an enhanced user experience for both educators and students.
Keep reading to see how users can operate this feature and benefit from it.
ExtendedForms – Enable/Disable Right-click, copy-paste feature
It's so difficult to prevent cheating online while filling out a quiz or any assessment. Many online forms or quizzes are not capable of disabling copy-paste. Hence, resulting in right-clicking or copy-paste from different websites.
Google Forms is one such form builder that is simple to use and a great tool for anyone who wants to create a basic quiz/survey/form without delving into customizing parts. However, the tool doesn't have advance features to make the form better but it can also change with the help of ExtendedForms add-on.
The add-on has features that keeps some of the limitations of the Google Forms in the past. One of them is countdown timer feature that you can add in the form for a quiz or assessment or any purposes. Aside from that, the add-on has online proctor feature that helps in preventing cheating while giving test online.
Extended forms has many other features in-store for their users. Like, auto-submit quiz option, form branding, adding team in the dashboard, custom welcome message, and so on.
Let's focus on the new feature that the app has come up with that can help users to remove the copy-paste option while filling up the form or they can enable the option allow respondents to use keyboard shortcut for copy-paste in google forms or right-click option as it is.
*This feature of Enable/Disable Right click [copy-paste] option is available for all plans including free plan.
Let's see how this works –
Access Google Forms, either by creating a new form or selecting an existing one.
If you choose to create a new form, set up the form by adding necessary questions, customizing it, and adjusting the settings.
Install ExtendedForms, go to More (⋮) > Add-ons > Install ExtendedForms.
Click on the puzzle-shape icon at the top right corner of the forms page. [If you can't see it, then refresh the page once].
To access the Extended Forms Configurations, click on the icon, navigate to the Configure option under the Extended Forms tab. Once there, you will be presented with a settings box. Adjust the timer settings as desired, and other settings in the box.
Then, by clicking on the gear-shape icon besides 'share form' option, it will take you to the Forms settings, where you will see the expanded version of the Extendedforms settings.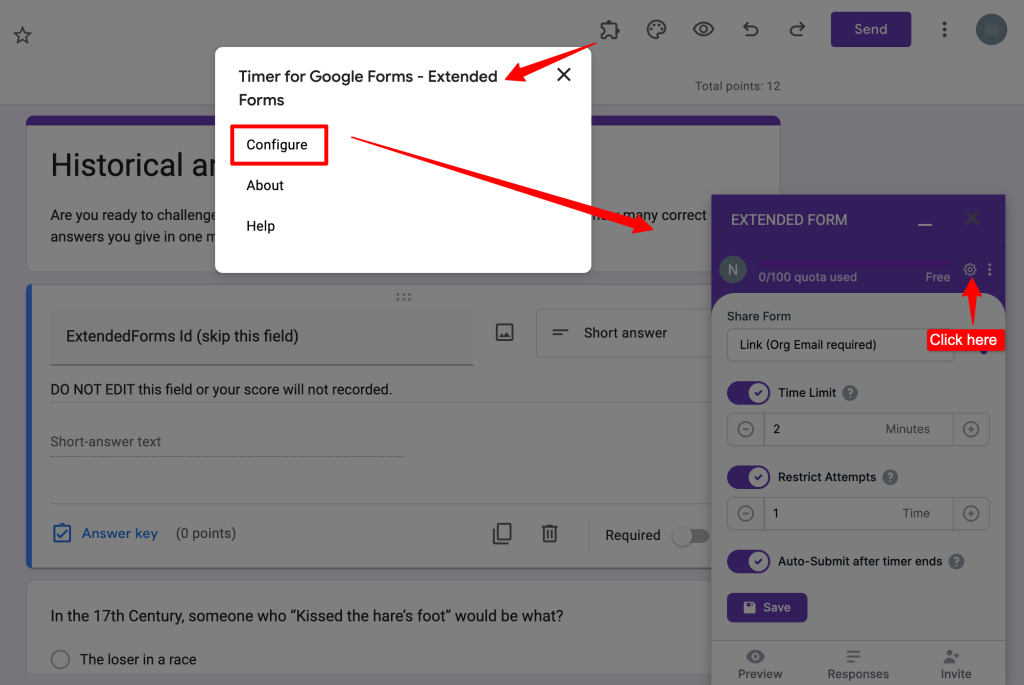 Like, under the 'General' tab – timer settings, restricted attemptes, form deadlines, hide email, etc. Then there is 'Proctor' and 'Theme' settings tab.
However, we are here to configure enable right-click (copy-paste) option. Under the 'General' section we will find this feature, scroll down to the bottom of the settings and you'll see – "Allow Right Click, Copy & Paste" option.
*Note By default, this switch will be disabled for any new form. It means, that respondents can't use keyboard shortcuts or right-click to copy-paste from the other websites or from the form itself.
So, if users want to prevent cheating then they can keep the option disabled. But, if they want to students to utilize the right-click or (ctrl+c, ctrl+v) then they can enable right-click or copy-paste option.
Update the settings and it will be set for the form.
It is great new feature added by ExtendedForms, enable/disable right-click, or copy-paste option is what users may need to let respondents use keyboard shortcut to easily copy-paste any thing from other webpages. Or to disable it and not let it help respondents to easily cheat from other sites.
Use this feature and make your google form a notch up in this form creation game. If you have any suggestions related to the feature, please leave a comment or contact the support team at – contact us. You can also chat with the team from the ExtendedForms dashboard.