Do you want to know what according to us are the top Google Workspace apps of this year? Here's, the list we curated of G-suite apps that you might want to check out.
Today, work is no longer a physical place for many individuals and companies to go each day. As such the apps we use on an everyday basis are ever-evolving. Like, meetings that used to take place in person have moved virtually, learning has moved virtually, and almost every work can be done from anywhere. Office workers now don't have discussions at the water cooler instead we have turned homes into remote workspaces.
Through this digital shift, dependency on different apps and juggling over them has divided the time and attention of everyone. However, choosing the best apps for yourself or your organization is complicated. Hence, we have handpicked and curated the top 5 (with extra bonus apps) Google Workspace apps for organizations.
What is Google Workspace Marketplace?
Google Workspace (formerly known as G-Suite) is a flexible, innovative solution for people and organizations to achieve more. It incorporates a set of productivity, communication, and collaboration tools for all the ways we work. The Google Workspace consists of tools like Gmail, G-drive, Google Docs, Sheets, Slides, Google Meet, Calendar, Google Forms, and so on.
Google Workspace Marketplace is a product of Google. It is an online marketplace/store that offers a wide range of quality enterprise apps (free + paid) that work with Google Workspace services and third-party software. They add features and functionality to native Google cloud apps. To explore the world of Google apps go to – Google Workspace Marketplace, explore and install different apps for different G-suite tools for various purposes immediately.
Best Google Workspace Apps
1. ExtendedForms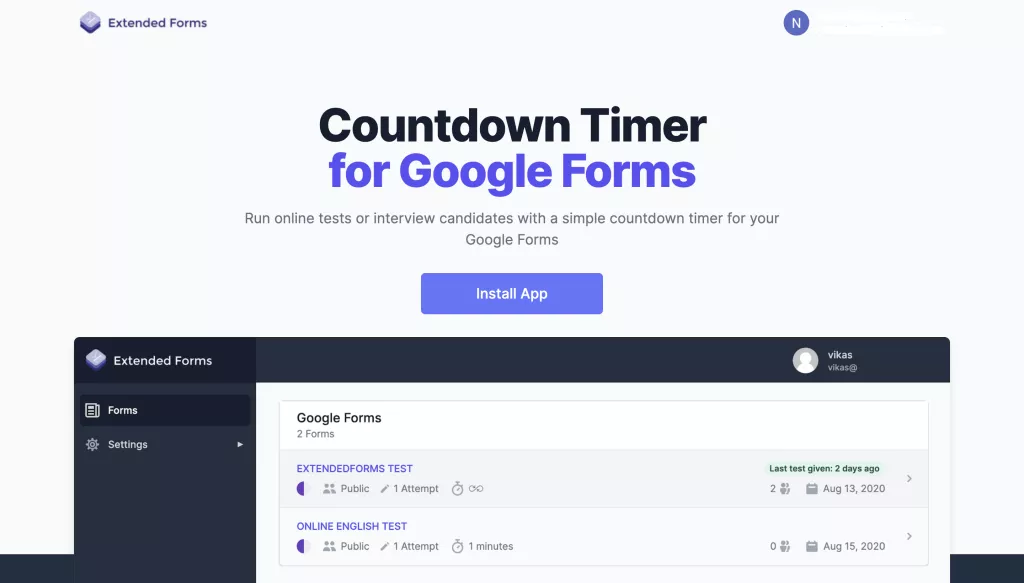 ExtendedForms is one of the best and top-rated Google workspace apps for Google Forms. Besides, also our top-listed timer app! No matter for what purpose you need Google Forms, if it includes a timer then ExtendedForms is just the hassle-free add-on you need. With its integrated 1-click, simple countdown timer you can create a timer quiz. And when I say it's hassle-free, it truly is. You just have to install the add-on, configure basic settings like – time limit, restrict attempts, auto-submit, and you are done! Your form is ready to be shared.
ExtendedForms is extended in its feature category. Like you get an intuitive dashboard that provides a graph of responses and an overall summary summarised version of responses. Apart from this, the add-on has more compatible and unique features such as the benefit of Classroom Integration, team management with teams feature, customized invitation and welcome message screen. Besides, you can control responses based on date & time.
Further, the google workspace app has other pro features like an 'Email Customization Tool', with this customizer tool you can re-brand invitation emails and make sure your brand shines amongst your users. Customize & shorten URL, custom branding, image cropping (for a brand logo or profile image), team invitation message, and so more. You can easily create google forms for a quiz or test with the ExtendedForms addon. You can first try it for free and check out their pro plans.
2. Yamm – Yet Another Mail Merge for Gmail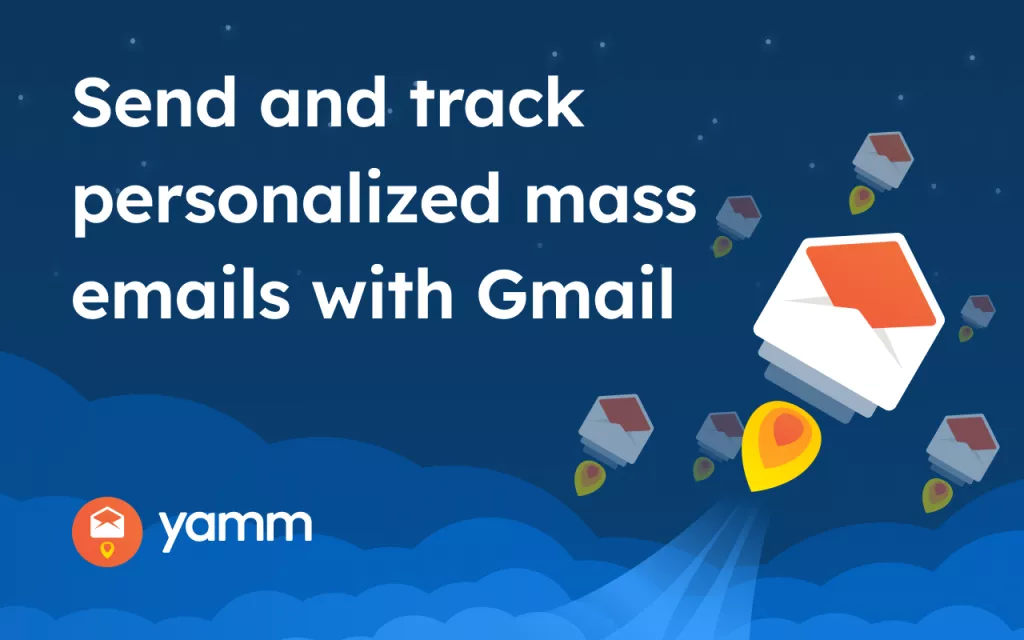 Yamm is yet another top-listed Google Workspace app, that sends mass email deliverability directly from Google Sheets & Gmail. It implies that with the Yamm app you can send bulk personalized emails from Gmail to a contact list stored in Sheets (in one-click import contacts). Further, it allows you to track emails opened, responded to, clicked, bounced, or unsubscribed in real-time directly from the spreadsheet. It is as easy to send personalized mail merges as said in three quick easy steps.
With Yamm, you can send personalized email campaigns from Gmail. The app comes with other features such as template options from simple messages to ready-to-use templates & advanced HTML emails. Furthermore, send email campaigns with an alias, personalized cc, bcc, and signature. Add unsubscribe links, schedule mail merges, set up Google Form email notifications, create quick email surveys (create polls that recipients can answer in one single click from their inbox), and so much more.
Yamm has an up to 20× open and click rate compared to traditional email solutions. It increases engagement and grows your business with one-click polls, personalized lead generation, event invitations (Yamm lets you attach tickets, schedules, & invitations to merged emails), newsletters, and more use cases. You can check out its pro plans as well.
3. Awesome Table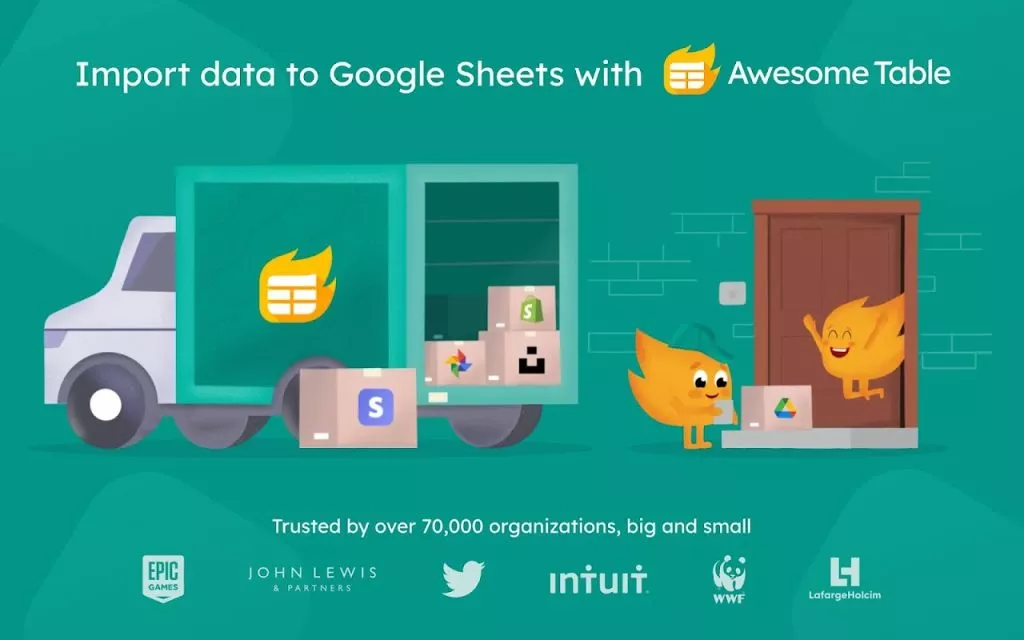 Awesome table is developed to make your Google Sheets data easier to share and more intuitive to understand. The app lets you do two things without any technical skills required:
First, it imports data from third-party applications such as Hubspot, Zendesk, and Salesforce into Google Sheets.
Secondly, showcase your spreadsheet data in a website through interactive directories, Google Maps, FAQs, Gantt charts via web app, etc.
With Awesome Table, you can schedule your imports and refreshers in a few clicks, and get notified via email when data is ready. The google workspace app comes with many benefits and features like easily adding filters and full-text search, ready-to-use and customize templates, fully customizable, easy permissions management, and a lot more. Apart from these features, the g-suite app has user-friendly connectors that allow you to import data from them. For instance, you can import data from Youtube, Stripe, Xero, G-drive, Google photos, Google Sheets, Google Tasks, Notion, Shopify, etc.
Spreadsheets are great to store business data, yet nobody likes to see spreadsheets or information in them. Awesome Table brings those data to life, making it shareable and understandable. You can start for free and check out their premium plans to move further if you like using the google workspace app.
4. Kami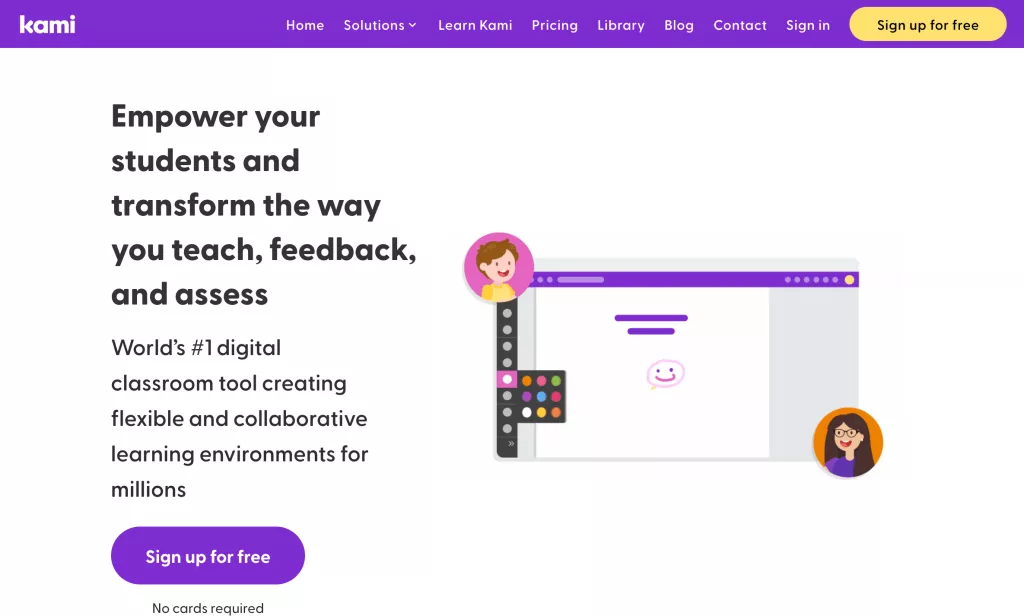 Kami is your digital classroom hero! It is a PDF and Document annotation tool with a difference – it's collaborative. It is a leading digital classroom app for Chrome. People crave the collaboration features in Google Docs and that's what sets it apart from other document apps/software. Kami brings that same collaboration to editing PDFs. Simply put, it allows you to take any existing document, including scanned PDFs, and write, draw, type, annotate, comment, enhances, augment, or otherwise bring it to life within your browser.
Furthermore, it gives a seamless workflow, teachers can create, send, and grade assignments all from one place. It works seamlessly with Canvas, Google Classroom, and Schoology Learning Management Systems. With the help of Kami, you can share a document within teams or across the whole class for collaborative annotation, debates, or discussions. Along with top features like integration with LMS, split & merge documents, auto-sync & auto-save with G-Drive.
Kami also has top tools for interactive learning like video & voice comments, screen capture, and text-to-speech. Whether you're teaching online, offline, or hybrid, Kami's intuitive design, and collaborative features empower students and improve classroom engagement and interaction. All while making the task of providing and completing classroom assignments effortlessly. You can also check their professional plans for schools/businesses
5. Kanbanchi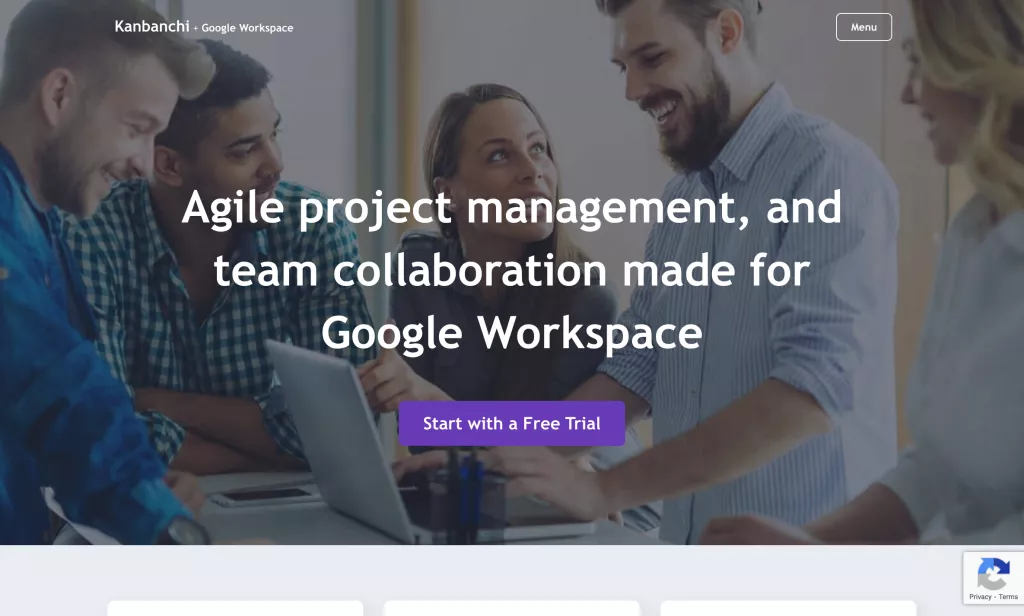 Kanbanchi is one of the top-charted apps in the Google workspace marketplace. It is a project and task management tool designed for Google Workspace. It is said to be the only project management/collaboration software with Kanban Board, Gantt Chart, and Time tracker. In the app, project boards and cards visualize a workflow of all your tasks and activities. You can collaborate with your team in real-time and manage projects virtually.
Kanbanchi app is specifically designed for G-Suite, just sign up with a Google account, manipulate your project boards as files in G-Drive, give flexible access permissions, schedule with Google Calendar, and attach Google Forms, and Sheets to your board. It is an intuitive, simple familiar interface, and has no learning curve that people can get engaged easily. Just deploy Kanbanchi to all users of your organization from the G-Suite Admin Console.
This Google Marketplace app has core and advanced functionality like: you can create an unlimited number of boards and cards, get email & in-app notifications, sort & filter cards, and import Trello boards. Apart from these, in advanced features – you can monitor team progress with a time tracker, check team performance with reports, board templates, subcards, list view, Gantt charts, etc. It is perfect for enterprises and educators all at once, as you get all the needed features.
Bonus Apps Ahead
6. Form Director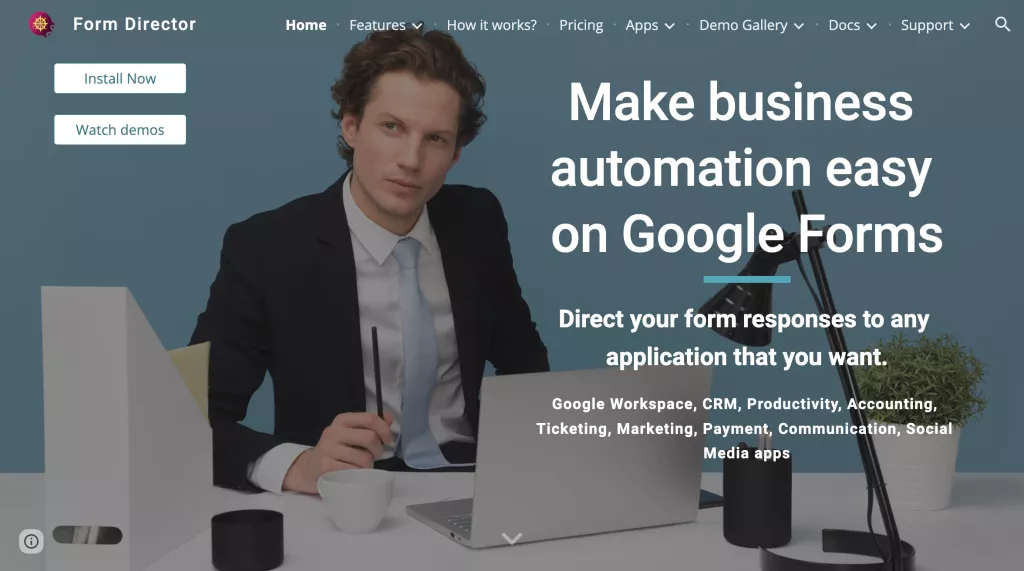 Form Director app turns your Google Form submissions into Google Docs, Slides, Calendar, Tasks, Contacts, Email notifications, Slack messages, Asana tasks, and much more. It works as an advanced Form Publisher with document publishing and more so advanced director integrations with G-Suite apps, communication tools, CRM systems, marketing apps, social media apps, and more. Form Director is stacked with various key features that make it so popular and highly rated google forms quiz add-on in the marketplace.
It has multiple service management feature that manages multiple services, switches on/off the required service, and execute whenever needed. Further, the add-on supports several formats that you can generate, store, and email Google Docs, Sheets, & Slides into. Other than that, it has a comprehensive mapping infrastructure to map your form questions to that application fields. You can also share generated files with multiple recipients with all-access, and send customized emails to your audience.
Form Director is built to be a powerful tool to make Google Form work in your way. Form Director can be used for multi-purposes, whether you want to publish business proposals, and agreements, generate an invoice, book an appointment, pitch decks, or create records for each submission.
7. DocuSign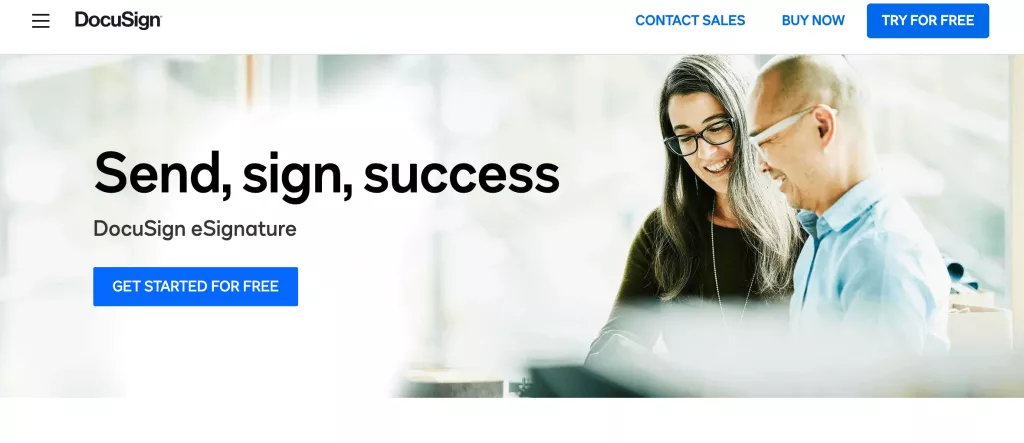 Whether in the business, education world or for personal purposes, a lot of documentation is sent through email. If you prefer to sign documents digitally, DocuSign is one of the top listed Google workspace apps in the market. Once integrated with G-Suite, you'll be able to sign, send, track, and manage documents within apps like Gmail, Drive, or Docs. It is fast, efficient, secure, and connected.
DocuSign eSignature handles the most demanding customer requirements, delivering an experience simple enough for practically anyone to adopt. It has basic and premium features like: 35+ integrations, leading APIs, adding standard fields to your agreement, and applying these fields in reusable templates and saving time. Further, it offers flexible routing, a secure and compliant platform, and is lawful & court-admissible.
Plus, in premium features you get SMS delivery, signing insights, ID verification, extensive file support, bulk send, remote/in-person mobile signing, and so much more. You can check out all the features from their website. Besides, you can try the free plan and move to pro versions if you like it.
Conclusion
G-Suite apps are terrific by themselves! But add in our pick of the top google workspace apps and you could skyrocket everything. From productivity to communication, sales, and marketing. These are our top picks, however, the list of apps for google workspace for organizations/personnel goes on.
Here the apps are integrated with different G-suite Office tools, but as I said this list is not the end. Apps that may work for you won't work for another user, you've to find a way to manage complex projects with apps that are useful for you in the end.
If you have ever tried any other Google Workspace apps and you think they are to be listed in the top picks. Then, share with us in the comments for everyone to know.