PDF format remains the most acceptable and popular file type for professionals. So, it shouldn't come as a surprise when many look for a way to convert Google Forms to PDF. Besides, when utilizing digital forms to gather information, there might be occasions where you wish to distribute the form responses either digitally or as hard copies.
PDF lets you do it either way! In a PDF format, you can easily and neatly print out a hard copy, or PDFs can be sent via/import email or social platforms.
Therefore, converting Google Forms to PDF is a practical solution for sharing responses. In this blog, we will discuss how to convert Google Forms as PDF and also other aspects of sharing Google Forms as PDF.
Table of Contents
Transforming your Google Form to PDF
If you want to share hard copies of the Google form with your students or even to people who don't prefer online surveys or anything else. Then you can do that! By converting Forms into PDFs and printing them out to people.
Create your form, go to Google Forms, choose blank form/quiz
If you already have a form created that you want to save as PDF, choose that,
Set up that form by adding questions and configuring settings. 
Click on the dots '⋮' (More) at the upper right corner, select the 'Print' option, or just enter CTRL/Command + P button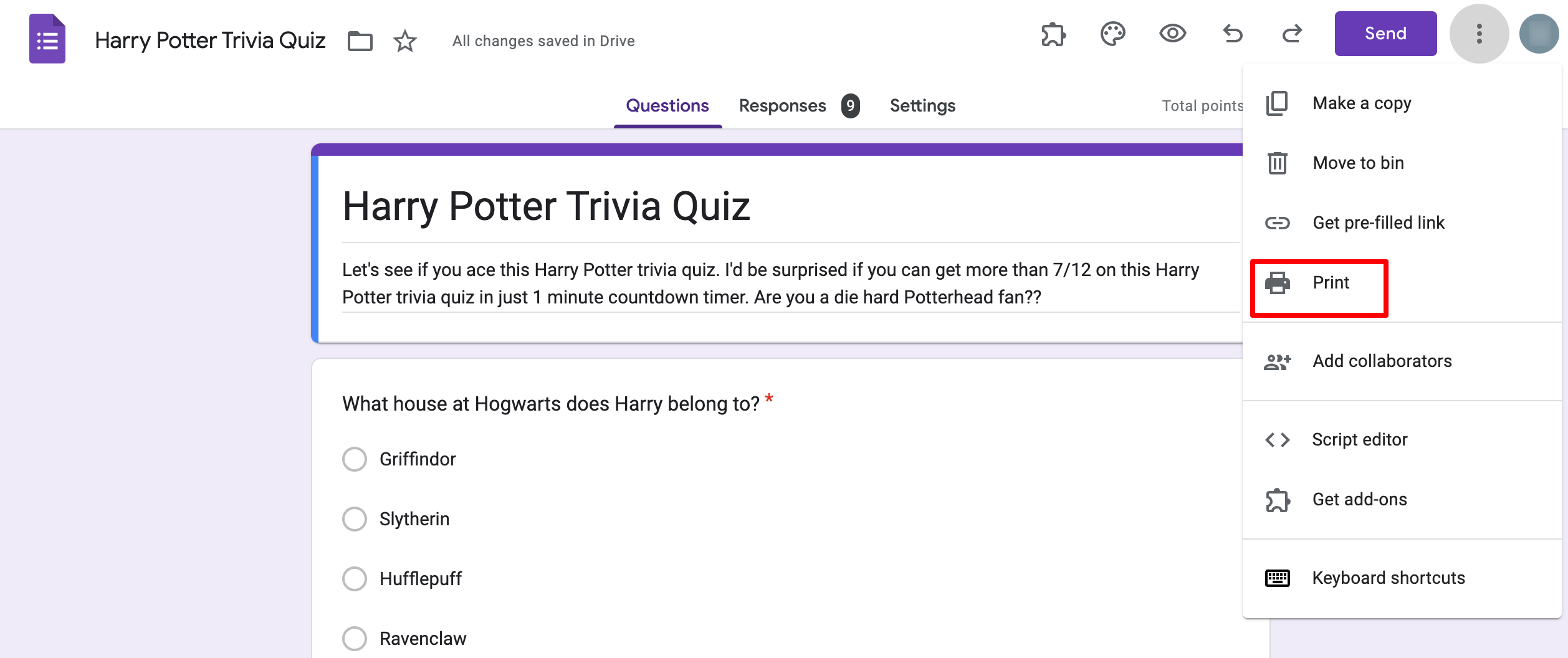 Most modern browsers give you the print-to-pdf (save as PDF) option. But if yours is not, then from the print dialogue box, choose the 'Save as PDF' option if not already selected.
Then click on Save, the final outcome will appear as a PDF document to share with anyone you want to or print out afterward.
Otherwise, you can also directly print out the form without saving it in the PDF format.
Converting Google Forms all responses to PDF
If you just want to view the responses and analyze them afterward then you can instead of whole Google form, just save responses to PDF format. It may not be practical if you have a large number of responses – maybe hundreds or thousands. But it is a possibility!
Once you have got all the responses, go to the Responses tab 
Click on the three dots (more icon) at the corner beside 'Link Sheet' 
Select the Print all responses option and then save the pdf file.

Converting forms summary to PDF format
Google Forms have a basic, lightweight, analytics-style overview of responses in the form of a Summary. It provides a summary of all the responses to each question in graph format which can be copied and pasted to a document or presentation of any sort.
We can convert summary stats to pdf format quickly. Follow the below instructions to do so,
Go to the Responses tab, you'll see the Summary sub-tab below
To print the summary or save it as PDF, what you've to do is press CTRL/Command + P

A new tab will open with the preview of the summary, again press CTRL/Command + P to open the printing dialogue page. 
Save it as PDF or print it out.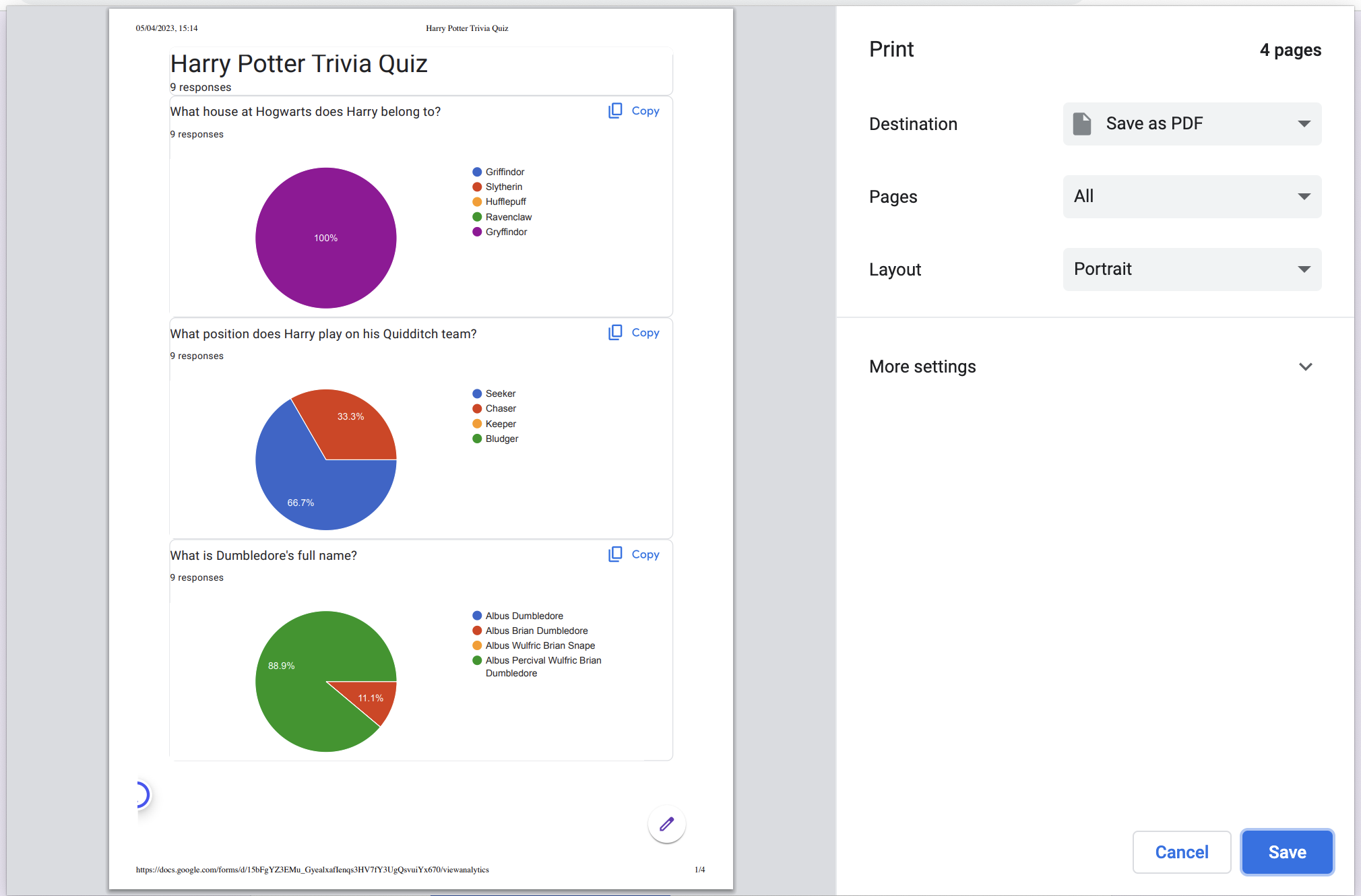 Converting individual responses to PDF
Sometimes you might want to just share a document of a specific individual with their response only. Then saving the list of all responses as a PDF will be quite mindless and too much to handle in itself.
Instead, you can just convert individual responses from Google Forms to PDF. 
In the Responses tab, select the Individual sub-tab, you will see individual respondent responses that can go back & forth between all the responses.
Select the response you want to print by its number, navigate to a specific response by using the left-right (back & forth) arrows.
Or just type the specific number to directly jump to the desired response.
Click on the printer icon, follow the same steps as above, and Save the PDF format.

That is how users can convert whole Google Forms to PDF or just the responses. Additionally, if you don't want to save the responses into PDF, you can always link the Forms with a Google Sheet and keep it for future use there.
FAQs
Can I save a Google Form as a PDF?
Yes, you can easily save a Google form that you've created to a PDF. Whether you want to print out forms and distribute them to people who don't have internet access or just want to keep a document of the form for tests/quizzes in education institutes. It is conveniently possible to convert forms into PDFs.
How do I turn a form into a PDF?
It is easy to turn a form into a PDF, go to Google Forms, select the form you want to convert to PDF or create one. Then, click on this icon ⋮ at the top right corner, select the Print option, and save it to PDF. There are different ways to convert Google Forms to PDF, check out our " How to convert Google Forms to PDF?" article to know more
Can you save a fillable form as a PDF?
Absolutely! You can save a fillable form as a PDF. To do so, click this icon ⋮ in the Google form, select the 'get pre-filled form', fill the form, and click CTRL/Command + P. Save the form as PDF!
Wrap-Up – Enhance Google Forms by incorporating Google add-ons
Here we come to an end, these are all the different ways to convert Google forms to PDF. Whether it is about converting responses, stats, or the whole Google form itself, the process doesn't take much time to do so.
If you're using Google Forms a lot or have recently started using it then you must know that there are add-ons available in Google Marketplace that provides more features to Forms. For instance, in Google Forms, there is no timer or proctor feature.
But there's an add-on that not only provides a countdown timer feature but also online proctoring functionality as well. ExtendedForms is a Google Forms add-on available in Google Marketplace for free to install, both the features mentioned are free to use but it has other features that come under paid plans.