Are you ready to embark on a thrilling journey into the world of form-building? Microsoft and Google are the two masterminds of the revolutionalized world of technology! Brace yourselves as we dive deep into the epic clash of two formidable titans: Google Forms vs Microsoft Forms.
Within their impressive lineup of business products, both Google and Microsoft have something remarkable to offer: a top-notch form builder. Both are excellent form builders with impeccable performance and a list of features.
It's time to decide which one will reign supreme as the ultimate form-building champion! Prepare for a showdown of user experience, feature-packed functionality, collaboration prowess, and pricing models that will leave you on the edge of your seat.
Comparison Overview
Comparison Degree
Google Forms
Microsoft Forms
Pricing
★★★★★
Free
★★★★
Free for Personal account
1-month trial for business,
pricing starts at $6 per month per user
Features
★★★★
Has all features needed in a form-builder
Get external help from Google add-ons
★★★★
Similar to Google Forms, but has few distinguishable features.
Visually appealing, graphic themes, logic branching, etc.
User Interface
★★★★★
Clutter-free, simple, and quick.
★★★★★
Oozes simplicity and fluidity.
Smooth experience
Accessibility
★★★★★
Availability across different devices & operating systems
★★★★★
Compatibility with Windows and Office Suite.
Promoting accessibility in all Microsoft products & apps

Support Team
★★★★★
Help center, Google community, contact us, etc.
★★★★★
Microsoft help, FAQ, contact us
Support for business, IT admins, etc.
Intro: Google Forms vs Microsoft Forms
Microsoft Suite has ruled over the corporate world and is still continuing to do so. Since Microsoft launched Forms it has spread its wings to over online forms, surveys, & polls building. Not just saying, Microsoft Forms has captivated a colossal audience seeking the ultimate online form, and survey creation experience.
Seamlessly blending a sleek interface with an abundance of options, this Microsoft marvel has won over legions of devoted admirers. Besides, with the integration to other Microsoft tools, it makes it very much suitable for people who already have a hang of using the Microsoft suite. Whether it exporting form data to Excel and analyzing it further or sending forms through Outlook emails. It is the perfect piece a Microsoft suitor needs in a big puzzle game.
We would say it has the features that any form-builders should have, still though people miss out on them. In particular, it enables users to choose from an array of question types and offers advanced customization features, such as branching logic, to create dynamic and interactive forms.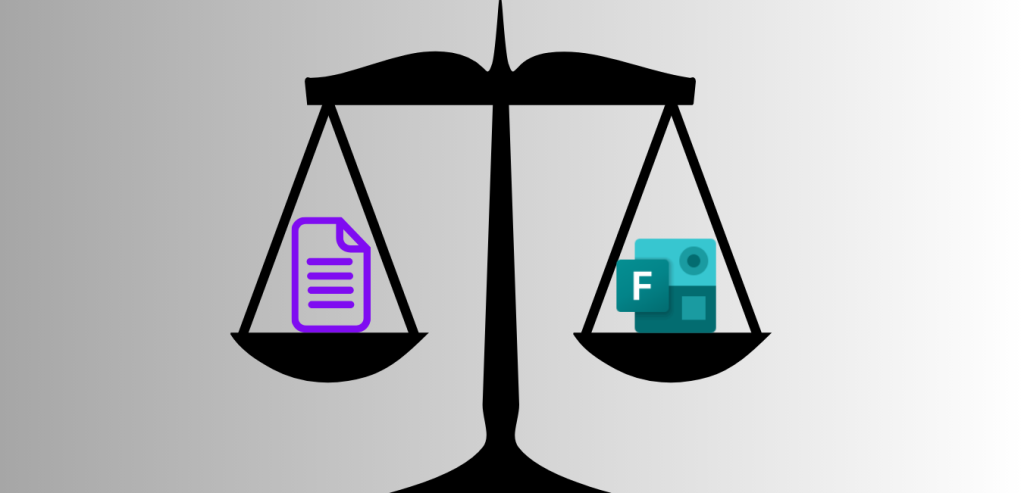 On the contrary, Google is no less a competitor than Microsoft in the digital and professional realm. It is part of the digital domain since after the internet has been introduced and it is still standing strong amongst all.
We have Google Forms from Google which is as similar to Microsoft Forms as it can get. It is a part of Google Workspace that also tends to business (as well as personal) productivity. If you're part of the Google business toolkit then you'll know it comes with a simple and easy user interface that is ideal for anyone using it.
Besides, it also offers an array of question types (including images & videos), making it versatile for various use cases. Additionally, Google Forms provides seamless integration with other Google apps, such as Google Sheets, for streamlined data collection and analysis.
Which one is the Ultimate Form-Building Champion?
Who wins the battle in Google Forms vs Microsoft Forms? Let's find out in this comparison;
Battle of Features
1: Form Creation
1. Google Forms' intuitive interface makes it the choice of the reason for so many people. The creation process is clutter-free and quick that is beginner friendly but also for everyone who wants to simply create a survey or quiz and be done with it.
Apparently, it also has a good template library that includes different templates for different purposes. Though they are not versatile or offer any major customizable options, it still works for the users.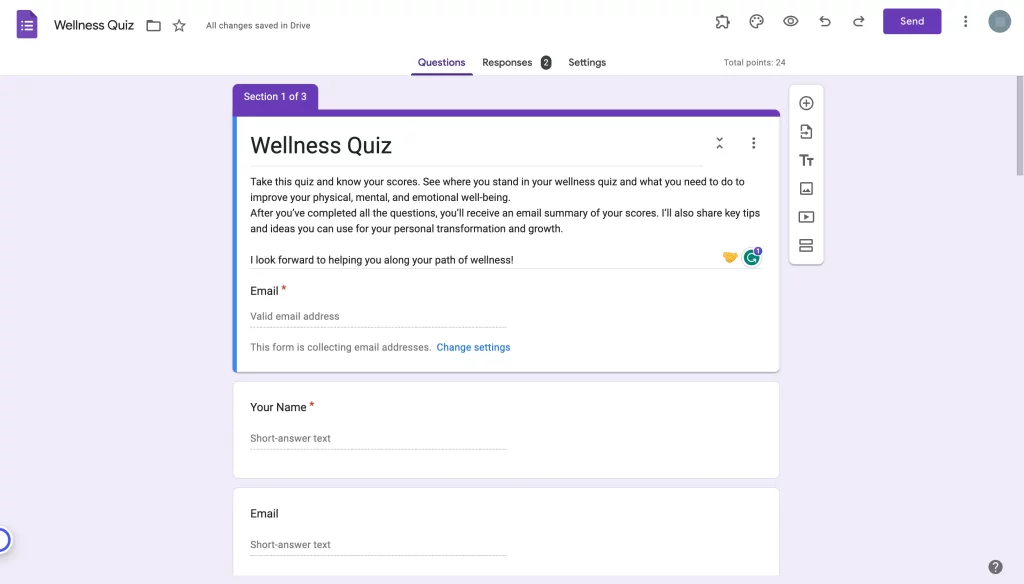 The customization and themes possibility are also a bit scarce compared to Microsoft Forms. But if you are here for simple and effective form creation then Google Forms is perfect.
2. Microsoft Forms' sleek design and customization options are what make it a better choice here. Though it is very similar to Google Forms, it does gain a point when it comes to templates, and form themes.
Though they also don't have much range when it comes to templates. But, what they lack here, it makes up for its themes. They have visually appealing, graphic themes to use in forms.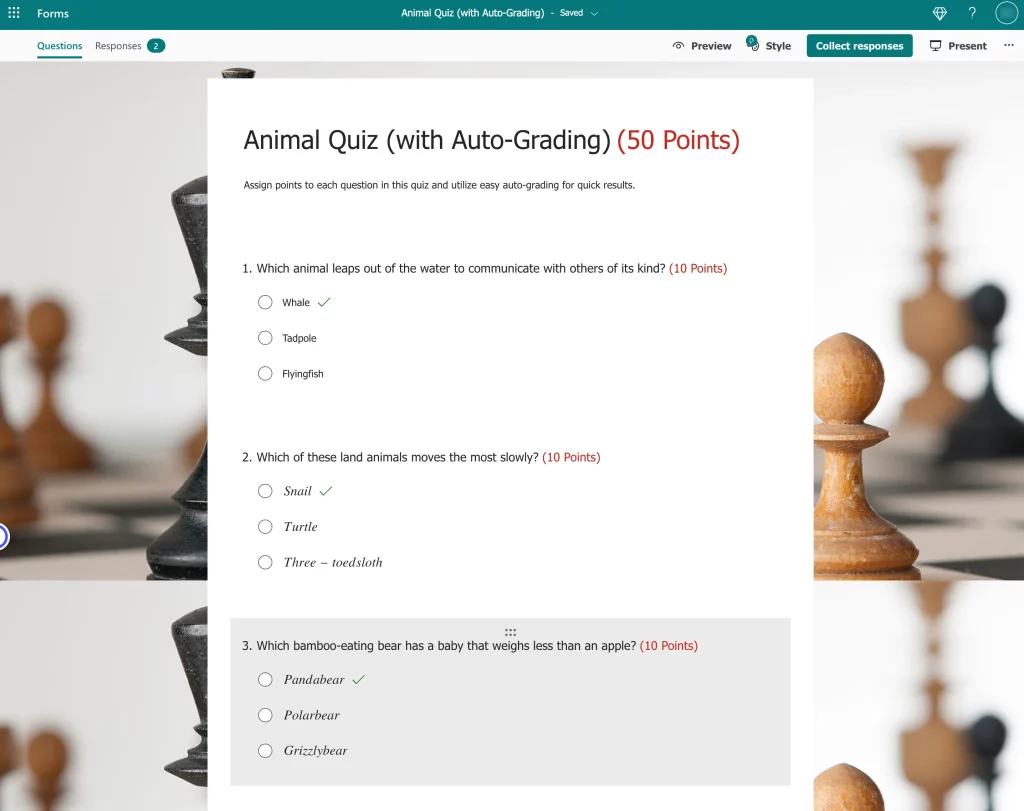 You can customize the forms or surveys based on your brand preferences, etc. Besides, it offers Dynamic themes that work how you want them to work (by adjusting them to match your brand color, logo, etc).
2: Question Types
1. Google Forms' extensive range of question types is one score up for Google Forms. It offers essential question types that anyone basically needs to create a survey or quiz. Including, multiple-choice, linear scale, checkboxes, long/short paragraphs, and more.
Besides, it has image and video options to add to your questions or answers row. Moreover, it has the 'File upload' option available for every user, unlike Microsoft Forms.
It lets you make any form engaging and appealing to respondents. Besides, it also has a conditional branching (basic feature) that allows you to add section-based branching to your form, if used properly it can help you create efficient forms.
2. Microsoft Forms' innovative question branching and scoring system is the highlight of the tool. The logic branching feature enables users to send features to different parts of your form.
This feature holds immense power as it enables the creation of personalized forms tailored to each respondent. By displaying only relevant questions to individuals, the likelihood of obtaining precise and accurate responses significantly increases.
You get to include maths equations in the form which is quite difficult in the case of Google Forms. Besides, you get to include points for quizzes, turn on shuffle answers, & include subtitles to questions.
Round 3: Data Analysis & Reporting
Google Forms has decent data analysis and reporting capabilities, including visualizations and real-time collaboration, to gain valuable insights from your form responses.

However, that doesn't mean you can't leverage a robust data analysis. Google has a powerful suite of products that can do the job, you can link your forms with Google Sheets and further use it to prepare custom charts & graphs.

Besides, to unleash the power of visualizations, seamlessly transfer your data to Google Data Studio, where the true magic happens!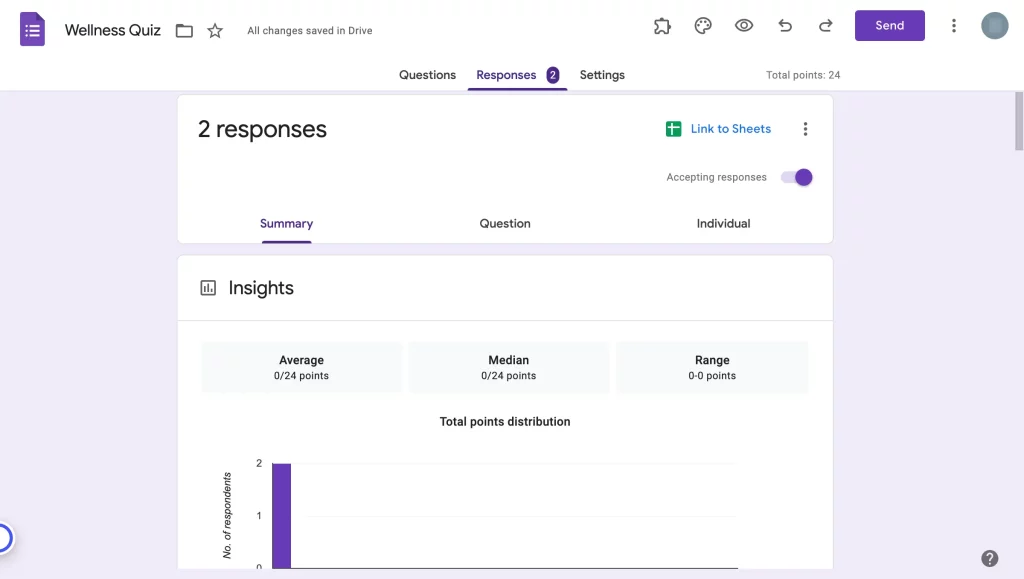 Microsoft Forms offers robust data analysis and reporting features, allowing you to generate in-depth reports, export data to Excel, and utilize its advanced analytics tools for comprehensive form data analysis.

Microsoft Excel is an expert and more robust than Google Sheets for conducting formulas-based analysis and creating crucial charts. In Microsoft Forms itself, you get the summary of the responses, review answers, and post scores.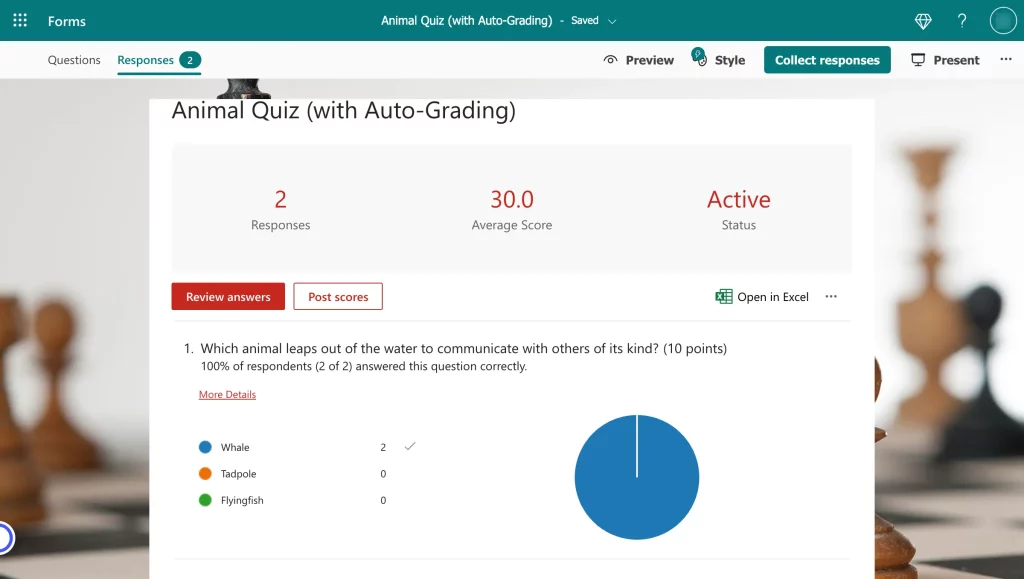 Round 4: Collaboration and Integration
1. Google Forms' seamless integration with other Google apps is great only to a limited extent. Because Google Forms only integrates with Sheets and Gmail, if you want to extend it to other Google apps you may require external tools.
Google Forms' collaboration feature is easy and free compared to Microsoft Forms. Still, it is not very impressive to say a bit, you can of course add people, transfer ownership, and remove access.
But apart from that you cannot track or just view-only (similar to Microsoft Forms). All of it makes it hard for team members to stay on the same page. When we talk about integration, it is a must to mention about Google add-ons.
Google have a workspace marketplace of its own that consists of thousands of apps to be used with all or some of the Google tools. Google Forms also have its own add-ons that can be integrated with it and use to bridge the limitations that Gforms have. For instance, ExtendedForms is a Google Forms add-on for countdown timer and proctor feature.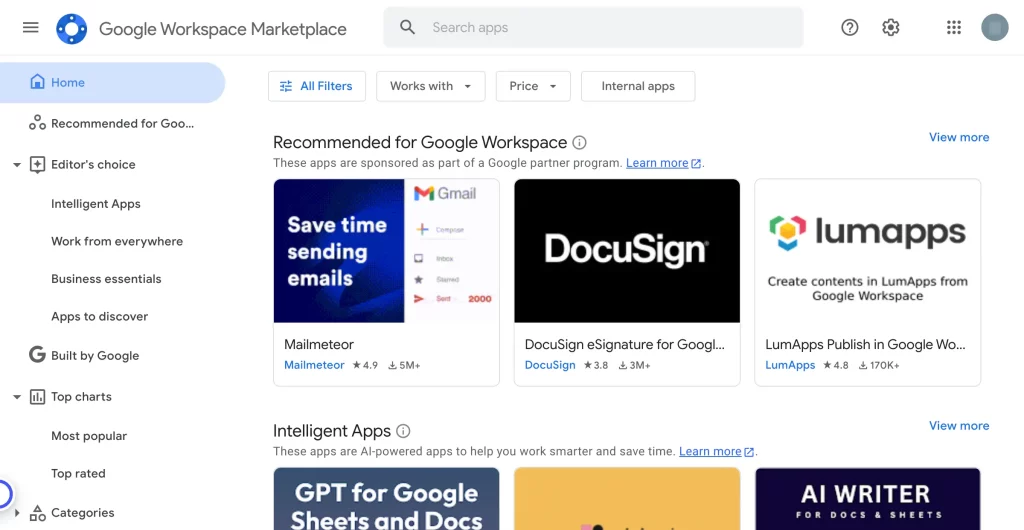 It is one of the top timer add-ons of Google Forms that helps you to add timer and set-deadlines to complete the quizzes/surveys. Besides, it also has other top-notch features that users can surely get hands on once you try the add-on and further subscribe to it.
2. Microsoft Forms' integration with the broader Microsoft Ecosystem is what we believe to be the highlight of the software. If you are a Microsoft 365 user then you'll know what we are talking about.
Nothing beats the luxury of using some of the great applications of Microsoft with Microsoft Forms. However, where it lacks here is its limited ability to collaborate. To use the collaboration, you may have to tender a couple of bucks but still, it is not as free as Google's collaboration (without any charges that too).
User-Friendliness Showdown
Round 5: User Interface
1. Google Forms' simplicity and ease of use are what make it a go-to platform for creating surveys or quizzes. Google is simply known for its user-friendly interface where the whole process of working is clutter-free and quick.
It brings the unrivaled simplicity and intuitiveness that Google is known for. Moreover, it has a mobile app for all "everything can be done on mobile" enthusiasts, that counts for everything here!
2. Microsoft Forms' familiar interface for Office users is what makes it popular and user-friendly. Besides, the Microsoft team has made all the efforts to create the form builder as simple as possible. And they have succeeded!
Microsoft oozes simplicity and fluidity from choosing question types to selecting how the form will look. However, where it lacks Google Forms is – it doesn't have a standalone mobile app. But it might come with the Office mobile app. Sorry to all mobile users!
Pricing and Availability
Google Forms reign supreme here! It is by far the only software that I have come across for form-builders that is so popular yet very much free forever. In fact, all other Google products similar to Google Forms are free to use with no premium plans.

Furthermore, did we mention that there are no hidden ads to get bombarded with? Just create your Google account, which we all have despite using Google Forms, and create forms for free.
Microsoft Forms is part of the Microsoft 365 suite which means, it comes with premium plans to take advantage of all apps. However, it recently (not that recently) announced the availability of Microsoft Forms for personal use for free.

However, if you want to use the Forms for business then it comes with a 1-month free trial, after the trial period ends the business plan starts at $6 per user per month.
Final Recommendation: Which one is right for you?
No battle ever has been just white and black, there is always a grey shade to it, that never helps anyone understand which side is better or worse. Similarly, we are in that same zone when it comes to recommending the right software for you in the Google Forms vs Microsoft Forms battle.
The ball is in your court, it is up to you to decide which one round off to your checklist. Because as we discussed in this comparison, both are as similar as two individuals can be. But with their own set of individuality that helps users to choose it and work on it efficiently.
They both have their pros and cons, but overall Google Forms is great if you want a free tool, easy user interface, and all the necessary features required to create a survey. Make no mistake, Microsoft Forms is perfect for people who want to create substantial surveys & polls for audiences.
Or, if you are crazy about advanced data analysis and we know Excel is the superior here, then Microsoft Forms is just the tool for you. It is still growing and more features are on their way!
Despite their impressive features and capabilities, both of these form builders have room for improvement and leave users desiring more.
Also check out our other blogs – How to Embed Google Forms in an Email?
How to Calculate the Percentage Score in Google Forms? [2 ways]