If you are a teacher and haven't started using Google Forms, this post can change your life. A bit clićhe but it made teaching so much easier!  We all know Google Forms can be (and is) used to create surveys, quizzes, tests, sign-up sheets, etc. However, the secret weapon of Google Forms – 'Add-ons,' will make forms advanced. Here, in this blog post, I am going to tell you the best Google Forms Add-ons for teachers.
Google Forms is an incredible tool that helps relieve one of the most stressful parts of a teaching career for teachers – all the paperwork and assignments! There's a lot to keep up with from the traditional classroom. But here's the interesting part, Google Forms grade submissions for you and students can receive immediate feedback.
However, it's time to take advantage of Google Forms and never worry about all the paperwork. Though Google Forms is not a magic wand it just makes work a little easier. Besides, the add-ons for google forms for teachers, make the tool even better, and ultimately make your work easier. 
How to Install Google Forms Add-ons
There are two ways to add Google Forms add-ons and both processes are really easy. Google has created a guide just for add-ons. However, to make it simple we have included here the steps to install add-ons for Google Forms.
Download Add-on
Step 1 – To download add-ons, open a Google Form
Step 2 – In the form, click on the More (three dots) at the top right corner
Step 3 – Go to 'Add-ons,' Google Workspace Marketplace pop-up page will open.
Step 4 – Choose an add-on, and install it.
Either way, Go directly to Google Workspace Marketplace – here from your browser
Search for the add-on, click on it and install it.
Use Add-ons
Step 1 – Now to use the add-ons, again go back to your Google Form
Step 2 – You'll find a puzzle shape icon, click on it. [if you don't find it, refresh the page]
Step 3 – A dropdown list of all the add-ons will be present, configure it, set-up it up, or whatever steps there are to follow.
Best Google Form Add-ons for Teachers
In this blog post, check out the best Google Forms Add-ons for teachers. They all mainly differ in their functionality, compatibility, and ease of use. This implies that while all tools are best in what they do and are unique, they won't be perfect or needed for each educator/teacher. So, without further ado, let's get into the Google Form add-ons.
1. ExtendedForms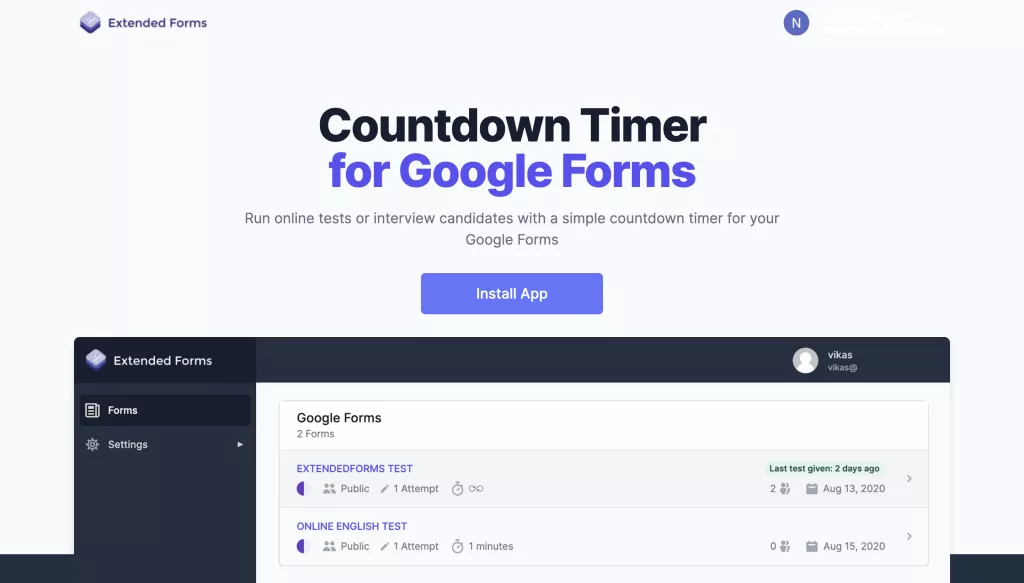 ExtendedForms is one of the best google forms add-ons for teachers. It is one of the best countdowns google forms timer add-ons. Whether you want to run online tests, quizzes, or interview candidates, you can do it with the integrated 1-click, simple countdown timer for Google Forms. Just install the add-on, configure basic settings, and you are done! Your form is ready to be shared. 
The tool comes with an intuitive dashboard that overall shows the 'number of connected forms', 'average response time', and 'total responses', and also displays the 'Response Graph.' The add-on comes with many compatible and unique features that add to the ExtendedForms value. 
It offers the benefit of Classroom Integration – you can create classwork assignments right from your ExtendedForms dashboard. Besides, an automatic score is graded on every form submission and auto submission. The feature makes it easy for teachers to access classrooms and assign Grades. 
Further, it comes with a 'teams' feature you can add other teachers or staff members. You can even send forms with customized invitations and a welcome screen. 
The google forms addon has a secure token with the help of which you can transfer your settings to anyone with an account. ExtendedForms is a must-try add-on to google forms for teachers.
Now you can easily create a google form timed quiz for your students with the help of the ExtendedForms add-on.
2. Certify'em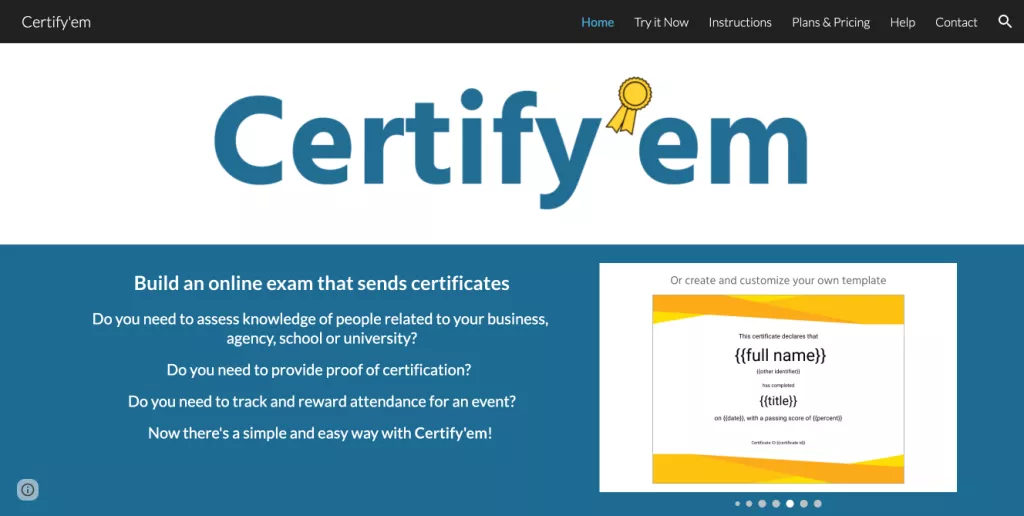 Another in the list of best google forms add-ons for teachers is Certify'em. If you want to make your test more interesting for students and competitive enough for them to do their best. Then, this add-on might help you! 
Certify'em helps you to create online certifications and auto-generate a certificate of completion that will be sent to students based on the parameters you've added. For example, if you want to create certificates for students that got 90% and above on a quiz you can do that. With this add-on, you can use your Google Form as a certification exam and when someone passes the test they will get a PDF certificate as an email attachment.
It comes with several pre-built certificate templates that you can use or can create your custom-made (in Google Slides). Everyone who passes the exams or quizzes will receive their own personalized certificate with a unique serial number. Plus, it automatically keeps track of passing and failed students, using the in-built spreadsheet by Certify'em. Convert your less exciting, less dynamic quiz or test into diligent and fun for students.
3. Snip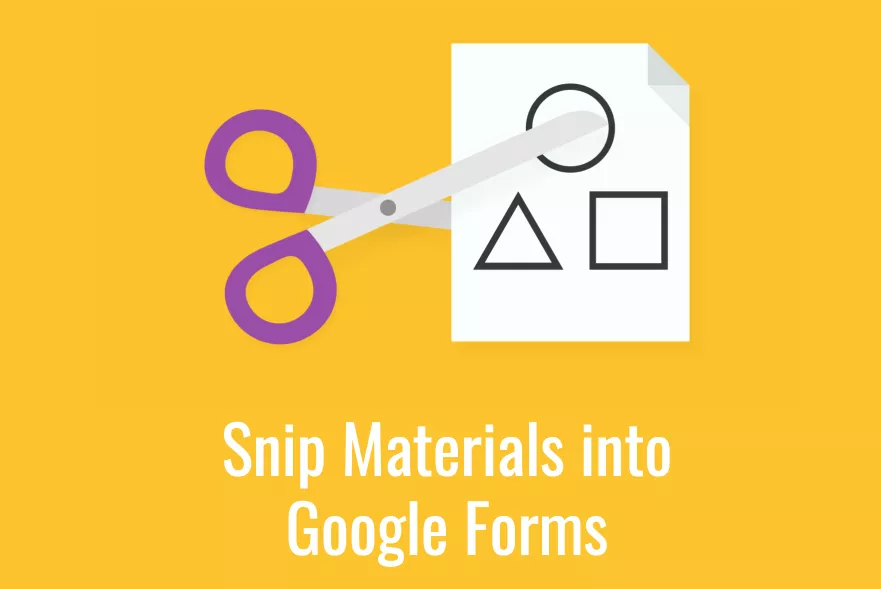 Snip is an amazing google form add-on for teachers. Why? Because it provides a convenient way to crop scanned worksheets and save the images to Google Drive in an organized way. In simple words, this google form add-on help teachers turn printed worksheets into digital forms. You can directly add a cropped portion of the worksheets into Google Forms instead of drawing graphics or typing.
With this tool, select the image or section from your digital format assignment or click pictures from paper worksheets. Select that image, crop, and save sections (like questions, instructions, feedback, etc) to your Google drive.
Snip is an effective add-on for teachers who needs and likes to create graphic quizzes or assignments. It makes work faster and more productive. The Snip is an awesome tool and a great way for digitizing previously paper-based assignments and quizzes.
4. Hypatia Create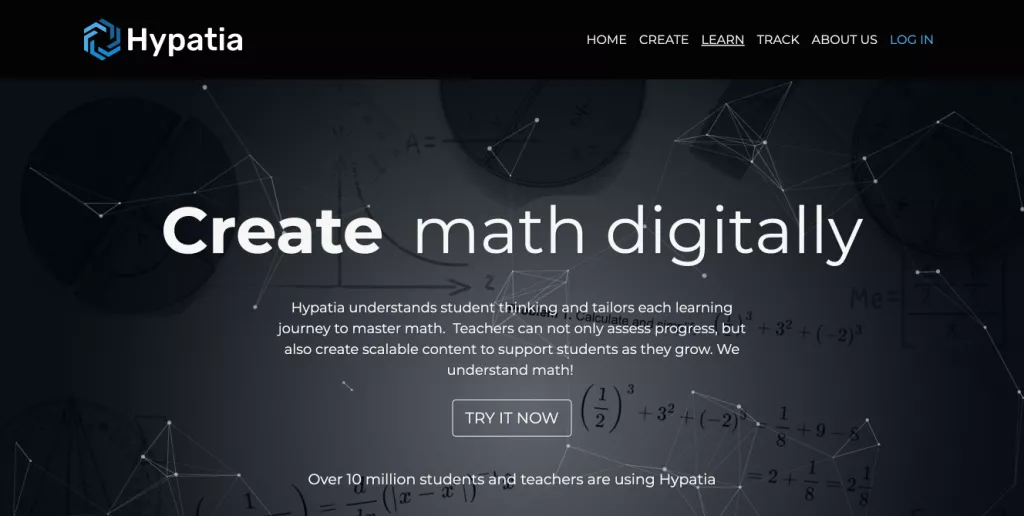 Do you face a difficulty writing numerical or equations in Google Forms for your maths, physics, or any equations questions related? And you have faced a lot of equation understanding problems by your students? Then, Google Forms add-ons finally have a tool – a fast & easy way to include math equations in Google forms, Slides, and Docs.
Hypatia Create is a next-generation smart math equation editor designed to offer both teachers and students unparalleled user experience for their teaching material and work respectively. Hypatia has an easy-to-use interface, with the fastest math equation editor in the G-suite marketplace.
As a teacher, you can in real-time create math equations as a teaching tool and create easily a google forms exam. Besides, with advanced features like: 
Annotation, all of the functionality that math teachers leverage is available digitally using Hypatia. 
The tool auto-grades student submissions and more so, it identifies where the mistake was made helping teachers to use their time efficiently. Further, the tool remembers your feedback and comments whenever similar errors are repeated. 
Build formulas using math LaTeX commands
Imports math-type equations automatically
Hypatia supports teachers by simplifying the administration of teaching thereby leaving you more time to focus on teaching your students.
5. Problem-Attic Import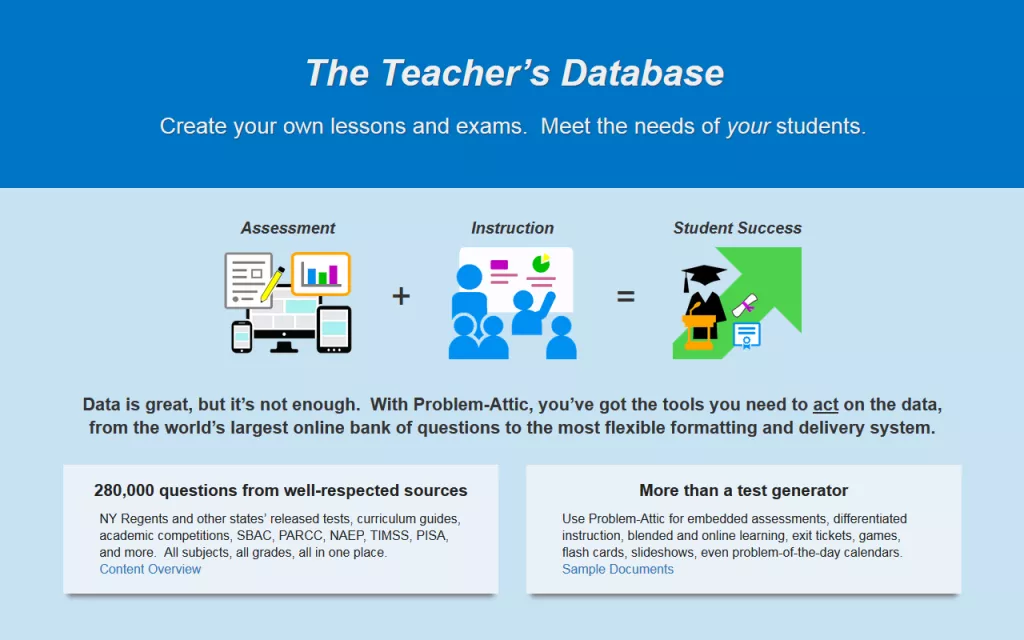 Here is another amazing google form add-on useful for teachers. The Problem-Attic add-on allows users to export questions to your Google Form. It will not only save you time but questions will be formatted nicely as individual images. Plus, for multiple-choice and multi-select questions you'll get automatic scoring with Google Classroom. 
Further, you can export quizzes to LMS (learning management system): Schoology, Canvas, Blackboard, Moodle, and others. Moreover, the add-on allows you to share the PDF document with students on their devices through Google Classroom, posting URLs on LMS, email, or others.
Apart from that, The Problem-Attic offers:
Different formatting options help you use the program for more than just tests and worksheets. You can format questions as flashcards or gamecards and even problem-of-the-day calendars.
You can use Problem-Attic for differentiated instructions and the most flexible formatting and delivery systems.
You can also create a slideshow with built-in scoring; get instant feedback with QR codes.
6. Mail Merge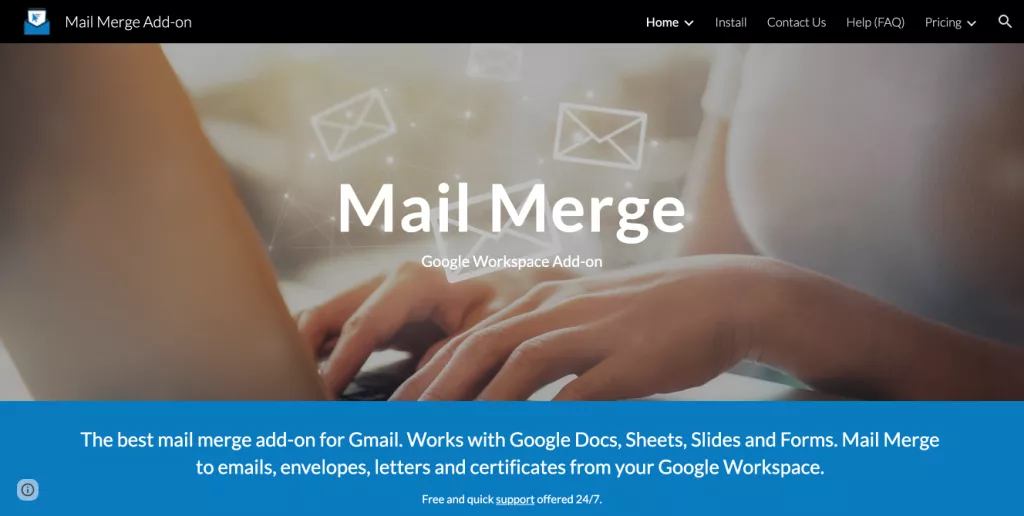 Though you may find this Google Forms add-on quite basic. But let me tell you, it is one of the most amazing Google Form add-ons for teachers. Creating customize emails or letters and sending it to a mass audience is quite a hectic task for teachers. With the Mail Merge add-on, you can easily personalize email, letters, envelopes, and certificates. Plus, auto-send emails on a Google Form submit. Mail Merge is the best tool for Gmail that works with Google Forms, Docs, Slides, and Sheets.
Further, the tool offers some awesome features as – you can schedule merge time for email, also have Cc and Bcc merge fields, and track merged rows. Apart from that,
Add merge fields to the subject line
Mail Merge emails with a personalized PDF attachment
Generate certificates or application forms. Each document/form can have its profile picture. The tool also includes QR codes and barcodes.
Mail Merge is compatible with SMTP service
You can use this add-on for a lot of use cases, whether you want to send invites for zoom calls, webinars, or get potential clients with a custom email campaign. Further, manage PR campaigns, and send periodic newsletters or automatic email messages to students once they have submitted their exam or quiz.
7. Form Publisher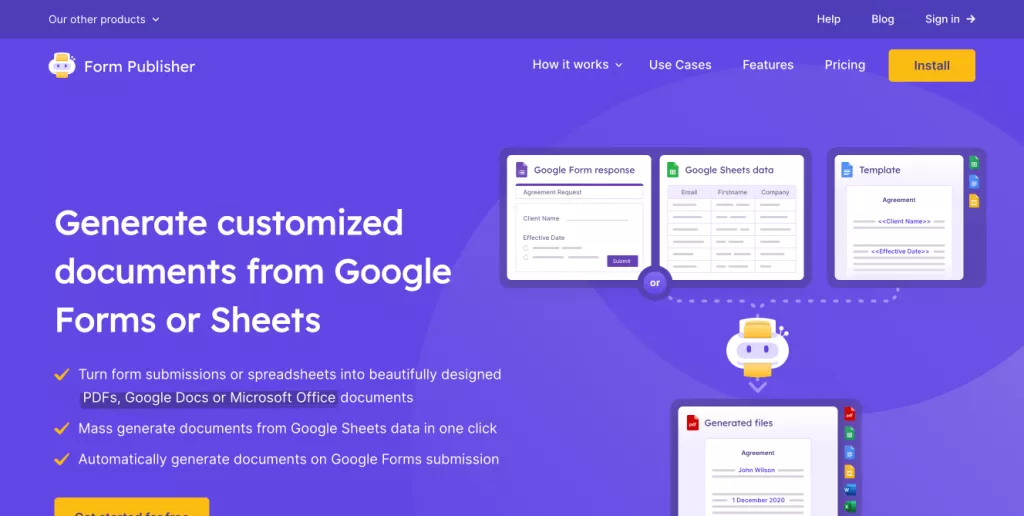 Form Publisher is a document generator or document merge solution that generates PDF, Sheets, Slides, Docs, and even merges in Microsoft Office. It is integrated with Google Forms and Sheets, with Google Forms automatically documents generated one by one on each form submission. However, with Google Sheets, you can mass generate documents in bulk. It is perfect for teachers or administration departments who want to send responses from Google Forms as documents to students or any authorities.
It streamlines tedious business processes through automated document generation workflows. It is a very productive tool for teachers,
you can create personalized document templates and add custom fields based on form questions.
Further, you can also decide which recipients will receive which documents, in what formats, or with what permissions.
Form Publisher then turns automatically responses into documents, stores them in Google Drive, and sends personalized recipients emails, for approval or signature.
Use inline images or photos in Google Forms
As teachers, you can use this to send certificates, answer sheets for signatures, attendance enrollment, or grade sheets for approval. It comes with many good features that can streamline your work effortlessly.
8. FormLimiter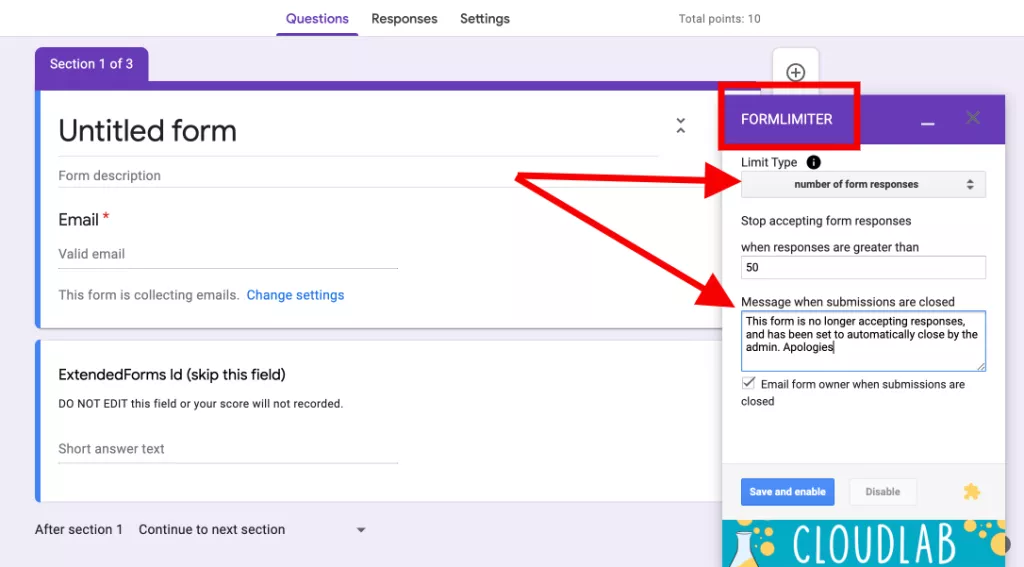 The formLimiter add-on is a pretty useful and required (for many teachers, if you don't have an add-on like this) Google Form tool. This add-on will automatically stop your Google Form from collecting responses based on the preferences you have set. You can set a maximum number of responses, specific date & time, or when a spreadsheet cell contains a specified value.
It is different than creating a timed quiz, formLimiter does not specifically is about countdown timers used during quizzes but is more about certain deadlines or a certain number of responses to be accepted for any purpose. For teachers, it is great for time-bound assignments, if you want your students to submit their work on deadlines. Or further, it can also be used for event registrations with limited seats, first-come signup scenarios, or more.
The add-on lets you set up email notifications to let you know when the maximum answer limit has been reached. Another feature is, that you can personalize a message that will show up to people when submissions are closed.
9. Kuizical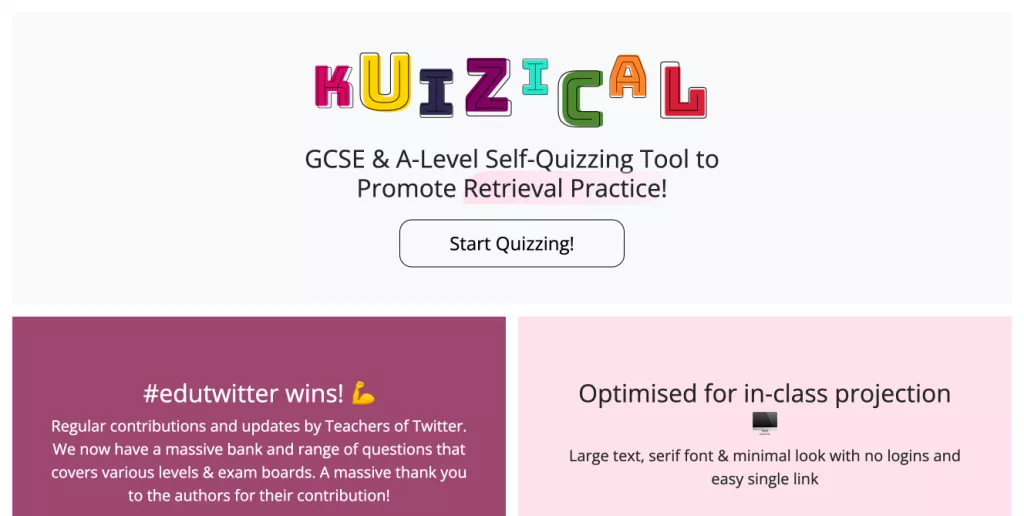 Kuizical is the perfect Google Forms add-on for secondary education teachers. It creates worksheets or quizzes with random retrieval questions for GCSE (GENERAL CERTIFICATE OF SECONDARY EDUCATION) & A-LEVEL. It is a self-quizzing tool (is an extension of the existing website) where it automatically generates random questions for GCSE or A-Level to promote retrieval practice. Besides, this Google Form add-on along with questions allows you to generate its answers as well.
It creates a written answer question for each one and automatically adds their answers in the 'Feedback' field for each. The tool works for Google Forms, Docs, and Slides. For Google Docs add-on it allows you to have a similar case however as a worksheet. However, Google Slides add-on is yet to come.
You get multiple topics and course options to generate Q&As at the same time. You can easily share the link with anyone, further, you can customize a number of questions. In short, you can decide how many questions you'll like to display. Plus, make quizzes on Google Forms with answers built-in for students to self-assess themselves.
Conclusion
This is our list of some of the best Google form add-ons for teachers! Of course, there are many interesting add-ons in Google Marketplace that you can check out! But I hope this article has helped you in some way and you got what you were looking for when you clicked on this article. 
If you are already using any of these google form add-ons for teachers or have used them in the past. Then let us know your reviews in the comment section. We all might gain some insights into it.