Google Forms is a great tool to create quizzes, surveys, and tests. However, for educators & professionals in the field of mathematics & science, the inability to add math formulas and symbols to Google Forms can limit the usefulness of the tool. Fortunately, there are several ways to add math formulas to Google Forms.
In this article post, we are going to discuss processes to add math formulas to google forms, including the use of specialized tools like Equatio and/or google forms add-ons. This blog post aims to help you create an engaging and authentic Google form math quiz for the participants.
Let's get started and look into the ways to insert math equations
Processes to Add Math Formulas to Google Forms
We have divided the process into three ways to add the math formulas to Google Forms. The first step is the basic way to write down the formulas (the simple ones that can be written) or add the image of the formulas or copy from any editor website or LaTeX editor for mathematics equations.
The other two steps consist of using extensions or adding Google marketplace apps to create google forms math symbols.
1. The primary way to create a Google form math quiz
The first thought that will come to mind when creating the math quiz is to write down the math equations. This is possible to some extent, when not adding complicated equations with symbols that you can't write.
But what you can do is use an online equation editor or LaTeX editor software to insert math equations properly. For instance, go to the CodeCogs website equation editor for online mathematics. Type out the formula with the help of all the symbols available and you'll get the equation formatted in a proper scientific or mathematical language.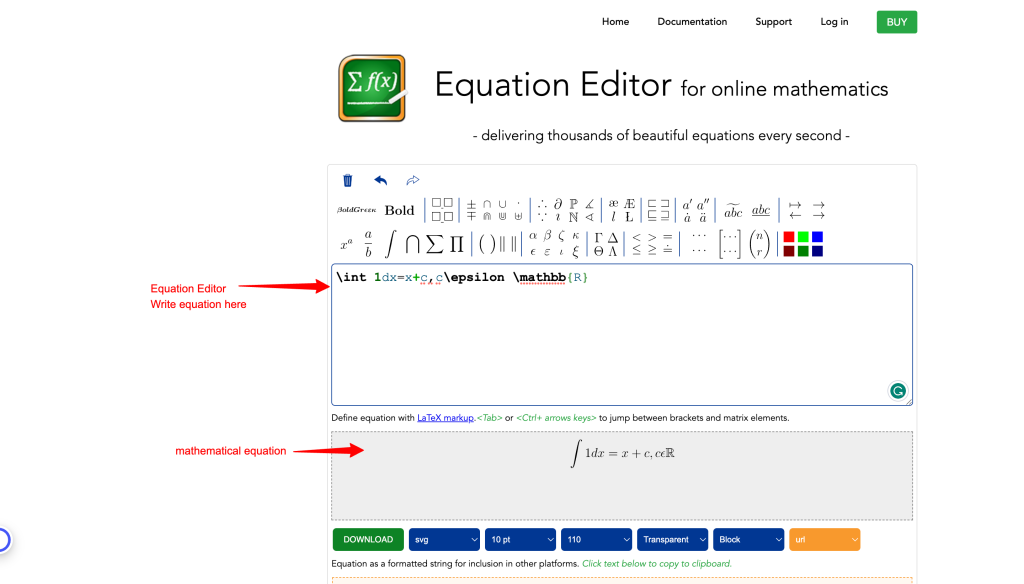 Copy the URL for that equation in the 'png' format. Go to Google Forms, under the question tab, click on the image icon beside question or answer choices, go to URL, and paste the URL that was copied. Then insert the image and voíla we inserted the math equation.
However, this is a tedious process. Let's see how other steps allow users to add math formulas to Google Forms and make it a good math quiz.
2. Insert math equations using the Equatio Chrome extension
Another way to insert math equations to Google Forms is using Equatio Chrome extension software. Equatio is an equation editor that makes it easy to create digital, accessible, and engaging maths. The software's accessibility features help students to be more independent in STEM subjects.
It provides students with approved support during exams and is free to use for teachers. Equatio consists of not only an equation editor where teachers can create math or science equation but also a scientific calculator, graph editor, handwritten recognition, and more.
First and foremost, download Equatio from the Chrome extension, then register it with the Google email you're going to use to create Google forms.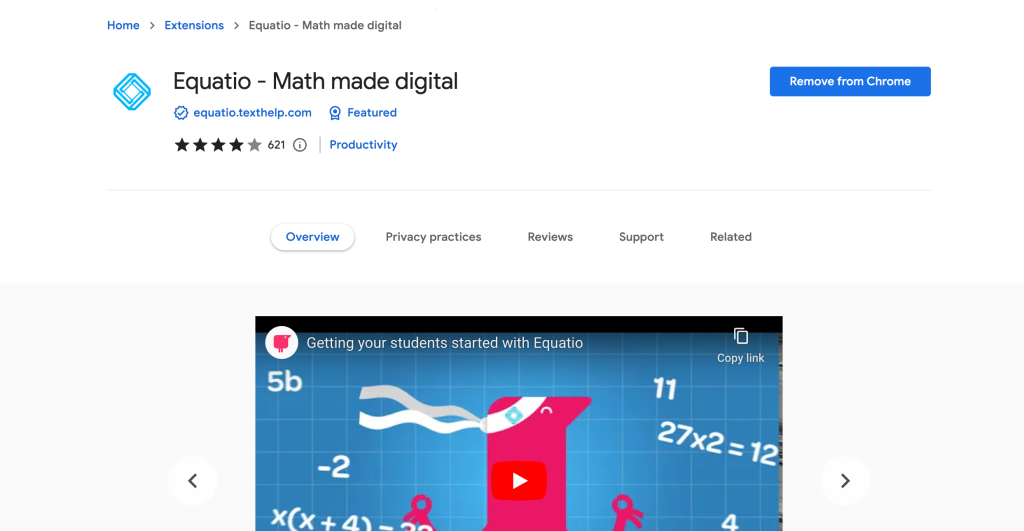 Now open Google Forms, you'll see Equatio blue color icon beside question and answer choices, which means it is activated and ready to use in forms.
When you click on the icon, the equation editor will appear at the bottom of your screen. Click on the equation button and type the equation that you want to add. Unlike the CodeCogs website (mentioned in the previous process), with no symbols or buttons to remember, here you can write the symbols that you want to add and it will populate.
For instance, if you want to add any symbol like + or √ , then write "36 squared plus" and you'll get the options for the said symbols.
Once you click, 'Insert Math' it will be shown in the Google Forms. Aside from this, you can also handwrite the equation if you've got a touchscreen device or speak through the equation with the microphone option.
You can use a scientific calculator that is present under the "STEM tools" option.
This is how you can add math formulas to google forms with the help of the chrome extension. Not only teachers but students can use the software and add answers to Google Forms.
3. Install Google Form add-on for math equation
The last method to add math formulas to Google Forms is with the help of Google Forms add-ons. Google Forms add-ons don't have many options when it comes to maths editor. I have come across one maths editor add-on – FMath Editor that you can install for free and use in Google Forms. However, it has its own set of limitations but it is up to the users to decide what works for them.
Go to Google Workspace Marketplace, install FMath Editor
Open your Google Forms, click on the puzzle shape icon > FMath Editor Suite > Start/Edit equation – student version.
[Refresh the page if you don't get the above options]
Or you can click on "start/edit function – student version"
[The professional version requires a subscription and student versions are free to use]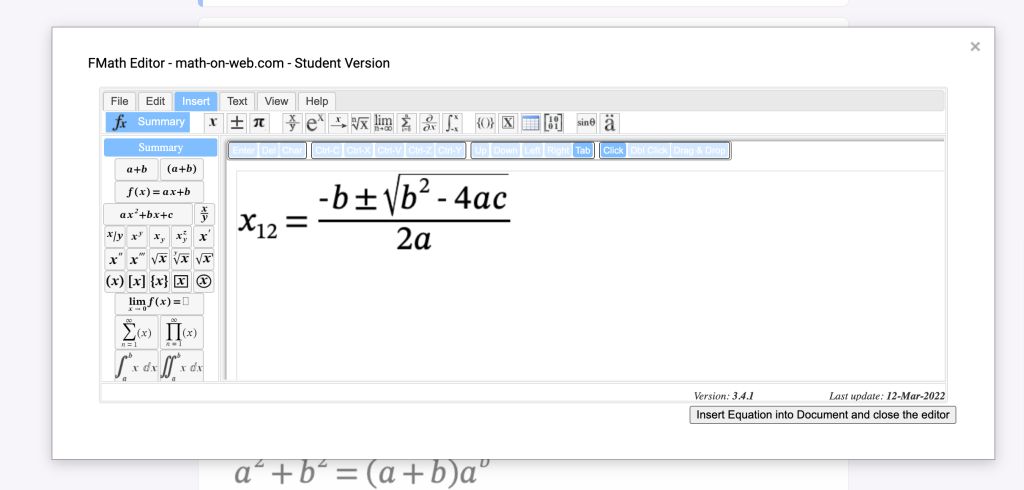 In this add-on, you can add equations from all the options available. Then if you want to change variables or symbols or anything in the equation, select the element that you want to delete and add one of your choice.
Besides, if you are adding another equation or symbols to the formula then select the element before or after which you want to add the equation.
Apart from that, all the 'x' variable formula that you'll add will be added as a box like this (▯). Click on the box and add the variables or numbers according to the equation.
Once, created the equation, click on the 'insert equation in the document and close' button. The equation will be added in the google forms.
This is how you can insert math formulas to Google Forms using FMath Editor add-on.
Create a Quiz with a Countdown Timer using ExtendedForms
Creating a quiz or an assessment in Google Forms is a straightforward & simple process. There are no hard & fast rules or complicated steps to follow when using the tool for the first time. However, it does have many limitations that can affect a lot of users using it for different reasons.
Fortunately, Google has a marketplace of its own that is home to many apps, works well with some or all of the Google tools. These apps/add-ons are the bridge between users' expectations and tools' limitations, providing users with more functionalities. One such popular add-on for Google Forms is the countdown timer and proctor feature – ExtendedForms.
ExtendedForms is a popular and one of the most used apps for Google Forms. As one of the disadvantages of the forms is that it doesn't have a timer or proctor feature, especially for users using Gforms to create quizzes or assessments. But no worries, ExtendedForms is here to bridge the gap and allow users to add timers, set deadlines to fill forms, add a proctor to prevent cheating and a lot more.
It is also integrated with Google Classroom allows users to add classwork directly from the extended forms dashboard, score will be auto-grade on every form submission, and auto-import scores from linked forms to created classwork.
Aside from that, extended forms have a lot in store for the users to use and take advantage of like team branding, customize & shorten URLs, custom welcome and invitation messages, etc. Check out the website and sign up for the free version and try the add-on.
FAQs
Can you make a math test in Google Forms?
Google Forms is a great assessment and quiz tool to create for students. However, it doesn't have an inbuilt math equation editor feature but there are ways through which you can make add math formulas to google forms and create an engaging math test. We have explained in 3 ways about that in the article – "How to add math formulas to Google Forms?"
How do I enable Equatio in Google Forms?
Equatio is a chrome extension used as an online equation editor to create and add mathematics and science equations in any documents. You can easily enable Equatio in Google Forms or other Google tools, you just have to download the software from chrome extension. Once that is that pin the extension to Chrome search tab bar. Go to Google Forms, if you see Equatio blue colour logo that means the software is activated.
What is the best equation editor for Google Forms?
There are many equation editor software out there which are best. But when it comes to best equation editor for Google Forms that depends on the requirements and accessibility for users. Some can be easier to access, understand and work through others might not work out for some users. But there are online softwares like CodeCogs or chrome extension like Equatio that are easy to use and quick to add formulas.
Final Thoughts
In conclusion, adding math formulas to Google Forms math quiz is essential and can be greatly effective for professors or teachers in STEM fields using as an assessment tool. With the use of specialized tools such as CodeCogs, Equatio, or LaTeX, math formulas can be easily inserted in Google Forms.
It is important to choose methods that work best for you. By incorporating math formulas to Google Forms assessment, it is possible to create an engaging and interactive experience for students passionate about STEM field areas of study.
Also Check out previous articles –
How to Convert Google Forms to PDF? (4 ways)
How to Conduct a Pricing Survey? [4 steps]