Google Forms is a versatile tool that can be used for a wide range of purposes, from collecting feedback to conducting surveys. However, google forms for project management are quite useful as well, allowing teams to easily gather and organize data related to a specific project.
In this article, we will explore how to use Google Forms for project management and highlight some of the key features and benefits of this powerful tool. Whether you're managing a small team or a large-scale project, Google Forms can help streamline your workflow and improve your overall efficiency.
Brief Overview of Project Management
Project management involves the application of knowledge, skills, tools, and techniques to achieve the criteria of a project within agreeable parameters. It refers to the process of planning, organizing, directing, and controlling resources to achieve a set of goals.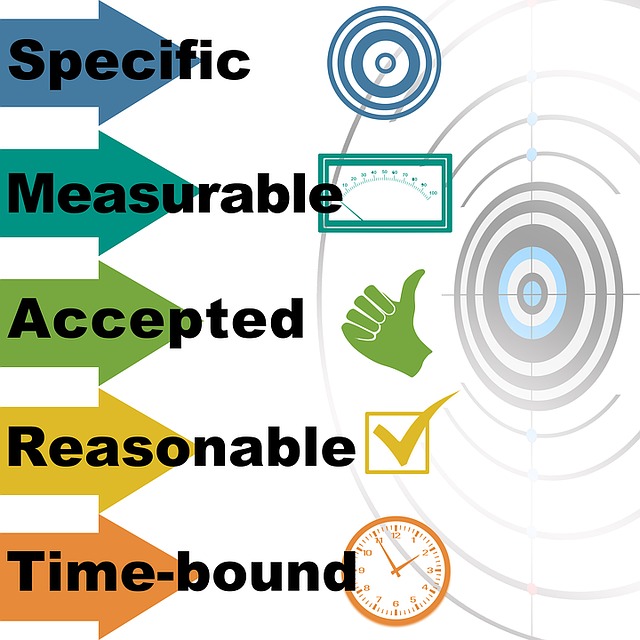 Project management is used in the context of temporary projects to be achieved, that come with the defined constraints of time, budget, scope, risk, and resources. The key factor that makes it distinguished from 'management' is that the latter is an ongoing process. Unlike, project management which comes with a definite timespan and final deliverables.
As project management is all about dealing with projects, professionals require a range of skills, including leadership, communication, problem-solving, risk management, often technical skills, and better business awareness. By managing projects effectively, organizations can achieve their goals efficiently and improve their overall performance.
How can Google Forms be used for Project Management?
Certainly, there are some ways that can be used for Google Forms project management –
Collecting project requirements – With the help of Google Forms project managers can collect project information/requirements from stakeholders that can be further organized and analyzed.
Gathering feedback – part of a successful project management process includes taking feedback and working on them. Google Forms can be used to gather feedback from team members throughout the project lifecycle.
Planning & scheduling – Another way google forms can be used is to plan and schedule team meetings or stakeholder meetings. Team members can add their availability and data can be automatically added to a calendar (by integrating a calendar or using a forms add-on)
Tracking project progress – Google Forms can be created to track progress at regular intervals. Team members regularly update their status which can be automatically added in a spreadsheet, making it easy to monitor progress.
Process to Use Google Forms for Project Management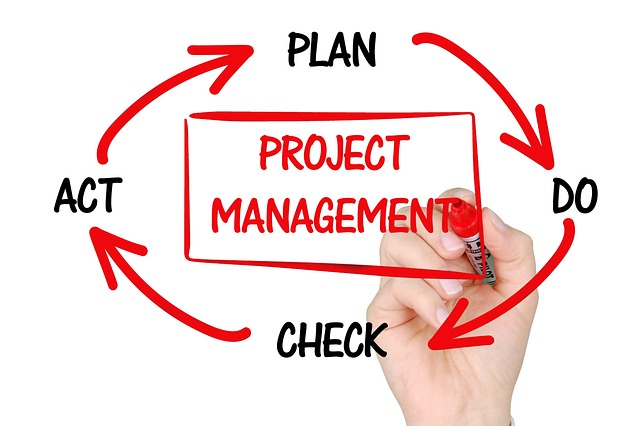 Section 1: Setting up a Google Form for Project Management
How to create a new form in Google Forms – To create a new form or choose from a template, go to Google Forms either through the Google homepage (click on the square dots) or through the web browser – Google Forms.

Select a blank form or choose from a template gallery (though it doesn't have many choices to choose from), if you are creating a feedback form then you can select the feedback form template.
Choosing the right question types for project management – When starting your next project it is important to go through certain significant project management questions beforehand. It helps to identify the most significant issues and poke holes even before creating a project management plan.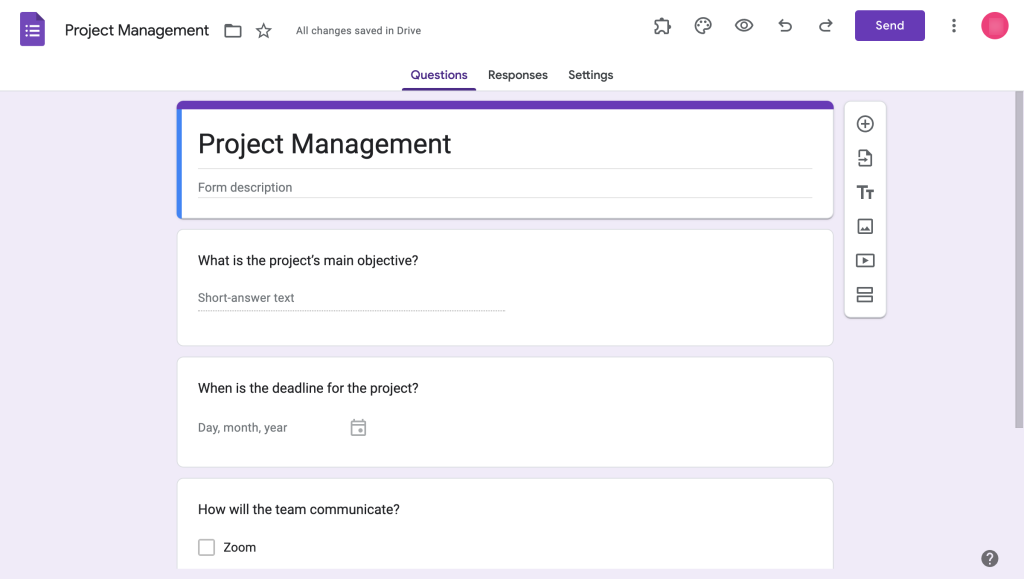 Some of the project-based questions for project management are –
What is the project's main objective?
When is the deadline for the project?
How will the team communicate?
Have you had similar projects before?
What are the project's priorities?
Using Google Forms for Project Management (various use cases)
There are various use cases (below added steps) that show how users can use Google Forms for project management once they create a form for a project plan. Whether you are at the planning stage, execution, or post-success of a project, Google Forms can be used for any case related to project management.
Section 2: Using Google Forms for Task Management
Use Google Forms for creating and assigning tasks – Project managers can delegate tasks or responsibilities to every member of the project team via Google Forms. They can add tasks, assign a team or individuals and provide them with deadlines.

You can also use specific questions to set the stage for success whether you're the one assigning tasks or assigned to. Like;
What is the task's goal/outcome?
What actions, assistance, or resources are required?
When is the deadline for the overall task? Or due dates for each step?
What obstacles might occur that I should plan for?
How to track task completion – Through Google Forms itself, the project head can track the progress of the task. You can create a task completion or each step of the process due date form that can be sent to the team members.

They will update the form at regular intervals or once the task is completed. Forms can be linked with Sheets which will allow data to be automatically added to the spreadsheet to organize and track the progress.

Section 3: Using Google Forms for Project Status Updates
Create a project status update form – Another use case of Google Forms in project management is to create project status updates that can help the project manager(s) to create a project status report.

This form will keep track of project status in the loop and clear communication amongst the team, stakeholders, and management team. So, the project manager(s) can create a project status update form with essential questions and share it with every team leader to be filled up.

The project status report must provide comprehensive information about crucial project elements – budget, timeline, milestones, etc. Your project status report must answer some of these questions, that has to be included in the form –
What have you achieved?
What are the outstanding tasks & who is responsible?
Which tasks are on-track or off track?
What are the major risks we need to manage?
Are you hitting the desired goals?
Using the data from the form to create visual project status reports – Google Forms have the 'Summary' functionality that provides a graphic representation of all the responses received. Graphs can be copy-pasted to the project status report for presentation purposes.

Besides, the responses can be added to Google Sheets, their you can create advanced graphical representations of the data (like pie charts, bar graphs, line charts, etc).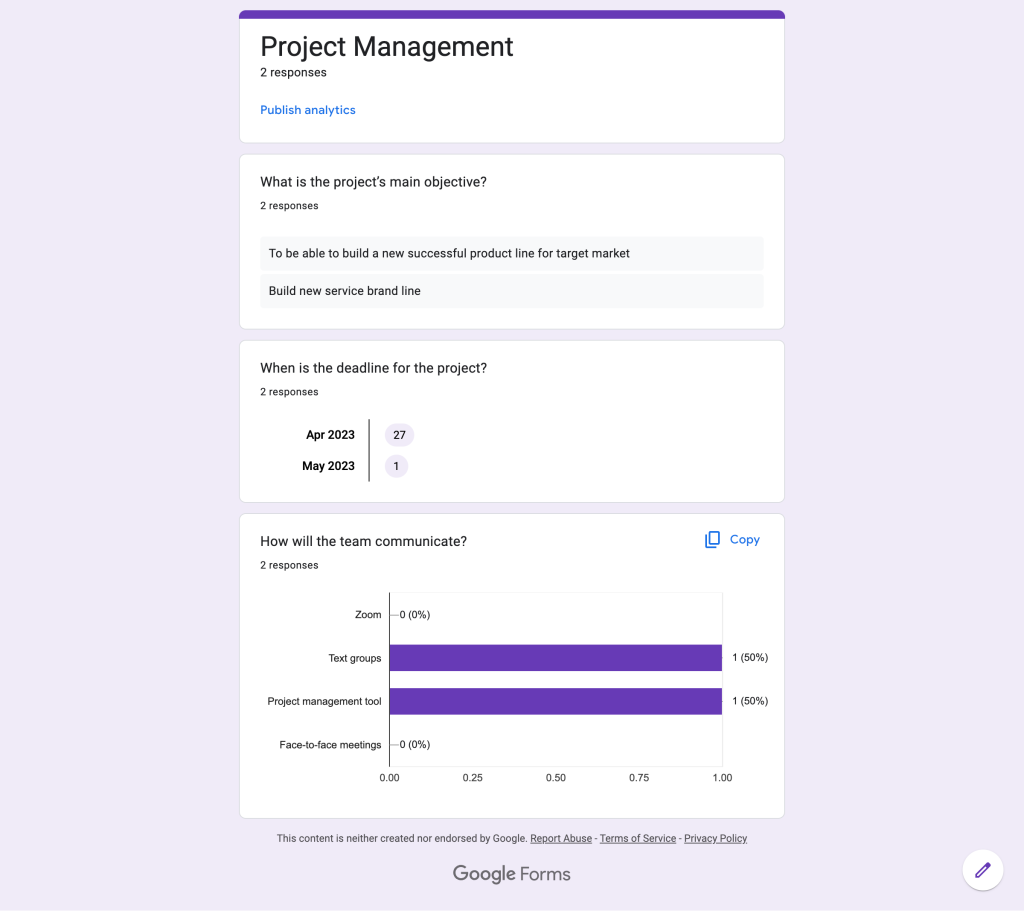 Section 4: Using Google Forms for Project Feedback and Evaluation
Use Google Forms to get feedback from team members or stakeholders – Last use case to create google forms for project management is one of the most common and popular for GForms – to create a feedback form.

The team leaders or the project manager can create feedback forms to be sent to team members and stakeholders to get an idea of how the project is going. Feedback from the team can help leaders/managers to understand if the process is progressing smoothly or if there are risks to be tackled.
How to evaluate project success using Google Forms – you can conduct post-project evaluation through Google Forms just like you can use it for any project management process.

Data can be added in the Sheets that can evaluate and analyzed to note down all the mistakes to not make or things to keep in mind for next similar projects. Furthermore, using Google Forms to identify areas for improvement in future projects
FAQs
How do I use Google Forms in a project?
Similar to any form, Google Forms is a great tool to create forms or surveys of any sort. When it comes to creating a form for project management, it's very easy. What is important is the questions you are asking your team members to get a full update on the project. To do so, open Google Forms, add a question (choose from different question types), and share it with your team members.
Can you use Google for project management?
You can definitely use Google tools for project management, whether it is creating documents in Google Docs, creating forms to share with team members for updates in Google Forms, or organizing and analyzing data received in Sheets. Google Apps are really useful when it comes to project management.
How do I create a project management plan in Google?
With the help of Google Forms and Google Sheets, you can create a project management plan. Create a new spreadsheet, add columns, and add details in all columns like tasks, ask owners, due dates, and comments. You can through Google Sheets create a Google Forms, go to Tools > Create a new form.
Conclusion
This is how you can use Google Forms for project management in different use cases. Google Forms is a powerful tool for project managers looking to streamline their project management processes. By using customized forms, project managers can easily collect and analyze data related to project requirements, team performance, and other key metrics.
Google Forms has its own set of add-ons that can be easily installed and integrated into Forms for different functionalities. ExtendedForms is a popular google forms timer and proctor add-on but has also many features.
Like adding teams and assigning roles (in that team users can add as many forms as they like), adding custom support emails, adding custom welcome messages, sending forms through custom invites, and more. If you are Google Forms users and using forms for creating quizzes or assessments then try add-on for free (excluding paid plans).