With education turning new age, it is essential to keep up with the latest trends and ways of teaching & learning. And one of the popular ways is to create interactive quizzes. So, if you also want to be part of this engaging content era, the software community has come up with great online quiz makers for teachers.
As any teacher knows, quiz software can be a godsend. Not only it makes it easy to create quizzes and administer them, but also grades automatically. Besides, quiz tools come with various features to make your test/quiz more interesting and engaging.
Choosing the right type of quiz maker is essential and here in this post, I have listed down the best online quiz maker for teachers that you can choose from. But before that, let's look into why online quiz maker for teachers is beneficial.
Why Online Quiz Maker for Teachers is Beneficial?
Interactive quizzes especially in the education field are more prominent than before. It considerably draws viewers' interest more than static content. It encourages active participation then being just a passive audience, interactive quizzes have made the learning process more fun, engaging, and more teacher-student interaction.
With online quiz tools, educators can deliver a better learning experience for students at a time of fast-changing education. Hence, quiz tools have so much to offer, let's look into the few benefits of online quiz maker for teachers.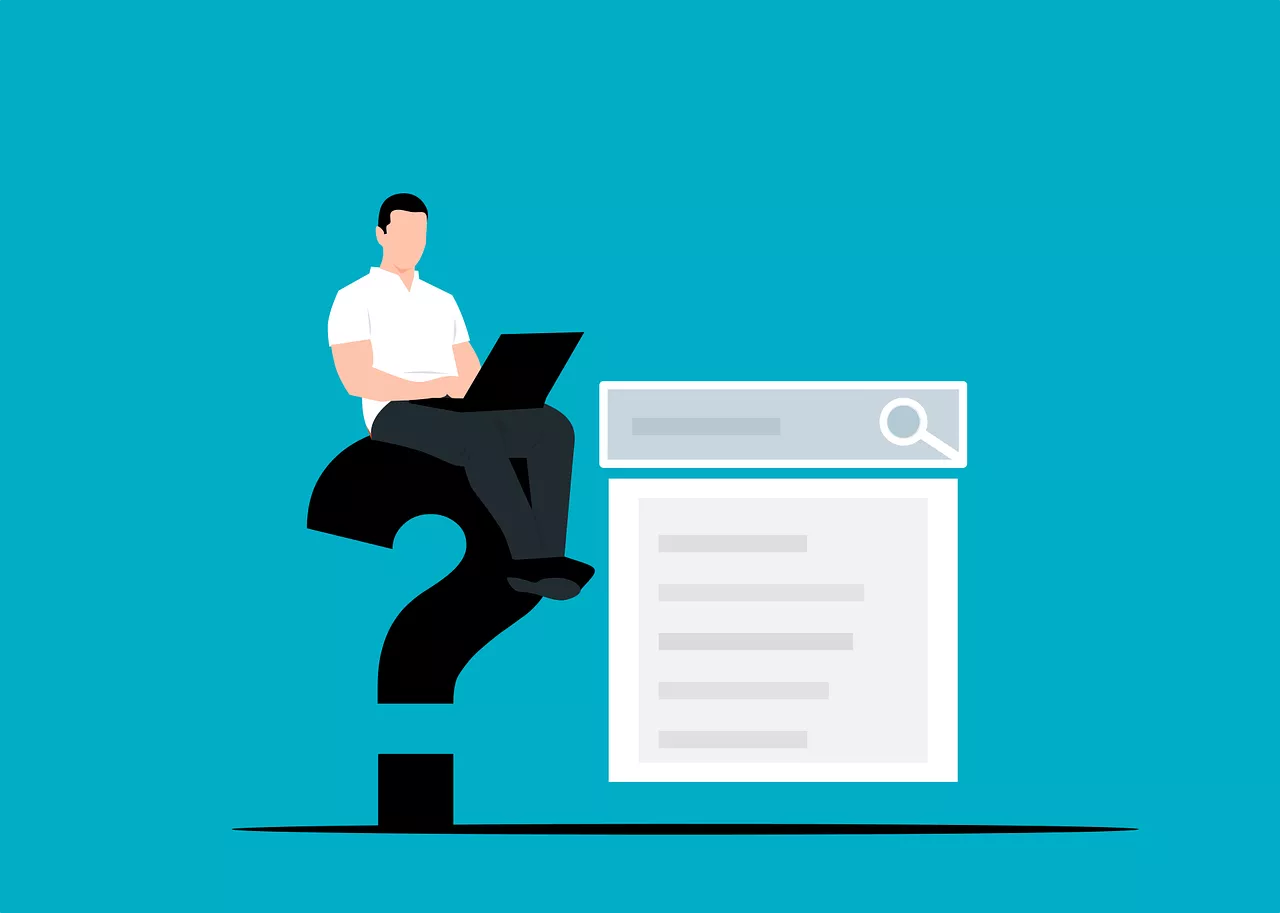 Better Engagement
Interactive quizzes are a stepping stone from workbooks students learn daily. Quizzes are a way to deliver engaging content rather than static one-sided communication, like trivia quizzes. Moreover, taking quizzes allows students to assess their performance and from feedback improve their knowledge.
Advanced Analytics
Manually analyzing each student's results are time-consuming and has been for a long time now. However, with quiz makers online, you can easily assess the performance of each student and even of a whole class. It lets you analyze the learning gaps of a whole class, as well as the weaknesses and strengths of every student.
Reusable Quizzes
The best thing about online quizzes is that you can reuse them for as many students as you like. It also means that you can repurpose a test/quiz for various academic years with changes if requires. The online quiz allows that, to save it as a template for future use and customize it and send it to different student groups.
Widely Accessible to Audience
No doubt why teachers would likely prefer online quiz software, as it is widely accessible to a wider audience. Online quizzes remove barriers to education by making them accessible anywhere to anyone.
Students get the most flexibility to take a test however and wherever they want. Teachers can provide remote tests by creating online quizzes or printing them out and taking in-person tests.
How to choose the Best Online Quiz Maker for Teachers?
Before listing down the best free quiz maker online let's see the categories based on which you select the best online quiz tool for yourself.
Ease of Use – A platform that is hassle-free, has user-friendly interface and doesn't require much technical knowledge.
Features – Important to know what kind of features you need and does the specific tool has that
Pricing – Cost is a decisive factor while choose a best quiz maker.
Customer Support – It is essential to have a good and 24/7 customer support system.
Best Online Quiz Maker for Teachers
Here is the list of the best online quiz tools for teachers. They all are unique yet the same in their functionality. Let's get started:
1. Google Forms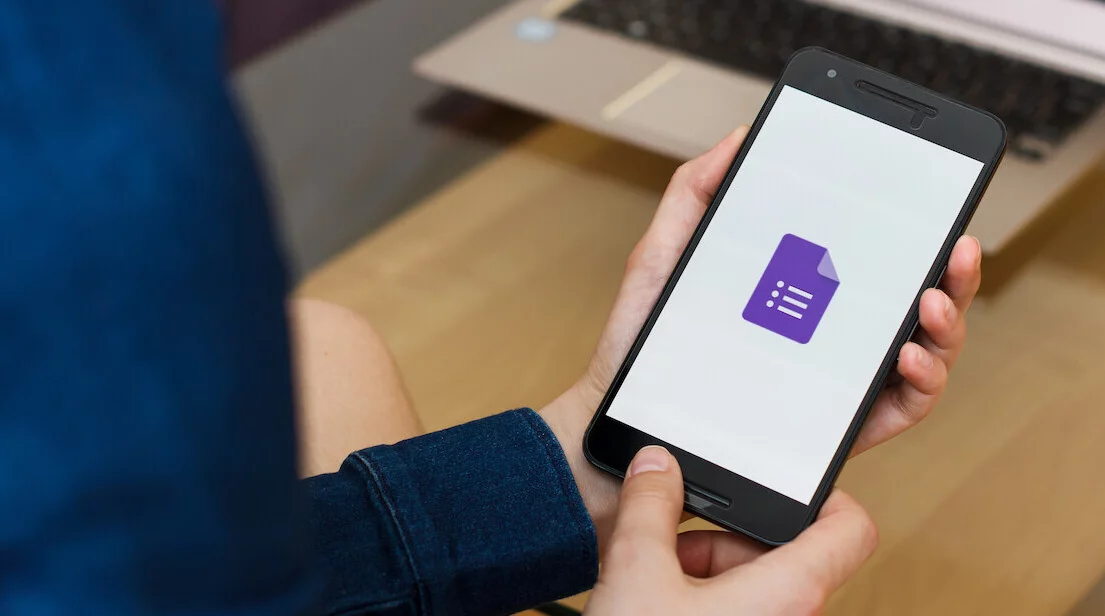 If you have been around the digital world for quite some time now, then you must have come across Google Forms, maybe to fill out a survey form, or create one. It is undoubtedly one of the best and a free online quiz maker for teachers. It is a Google Suite tool bundled with Google Drive that allows you to easily create and share online forms & surveys, and analyze responses in real-time.
It not only lets you create surveys but you can create anything from amazing yet simple quizzes for students to assessments, feedback forms, polls, and more. 
Select from multiple question types, drag & drop to reorder questions, and customize values as easily as pasting a list. 
It enables the reuse of questions from earlier forms, import questions from previous forms, and so forth.
It has the ability to add add-ons and advance the functionality of the Form. 
One of the best add-ons to create a Google Forms quiz is ExtendedForms. It allows you to add a timer feature in the quiz and auto-submit functionality once the timer ends. You can check out the add-on – here.
Google Form Pricing – Free to use.
2. Quiz and Survey Master

Another best quiz maker for teachers in our list is Quiz and Survey Master plugin. It is a WordPress plugin that is free to use, you can create tests, quizzes, surveys, anything but you need to have a WordPress website.
It is one of the top WordPress quiz plugin generator that is used by thousands of users and has excellent customization abilities and excels at offering amazing user experience.
QSM is packed with themes and add-ons extensions that can be purchased (some are offered with the plugin for free as well).
It comes with various question types for teachers to build interesting quizzes. Like, multiple choice (radio buttons), true and false, open answer question, drop down, fill in the blank, number, polar (slider) and accept.
The plugin is flexible it offers multitude of designs and redesigns options for your quizzes and surveys.
It has countdown timer facility that you can add to upgrade your quiz.
There are various other features you can explore by visiting it's website and installing it and trying for yourself. Everything from viral quiz, trivia quiz, customer satisfaction surveys to employee surveys you can create. This plugin is the ultimate marketing tool for your website.
QSM pricing – Free to use. But also comes with basic ($129/year), plus ($179/year) and pro ($199/year) plans. You can purchase extensions like addons, and themes as per your requirements.
3. Kahoot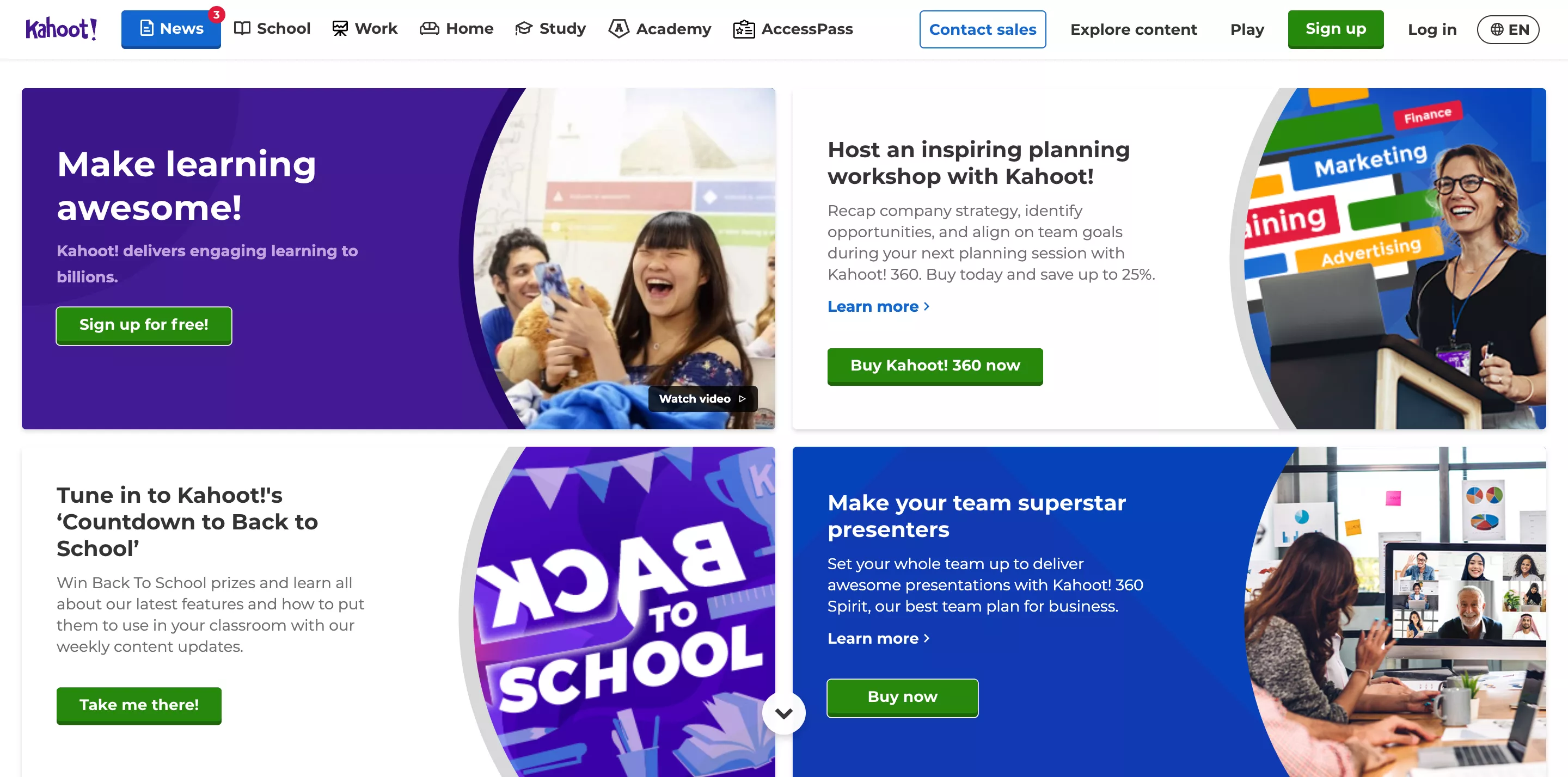 A game-based online quiz maker for teachers called Kahoot! Can be used for juniors classes as it converts quizzes into games. It is a great tool if you want to make teaching a fun, entertaining, and engaging participation into learning. You can level up your teaching ways with Kahoot style, like weekly challenges, game-modes, quizzes, and more.
It offers, polls, puzzles, and multi-select answers type. You can ask poll questions to your learners, also known as Kahoots, to gether their opinion and check their understanding of the topic.
Host a kahoot live in class or via video conferencing tool to connect with students virtually. Q&As are displayed on shared screens while students answer on their device.
Seamless interactive lessons with slides & questions
Analytics from game reports to assess learning
You can duplicate and edit existing Kahoots, import questions from spreadsheets, search questions from their questio banks, also assign student-paced challenges for review or homework, and so much more. Besides, it is easy to share games with other Kahoot users, but you can also share student-paced challenges to Microsoft Teams, Google Classroom, etc.
Kahoot pricing – It has basic free plan, paid plans $3 per teacher, per month range to $6.75 per teacher per month.
4. Jotform Quiz Maker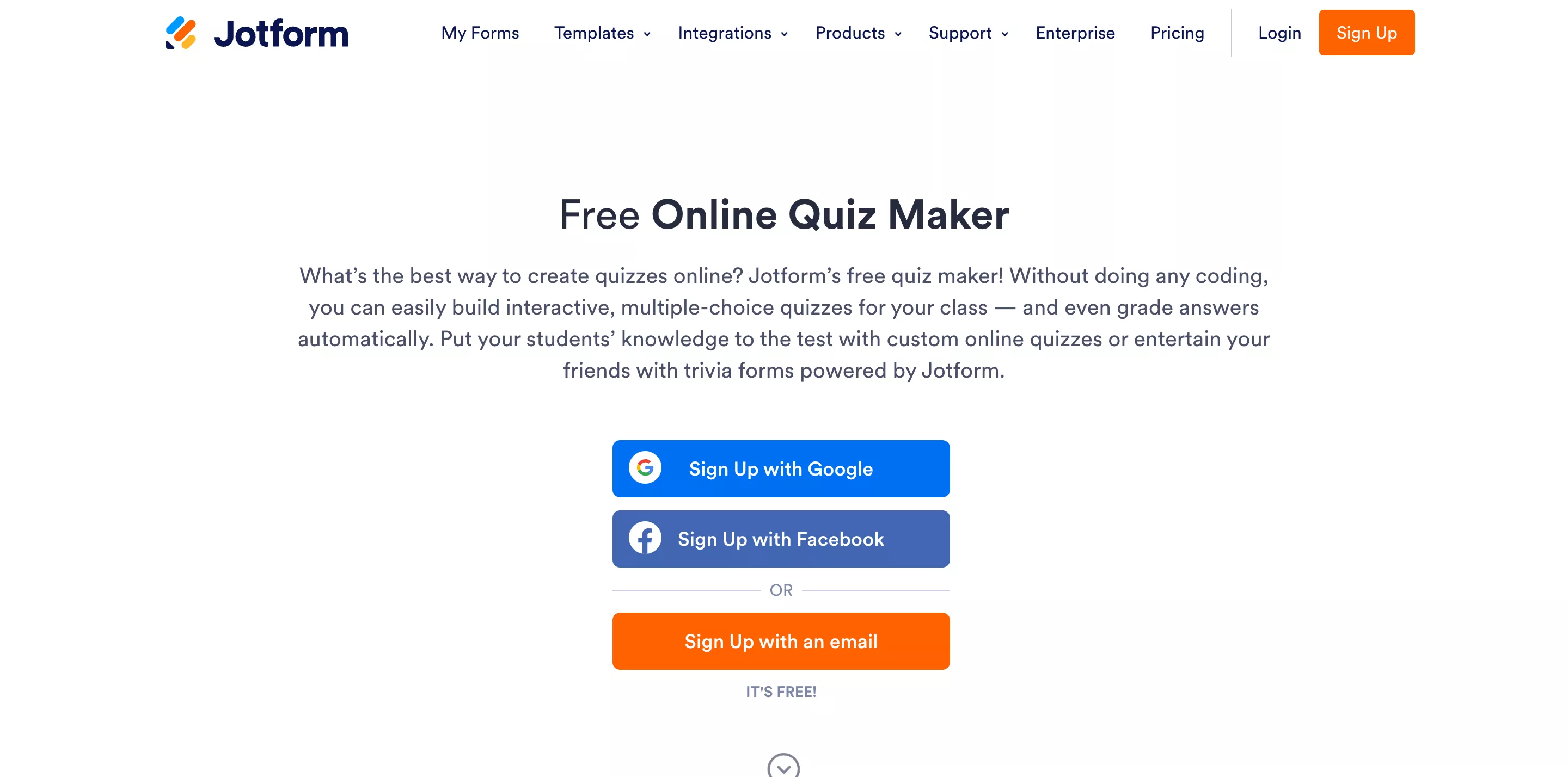 Jotform one of the top online form builder allow teachers to create interactive quizzes for teachers. The platform's free quiz maker enables to easily build interactive, multiple-choice for your class and even auto-grade answers. It is fully customizable, powerful, easy-to-use, and code-free.
It offers many features like conditional logic, tons of templates, and app integrations.
You can use it to create and embed quizzes into your website
Use it to gain insight into your users while collecting form data from the help of Form Analytics feature
Whether you want to create trivia quiz, pop quiz, or spelling quiz, Jotform is there with collection of free templates or you create your own.
Jotform Quiz Maker pricing – Free plan, Bronze plan ($34/month), Silver plan ($39/month), and Gold plan ($99/month).
5. ClassMarker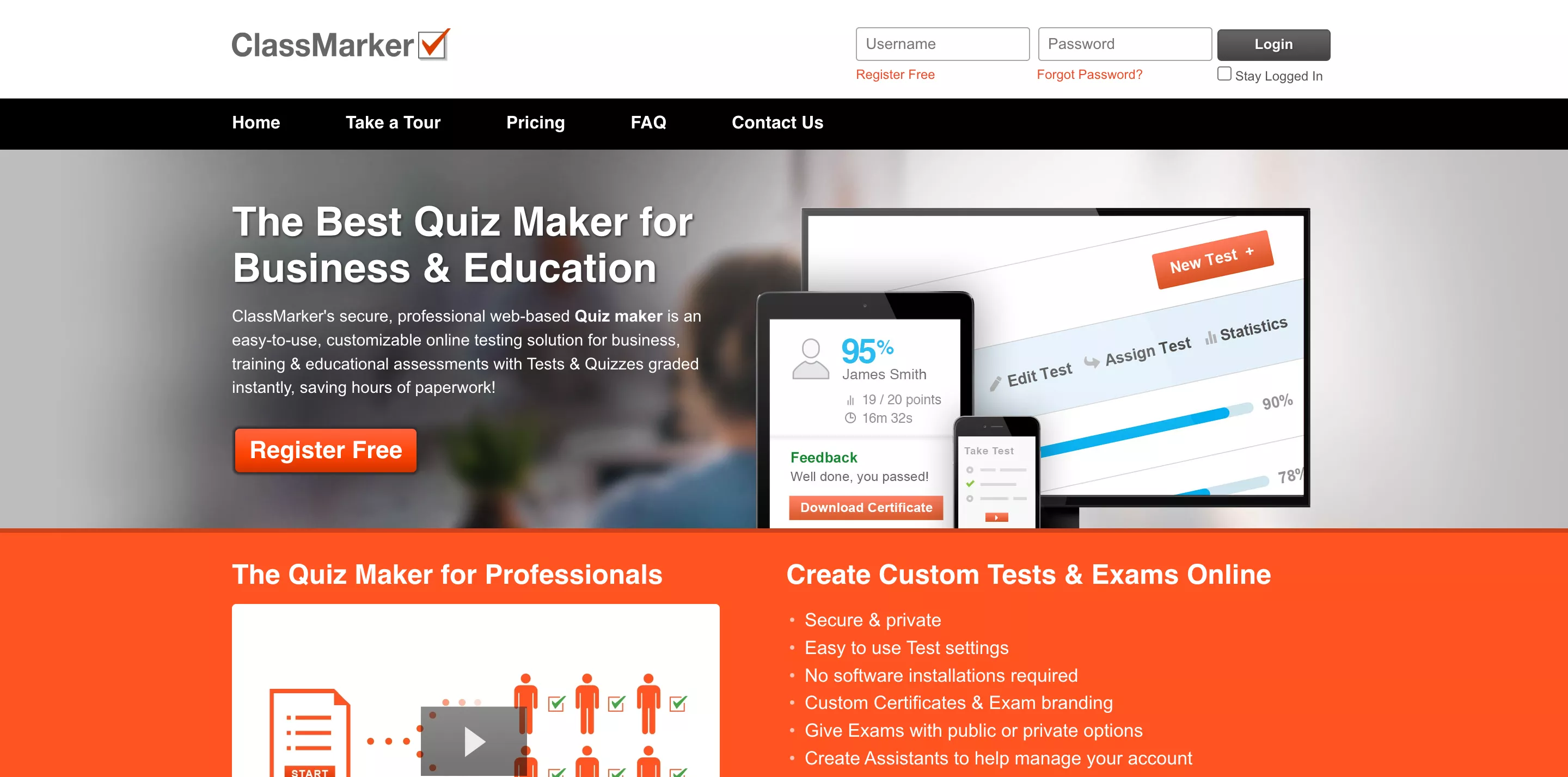 ClassMarker is one of the best online quiz maker for education and business. You can create tests and quizzes that are accessible to as many users as you like. Create unlimited quizzes and questions from question bank or create your own.
Provide individual question feedback or overall test feedback instantly
Brand your quizzes and custom certificates
A sophisticated results platform allows you to evaluate/analyze data
Public and private testing options available
Embed quizzes directly into your website
Furthermore, ClassMarker is a secure and private online tool. Besides, it is a good option for large businesses that need to create surveys. The tool is trusted by thousands of business and educators who gives quizzes/tests to students, recruiting new candidates, and more.
ClassMarker pricing – For Educators it has free plan along with Professional I & II plans that are $19.95 and $39.95 respectively.
6. Quiz Maker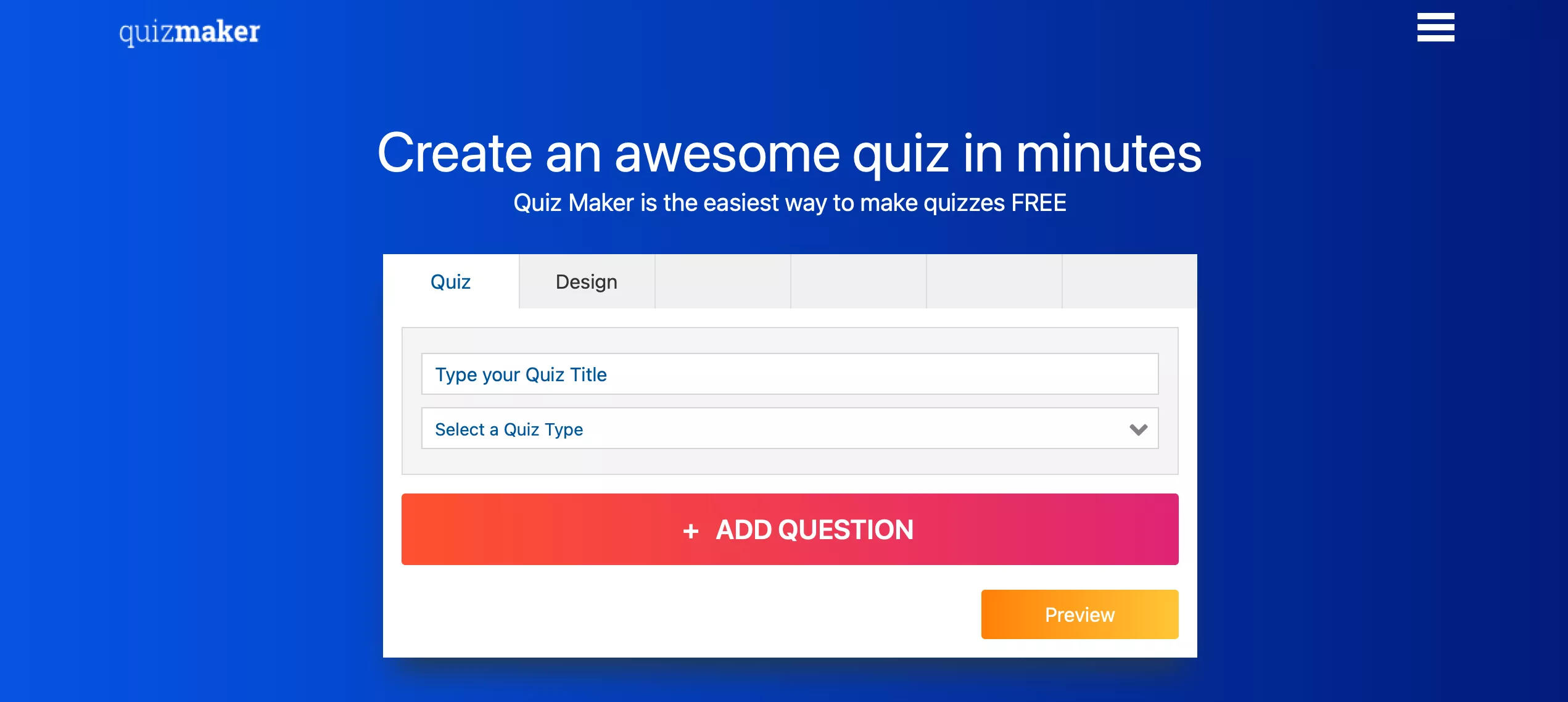 Quiz Maker as the name suggests is an online quiz platform for teachers. It allows you to create free quizzes, link multiple quizzes to create an online course, assign certificates, scores, and more. It allows teachers to automatically assign certificates to quiz takers based on grade or score.
Create different types of quizzes – trivia, polls, survey, product recommendation, and scored based.
It has various question types format from multiple choice, checkbox, text, to complete matrix, true/false, multiple choice matrix, number range, and so on.
Quiz Maker offers multiple default themes and allows you to customize themes to create your own
Add automatic countdown timers
Gamify with leaderboards and score results
Keep it secure with quiz login
Quiz Maker is one of the easiest way to make quizzes free.
Quiz Maker pricing – Free plan, paid plans start from $29/month to $149/month with 21 days free trial.
7. Trivia Maker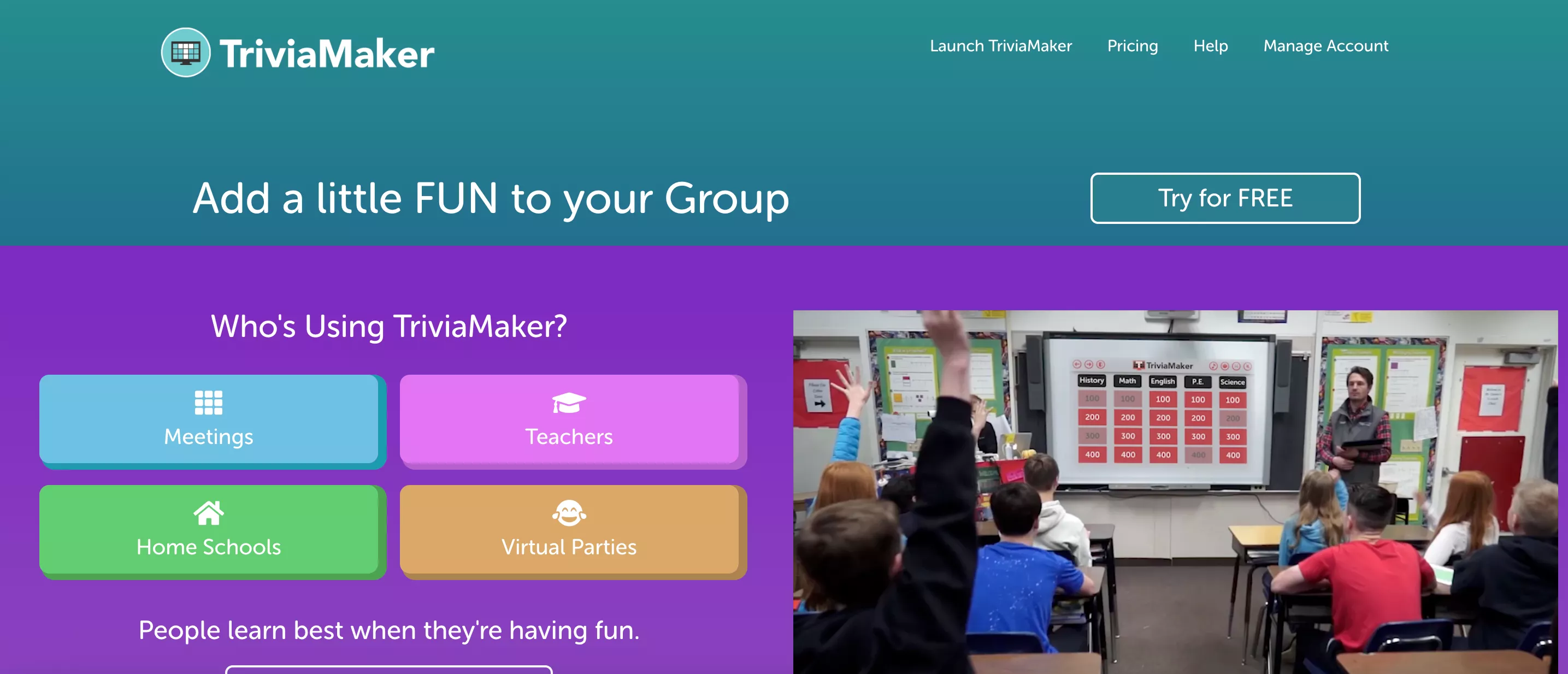 Trivia Maker is another game format online quiz maker for teachers. It is a free tool to create quizzes, the game styles are inspired by popular TV shows such as Wheel of Fortune, Family Feud, Tic Tac, and Multiple Choice. It is a fun and engaging way to introduce or review content that student will learn & love.
100's of pre-made games to choose from
No sign-ins or downloads required
Compatible with various devices
Full customisation
Trivia Maker has free plan however not all features will be available to use in that. So, you can try for free and if like it upgrade it.
Trivia Maker pricing – free plan, premium plan ($19.0), and enterprise plan (as low as $2/month per account).
What We Recommend?
Though every software we have mentioned here is carefully curated for you to choose from but Google Forms top our rank. Why? because it is the tool used by everyone and anyone can use it for free. It has simple configurations which makes it easier for anyone working the first or even many businesses use Google Forms to create surveys or feedbacks or recruitment forms.
It comes with many add-ons that are free to install and they range for different use cases from productivity to utility, communications, and more. ExtendedForms add-on is one such productive and useful app for Google Forms. It is a popular and top-rated add-on in Google Marketplace for google Forms, it's because of its hassle-free configuration and unlimited features availability.
To begin with, the app has countdown timer feature to add timer in your tests and quizzes
It has come up with the newest feature – online proctoring, that allows you to prevent cheating while giving tests in Google Forms through camera snapshots, tab switch detection, and exit-full screen detection.
Furthermore, the app has custom welcome message feature that allows you to add message in any language and show welcome message in different languages.
It has classroom Integration that allows you to auto-submit, auto-grade glassworks from extended form dashboard
You can customise and shorten URL before sending the link
This app has a lot in store of you all. Try out free and upgrade to its subscription if you like it.
Wrap Up
In today's E-learning mode it has become important to widen the learning experience and with quiz software, we can disseminate quizzes profoundly. Here was the list of top 7 best online quiz maker for teachers for free. There are undoubtedly more amazing online quiz tools that you can use, but they are better off with subscription. All the above listed tools have both free and paid plans except for Google Forms that you can use for free.