Do you use Google Forms for Schools and Universities to create evaluation forms for students? If yes, these specially curated lists of evaluation forms for schools and universities will be extra help for you. An evaluation form is a document prepared to measure employees' or students' workplace performance. One of the keys to the success of a good performance management process is to have good evaluation forms/feedback forms. 
Evaluation forms for schools/universities are a great way to obtain valuable feedback and identify areas of improvement. Evaluation forms are the most effective form of course assessment method to track evaluations of student progress, course feedback forms, or even student evaluations of teaching to measure teaching effectiveness.
A school teacher or university professor/administrator conduct assessment tests as another form of course assessment methods or evaluation for students to understand their knowledge or progress regarding particular subjects. Besides, university/school evaluation forms are also highly used for teacher evaluation as well.
Therefore, this listicle article will include some of the best Google Forms add-ons for school evaluation forms. They may not directly help you create an evaluation form (that Google Forms course assessment template does it for itself) but they will help you in collecting forms, adding timers, keeping logs, and more. They are some of the most useful and popular add-ons for education purposes.
Evaluation Forms for Schools and Universities
To create a course assessment form or any assessment, you can do so by navigating to Google Forms > Templates through G-drive or from here. Scroll down to Education and choose either 'Course Assessment' or 'Assessment.' Then once created, you can use any of the below addons for evaluation forms for schools/universities.
1. ExtendedForms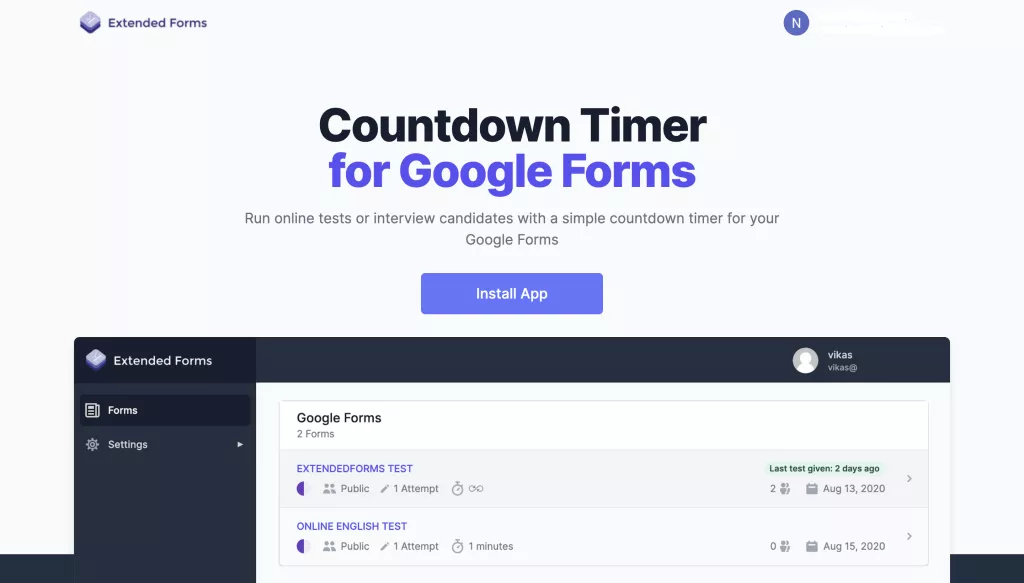 The first app on our list to help in creating good evaluation forms for schools is ExtendedForms. We all know that Google Forms has not yet reached the stage where you'll get a countdown timer. However, it is of no worry because we have advanced add-ons timer features to think of – one of them is ExtendedForms.
It is a one-click countdown timer for your Google Forms and you can turn simple forms into assessments, exams, quizzes, or even recruitment tests. This addon is a must if you are from any of these professions – HR, school, or university representative. The add-on has easy configurations, just install the app, connect to the form with basic configurations, and your timer evaluation form is good to go. All the responses you get will be seen in its Dashboard as response graphs, and responses summary.
The add-on has the feature of Classroom Integration for evaluation purposes, you can create classwork assignments from the ExtendedForms dashboard. Besides, teachers can auto-submit and auto-import scores from linked Google Form to the created classwork. Further, they also provide the 'Email Customization Tool' feature for pro users, with this tool you can re-brand invitation emails and make sure that your institute shines amongst students.
Apart from the above features, it also comes with – control responses based on schedule (start & stop timer), short and vanity URLs, custom branding, and more. You must check out their website to get a hang of the add-on and features they have.
2. Form Presenter + Timer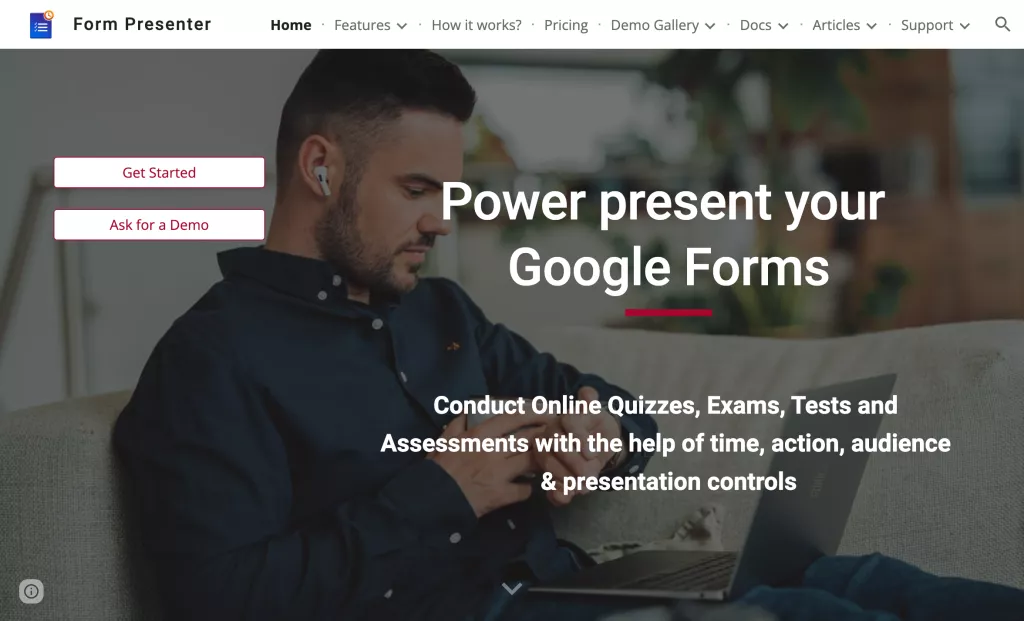 Form Presenter + Timer is another best Google Forms app to conduct assessments & exams. The add-on application presents Google Forms with various configurations for conducting online tests or evaluation forms for schools simple and fast. It helps to timify, beautify, and action control Google Form for making the best out of it. The app has various features like – Presentation Controls, Time Controls, Audience Controls, and Action Controls.
Based on these features, you can customize how you want to present it. Further, set and control the timer, and add breaks, as a teacher you can also restrict attempts, track students, restrict emails, etc. If you are taking an exam then you can also capture live photos of students, track focus for cheating, etc.
Apart from these features, it has features like 'publish and invite audience' where you can share a common link to all students, publish as coursework on Google Classroom directly, and compose and send custom emails. Furthermore, it provides branding/Whitelabel controls, dashboards & analytics, and collaborators. All these features enhance the functionality of the Google timer app and therefore you can see why it is one of the best Google form apps.
3. Form Publisher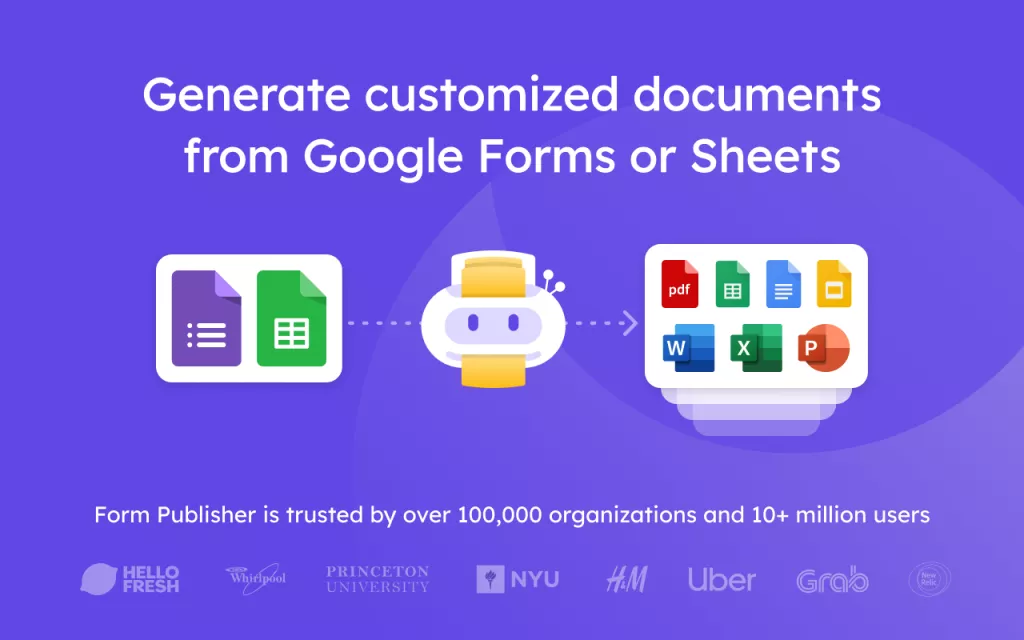 Form Publisher is a document generator or document merge solution that works with either Google Forms or Google Sheets. It helps you to generate customized documents from Google Forms by turning form submission data into beautifully designed PDFs, Google, or Office documents. With the Google Forms add-on, you can also send them via email to be approved and signed online.
Form Publisher is a perfect add-on for many use cases, however here it is useful for intake/assessment/release forms – whether you are an educator, or any professional, can create workflows to collect form information and generate documents for each step of students/client interaction. Besides, you can use it for audit/evaluation forms for schools/universities – turn feedback information into feasible documents that can be easily reviewed.
The Form Publisher has many benefits and features other than merging documents. You can create custom templates, set up approval workflows, automate sharing, HIPAA compliant e-signatures, inline images, and more. It streamlines tedious business processes through automated document generation workflows.
4. Doc Appender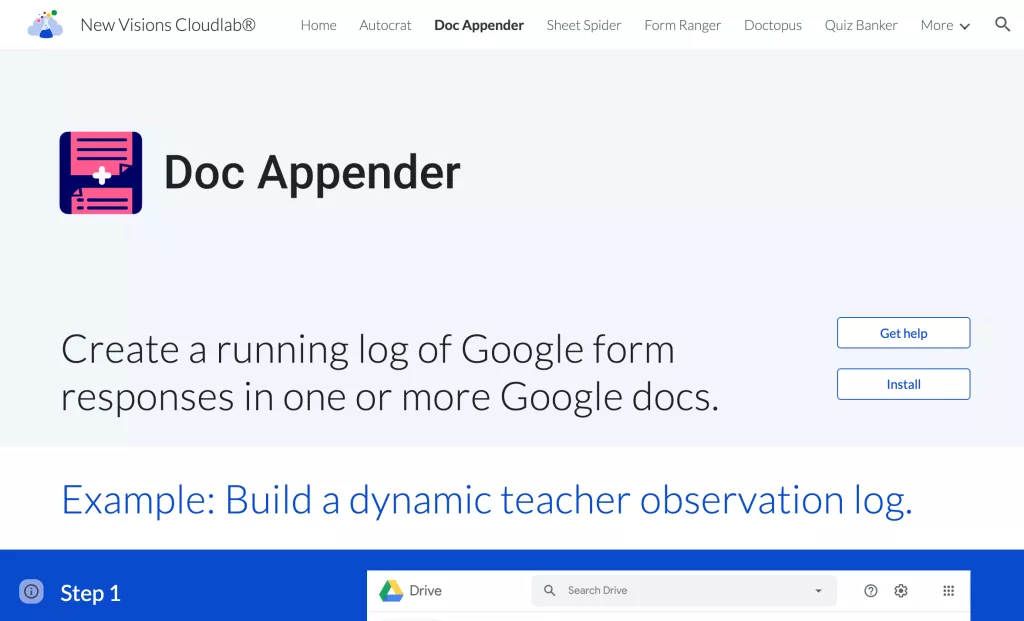 When creating evaluation forms, it is sometimes necessary to have a record of all the responses. Doc Appender is one such helpful evaluation form for schools/universities. It appends (add/include) Google Form question responses to the bottom of selected Google Docs. You can use Google Forms to select which Doc(s) to append from a checkbox, list, or multiple-choice question.
In other words, after launching the add-on in Forms, select a folder from Drive that contains the document you want to attach responses to. Then, choose the question from your form that will serve as the doc picker. Including the ability to use checkboxes or a 'select all' question to append a sing form response to multiple docs. Further, the add-on lets you choose which question responses to append and leave certain out, which can be a powerful way to keep 'private' feedback on the same doc separate.
You can use this app to keep a Google Doc per student to log a running record of observations around particular skills. Further, it can be used for documenting teach inter-visitations, where teachers get a single running document of all visits to their classroom. Also, great for forms-based rubric assessments on student documents, it's integrated with Google Classroom. Lastly, it is great for peer review protocols on student docs.
5. Mail Merge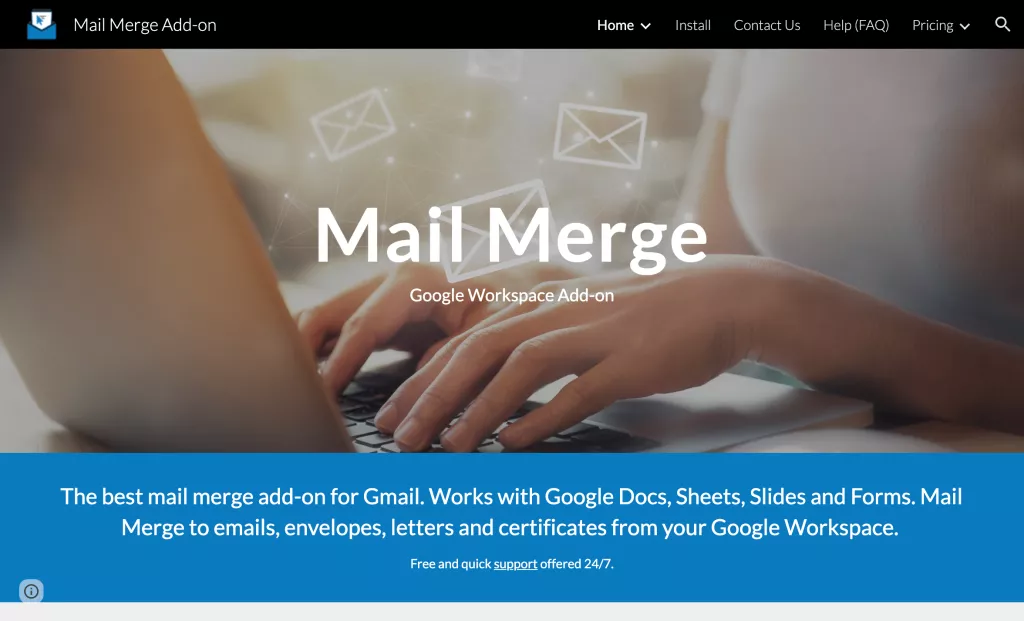 Creating customize emails or letters and sending them to a mass audience is quite a hectic task for teachers. With the Mail Merge add-on, you can easily personalize email, letters, envelopes, and certificates. Plus, auto-send emails on a Google Form submit. Mail Merge is the best tool for Gmail that works with Google Forms, Docs, Slides, and Sheets.
Further, the tool has some cool features like – you can schedule merge time for email, also have Cc and Bcc merge fields, and tracking merged rows. Apart from that, it – Add merge fields to the subject line, Mail Merge emails with a personalized PDF attachment. Generate certificates or application forms. Each document/form can have its profile picture. The tool also includes QR codes and barcodes. Mail Merge is compatible with SMTP service
You can use this add-on for a lot of use cases, whether you want to send invites for zoom calls, webinars, or get potential clients with a custom email campaign. Further, manage PR campaigns, and send periodic newsletters or automatic email messages to students once they have submitted their exam or quiz.
6. Form Notifications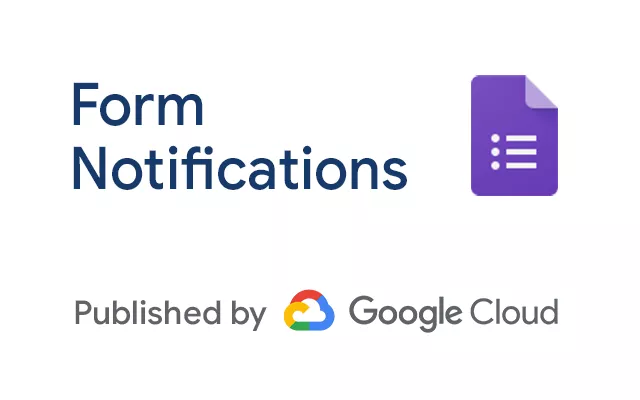 Form Notifications is an app for automating email notifications to Google Form users. It may seem simple (which is really cool because there's no time to delve into complex apps) but it has the ability to generate an email message to students after they complete the form. It also enables you to set up an email to notify the students of their next step after completing the form. If you have created a portion of course assessment forms or basic assessment tests upon form completion.
Besides, it also allows you to configure messages and send email notifications that are delivered to you (owner) or other collaborators on predetermined response thresholds.
Further, if you want to gamify your classroom and email a badge of completion once students complete Google Form. You can easily create badges in Canva, export, and upload them on Google Slide, then configure the add-on to send an email with a link to the badge of completion.
7. QR Code Generator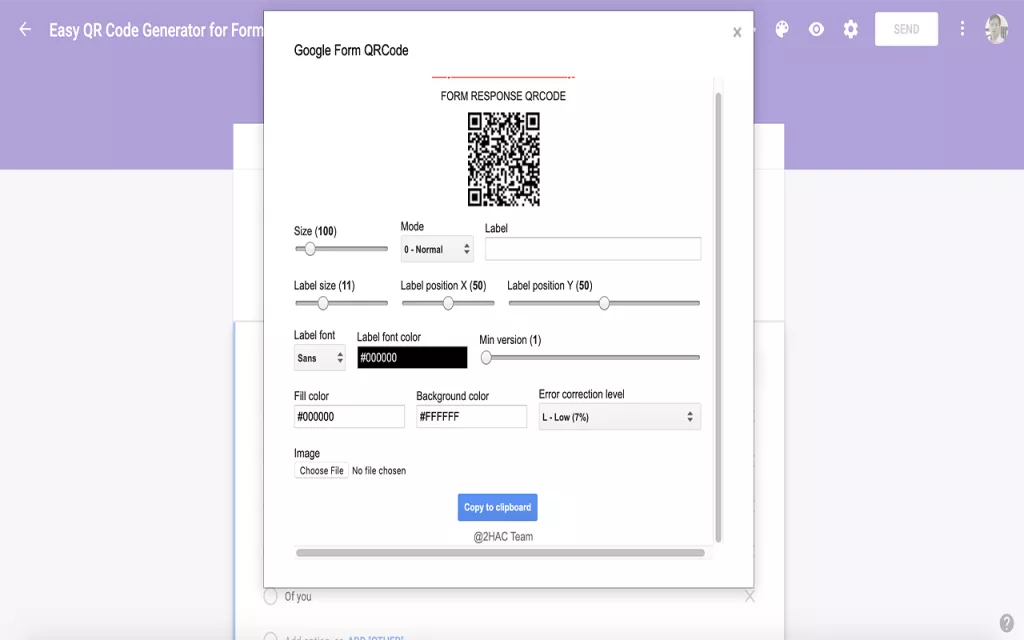 As the name suggests, this add-on is used to scan and easily open your Form with their mobile devices. Forms have long web addresses and it would be unreasonable to expect students, and respondents to type in the whole thing correctly (if you've shared the link on a different website, from where links cannot be opened like Linkedin). You can make the Google Form link smaller by using QR, it is a simple add-on that helps you instantly generate & customize the QR of the URL.
The app comes with main features like – customize QR code attributes (like content, background color, label, etc). Further, you can track your QR via the 'Responses' tab in the form, resize QR on the fly without changing the quality, and support multiple languages. Apart from these, QR can be added to Excel, Word, or Powerpoint by saving the QR to a file and pasting it to other documents. A perfect add-on for anyone who uses Google Forms.
8. Form Timer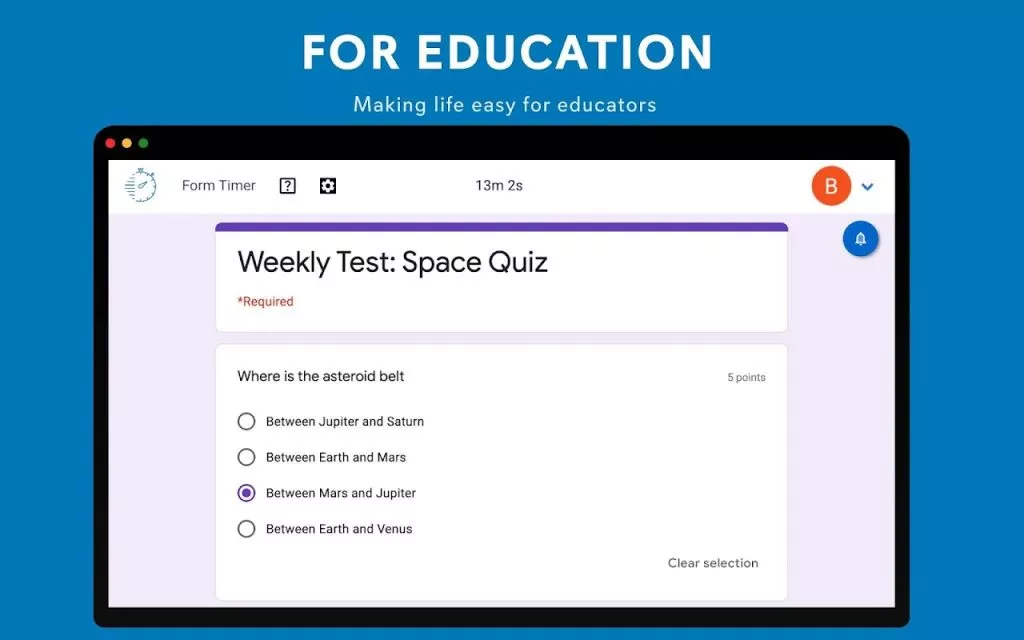 Whether you are an educator or someone who is using Google Forms for assessments, then this app is really helpful. Form Timer is a Google Timer app that can help increase your productivity by adding a countdown timer or deadlines. The add-on is highly configurable and supports thousands of respondents at a time by embedding a timer. Form Timer comes with its sets of features other than, configuring the assessment duration, and controlling form start and end time (deadlines).
It lets you share a single test link with multiple people via multiple platforms. Apart from these, it is customizable you can use your own logo, background, colors, instructions, and configure a welcome page. In addition, you can monitor candidate submission, get candidate quiz scores, and export data in various formats. Form Timer is used and liked by thousands of users/clients that want timers that are easy to set up and overall easy to use.
9. Portant Data Merge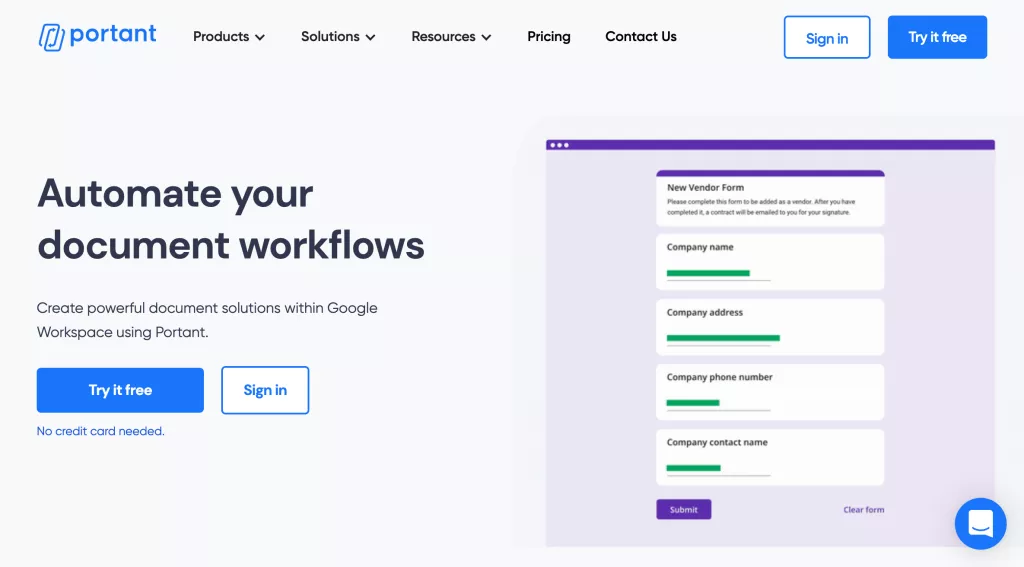 Portant Data Merge is developed to connect Google Forms & Sheets with Docs and Slides to create custom solutions for your specific needs. The Google Form add-on is a document automation solution that removes manual data entry. Portant Data Merge automatically creates new documents when Google Form responses are submitted or Google Sheets are updated.
It helps you to create custom email messages (Mail Merge), email notifications & document sharing through your email. Further, it allows you to automatically save documents & presentations as PDFs. Plus, you can create approval workflows using the 'Form Edit response' links and email conditional logic.
This Google form add-on is perfect for education & teachers – evaluations, progress reports, certificates, etc. Automate the boring stuff and create a powerful document solution within Google Workspace using Portant.
10. Advanced Summary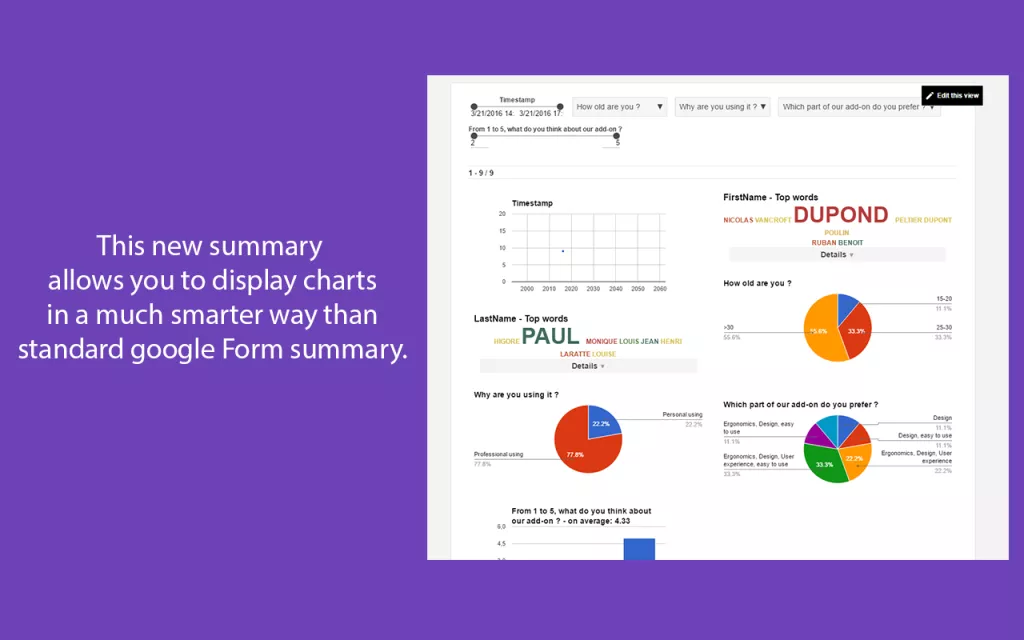 Yes, that's right Google Forms have its in-built response summary. However, if you want to add a dash of customization, you can turn to the Advanced Summary add-on. It allows you to dig deeper into your Google Forms responses, using intuitive filters you can segment data that are important. It is perfect for use cases like academic research, education, and businesses. The add-on has more features to it than just filters and search.
You can embed your Advanced Summary to any site including, Google Sites, Microsoft Teams, Wix, WordPress, etc. Apart from that, you get automatic charts, where the add-on finds the most appropriate chart type for each Google Form section. Further, the app is connected to spreadsheets, you can customize the spreadsheet (like change keywords) to change any chart type. It is a good add-on for schools and universities, especially if they use Google Forms for evaluation.
Conclusion
Google Forms is a wonderful tool for educators! And these add-ons prove just that. These were according to me the best add-ons for evaluation forms for schools. However, my best may or may not be useful for you, based on your specific needs choose the add-ons. To know more about these add-ons or others, you can visit Google Workspace Marketplace.
Give these add-ons a try and let me know what you think! What add-ons do you use and if they are the best? Let me know that as well in the comments section. I would like to explore that as well.