Google Forms and SurveyMonkey are popular online survey tools used by businesses, organizations, and individuals to collect data and feedback from their audience. While both tools serve the same purpose, there are some key differences between them. In this Extended Google Forms vs SurveyMonkey detailed comparison, we'll look at the features and functionalities of each tool to help you make an informed decision on which one to choose.
Before testing these survey apps to compare them, I anticipated that they would have both advantages and disadvantages. However, upon exploring each app, creating sample surveys, and experimenting with the available features, I realized that I'd underestimated their capabilities.
Both are said best survey creators in the market and in different scenarios either of them succeeds the other. Here is what I discovered –
Google Forms provides a range of features at no cost.
It is simpler to begin using Google Forms.
Google Forms has a range of third-party apps to use
SurveyMonkey provides a broader range of features for creating advanced surveys.
Survey Monkey offers support to you in the survey process
Comparison Overview
In this comparison of Google Forms vs SurveyMonkey know that despite being a tool with the same purpose and intent both has their own set of audience they tackle with. And a Google Form user might be happy with what Gforms has to offer to them and the same for SurveyMonkey users as well.
In this Google Forms vs SurveyMonkey article, we are highlighting their pros and cons. But that doesn't lessen the impact of both tools' efficiency in the market. Let's see the overview comparison of both survey forms builder based on a few categories. 
Category
Google Forms
SurveyMonkey
User Interface & Design
Google Forms is known for its clean and minimalistic design,
it easy on the eyes and makes it easy for users to make the most use of it.
⭐️⭐️⭐️⭐️⭐️
SurveyMonkey offers a more customisable interface.
Though in terms of design it is bit more advanced than Forms but interface is not as easy as Google forms but still intuitive
⭐️⭐️⭐️⭐️
Pricing
Google Forms is completely free to use and its third-part apps are as well free to install (except for some apps internal features)
⭐️⭐️⭐️⭐️⭐️
SurveyMonkey offers both free and paid plans.
SurveyMonkey's free plan has limitations, including on the number of questions and responses, while the paid plans offer more features and functionalities.
⭐️⭐️⭐️⭐️
Features
Google Forms offer good range of features that are easy to use. Apart from that it offers add-ons for extension of forms functionality.
⭐️⭐️⭐️⭐️⭐️
SurveyMonkey offers some advanced features including advanced survey logic and randomisation.
SurveyMonkey also offers a larger library of question types and the ability to create surveys in multiple languages.
⭐️⭐️⭐️⭐️⭐️
Customisation
Basic customization for layout and design
⭐️⭐️⭐️
Bit more advanced customisation with range of options to add logo, background, & themes to the survey.
⭐️⭐️⭐️⭐️
Data Analysis:
Basic analytics but useful enough for users and form data.
⭐️⭐️⭐️⭐️
Survey Monkey provides more advanced analytics. Multiple ways to view, save, and customise data.
⭐️⭐️⭐️⭐️⭐️
Google Forms is a great & easier tool to get started
Google Forms is a great beginner-friendly survey forms tool to start with. The only thing you need to do in order to start with the google forms app is to have an account with Google. If you already have a Gmail account then, the process becomes direct with no extra signups, fishing for confirmation, and all that. The power of simplicity!
After accessing the Google Forms dashboard, you have the option to either begin a new form from the beginning or select from 17 basic templates. Although the selection of templates is not extensive, there may be a suitable option depending on the nature of the data being collected.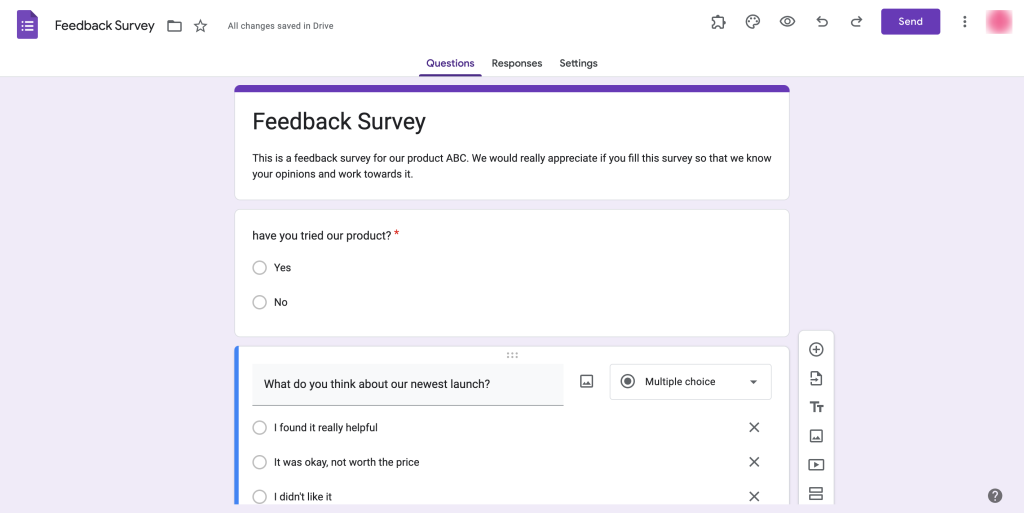 Google Forms has around 13 question types to choose from including the image & video question features. You can easily search and add images/videos from Gdrive or your device, or even from the internet to upload them.
The process of adding different questions is very convenient and quick, just click on the '+' from the right-side field box and choose from the question types from the question field itself.
In terms of Design & Customization, Google Forms is extremely limited and basic, you can change the background color, header image, and fonts for questions, titles, & answers (however, fonts are very limited). But beyond that, there isn't much-advanced power. 
Besides, in terms of Usability, Google Forms has a clean and simple layout. Surprisingly, it is more user-friendly and the process of building the forms is simpler than the SurveyMonkey tool. 
Compared to SurveyMonkey, Google Forms not has advanced data analysis and export features. But it does the work and is good for anyone looking for basic charts & graphs or data in spreadsheets. 
It provides a summary of the responses, individual and questions based responses, further Gforms can be linked to Google Sheets to export data in spreadsheets. 
Unfortunately, Google Forms doesn't provide integrations as Survey Monkey does. However, it does have third-party apps in Google Marketplace that can be installed and used with Forms.
Google Forms offers access to numerous third-party applications
Google Forms is a simple tool with basic features – but it absolutely gets the job done! For some, it can be better than SurveyMonkey because of its basic functionalities and no pricing cost but for others, it may be limited and not worth compared to SurveyMonkey. It's all opinions and needs.
But one thing that Google Forms and all other Google tools offer for free (excluding the paid features included in individual apps) is third-party apps integration or "add-ons." There's a Google Workspace Marketplace that consists of thousands of add-ons compatible with all or some of the google tools and can be freely installed in each tool.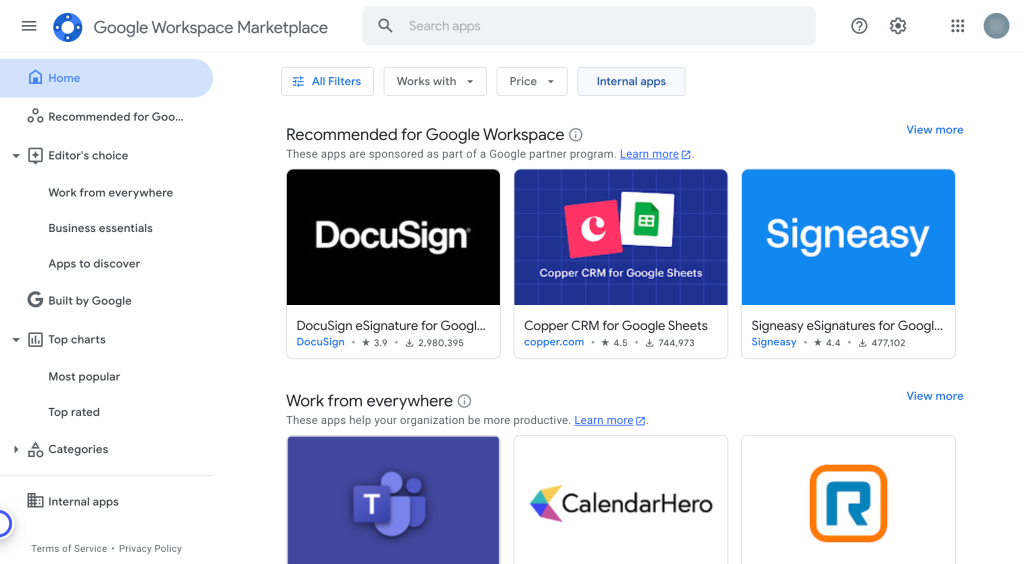 These third-party apps range from productivity category to education and more. Depending upon what users want to add as extra features to google forms, they can install add-ons that integrate with Gforms. One such add-on is ExtendedForms app, it is an education purpose add-on that installs timer and proctor features in Google Forms.
So, if you're an educator or anyone who uses Google Forms for creating quizzes, assessments, or forms that require a countdown timer or to set date deadlines to use Google Forms, then this app is great to use.
Apart from that it has other great features that just further help in advancing the forms created using google forms. Whether it is a custom support email feature for individual forms or forms under teams, enable/disable copy-paste or right-click feature, add a custom welcome message in different languages, or it is classroom integration. ExtendedForms has it all and more to look for.
SurveyMonkey offers support to you in the survey process
SurveyMonkey is another best survey creators in the market that has a lot to offer its users. Unlike Google Forms, SurveyMonkey has so much bubbling underneath the surface. You'll need to explore and experiment but eventually, you'll find any feature you could possibly want. In Google Forms vs SurveyMonkey, another major difference you'll come across is the pricing feature, it of course has premium pay for many features.
In Survey Monkey you can start creating surveys from scratch or it has a 'Build it for me" feature that allows you to choose the type of survey you want to create. All you have to do is tell SurveyMonkey your targeted audience, what your objective is, select the template, give them the company name and logo, and the rest of it app takes care of.
For instance, I chose Parent Feedback Survey, and within seconds the app created an 11 questions survey that was good enough to send. It is of course customizable, so if I need to I can customize questions, edit or delete, or even add another question. The Genuis Assistant panel helps in customizing, making it a better survey – you can add more questions, remove branding, or change appearance.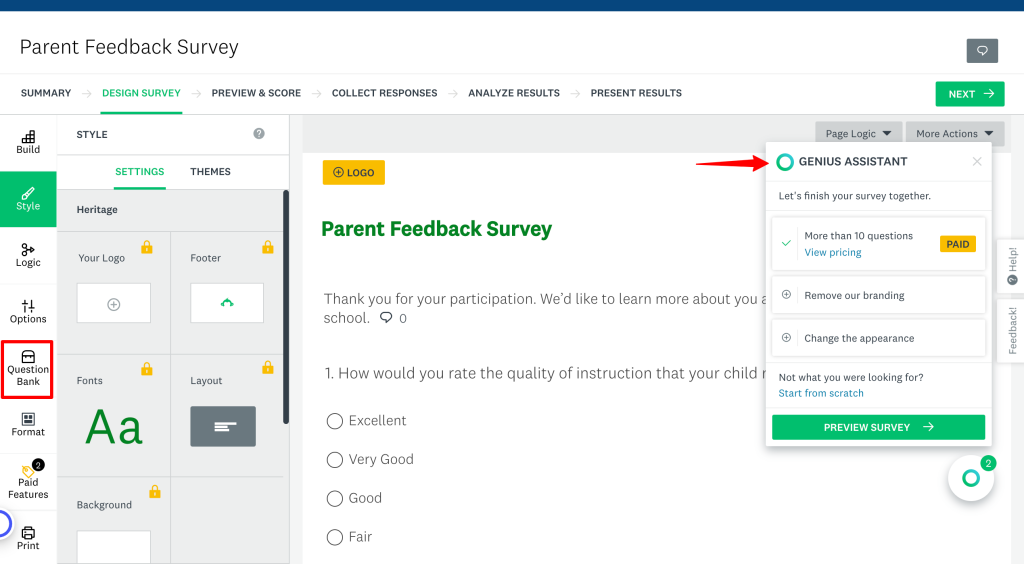 Even if you want to create a survey from scratch, you can still take advantage of SurveyMonkey's 'Question Bank.' It helps you generate questions for different categories, you can change the questions if you don't like the results (this feature comes with the free plan but allows you to include only 10 questions).
Another reason, SurveyMonkey works better for advanced or serious survey creators is that you can recycle previous questions and use them in another survey. Instead, of duplicating the same survey and editing from there like Google Forms.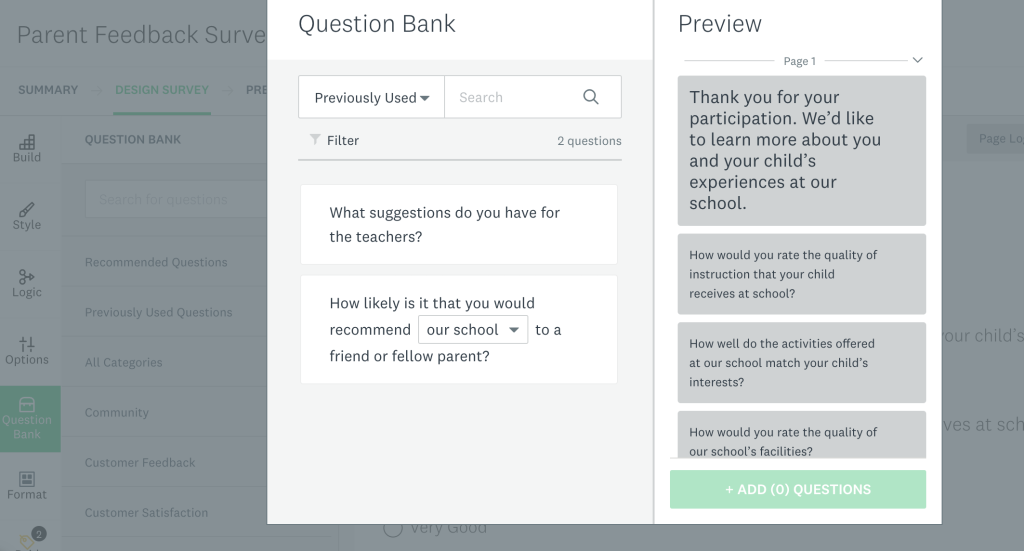 Survey Monkey does all the heavy lifting for you, hence why it is so popular and great for survey creators.
SurveyMonkey provides a broader range of features for creating advanced surveys.
Unlike Google Forms, SurveyMonkey offers a wide range of native integrations like MailChimp, Zapier, Google Drive, etc that you can connect with SurveyMonkey and extend its functionality. 
Both tools provide logic and branching capabilities. However, SurveyMonkey offers more advanced branching options than Google Forms. SurveyMonkey's survey logic is more nuanced and the advanced branching logic set conditions and actions for any survey questions. To reduce order bias, you have the option to randomize your questions, pages, or blocks of pages for the respondent.

As we know, Google Forms also provide basic data analysis capabilities, but SurveyMonkey beats here as it offers more advanced analytics department and basically it is quite eminent for its data analysis feature. 
You have the option to choose from eight different chart types, and customize the color and label of your charts for each of your answer choices. SurveyMonkey allows you to export your responses in various formats such as PDF, XLS, CSV, PPTX, or SPSS for data saving purposes.
For Design & Customization, though SurveyMonkey doesn't wide choices but it is a bit more advance than the Google Forms.
SurveyMonkey is not as quick or has ease interface than Google Forms. Unlike Google Forms quick setup process, SurveyMonkey has onboarding process, it a bit crowded and so it's hard locating every features. So the attention can be diverted while creating survey.
Google Forms vs SurveyMonkey: Which one should you use?
It is evident here that both are completely different and cannot be compared, kind of like apples and oranges. Google Forms is a free and simple tool and Survey Monkey is a robust paid tool. In this Google Forms vs SurveyMonkey, choose either of them based on what you're looking for. Like,
Google Forms app is the best to use for personal or small-scale businesses, wants budget-friendly, is already a user of Google Workspace, and doesn't want to stack up more tools and just create simple forms.
On the other hand, choose Survey Monkey if you're a medium-large scale business that uses surveys for marketing purposes. Or you are required to create advanced surveys with advanced features like skip logic, A/B testing, branching, etc.
That is not to say that Google Forms can't be sort of advanced in their features, though they'll require certain third-party apps integration to make it work. But Gforms do have the scope to advance themselves.
Like ExtendedForms, as we talked about it previously, it is a great add-on for schools, institutions, or anyone who needs a timer, proctor, and team management feature. The add-on is a very robust app to be added to Google Forms and used. Besides, its constant upgradation tries to always keep users up-to-date and satisfied.