There are plenty of ways to make good use of Google Forms. The most obvious ones are surveys, tests, and quizzes, but apart from that, you can also use forms for specific purposes. Just as I am going to talk about one such purpose here in this article. This post will tell you how to use Google Forms for registration for webinars or any events.
You can create google forms for registration for various different reasons like registering your attendees for an event or making it a quiz to understand your attendees' preferences, etc. As we all know Google Forms is one of the most used online form builders for various things and using google forms for registration is one of them.
We have explained the process in 6 easy steps guide, so let's get into the article. Before that, let's look into the few advantages of online event registrations.
Benefits of Online Event Registration
Here are a few advantages of using online registration forms or systems –
It saves time for both organizers and participants. For organizers, you don't have to spend time much collecting and sorting form data. On the other hand, for participants, it becomes easier to sign up online from anywhere.
It can help in securing online payment processing and for attendees conveniently pay online registration fees for events.
Online registration improves marketing efforts, with the help of the collected contact details of participants you can notify them of future events. Also, track their responses or actions.
It helps you build custom, in-depth reports from the insights you obtain. Pertaining every aspect of an event, ultimately shapes how you plan & market an event as well as other upcoming events.
Guide on How to use Google Forms for Registration
Create the Form
To create google forms for registration you must first visit the Google Forms site, or go through the G-Drive > Google Forms and select the event registration form template. It will open up to a form with pre-made questions and a header image that you can modify easily. I will explain that in further steps. Besides, you can even choose a 'Blank Form' for that matter.
Add Online Registration Questions
Key questions to consider if you want to collect the information for webinars or any event.
Question Types for Event Registration Form
First & Last Name
Contact Details – Mobile No. & Email-id
Name of their organization
Social media handles
Any food allergies or dietary restrictions?
Session and event preferences
Which event will you be attending/participating in? (if there is more than one event happening)
So, the next step is to add questions to a registration form for a webinar/event. If you have selected the event online registration Gforms template then you will see a few basic questions pre-added. If you find them appropriate then that's perfect, you can add more if you want. However, if you feel like you want to change it.
Don't forget to change the title description according to your requirement. For questions, click on the specific question tab and it will expand & give you options to modify. Select the question and make your changes.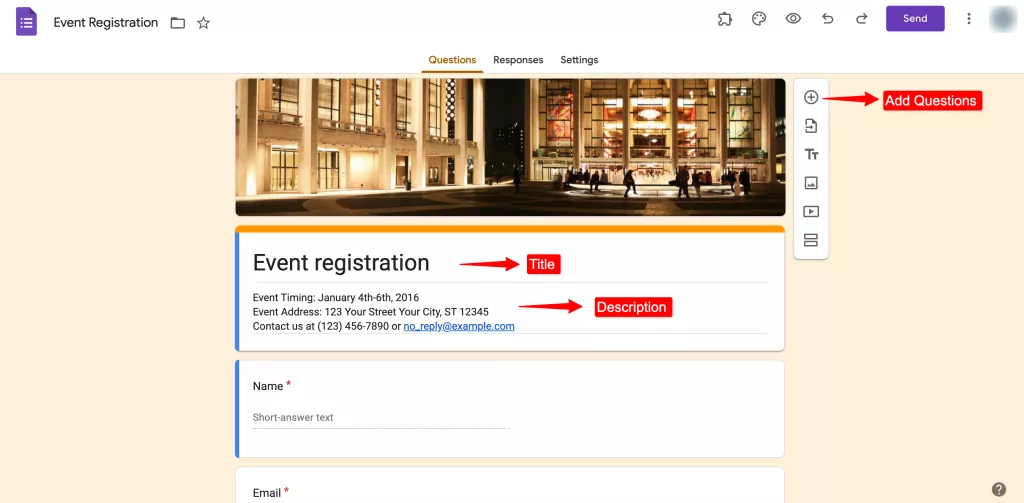 You can add different question styles, like short paragraphs, checkboxes (especially if there are multiple events on the same day or anything that requires choosing multiple options), multiple choice, dropdown type, date & time.
Google automatically selects the answer type based on your question but you can change it from the dropdown menu.
Under the 'date' option, you get to choose to include time and/or year and for the 'time' option you get to choose time or duration. For that, select the date or time question type and then click on this '፧' icon at the bottom of the question field. Further, you can duplicate the questions, trash them, and even make them required. Apart from that, you can 'response validate' your short/long paragraph questions.
You can create answer validation for numerical, text, regular expression, or length and add custom error text that will be seen by your respondents if they don't write answers based on a certain category. Click on the '፧' at the bottom and select 'Response Validation.'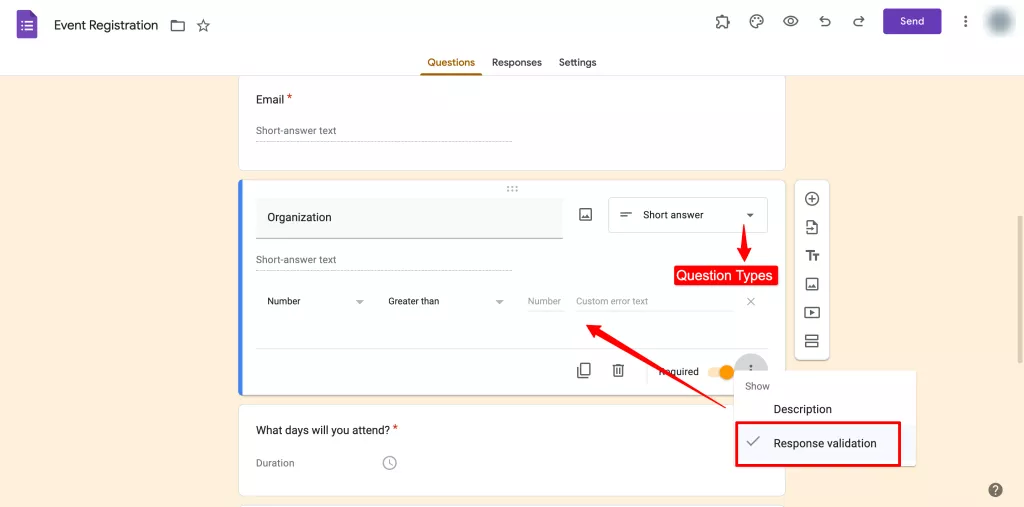 Configure Settings
Once you are done adding questions, it's time to tweak the settings of google forms for registration. Go to the 'Settings' tab at the top navigation bar, from there you can configure all the main settings. Like, under the 'Responses' option, enable the 'collect email addresses' option because they are needed for further communication.
Then, you can enable the 'limit to 1 response' option as well. Under the 'Presentation' option you can edit the 'confirmation message which will be seen after submitting the form. You can also make all your questions default by enabling the same option.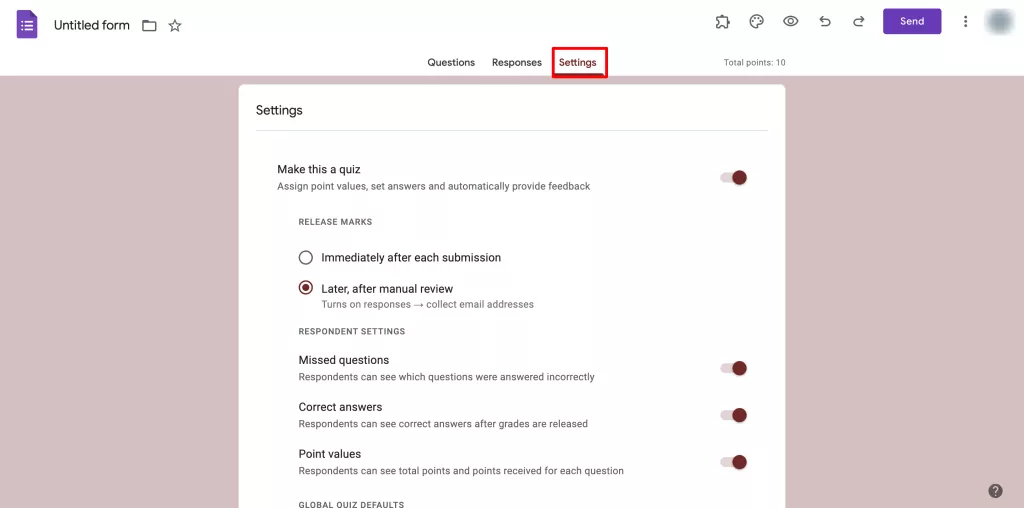 Further, if you have a team for an event/webinar and want to share the form responses with them you can add them as a collaborator. To do so, go to the 'More' option at the top right corner with this icon – '፧' and click on 'Add Collaborators.' Add people with google accounts and then they will also be able to access your form.
Customize Forms
This is an optional step, Google Forms for registration template is quite well-built in itself. However, if you want to make changes to the form like header image, and theme color, then you can do so under the 'Customize Forms' option.
Click on the Customise Theme at the top bar in the color palette icon. A theme dialogue box will appear on the right side. From there, you can choose the text style and font size for the header, questions, and text (description), there are limited fonts to choose from.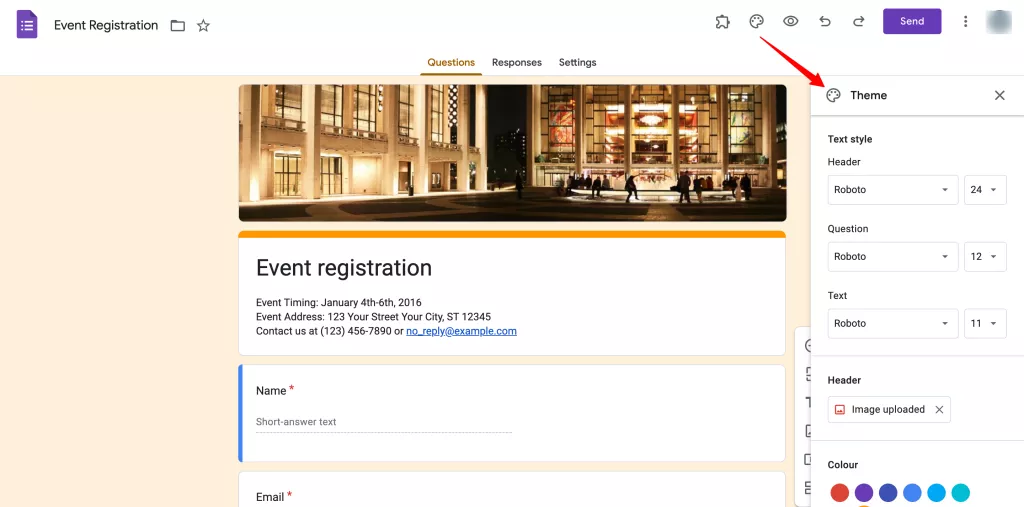 Furthermore, you can choose your own header image, either selecting it from the present theme options or uploading it from your device. Then, add a custom theme color and background color effect.
Preview & Send Forms
Once all the above steps are done, it's time for you to preview your form to see how it's looking. And if satisfied, share the forms with your audience. To preview the form, just click on the 'eye' icon at the top bar. Then to share the form, click on the 'Send' button.
If you are using your business Google account, then you'll get an option of – automatically collecting respondent's company email addresses, you can enable that option if you want to default collect email-ids. You can send forms three ways, either through invites, links, or embed HTML. Send invites through email and even attach forms with them.
Then you can copy the link and paste it anywhere where your audiences are. Lastly, if you want to embed your form on your web page, click on this icon – < >, copy the HTML, and embed it on your page as a contact form.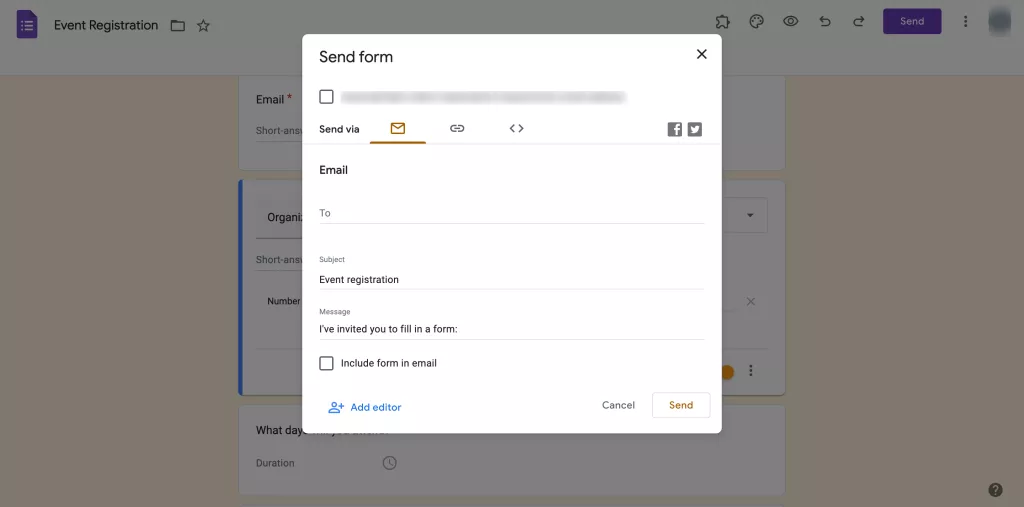 Also, once your deadline is over you can also stop accepting responses, in the 'Responses' tab you will see an option of 'accepting responses' just disable it, google forms will then not accept any further responses.
Collect & Analyze Form Responses in Spreadsheet
The last step I am mentioning here is to tell you about one extra feature of Google Forms. It is that you can connect Google Forms with Google Sheets so that you can collect data in an excel sheet and you can share that sheet with anyone. It will help you to further analyze the attendees and based on that data, you can work on making your registration process easier.
So, for that, go to the 'Responses' tab in Google Forms,
Click on the spreadsheet icon and a new sheet will be made
You can also select the response destination, click on three dots,
Navigate to the 'select response destination,' create a new sheet or add it to any previous ones.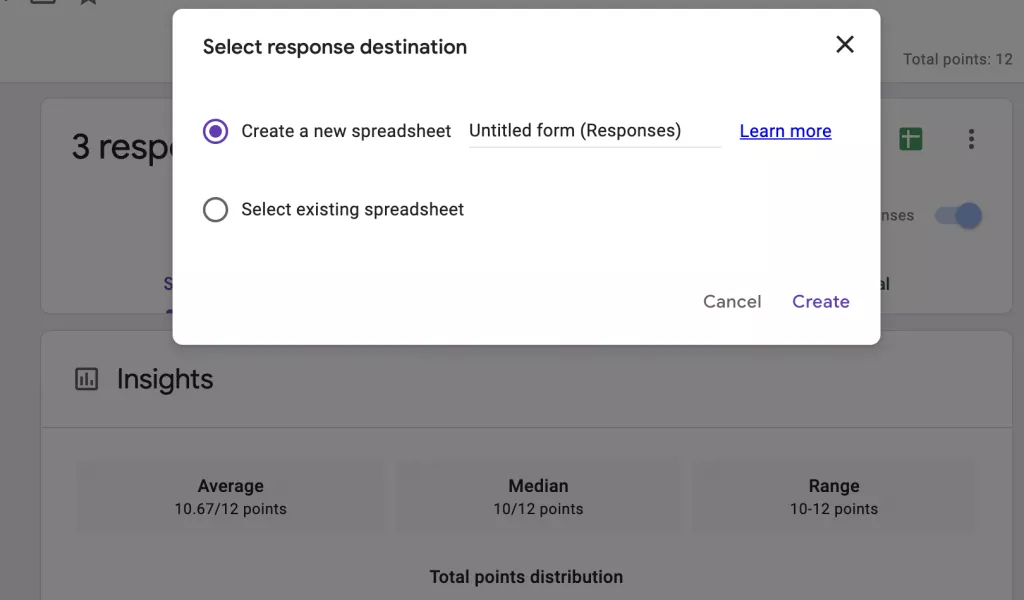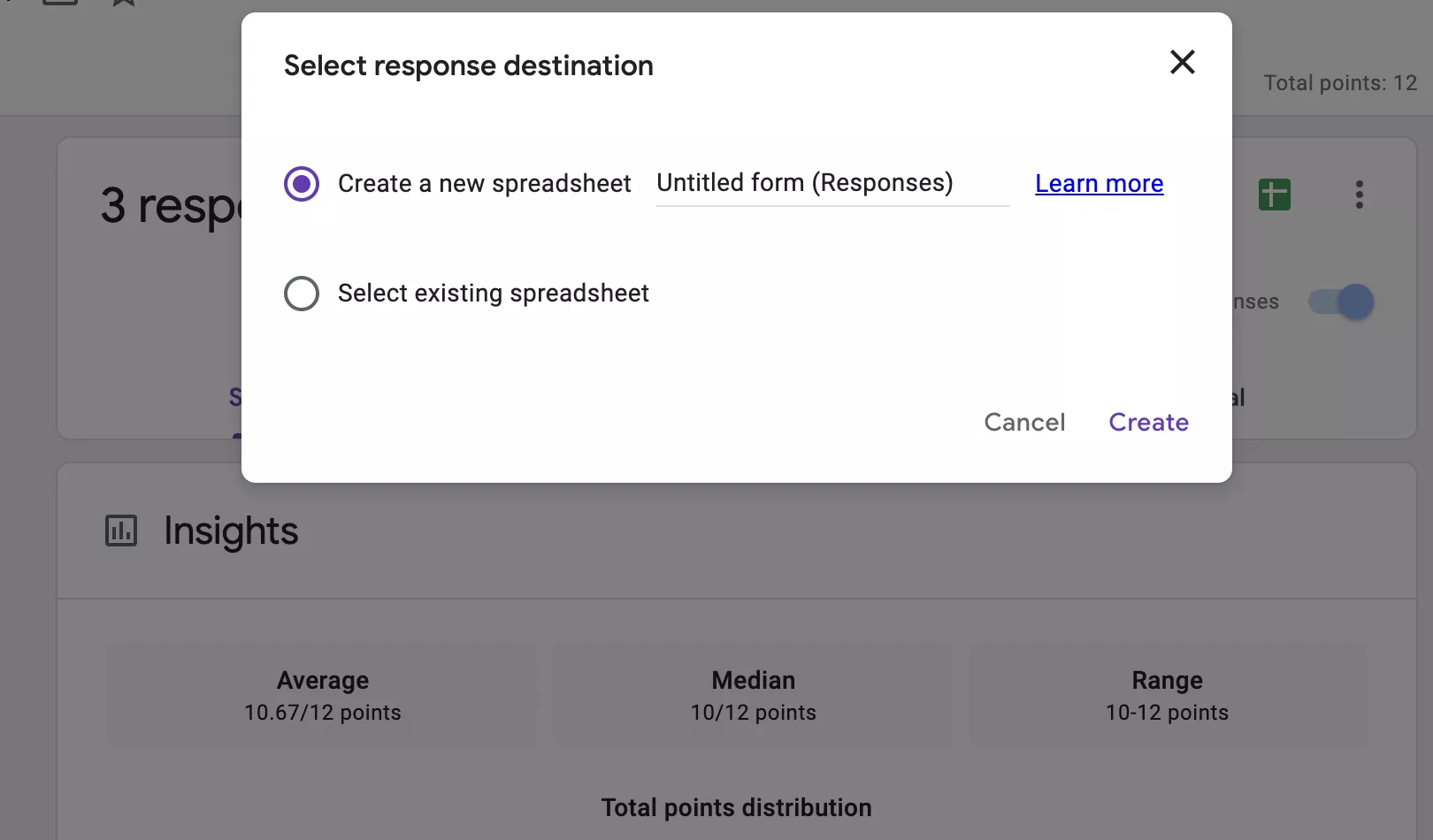 Bonus Point – Add Timer add-on in your G-Forms
Now that you've created a great google form for registration, let me tell a (not-so) little secret ingredient for your Forms! What if I tell you that you can add deadlines to your Google Forms, add a countdown timer (especially if you are creating quizzes or tests), auto-submit form, and customize your brand, all with this one add-on? Quite interesting, right? It is none other than the ExtendedForms add-on.
ExtendedForms is a timer google forms add-on that not only adds a timer to your forms but also schedules deadlines (start & end dates). It has different features apart from the mentioned ones like
email customization -you can send invites with a custom invitation message,
brand customization, it allows you to add brand URL, logo, and profile picture
Apart from that, you can add welcome messages in different languages that will be seen before starting the form
Create a Team and add team members, and even assign the role of team manager.
It comes with Google Classroom Integration, which lets you create classwork, auto-score, and auto-submit work right from your ExtendedForms dashboard.
There are many different features that enhance the use of this app. You can check out the website and try its free version that will not include every feature but you can always upgrade the plans.
Frequently Asked Questions
What is the online registration form?
An online registration form is a way to collect registration information for any events like webinars, seminars, concerts, etc, and contact attendees for further information, and even for registration fees. Besides, the purpose of the online registration system/form is to be able to register & connect with attendees from anywhere with ease and plan out event.
Can I use Google Forms for event registration?
Yes, Google Forms is great to create online registrations for any sort of event, because of how easy it is to build out fields and send out invites quickly. Additionally, you can customize the look & feel of the form, and match it with your branding with the help of add-ons that gives you extra flexibility with your form.
How can I create an online registration form for free?
There are various ways to create an online registration form, however, Google Forms is one of the best tools for creating an online registration form for free. It is an easy-build tool, that has a pre-built template for event registration. You can easily create the google forms for registration, just have to sign in to Google form, add questions, customize it a bit, and share it with your audience. I have written a step-by-step article on it that you can check out.
Wrap Up
This step-by-step guide has explained how to use Google Forms for registration. It is the most uncomplicated way to create an event registration with google forms to send to attendees. Even if you are not familiar with Google Forms and its features, you'll get the hang of everything within minutes. With this post, I have just made your learning experience a bit easier.
Besides, do you know you can also create job application forms in Google Forms, it is as easy as this one to create. Besides, Google Forms is used by many recruiters to create an initial screening interview process, it helps them streamline the overall selection process. Google Forms is a really helpful tool to create any sort of form! Do you want to know how to use google forms for recruitment? Then check out this article – How to use Google Forms for Recruitment? (6-Step Guide)