To all my amazing readers here, you are going to find out a little bit about almost everything that surrounds the terms 'pie chart' and 'Google Forms.' What I mean is that in this blog, we are going to in simple ways discuss how you can create a pie chart in Google Forms, or is that even a possibility?! So, Let's together cover that and a bit brief on pie charts in this article.
Here's a scenario for you! You've collected data using Google Forms. Now it's time for analysis. But wait, analysis using Google Forms has its own steps. Only after that do you reach the main (good) part, and what's that is you ask? We say, pie chart – that's our obscure answer.
Hold on, before you get vexed with this back and forth. We are implementing that the good part of the analysis on Google Forms is the pie charts because of their inclusive information. Therefore, the question remains how to create a pie chart in Google Forms?
With Google Forms, you can get an in-built summary of responses with graphs 7 charts. However, in the case of creating something professional like a pie chart, we will have to take the help of Google Sheets to create a pie chart using form data.
What is Pie Charts?
Before, skipping to the crucial part shouldn't we give a brief definition of pie charts?
According to the Internet, pie charts (or circle charts) are circular statistical graphic representations of data. It is divided into slices (like a piece of pie) to illustrate numerical proportions. In a pie chart, each section or arc length of each slice is proportional to the quantity it represents (whole pie).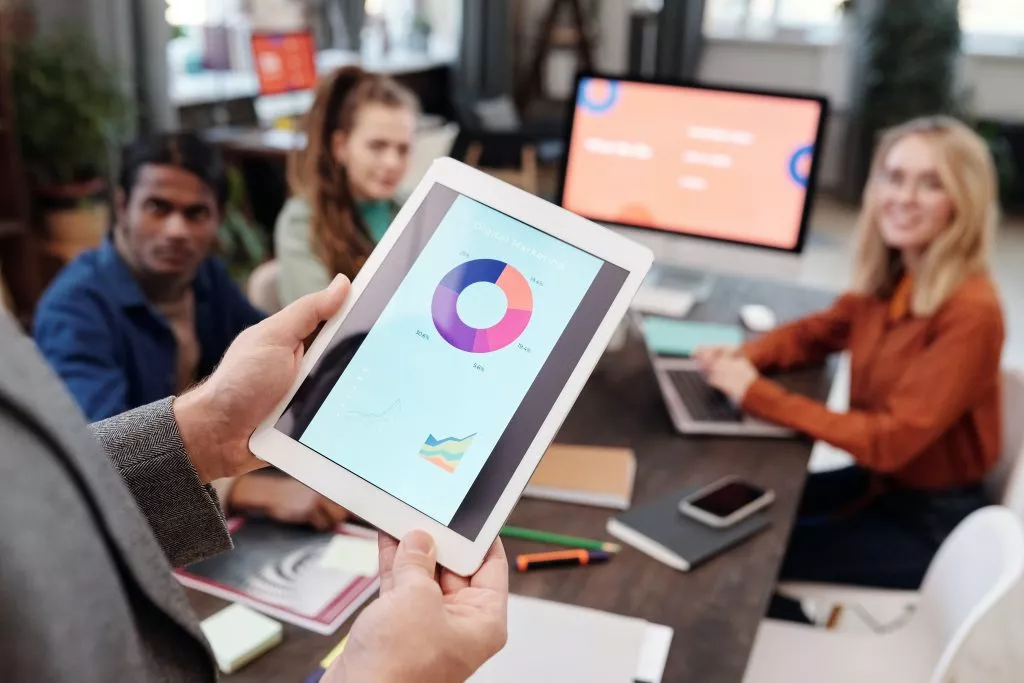 Simply put, the 'pie' represents 100% of the whole, while the slices represent a portion of the whole. The pie chart represents the information we seek in a structured manner to ease decision-making. They are useful when you need to show the breakdown of a whole into different categories. Or they are suitable when data visualization doesn't need to represent time. Besides, it is used in classrooms to business conferences everywhere.
It is often criticized for its complexity in comparing and interpreting distinct slices of data. Nonetheless, it's still used for in-depth analysis, and for that reason, we will see how to create a pie chart in google forms.
Can you use Google Forms to create a pie chart?
Google Forms has been for so long providing users with the possibility of creating questionnaires and conducting online surveys, polls, and quizzes. Besides, the forms permit respondents to freely submit their responses and can be used to conduct small-scale to large-scale surveys.
Although, google forms has a feature of an in-built summary that shows responses into comprehensible graphs and charts, still lags behind in terms of customization. Apparently, users are not allowed or have the option to change chart type in google forms nor you can change any titles/subtitles of a graph.
Although to make a pie chart (or customizable charts) with Google forms data, you can make use of Google Sheets. Integrated with Google Forms, Google Sheets can be used as a google pie chart maker, it can natively export the forms data and used it to create all kinds of graphs and charts.
How To Create Google Forms Pie Charts?
If you want to create a pie chart in Google Forms, you'll need to depend on Sheets to extract the data from Forms and use it to compile the pie chart. Following are the steps to guide you on how to create google forms pie chart.
Step 1: Open Google Forms to create a survey or quiz for which you want to make a pie chart.
Step 2: Once you are done creating and customizing your forms, send it to your audience.
Step 3: After you've received all the responses from your certain respondents. Then, in Google Forms, go to the 'Responses' tab, click on the 'Create Spreadsheet' icon, and your google sheet will be ready with all the questions and responses. It will open up to your Google Sheet with all the form data inside it.
(Note* You could also create a spreadsheet while creating the Google Forms, just click on the sheet icon and you'll have a sheet for that form. Afterward, all the responses you will get also be updated in Google Sheet.)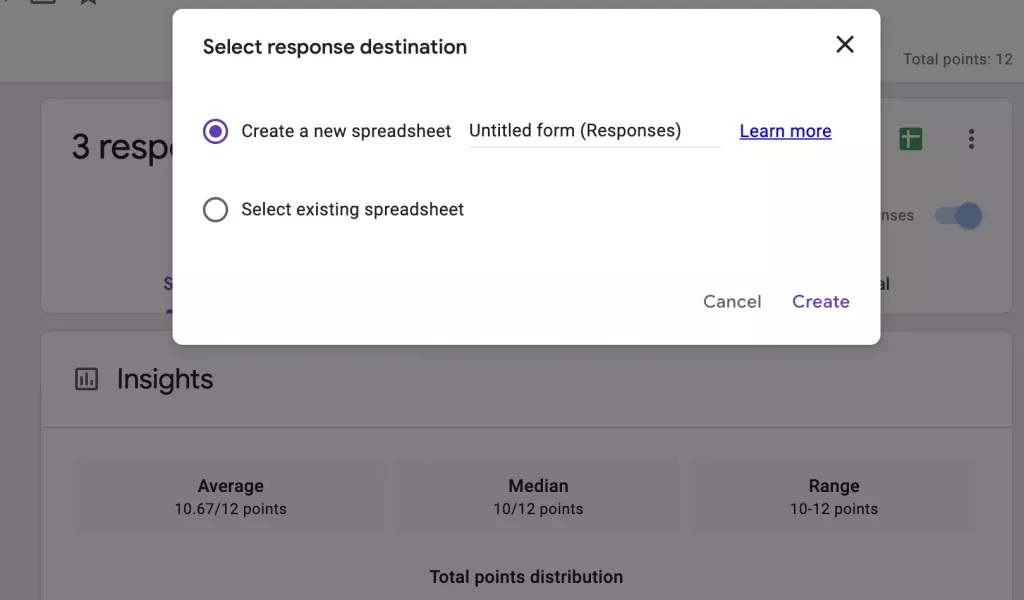 Step 4: Once in the Google Sheet, select all the data in rows and columns. To select a column, click on the top cell that contains the question and scroll it till the end of the responses or select an empty column and scroll upwards till you reach the cell of a query.
Step 5: Now, click on the 'Insert' from the toolbar at the top. From 'Insert' select 'Chart' to generate a chart. [Sometimes you'll not get the default pie chart diagram, so don't worry about it you can pick your own charts.] In the 'Chart Editor' dialogue box on the right side, click on the drop-down menu of 'Chart Type' and select a pie chart from the 'pie' section.
You can select from any of the given three pies. Then under the 'Setup' section
Step 6: Click on the 'Customise' tab in the 'Chart Type' and custom the pie chart according to your liking. You get the following options to customize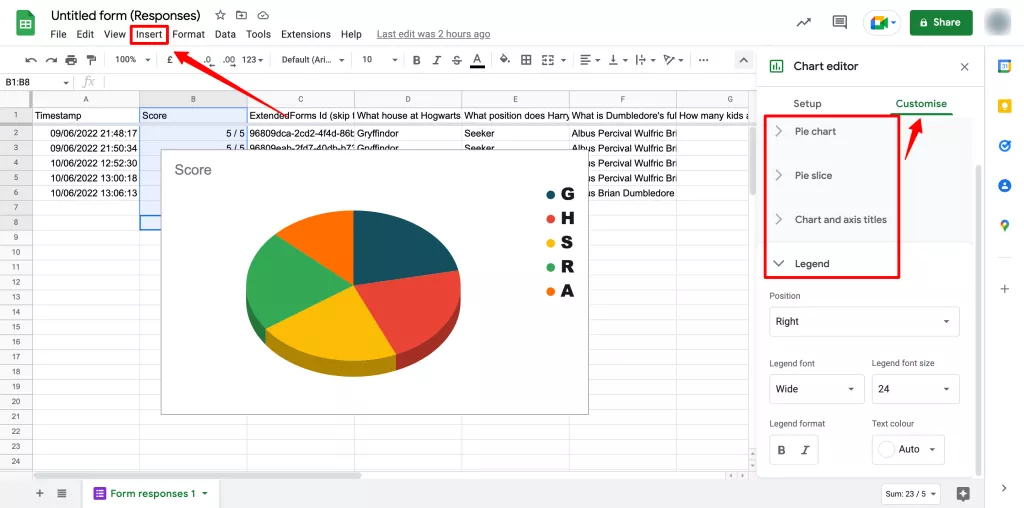 Chart Style: It lets you customize the look of the overall chart like background color, font, border color, etc.
Pie Chart: In this section, you can customize how the pie looks. Like, doughnut hole (it is the hole in the middle of the pie), border color (which you won't be able to customize in a 3D pie chart), slice label (i.e, each section of the pie), and more.
Pie Slice: It specifically targets each pie on the chart. It includes slice titles (you have to select any of the slices and then customize two options given), the color of the slice, and distance from the center.
Chart & Axis Titles: It focuses on the title of the chart to customize. It has options – chart title/chart subtitle (you can select any one of them at a time to customize), title text, font, font size, and so on.
Legend: It basically focuses on the label part of the pie that indicates portions of the pie. It customizes the look of the titles which indicates the sections of the pie. You can customize the position, font, font size, and text color.
And that is how you can create in 6 easy steps google forms pie chart.
ExtendedForms
We have for you to get the analytics of your responses (in graph format, you don't have to do anything) but along with that the advantage of a countdown timer. We are aware that Google Forms when it comes to timer features has lagged behind and still is its biggest limitation. However, with add-ons benefit, we have conquered that drawback as well.
ExtendedForms is a timer for Google Forms, you can integrate it with a 1-click countdown timer. Further, you can also track the responses of forms along with submission time in the app's dashboard. The app has other features like – brand customization, auto score import, teams feature (add unlimited users on Google domain, add team manager role), classroom integration, and much more. So, to add a timer and track the responses following are a few steps: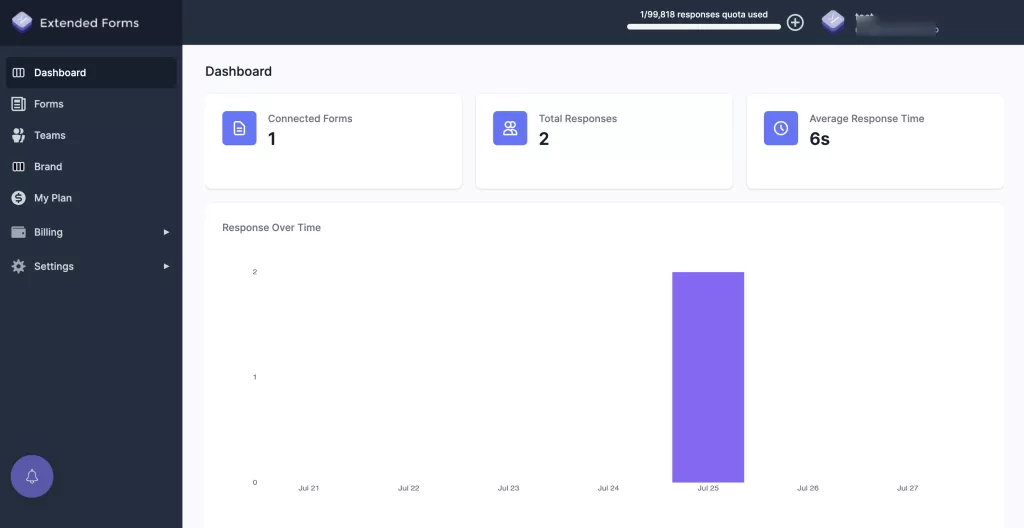 Install the add-on by navigating to 'Add-ons' through this '፧' icon,
Go to ExtendedForms and install the app
You'll then see a puzzle shape icon in Google Forms top bar [If you can't see it, then refresh the page once].
Click on it – ExtendedForms > Configure > then a settings box will appear on the right side
[If you get the warning, then just click on 'Fix Settings' and it will be done]
Set the time limit, share form, restrict attempts, and hit the 'Save' button
Now, to track the responses, click on the 'Responses' option in the settings box
It will take you to that 'connected form' in the 'Forms' section of ExtendedForms main settings
There you can see all the 'responses' and 'pending invitations', each respondent's responses, etc
To see the graph of the responses (it shows response over time), go to the 'Dashboard' and you'll see the summary of responses
To Sum Up
This is our end of the article – how to make a pie chart in google forms. To sum it up you can not actually make it in the Google Forms, but its data can sure be transformed into a pie chart through the Google Sheet integration in the Forms. It is not rocket science to understand how to make things work when it comes to Google Forms. It is a versatile and free tool to use by anyone from personal to professional level purposes. Though I would not say it is the best tool in the market, for beginners it definitely makes the work done.
Besides, if you think that Google Forms charts can be accurate, and are they useful for making reports? Then, firstly making an accurate chart is mostly about asking the right questions to get the required answers. For the latter confusion, yes! Google forms make use of the Google Analytics framework, ensure the accuracy of data, and can be used along Google Sheets to make professional graphs/charts.
If you want to have a timer in your Google Forms for quizzes or tests then the ExtendedForms add-on is a good option to go with. Besides, it can kill two birds with one arrow, as discussed above. You'll not only get a countdown timer for your form but you will also get summary analytics (in form of the bar graph) in the ExtendedForms dashboard.